These healthy Banana Oatmeal Cookies are a breeze to prepare with just two simple base ingredients: ripe banana and wholesome oats. Feel free to get creative by incorporating suggested add-ins for an elevated twist.
It's almost a ritual - my kids seem to intentionally let bananas ripen too much, anticipating a lineup of creations: healthy banana bread, baby banana muffins, banana blueberry fritters, banana ice cream.....
Among all the delightful options, these banana oat cookies are the simplest go-to for those spotty bananas. With a minimalist base, you are free to unleash your creativity and truly make them your own.
Just remember that these cookies are made with bananas and oats - they are never going to taste like regular cookies with a ton of sugar and butter!
Jump to:
Reasons to Love These Cookies
Family Friendly: Banana Oat Cookies are a hit across all ages. The base recipe is ideal for babies and toddlers, while older kids and adults can personalise them with a handful of ingredient add-ins that cater for individual tastes.
Allergy Friendly: Great for those with dietary restrictions, being free of egg, dairy and nuts. Those with a gluten allergy can opt for gluten-free oats.
Nutritious: Unlike traditional cookie recipes, laden with added sugar and butter, this recipe is a healthy choice any time of the day. They are perfect breakfast cookies, a satisfying snack, or a healthy dessert option.
Kitchen Adventures: This recipe's forgiving nature means it is great for getting little foodies exploring and getting creative in the kitchen. With no raw egg involved, tasting can be an enjoyable part of the process. Read more about The Benefits of Cooking with Kids.
Video Tutorial
Ingredient Information (With Add In Suggestions)
Overripe Bananas: As these cookies obtain their sweetness from the bananas, it's essential to use ripe bananas, with plenty of brown spots, for maximum sweetness.
Oats: For best results, I recommend using quick oats. While rolled oats (old-fashioned oats) can be used, they yield a slightly drier cookie. You can also use oat flour but I find it tends to result in a somewhat gum-like consistency, however, some kids/babies may prefer the smoother mouthfeel.
Although this cookie calls for just two ingredients, I recommend you experiment. It is a flexible recipe that you can incorporate mix-ins for added sweetness, varied texture, or even a nutritional boost.
Here are several add-in options to consider.
Spices (e.g Cinnamon, Cardamom, Vanilla, Clove, Ginger, Nutmeg, All Spice)
Citrus Zest (e.g lime / lemon / orange)
Chopped Nuts & Nut Butters (peanuts, macadamia, almond, cashew, hazelnut, pecan, walnut)
Coconut (desiccated, shredded, flakes)
Seeds (chia seeds, sunflower seed, flaxseed, pumpkin seeds)
Raisins/Sultanas (soak them in boiling water first to stop them burning and going bitter)
Other dried fruit pieces
Veggies (Grated zucchini, grated carrot)
How To Make Banana Oatmeal Cookies
This easy recipe is as simple as mashing bananas and mixing them with oats and any additional add-ins you may wish to include.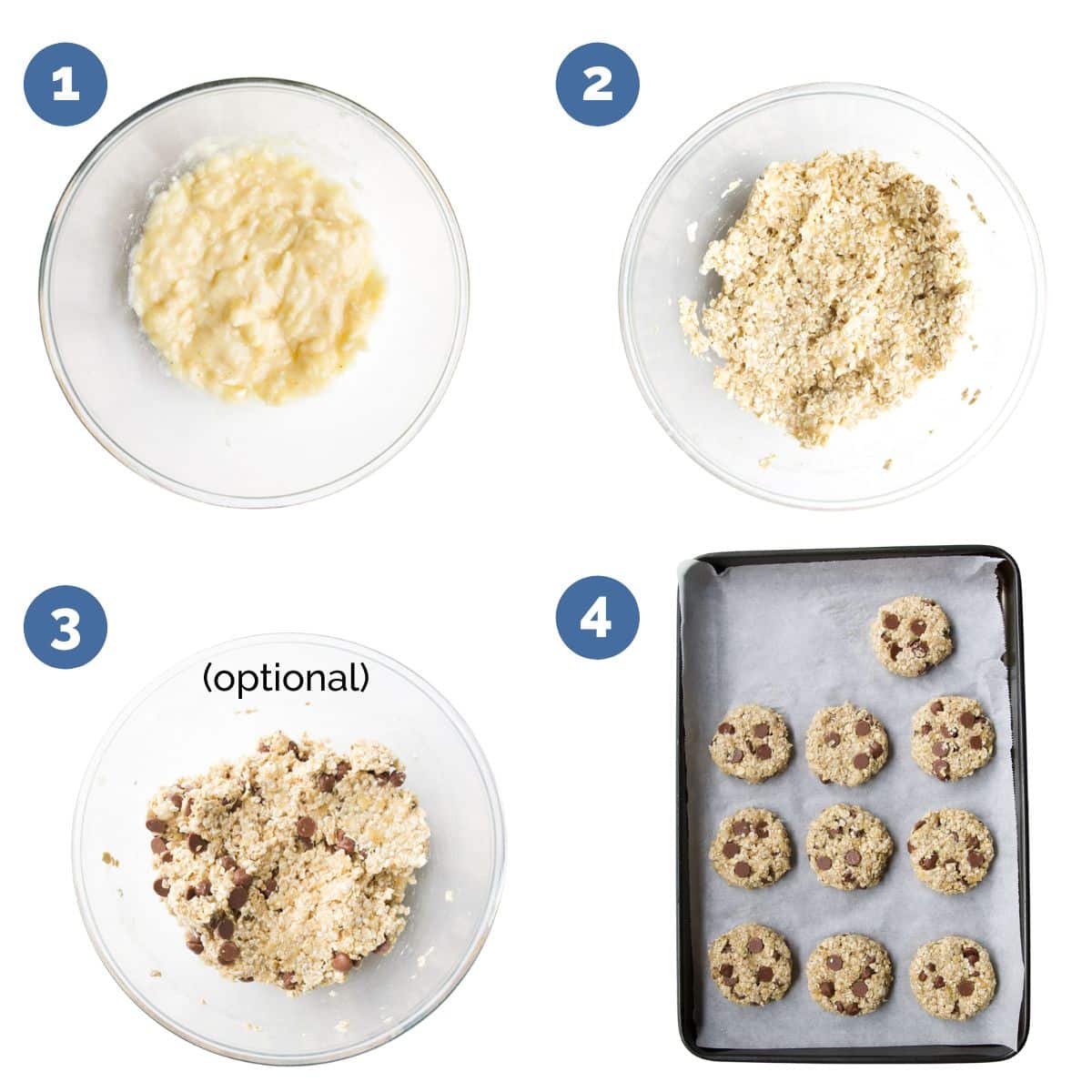 Mash Bananas in a large mixing bowl. I like to retain small chunks for added texture but you can customise the level of smoothness according to your preference.
Add oats to the mashed banana and stir until combined.
Add mix-ins. Gently stir in any mix-ins, if desired.
Form into Cookies Use a tablespoon or small cookie dough scoop to portion out the mixture. On a parchment paper lined baking sheet, delicately flatten and form each portion into a cookie shape.
Unlike traditional cookies, these cookies won't naturally spread during baking. To ensure the desired outcome, shape and flatten the cookies before their time in the oven.
Bake the cookies in a preheated oven for around 15 mins. Allow them to cook on the baking sheet, at room temperature, for 5 mins before transferring to a wire cooling rack.
Storage Instructions
Allow the banana oat cookies to cool before transferring to an airtight container. They will keep at room temperature for 1-3 days (depending on the temperature and humidity). For longer storage options you can...
Refrigerate - Store cookies is an airtight container for up to 3 days.
Freeze - If you have leftovers or decide to make a double batch, you can freeze them on a baking tray in a single layer. Once frozen transfer to an airtight container and store for up to 2 months.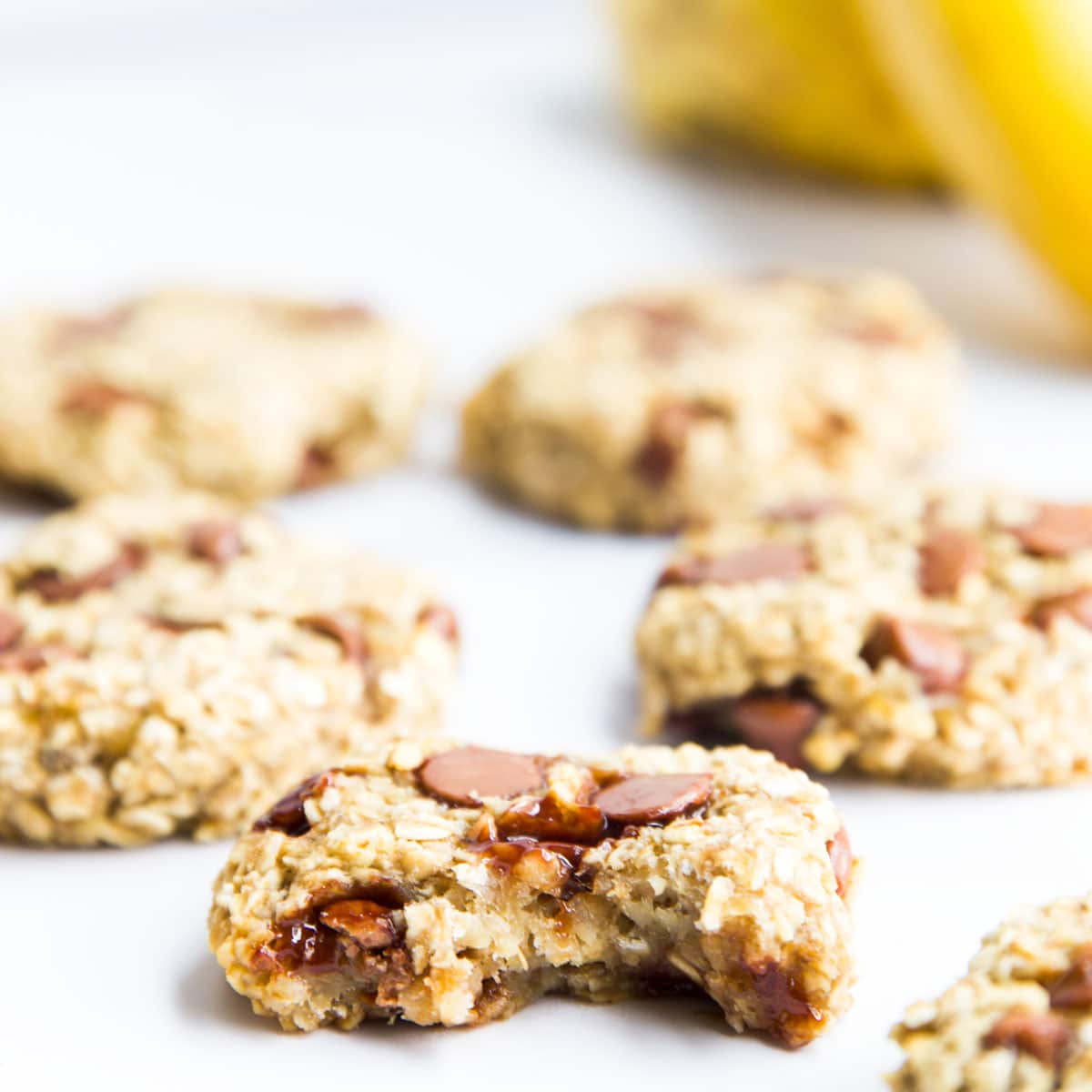 Recipe FAQs
Are these cookies suitable for babies and from what age?
Yes, these cookies can be introduced when your baby is developmentally ready for finger foods, typically around 6 months or older. You can even shape them into bars for an easy-to-hold teething cookie.

While offering a variety of textures is beneficial for babies, you can opt for oat flour to create a smoother cookie if you wish. Experiment with a hint of spice, such as cinnamon, nutmeg, or cardamom, to introduce flavours.

It's important to avoid add-ins that could pose a choking hazard or increase sugar content, such as chopped nuts, dried fruit, or chocolate chips.

Keep in mind that oats are often cross-contaminated with gluten-containing grains, potentially compromising their gluten-free status. If your baby has celiac disease choose certified gluten-free oats.
Are banana oat cookies healthy?
The base recipe of this cookie is healthy. However, the nutritional profile will shift based on the addition of mix-ins.
For instance, incorporating crushed nuts, peanut butter, or seeds can elevate the protein and healthy fat content. Conversely, should you opt for a generous amount of dried fruit, chocolate or honey etc, the cookie will have a much higher sugar content.
What texture do these cookies have?
These texture of these cookies are very different to regular oatmeal cookies and have a rustic, wholesome character. The exterior can be slightly crispy, while inside, it has a softer, chewy texture.

The oats provide a pivotal tole in the texture with the choice of oats influencing the outcome. the best texture is achieved with quick oats, where as rolled oats (old fashioned oats) often results in a drier quality. I find the oat flour a little gummy but some kids may prefer the smoother texture.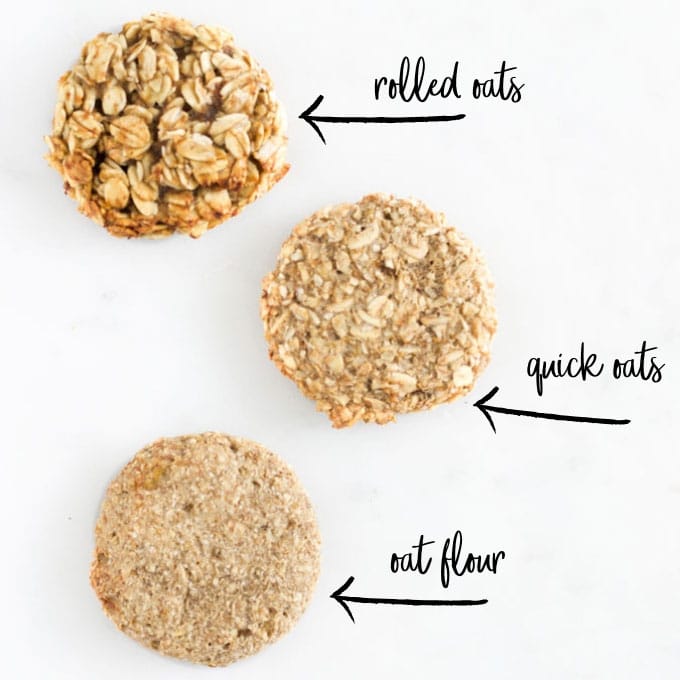 I'm looking for inspiration, what variations of this cookie have you tried?
This is a great recipe for getting kids into the kitchen and experimenting with flavours. Here are some of the creations that me and my little foodies came up with....
Raspberry & Coconut (Crushed raspberries & coconut)
Zucchini and Chocolate (Vanilla, grated zucchini & choc chips)
Apple Pie (Cinnamon, ginger, grated apple & raisin)
Chocolate Orange (Orange zest, orange juice & choc chips)
Ginger and Nutmeg (Powdered ginger & nutmeg)
Macadamia & Date (Chopped macadamia and chopped date)
Cardamom and Vanilla (Cardamom and vanilla extract)
Carrot Cake (Cinnamon, grated carrot and raisin)
Chunky Monkey (Chopped Date, choc chips and a banana slice on top)
Coconut & Lime (Coconut flakes, lime zest, lime juice and vanilla)
Pepita & Honey (Pepita seeds and honey)
Cinnamon (Cinnamon)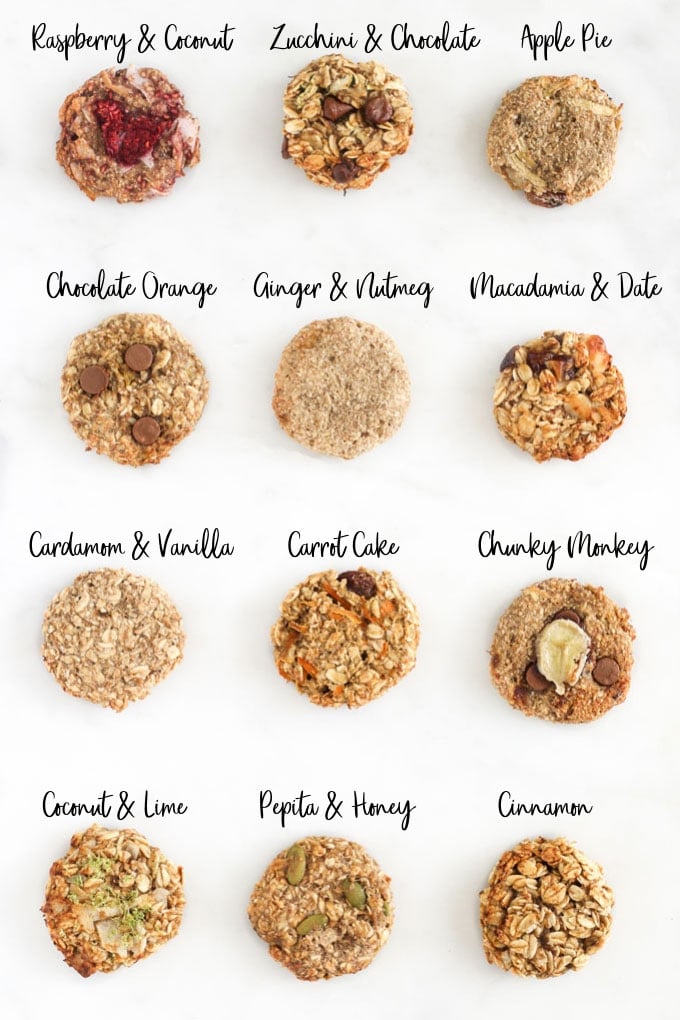 More Banana Oat Recipes
Looking for more healthy kid recipes?Sign up for my free recipe newsletter to get new family friendly recipes in your inbox each week! Find me sharing more kid-friendly inspiration on Pinterest and Instagram.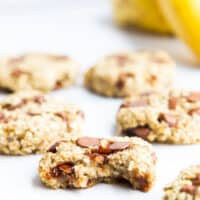 Banana and Oat Cookies
Banana Oatmeal Cookies are naturally sweetened and easy to prepare. With only two base ingredients and a variety of ways to customise, you can make a version to suit every family member!
Prep Time: 10 minutes
Cook Time: 15 minutes
Total Time: 25 minutes
Serves:7
Hover over "serves" value to reveal recipe scaler
Ingredients
2 Large ripe bananas *NOTE 1
165g (1¾ cup) Quick oats *NOTE 2 & 3
Optional Add ins
½ cup add in (e.g choc chips, raisins, chopped nuts)
Instructions
Pre-heat oven to 350F / 180C/ 160C (Fan) and line a baking tray/sheet with baking/parchment paper.

In a large mixing bowl mash the bananas really well, until smooth. Add the oats and mix until fully combined. 

Add in any additions to suit taste *NOTE 3

Take about 1 ½ tablespoons of the mixture in your hand, roll it into a ball and then flatten it into a disc shape. Place on the baking tray and repeat until the mixture is used up. (The cookies do not spread during baking so take this into consideration when forming cookies)

Bake for approx 15 mins, or until cookies are golden and set.


Allow to cool before eating.
Recipe Notes
The riper your bananas the sweeter your cookie will be.
You can use rolled oats, quick oats or oat flour. Quick oats produce the best results. Depending on the banana size, you may find you need more or less oats. Your mixture should be able to be scooped and easily form into cookies.  
Add a range of additional mix ins to change the flavour profile (e.g spices, lime/ orange zest, choc chips (a favourite), dried fruit etc. See post for a detailed list of suggestions and flavour combinations.)
Nutritional information is a ROUGH guide only, calculated using an online nutrition calculator. It does not include any additional add-ins. 
Nutritional facts
Calories: 118kcal | Carbohydrates: 24g | Protein: 4g | Fat: 2g | Saturated Fat: 0.3g | Polyunsaturated Fat: 1g | Monounsaturated Fat: 0.5g | Sodium: 1mg | Potassium: 206mg | Fiber: 3g | Sugar: 4g | Vitamin A: 22IU | Vitamin C: 3mg | Calcium: 13mg | Iron: 1mg