These Tuna Quinoa Cakes are lovely for lunch or for dinner served with sides of your choice. They also make a great lunchbox item and freeze really well.
Quinoa is one of our favourite grains (or technically seed) to eat. However, it can get really messy and cleaning up little grains of quinoa is not my favourite past time. That is why I love to turn quinoa into great little finger foods like these Sweetcorn Quinoa Fritters, Sweet and Sour Quinoa Balls, Cheese and Tomato Quinoa Balls and these Fruit and Nut Quinoa Bars. Kids love finger foods and it does make the clean up so much easier - a double win.
I usually have a tin or two of tuna in the cupboard for days when I look in the fridge and there doesn't seem to be anything available to eat. Combined with some pantry staples, a simple tin of tuna can be transformed into some pretty tasty meals. My kids' favourite is Tuna Pasta and they also love these Tuna and Potato Cakes.
Looking for more healthy kid recipes?Sign up for my free recipe newsletter to get new family friendly recipes in your inbox each week! Find me sharing more kid-friendly inspiration on Pinterest and Instagram.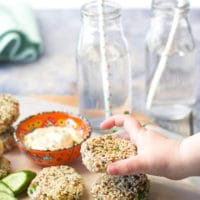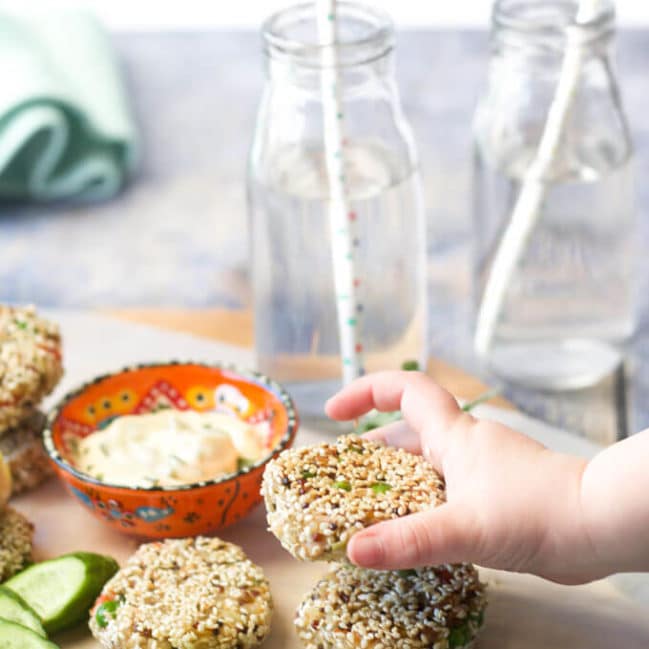 Tuna Quinoa Cakes
Great as part of a main meal or for popping into the lunch box.
Prep Time: 15 minutes
Cook Time: 45 minutes
Total Time: 1 hour
Serves:30
Hover over "serves" value to reveal recipe scaler
Ingredients
1 cup (170g) Quinoa I used tricolour
1 cup (250ml) Vegetable Stock*
1 cup (250ml) Water
3 tablespoon Olive Oil
1 Onion finely chopped
1 tsp Minced Garlic
½ Red Capsicum (Bell Pepper) finely chopped
1 cup (145g) Frozen Peas
1 egg
1 425g can Tuna Drained
1 Zest of 1 lime
¼ cup Buckwheat Flour
¾ cup (95g) Sesame Seeds
Instructions
Place the quinoa in a saucepan with the stock* and water. Bring to the boil and then reduce the heat to low. Simmer, covered, for approx 15 mins. Remove from heat, stir with a fork and allow to sit covered for 5 mins.

Heat ½ tablespoon of the oil in a frying pan over a medium heat. Add the onion and cook for around 3 mins, until softened. Add the garlic and the capsicum and cook for a further 3 mins.

Add the quinoa to a mixing bowl. There should be no moisture in the quinoa, if so make sure you drain it really well. Add the onion and capsicum mixture and stir to combine. Add the peas, stir and allow to cool.

Add the tuna (make sure the tuna is drained really well so your mixture does not become too wet) , egg, buckwheat flour and lime zest and stir until combined. Take tablespoons of the mixture and form into cakes.

Place the sesame seeds on a plate and press both sides of each cake into the seeds to coat.

Heat the remaining oil in a frying pan over a medium heat. Cook the tuna cakes for approx 4-5 mins on each side, until golden and cooked through.
Recipe Notes
*If serving for a baby / young toddler use home made or low salt stock to reduce sodium content. You can also replace with water.  **This makes approx 30 cakes. I make this many as I like to use the whole can of tuna.  I freeze them fully cooked and pop them into lunch boxes. You can also freeze them before frying. Simply defrost when needed and fry before serving. 
Nutritional facts
Calories: 76kcal