You will never guess that these Parmesan Chicken Strips are grain free. The parmesan coating is crispy, delicious and works well baked.
Chicken strips are an iconic "kids food" with a bad reputation to go with it. They can be found on most children's menus and are often deep fried, unappetising and unhealthy. However, when done correctly, chicken strips can be a delicious and healthy part of a family meal. Due to their popularity with children, parents are always asking me for healthier alternatives. These parmesan chicken strips work great baked and are perfect for kids who have a gluten intolerance. You can add in some dried herbs and spices to suit taste but they taste delicious plain too.
My other chicken nugget style recipes include these quinoa crusted nuggets (my personal favourite) and coconut chicken tenders (which the boys adore). All the recipes involve dipping and coating and I like to think of myself as a bit of an expert now. Long gone are the days that I would have more coating on my fingers than the chicken!
COATING THE CHICKEN - TIPS AND TRICKS
If you are coating the chicken by yourself then I suggest you use one hand to dip in the egg and the other hand to dip in the parmesan/almond mixture. This stops the mixture building up on your fingers with every piece of chicken you coat. When I am cooking with the boys I usually give them different tasks. One dips in the egg, the other rolls in the crumb and I place on the rack. This makes the process a lot cleaner and easier.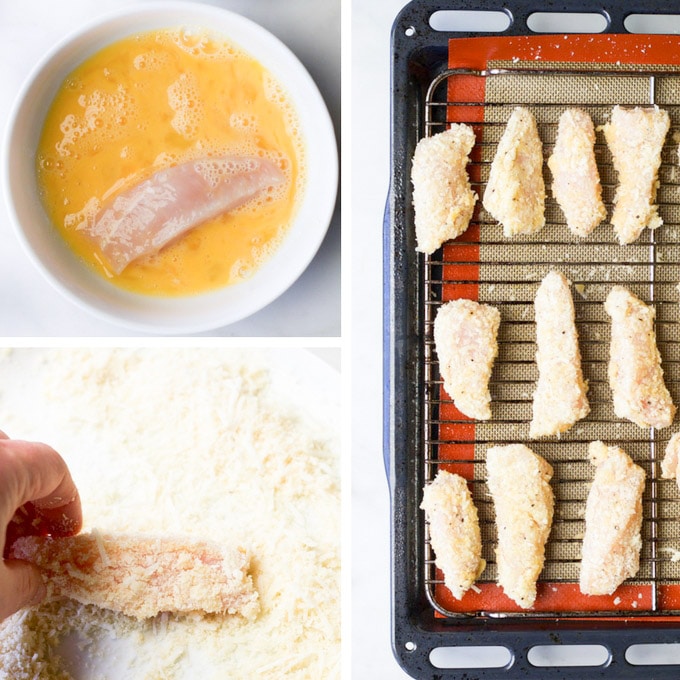 I like to bake these parmesan chicken strips for two reasons. 1) It is healthier 2) It is easier. My two get hangry (so hungry that the lack of food causes them to become angry) around dinner time and I like to keep it stress-free. Placing the strips in the oven is much easier than standing over them when frying.
Kids love their finger foods usually because they come with a dip! I try to serve dips that have some added goodness in them (blended veggies) like this kale pesto, avocado dip or beet dip. Pictured is a zucchini hummus recipe from Jessica Sepel. My eldest absolutely loved it but my youngest preferred to dip them in greek yoghurt.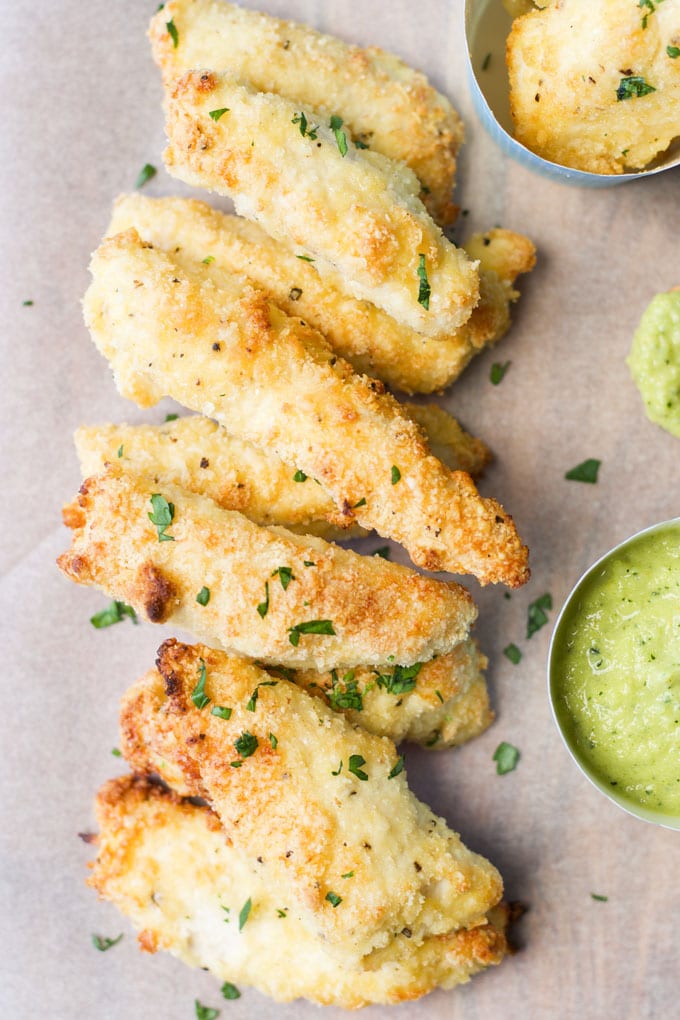 Looking for more healthy kid recipes?Sign up for my free recipe newsletter to get new family friendly recipes in your inbox each week! Find me sharing more kid-friendly inspiration on Pinterest and Instagram.
Parmesan Chicken Strips
These parmesan chicken strips taste delicious baked. They are grain free and perfect for dipping. 
Prep Time: 15 minutes
Cook Time: 15 minutes
Total Time: 30 minutes
Serves:4 people
Hover over "serves" value to reveal recipe scaler
Ingredients
500g (2 large) Chicken Breasts, cut into strips See note 1
60g (¾ cup) Parmesan, grated See note 2
60g (⅔ cup) Ground Almonds See note 3
1 Egg, lightly beaten
Light spray of Olive oil
Instructions
Pre heat oven to 200C / 390F

Mix the parmesan and ground almonds together and place in a shallow bowl /flat plate.

Dip the chicken into the egg with one hand and then place in the parmesan mix. Use your other hand to sprinkle and roll in the parmesan mixture. Then transfer to rack on a baking tray. Repeat with remaining chicken.

Lightly spray with oil and bake for approx 15-18 mins (depending on size of chicken strips)

Serve straight away.
Recipe Notes
I often use chicken tenders in this recipe to save me cutting breasts into strips. Simply replace the chicken breast with 500g / 1lb of chicken tenders.
 I buy a block of parmesan and freshly grate for this recipe. If you prefer you can replace with store bought fresh parmesan that you find in the chillers.
You can replace the ground almonds with panko breadcrumbs if you do not have to worry about it being gluten free. You may need around another ⅓ of a cup. 
Nutritional information is an estimate only using an online nutrition calculator. 
Nutritional facts
Serving: 10f 4 | Calories: 322kcal | Carbohydrates: 3.8g | Protein: 38.8g | Fat: 17g | Cholesterol: 148mg | Sodium: 280.4mg | Sugar: 0.7g