These baked oats are perfect for an on-the-go breakfast but also delicious served with a good dollop of Greek yoghurt. Packed with healthy ingredients - oats, nuts and fruit with an egg to help bind it together. They are a great way for you and your kids to start the day.
One of the most viewed recipes on this blog is my Coconut Mango Oat Breakfast Bites. Not only do my kids love them but I have also had a lot of positive feedback from you, my readers, saying how much you and your kids enjoyed them. It is such an easy recipe to adapt so I thought it was about time I posted a new version.
These plum and almond sliced baked oats are my newest creation, I love how the sweet-tart taste of the plums marry beautifully with the almonds. The banana, plums and raisins make this breakfast deliciously sweet. Sweet, ripe plums work best, if your plums are very tart you may want to add a little more raisins or add some maple syrup/honey to increase the sweetness.
As mentioned, this recipe is so easy to adapt so you can have baked oats all week and never get bored. Here are a few of my suggestions, just keep the same base recipe and change the fruit, milk and nuts.
Baked Oats Flavour Suggestions
Banana and Blueberry (use milk of choice and add blueberries and sliced bananas)
Raspberry and Coconut (use coconut milk and add raspberries and desiccated coconut)
Apple and Cinnamon (add grated apple, apple puree and lots of cinnamon)
Carrot Cake (grated carrot, cinnamon, ginger, nutmeg and raisins would taste delicious)
Bakewell Tart (use fresh or frozen cherries with almonds and almond milk)
The combinations are endless really, if you make your own version then I'd love to hear about them. You can also choose to bake them in muffin format like these fruity baked oatmeal cups.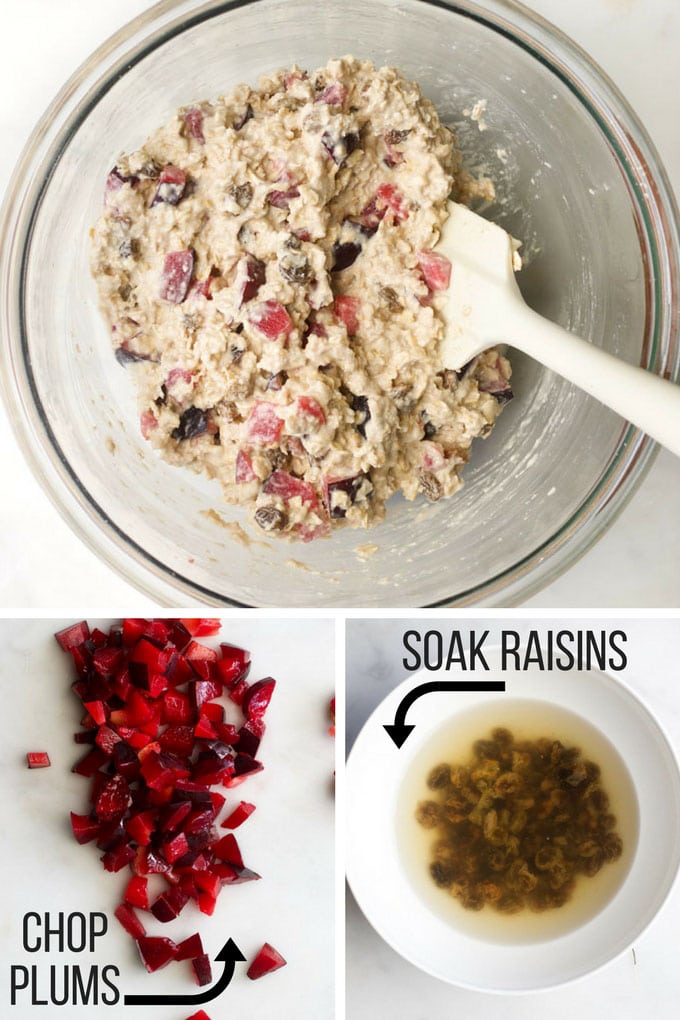 How to Make Baked Oats
Baked oats are so simple to make and literally takes 5-10 mins to put together. It is just a case of mixing all the ingredients in a bowl, transferring to a baking dish and then baking for 28mins.
Despite how easy it is to make, I rarely make it in the morning. I'm not sure what it is like in your house but mornings are a little crazy in our house and I feel it takes all my time and effort to get us all organised and out in the morning. Luckily these taste delicious cold and so I often bake them in advance.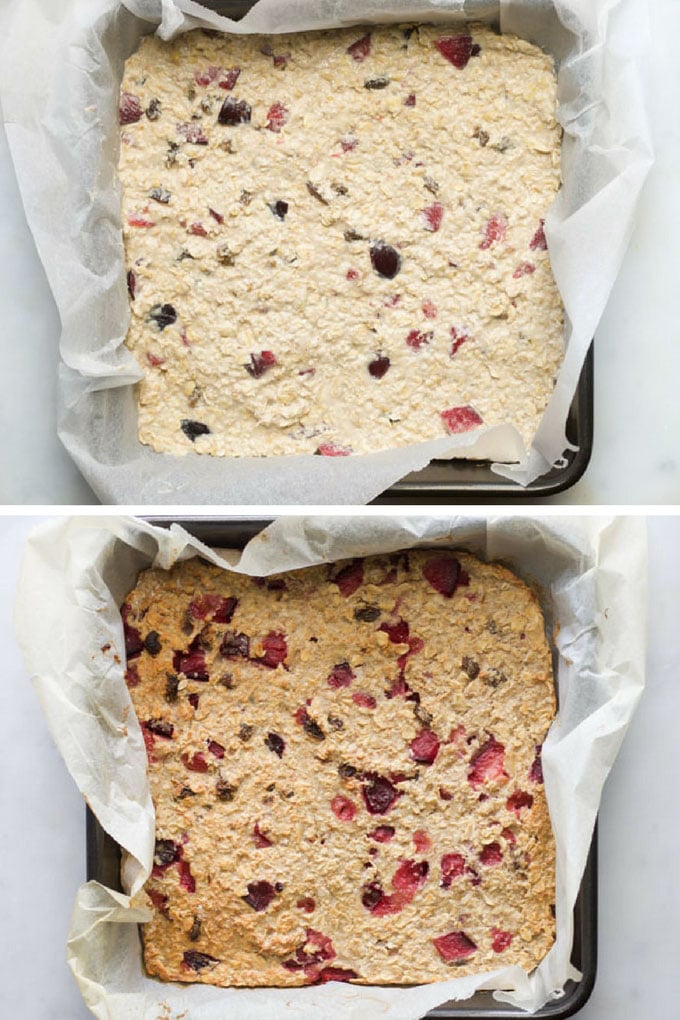 How to Serve Baked Oatmeal
Baked oatmeal is delicious straight out of the oven and tastes wonderful served with a dollop of Greek yoghurt.
However, what I like most about this recipe is that you can wait until it cools and solidifies a bit, making it easy to slice into squares. As you can imagine from the ingredients this isn't a crunchy, chewy bar but it does hold together well and makes a fantastic breakfast for on the go. This also makes it great for baby-led weaning, a soft, hand held breakfast that makes a lot less mess!
How to Store Sliced Baked Oatmeal
Baked oatmeal should be refrigerated once cooled. To maximise the shelf life it should be refrigerated in covered airtight containers or ziplock bags. Properly stored, the baked oatmeal will last for around four days in the refrigerator.
I often leave just enough slices for the next day in the refrigerator and freeze the rest to further extend the shelf life.
Properly stored, it will maintain best quality for 6 months but will remain safe beyond that time.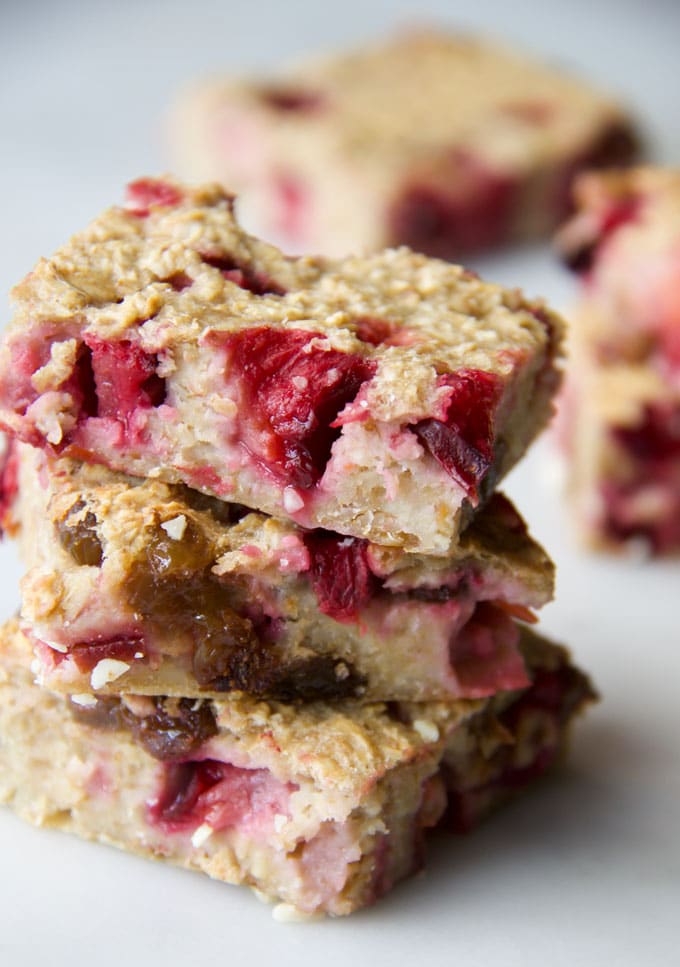 Love Oats? Why not check out some of my other oat recipes
Have you tried this recipe? I love receiving your feedback, please rate and comment below or tag me on Instagram @healthylittlefoodies
Looking for more healthy kid recipes?Sign up for my free recipe newsletter to get new family friendly recipes in your inbox each week! Find me sharing more kid-friendly inspiration on Pinterest and Instagram.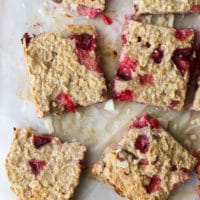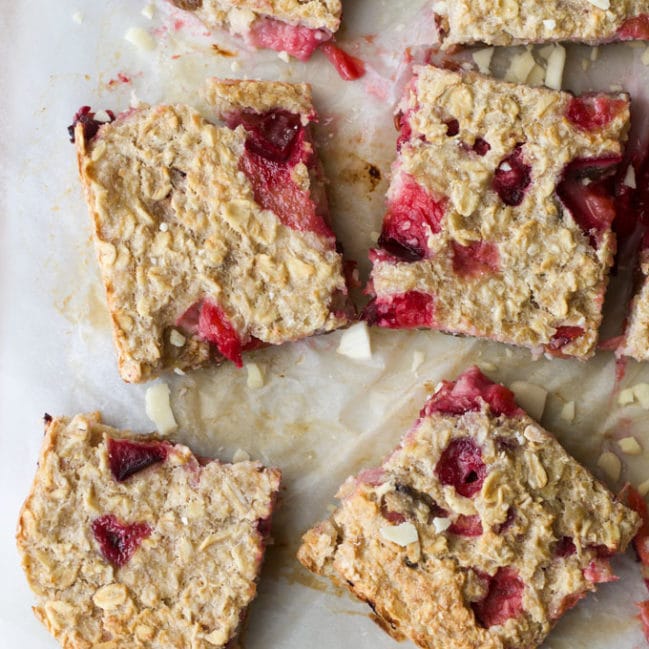 Plum and Almond Sliced Baked Oats Recipe
Delicious oats baked with plums and almonds to make a hand held breakfast great for kids and babies.
Prep Time: 10 minutes
Cook Time: 28 minutes
Total Time: 38 minutes
Serves:16
Hover over "serves" value to reveal recipe scaler
Ingredients
40g (¼ cup) Raisins
1 Ripe Banana (mashed)
195g (2 cups) Rolled Oats
35g (⅓ cup) Almond Meal
25g (¼ cup) Flaked Almonds
250ml (1 cup) Almond Milk
2 Plums (mine weighed 195g once de stoned)
1 Egg (beaten)
Instructions
Pre heat oven to 190c / 375F / Gas 5

Pop the raisins in a small bowl and soak in boiling water.

To a large mixing bowl add the banana, oats, almond meal, almonds and almond milk. Stir until combined.

Add the chopped plums and stir until combined.

Add the beaten egg and mix until combined.

Drain the raisins and mix them through the oat mixture.

Line a baking tray/ dish with baking paper, add the mixture and smooth out. (My tray was 22cm /8.5 inch by 22cm / 8.5 inch)

Bake for approx. 28 mins.

Allow to cool before slicing into bite size pieces.
Recipe Notes
Nutritional information is an ESTIMATE, calculated using an online nutrition calculator. Facts will vary depending on brands and produce used. They should be used as a rough GUIDE only. 
Nutritional facts
Calories: 180kcal | Carbohydrates: 24.1g | Protein: 6.2g | Fat: 5.2g | Cholesterol: 11.6mg | Sodium: 16.4mg | Sugar: 4g