Kids, and adults alike, love the sweet and tangy taste of Coronation Chicken. This healthier version replaces some of the mayonnaise with natural yoghurt. Serve in a sandwich, as a jacket potato filling or with a big leafy salad.
What is Coronation Chicken?
Coronation Chicken is a British classic that is found is most sandwich shops in the UK. It was created by Constance Spry and Rosemary Hume, of London's Cordon Bleu cookery school, for the Queen's coronation in 1953.
Tender pieces of chicken are covered in a creamy sauce that has a vibrant curry flavour with sweet and tangy undertones.
Like a lot of popular dishes, there and many variations of the recipe available.
The original sauce recipe was made with onion, curry powder, tomato purée, red wine, bay leaf, lemon juice, apricots, mayonnaise and cream. The sauce was strained and pureed smooth.
Variations to the recipe include removal/replacement of ingredients to make the recipe easier and quicker to prepare. Equally, there are recipes available that have been made more complicated and have introduced new ingredients.
The Healthy Little Foodie Version
This version of Coronation chicken is quite close to the original but has a few differences to make it quicker to make and a little healthier.
The wine is replaced with chicken stock,
The cream and some of the mayonnaise is replaced with greek yoghurt
The sauce is not strained/blended smooth. My kids don't mind "bits" in their sauce so I have never bothered with this step. Obviously, every child is different and this may be something you may consider doing. (See picky eating tips below)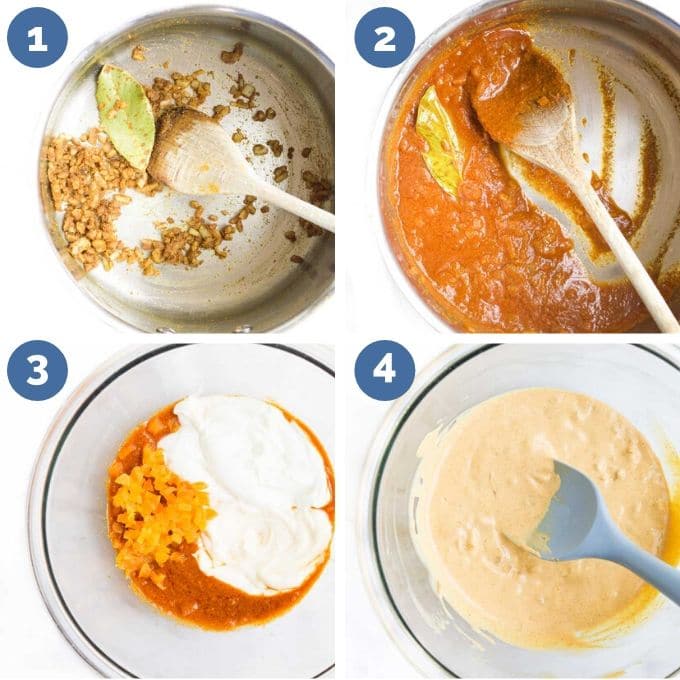 You may come across lots of recipes that involve no cooking. However, my preference is to cook the base of the sauce, as in the original recipe, to mellow and balance the flavours.
Sautee the onion with bay leaf and curry powder,
Add tomato puree, chicken stock, water and lemon juice and simmer for a few minutes.
Transfer the prepared and cooled mixture in a bowl, add chopped dried apricots, mayonnaise and yoghurt, and mix until combined.
Add the chicken, stir through and serve.
Picky Eating Tips
Texture (Sauce): The sauce does have little pieces of onion and bits of dried apricot. Due to the apricot pieces, I believe that the small pieces of onion can go unnoticed. However, if preferred, the sauce can be blended to make smooth. If the dried apricot won't blend you can substitute with fresh or you could use mango.
Texture (Chicken): You can use shredded chicken or chunks of chicken. Some younger children prefer shredded chicken as they find chunks can be hard to chew. However, shredded isn't always preferred and can soak up a lot of the sauce making it less "saucy" and sometimes claggy.
Flavour: Curry powders can vary greatly. I used a mild powder and found 1tbsp worked well. If your children are not used to curry powder you may wish to start with a smaller amount so not to overpower the dish.
Serving Suggestions
Homemade coronation chicken is fantastic for lunchboxes, great for picnics and perfect for buffet-style lunches. It is a great way to use up any leftover roast chicken.
Why not try it as a:
Sandwich/wrap/baguette filling
Jacket Potato Topping
Salad Topping
Storage Instructions
Store in an airtight container and refrigerate for up to two days. Not recommended for freezing.
You may also like
Have you tried this recipe? I love receiving your feedback. Please rate and leave a comment below or tag me on Instagram @healthylittlefoodies
Looking for more healthy kid recipes?Sign up for my free recipe newsletter to get new family friendly recipes in your inbox each week! Find me sharing more kid-friendly inspiration on Pinterest and Instagram.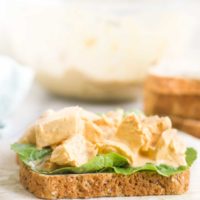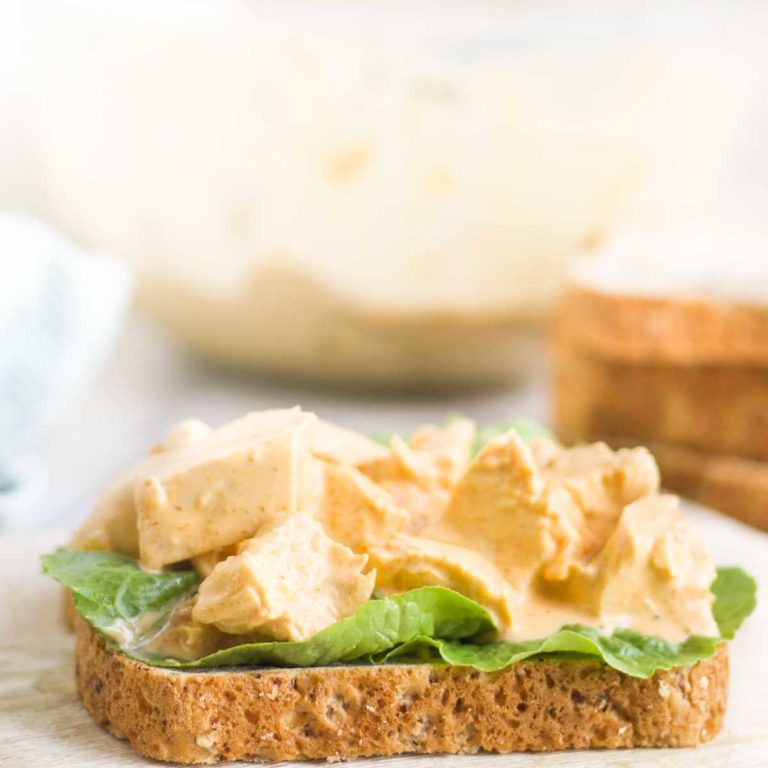 Coronation Chicken
A sweet and tangy chicken dish that can be used in sandwiches, baked potatoes or salads.
Prep Time: 10 minutes
Cook Time: 5 minutes
Total Time: 15 minutes
Serves:6
Hover over "serves" value to reveal recipe scaler
Ingredients
1 tbsp Olive Oil
½ Small Brown Onion, finely chopped
1 Bay Leaf
1 tablespoon Curry Powder
1 tbsp Tomato Paste
60ml (¼cup) Chicken Stock
60ml (¼ cup) Water
1 tablespoon Fresh Lemon Juice
120g (½ cup) Mayonaise
120g (½ cup) Greek Yoghurt
60g (7-8) Dried Apricots, finely chopped
2 large Cooked Chicken Breasts, diced (or shredded)
Instructions
Heat the oil in a large frying pan over medium-low heat. Reduce the heat to low, add the onion, bay leaf and curry powder and sautee for 3-4 mins. If it starts to stick add a splash of the chicken stock.

Add the tomato paste, chicken stock, water and lemon juice. Bring to the boil, reduce the heat and allow to simmer for a couple of minutes, until slightly reduced. Allow to cool.

In a large mixing bowl add the prepared sauce, mayonaise, yoghurt, chopped apricots and stir together.

Add the cooked chicken and gently mix until combined.
Recipe Notes
CURRY POWDER - Curry powders can vary greatly. I used a mild curry powder. You may have to adjust amounts depending on the curry powder used and how used to the spices your children are.  MAKE IT SMOOTH - If you don't like "bits" in your sauce. Blend the prepared sauce, with the apricots, before mixing with the mayo and yoghurt.  CHICKEN - Use leftover chicken or cook chicken your prefered way. Cut into small chunks or shred. Note that shredded chicken can soak up a lot of the sauce making it less "saucy" and sometimes claggy. Chunks are better if making in advance.  STORAGE - Store in an airtight container and refrigerate for up to two days.  Nutritional information is a ROUGH guide only, calculated using an online nutriton calculator. 
Nutritional facts
Calories: 302kcal | Carbohydrates: 9g | Protein: 21g | Fat: 20g | Saturated Fat: 4g | Cholesterol: 58mg | Sodium: 204mg | Potassium: 327mg | Fiber: 1g | Sugar: 7g | Vitamin A: 448IU | Vitamin C: 2mg | Calcium: 44mg | Iron: 1mg