This Strawberry Mango Banana Bread is packed with juicy fruit and is bursting with flavour. Sweetened only with fruit, it is a delicious snack for kids and babies.
Strawberries and Mangoes are so cheap in Australia at the moment and we have been buying them in bulk. Although our favourite way to enjoy them is in their natural state, I have also been using them in various baked goods such as this Strawberry Mango Banana Bread. The bread is deliciously moist, sweet and seriously addictive.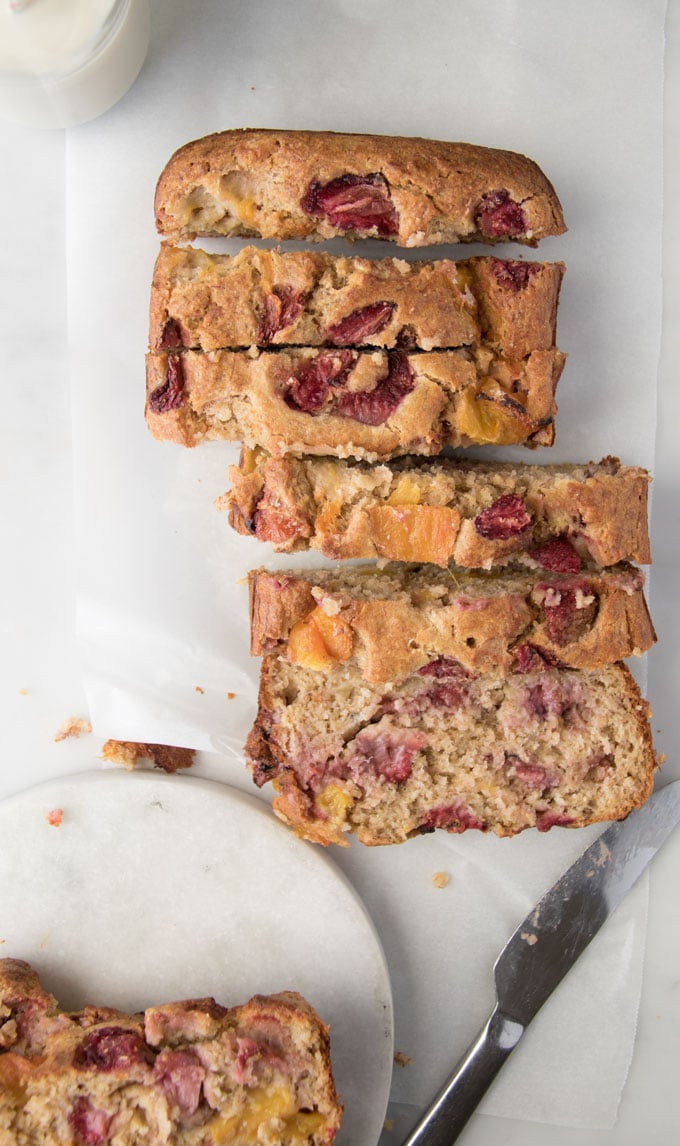 I've tried this Strawberry Mango Banana Bread on a few taste testers and they all couldn't believe that the bread contained no refined sugar or sweeteners. The delicious sweetness comes only from the fruit and I used a couple of tricks to enhance that natural sweetness.
1) I always use over ripe bananas. As bananas ripen their starches break down into sugar making them taste sweeter.
2) I roast the strawberries and mango before adding them to the cake. Doing this removes some of the moisture and in turn the natural sweetness is enhanced.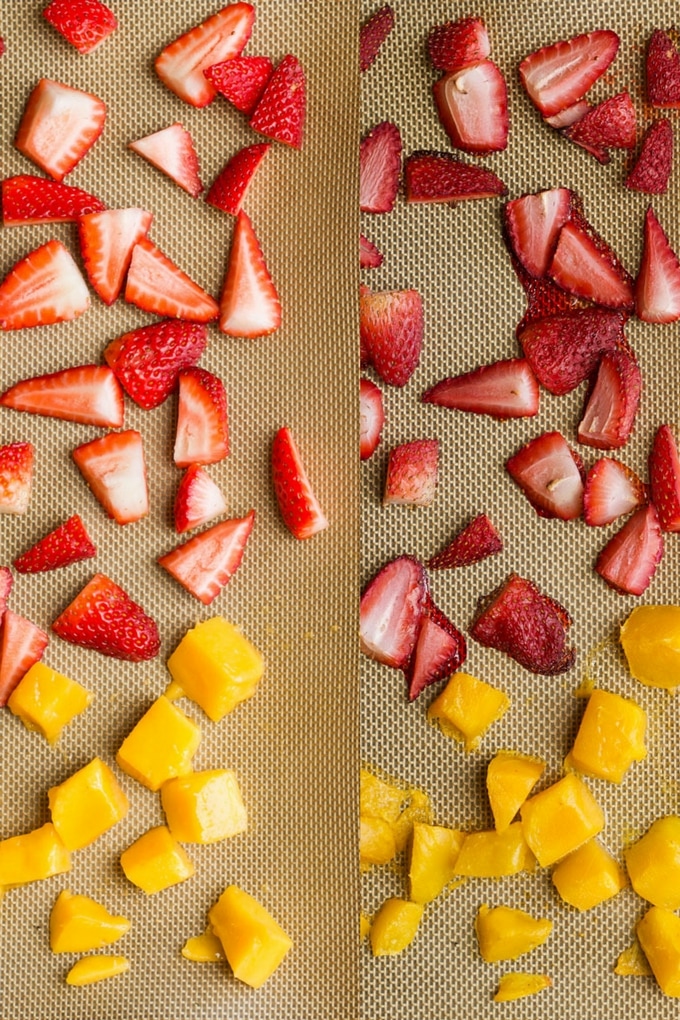 Before adding the strawberry and mango to the batter I like to coat the fruit in around 1 tablespoon of the dry ingredient mixture. This coating of flour absorbs some of the liquid released by the fruit as it bakes and keeps the fruit in place until the crumb has set. This means the fruit is more evenly distributed throughout the bread and therefore each bite of the bread is equally delicious.
One loaf yields around nine generous slices. When serving to my kids I wouldn't normally give a whole slice in one sitting. I usually cut the slices into bite-size quarters and serve a couple of pieces at a time or add one or two pieces to the lunch box.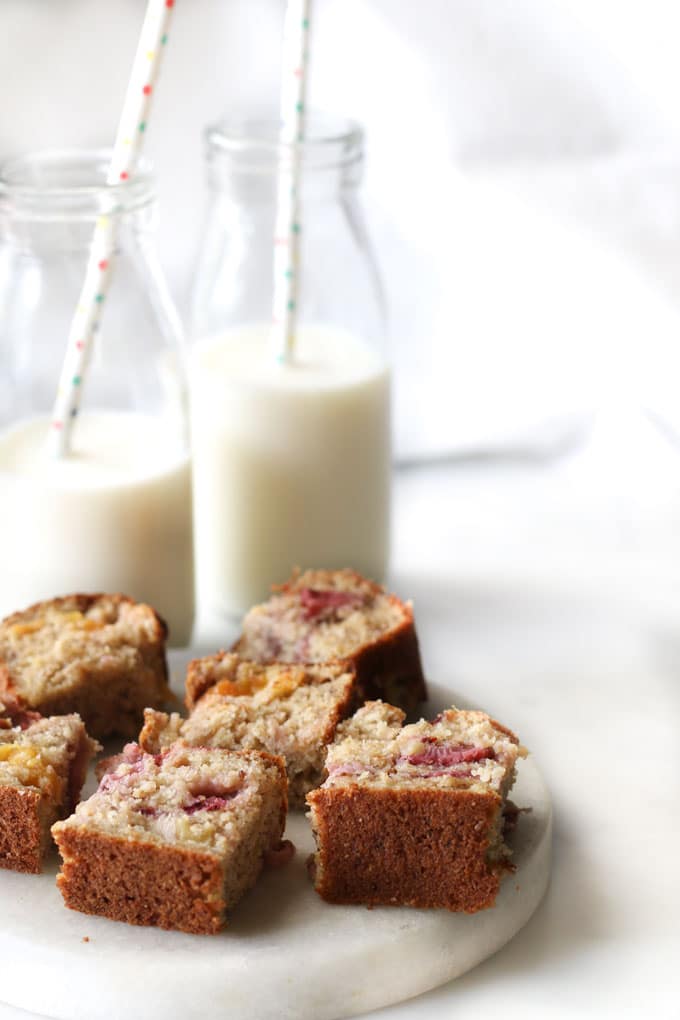 Strawberry Mango Banana Bread freezes really well. I usually cut into bite size pieces and freeze on a baking tray until frozen. I then transfer the pieces to a zip lock bag and take out individual bits as needed.
Other recipes you may like
Looking for more healthy kid recipes?Sign up for my free recipe newsletter to get new family friendly recipes in your inbox each week! Find me sharing more kid-friendly inspiration on Pinterest and Instagram.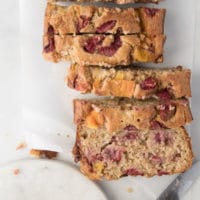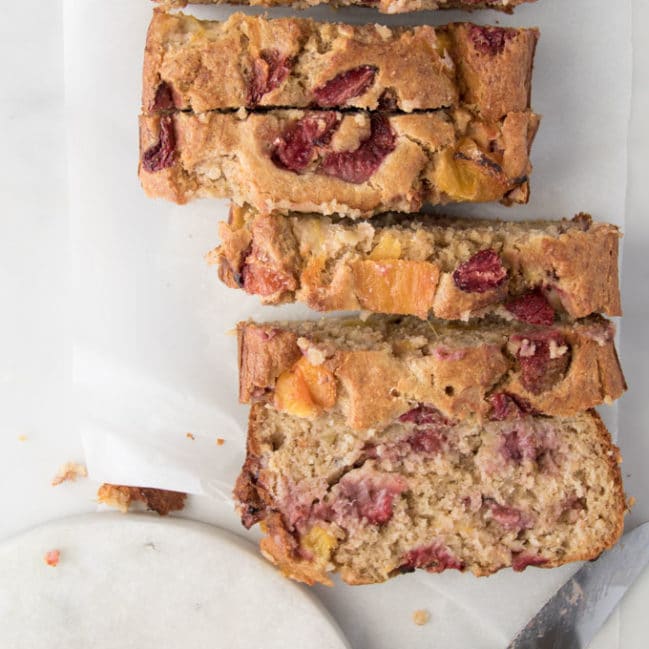 Healthy Strawberry Mango Banana Bread
A delicious fruit infused banana bread. Delicious, moist and sweetened only with the fruit. Perfect for babies, toddlers and big kids. Great for adding to lunch boxes.
Prep Time: 10 minutes
Cook Time: 1 hour 5 minutes
Total Time: 1 hour 15 minutes
Serves:9 slices
Hover over "serves" value to reveal recipe scaler
Ingredients
200g strawberries, topped and quartered (larger strawberries cut into eighths) (see picture)
1 mango, cut into small chunks (see picture)
60g (⅓ cup) Butter, melted and cooled slightly
2 eggs
2 medium (around 250g) Bananas, mashed
60g (¼ cup) greek yoghurt
60ml (¼ cup) milk
240g (2 cups) wholemeal flour
1 teaspoon baking powder
½ tsp baking soda
¼ tsp salt
Instructions
Preheat oven to 175C / 350F. Line a baking tray with baking paper / silicon baking mat and grease a 9 x 5 loaf tin with butter.

Evenly spread the strawberries and mangoes onto the prepared baking tray. Bake in the oven for 15 mins, or until juicy and soft. Remove from the oven and allow to cool.

In a mixing bowl add the butter, eggs, banana yogurt and milk. Mix until combined and no lumps of yoghurt remain.

In a separate mixing bowl add the flour, baking powder, baking soda and salt and stir until combined.

Add the strawberries and mango to a bowl and use approx 1 -2 tablespoon of the dry mixture to coat the fruit.

Mix the wet with the dry until combined and then gently fold in the strawberries and mango.

Pour the batter into the prepared loaf tin. Bake for approx 50 mins (until a toothpick inserted into the centre comes out clean.)

Cool in the tin for 10 mins before transferring to a wire rack.
Recipe Notes
Nutritional facts are an ESTIMATE only based on using an online nutrition calculator. Nutritional info is based on 1 slice of 9. I usually serve ¼ or ½ a slice to my kids at a time. 
Nutritional facts
Serving: 1of 9 slices | Calories: 217kcal | Carbohydrates: 33.4g | Protein: 6.5g | Fat: 7.8g | Cholesterol: 56.7mg | Sodium: 228mg | Sugar: 10.2g