This creamy Courgette Soup Recipe (zucchini soup), made with simple ingredients, is a smooth, velvety delight that will win over even the most sceptical courgette critics in your family.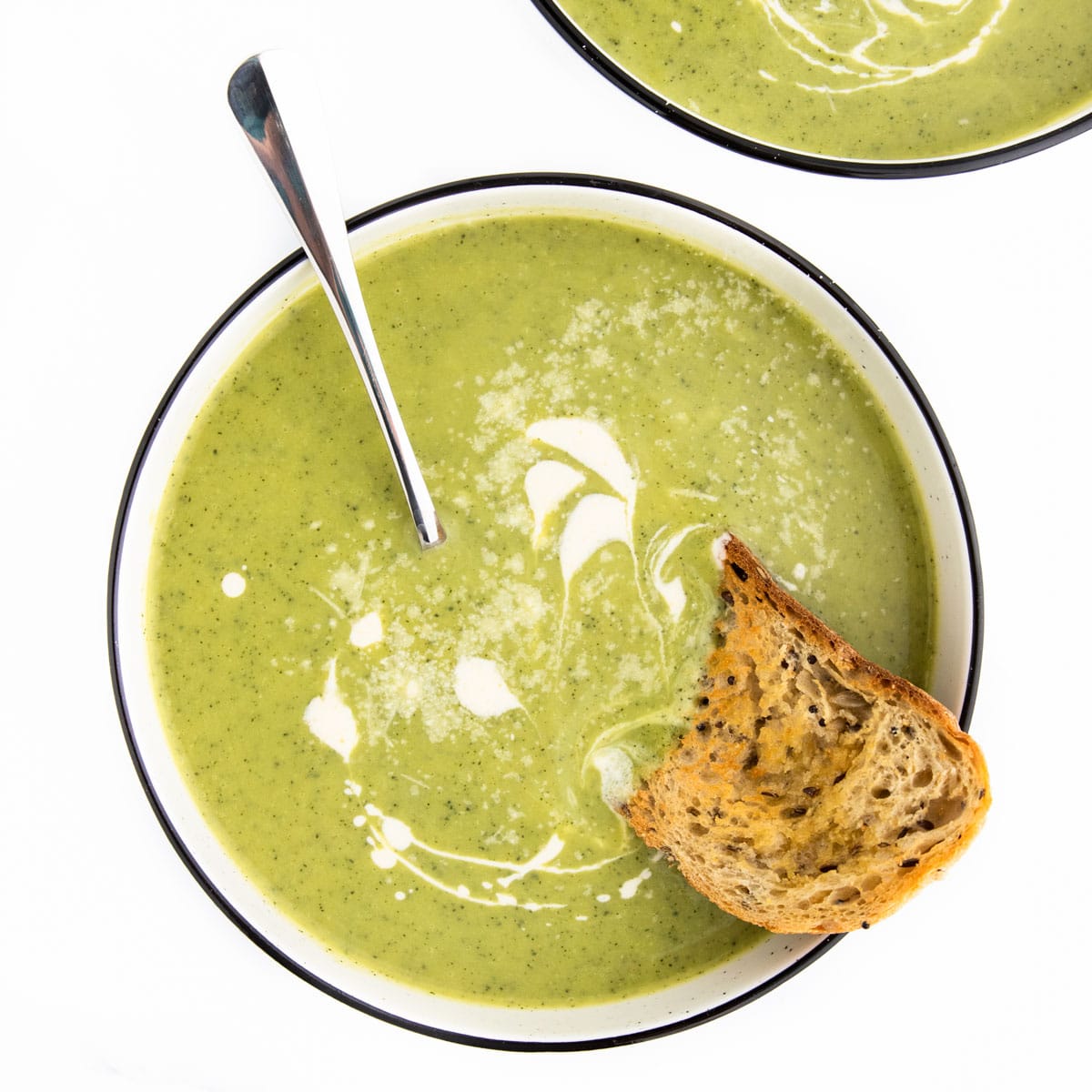 If you find yourself with a lot of courgettes (zucchinis) during the courgette season, then this cream of courgette soup is definitely the recipe for you. Whip up a generous batch and freeze it in convenient portions for those busy days. And if you still have more to spare, why not explore some of our favourite courgette recipes, including roasted courgette, zucchini bites, zucchini muffins and courgette fritters.
Jump to:
Reasons to Love This Soup
Vegetable Exposure: Even if you or your kids aren't fans of courgettes, you'll be pleasantly surprised by the delightful taste of this creamy soup. Remember, it's all about trying different ways to serve vegetables to our kids.
Nutrition: Courgettes are rich in minerals and vitamins that include potassium, phosphorus, magnesium, calcium and vitamin C. Its peel (which is blitzed into the soup) is a good source of dietary fibre which will help if your little one is suffering from constipation.
Budget Friendly: When in season courgettes are not only abundant but also affordable to purchase. If you find yourself with a glut of courgettes, this soup is the perfect way to use them.
Convenient Meal Prep: Can be refrigerated or frozen meaning you can have it prepared in advance for busy weekdays.
Video Tutorial
Ingredient Information (With Alternative Suggestions)
The full list of ingredients and amounts can be found on the printable recipe card at the bottom of the post. This section gives information on each ingredient and suggests alternatives if required.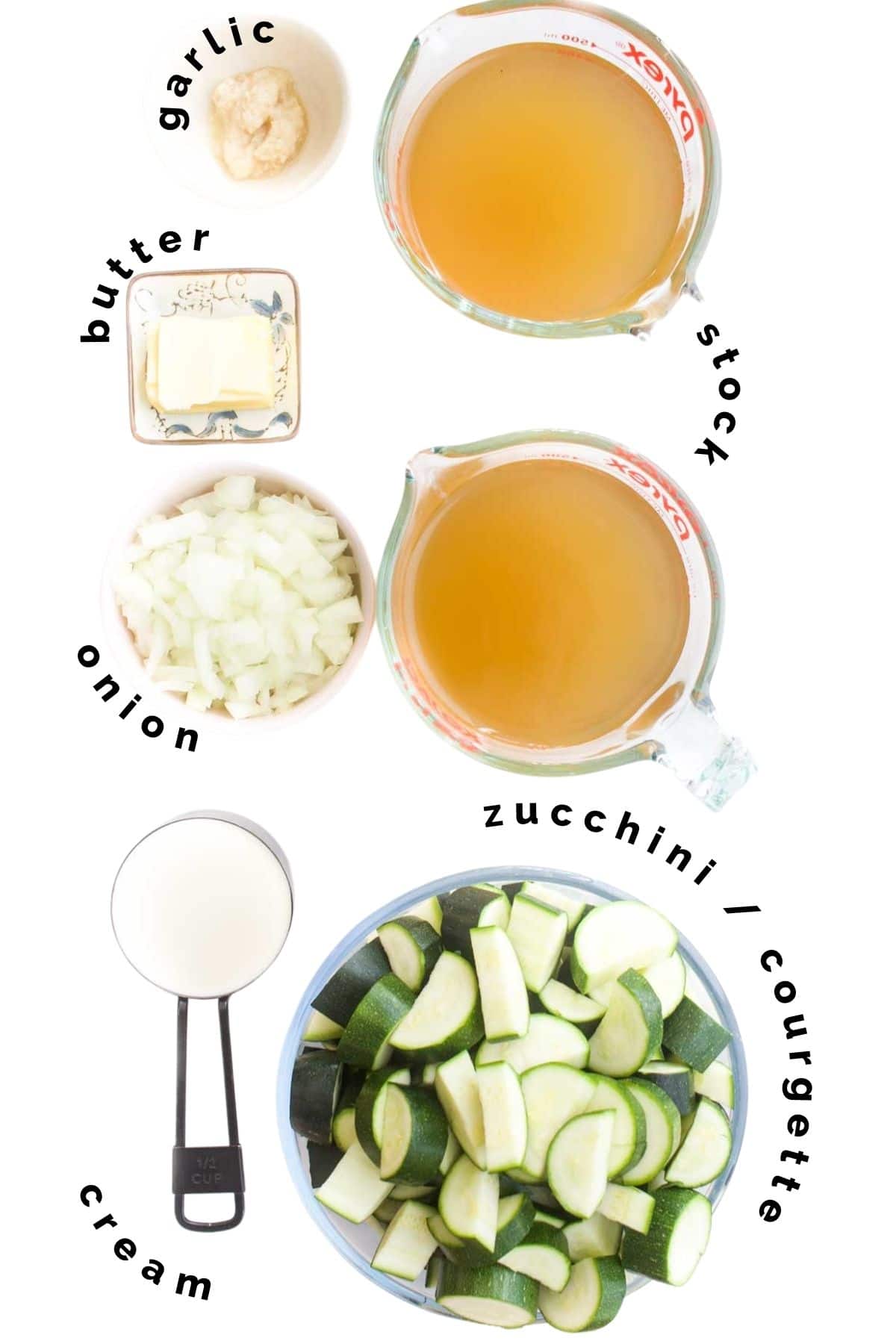 Butter - If you are looking to make this soup dairy-free you can replace it with olive oil.
Onion & Garlic - The flavour base of the soup.
Courgettes (zucchini) - The star of the soup, you will need roughly 6 medium courgettes.
Stock - Use either a homemade stock (vegetable or chicken) or a good quality store-bought stock. If making for a baby/ young child make sure to use homemade or low sodium.
Cream - This soup is thick and creamy, even before you add cream. The courgettes blend together to make the soup smooth and silky in texture. Therefore, if you want to make this soup dairy-free you can easily skip the cream altogether.
Step-by-Step Instructions & Cooking Tips (with images)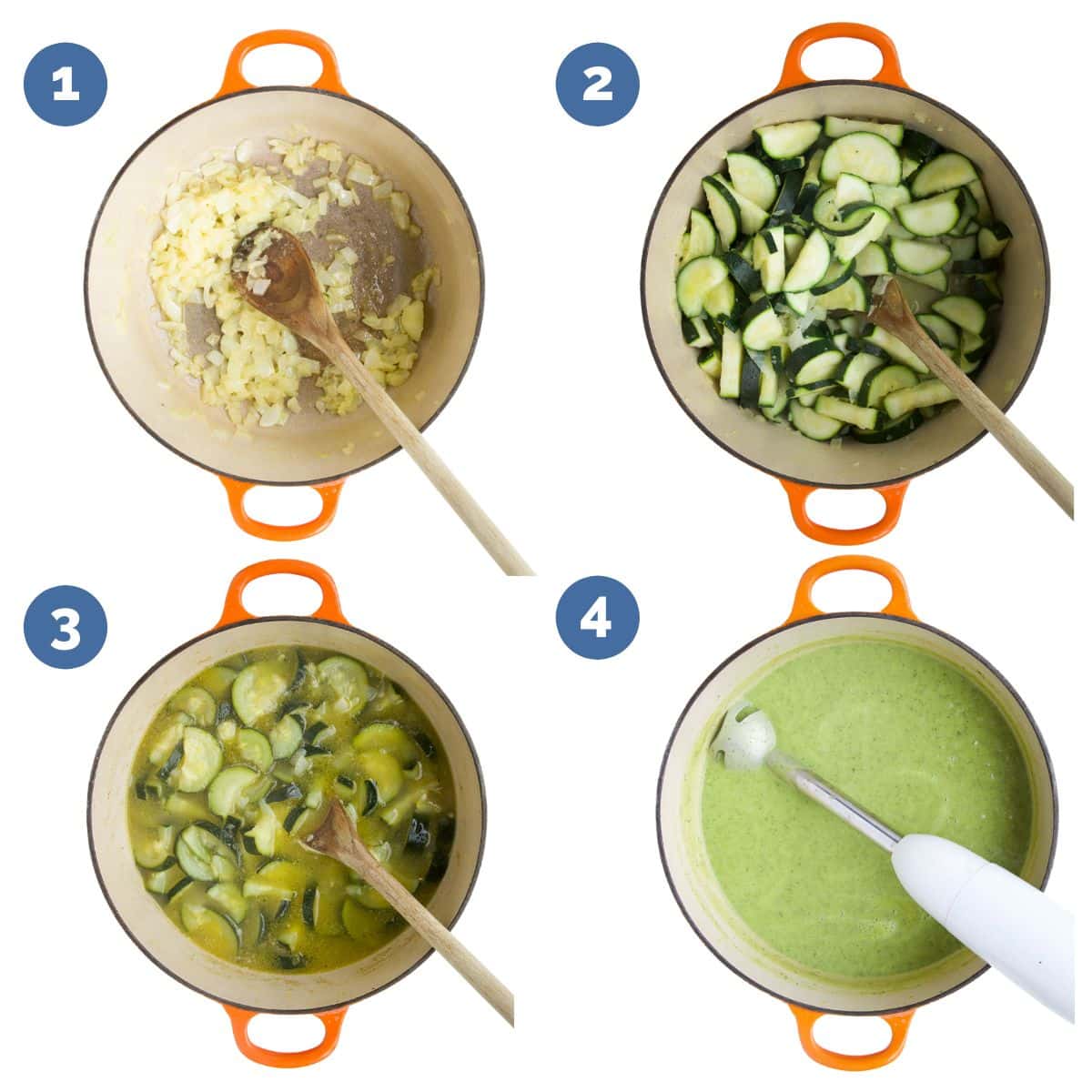 In a large pan, saute the onion and garlic, over medium heat, and cook for approx. 5 mins.
TIP: For best results take your time to slowly saute the onions until golden brown, for the extra depth of flavour it adds.
Slice courgettes (keep the courgette skins on to maximise health benefits and to achieve a gorgeous green colour), add to the pan, reduce the heat and allow them to sweat for 10 mins.
The aim is to soften the courgettes and allow them to release moisture, not to brown them.
Add the stock and simmer for 25 mins.
The courgettes should be very soft and easy to blend.
Blend until smooth.
A stick blender (hand blender/immersion blender) is the most convenient and easiest way to do this. You can also use a high-speed jug blender but allow the soup to cook slightly and depending on your blender's sizer, you will most likely need to blend in stage.
Add cream (optional) stir through and season to taste with salt and black pepper (do not salt if serving a baby)
Serve - Delicious topped with a swirl of cream, some grated parmesan cheese and served with fresh crusty bread.
Storage Instructions
Refrigerate - Allow to cool, transfer to an airtight container and store for up to 3 days.
Freeze - Allow to cool down, transfer to freezable containers, with good lids, and freeze for up to 3 months.
Recipe FAQs
Is this recipe suitable for a baby?
While this soup can be suitable for babies, there are a few considerations. As it contains dairy, a common allergen, introduce dairy separately before offering this soup. Also, ensure you use homemade stock suitable for babies or very low-sodium stock.

This comprehensive post on serving soup to your baby, covers everything you need to know and consider when serving soup to your baby.
I don't have a stick blender/blender, can I use a food processor to blend?
You can but expect a slightly less smooth texture and possibly more "bits"
More Soup Recipes
Looking for more healthy kid recipes?Sign up for my free recipe newsletter to get new family friendly recipes in your inbox each week! Find me sharing more kid-friendly inspiration on Pinterest and Instagram.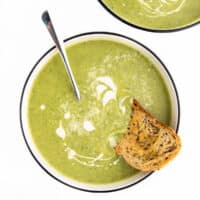 Courgette Soup (Zucchini Soup)
A deliciously smooth and creamy soup.
Prep Time: 10 minutes
Cook Time: 40 minutes
Total Time: 50 minutes
Serves:4
Hover over "serves" value to reveal recipe scaler
Equipment
Large Soup Pot

Immersion Blender (Stick Blender)
Ingredients
30g (2 tbsp) Butter * SEE NOTE 1
1 Large onion, chopped
2 Garlic cloves, minced
1 kg (2lb) Courgettes (zucchinis), halved lengthways and sliced. * SEE NOTE 2
1 litre (4 cups) Vegetable / Chicken Stock * SEE NOTE 3
120ml (½ cup) Cream * SEE NOTE 1
Instructions
Melt butter, over a medium heat, in a large pan. Add the onion and garlic and cook for approx. 5 mins (until lightly golden)

Add the courgettes, reduce the heat and allow the vegetables to sweat for 10 mins (lid on)

Add the stock and simmer for 25 mins, until the courgettes are very soft.

Using a stick blender, whizz until smooth.

Add the cream (optional) and stir through.

Delicious served with some freshly grated parmesan.
Recipe Notes
To make dairy free you can replace the butter with olive oil. You can miss out the cream, the soup is actually quite creamy without the extra cream. 
1kg is roughly 6 medium courgettes
Use homemade stock or low sodium stock if serving to baby / young child. You can also replace some of the stock with water to reduce sodium levels. 
Nutritional information is a rough guide only, calculated using an online calculator. 
Nutritional facts
Calories: 121kcal | Carbohydrates: 13g | Protein: 3g | Fat: 6g | Saturated Fat: 4g | Cholesterol: 16mg | Sodium: 1014mg | Potassium: 692mg | Fiber: 2g | Sugar: 9g | Vitamin A: 1190IU | Vitamin C: 47.3mg | Calcium: 49mg | Iron: 1mg