This Gnocchi Bake is comforting, delicious and packed with a range of different veggies. Kid and parent-approved, it is a great alternative to a pasta bake. 
Why We Love Gnocchi Bake
Amy: "I love that it is easy to make and great for using up veggies coming to the end of their life. I can make the sauce in advance, which means it great for busy weeknights. It is easy to adapt, you can change up the veggies and even puree the sauce if you have a child who doesn't like "bits" in their meals"
Finn (Age 8): "I love how delicious it is, how easy it is to eat and I love all the vegetables, I wish there was more to eat."
Rory (Age 4): "I love it because it has gnocchi"
How to Make Gnocchi Bake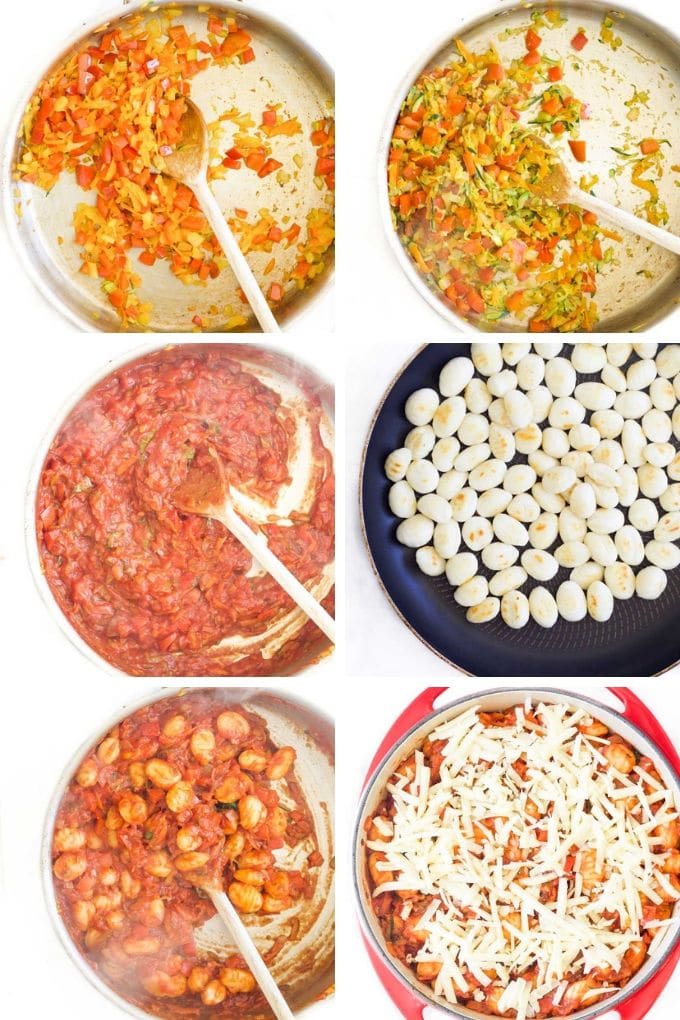 Ingredients, Alternatives and Cooking Tips
ONION, CELERY & CARROT - I always start with this mix when making this dish (and many others), not only to up the veggie content but to also add a depth of flavour and sweetness to the sauce. You can finely chop, grate or mince - depending on the texture your kids like best. Allow the vegetables to saute for at least 5 mins to soften and release their flavours.
CAPSICUM (BELL PEPPER) & ZUCCHINI (COURGETTE) - These extra vegetables can be left out or replaced with other vegetables, depending on taste. Chop the capsicum finely and grate or finely chop the zucchini. You can peel the zucchini before grating if your kids would be put off with the "green bits". I often add spinach and / or peas depending on what I have available.
ITALIAN DRIED HERBS - Italian mixed herbs are something you can buy easily in both the UK and Australia but I have had readers contact me in the past, asking what they are, so I'm guessing you can't buy them everywhere. Every brand will have their own blend, the one I use has Marjoram, Basil, Rosemary, Oregano, Parsley and Thyme.
PASSATA - Passata is an ingredient I use often and without fail a reader contacts me to ask what it is. Passata is pureed and strained tomatoes and is something you can easily pick up at the supermarkets in both the UK and Australia. If you can't find it you can replace with tomato sauce (USA/Canada) or canned crushed tomatoes with a little tomato paste. If using canned tomato you may need to cook the sauce for a little longer.
STOCK - Half a cup of stock was used to thin the sauce out a little. Use homemade/low sodium or replace with water if cooking for a baby / young child.
GNOCCHI - This recipe uses store-bought gnocchi but you can make your own if you prefer. I pan-fried the gnocchi as that is how we prefer it in this dish. If you prefer, you can also boil as per the package instructions.
CHEESE - Mozzarella works great with this dish but both my boys prefer a mature cheddar or a mix of cheddar/mozzarella. Use whatever your family likes best or whatever you have available.
Cooking Equipment
DEEP FRYING PAN - I used a large deep frying pan to saute the vegetables and make the sauce. If you don't have one you can just use a pan large enough to saute the vegetables and hold the sauce.
FRYING PAN - A second frying pan is needed to fry the gnocchi.
BAKING DISH - Bake the gnocchi in a small baking dish (mine was a round 24cm (9 ½ inch) dish.
Fussy Eater Adaptations
This sauce is quite chunky which may be off-putting for some children. You can reduce the vegetables or puree the sauce until smooth. If too thick, you can thin it out with a little stock. Alternatively, you could use this hidden veggie pasta sauce.
Is Gnocchi Bake Suitable for Babies / Toddlers?
If cooking for a baby/toddler just be mindful of the sodium content. When making the tomato sauce, use homemade stock (or replace with water) and reduce/serve without the cheese.
What to Serve with Gnocchi Bake
This bake can be served as a meal (will serve 3), along with a side of vegetables. Or alternatively serve it as a side dish along with some grilled chicken or fish.
Storage Instructions
If I want to make this in advance I usually prepare the tomato/vegetable sauce beforehand (refrigerate for up to 2 days/freeze for up to 3 months) and then assemble and cook the rest of the dish just before serving.
If you want to store the completed dish, the gnocchi may change in texture. I haven't trialled freezing and reheating yet, so cannot comment on what the result would be like. Once I have trialled it I will update this post.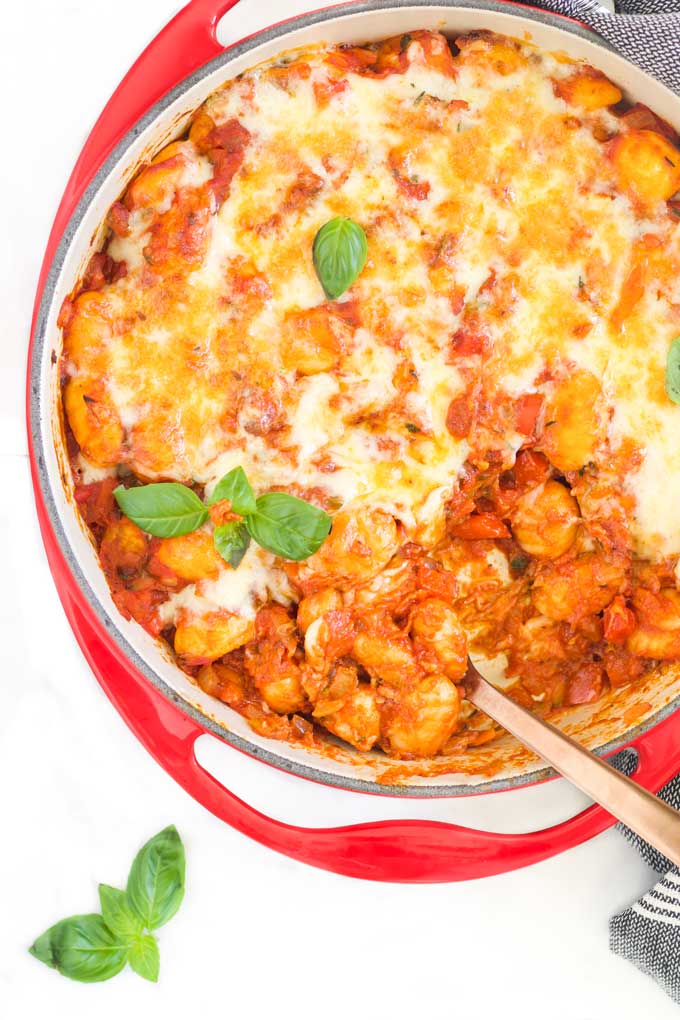 Looking for more healthy kid recipes?Sign up for my free recipe newsletter to get new family friendly recipes in your inbox each week! Find me sharing more kid-friendly inspiration on Pinterest and Instagram.
Gnocchi Bake
This Gnocchi Bake is comforting, delicious and packed with a range of different veggies. Kid and parent-approved, it is a great alternative to a pasta bake. 
Prep Time: 10 minutes
Cook Time: 30 minutes
Total Time: 40 minutes
Serves:3
Hover over "serves" value to reveal recipe scaler
Equipment
Large Deep Frying Pan

Frying Pan

Baking Dish
Ingredients
2 tablespoon Olive Oil (split)
1 Onion, finely chopped
1 Celery Stalk, finely chopped
1 Carrot, grated
1 tsp Garlic, minced
1 Capsicum (Bell Pepper), finely chopped
1 Zucchini (Courgette), grated
500ml (2 cups) Passata SEE NOTE 1
2 tsp Dried Italian Herbs
120ml (½ cup) Vegetable Stock SEE NOTE 2
4 Basil leaves, torn
500g (1.1lb) Gnocchi
65g (¼ cup) Cheese (mozzarella, cheddar etc), grated SEE NOTE 3
Instructions
In a large frying pan, heat 1tbsp of olive oil over medium heat. Add the onion, garlic, celery, carrot and capsicum (bell pepper). Saute until softened, around 5-6 minutes.

Add the zucchini and saute for a further 5 mins.

Add the passata, stock and Italian herbs. Allow simmering for 15 mins. Season to taste (do not season if serving to a baby/young child)

While the sauce is cooking, heat the remaining 1tbsp of oil in a large frying pan, over medium heat. Add the gnocchi and pan-fry for around 7 mins.

Preheat the grill (broiler) to high.

Add the fried gnocchi and torn basil leaves to the tomato sauce and mix together. Transfer to a baking dish and top with cheese. Grill until the cheese is melted and golden, around 5-10 minutes
Recipe Notes
Passata - If you can not find passata you can replace with canned crushed tomatoes and 1 tablespoon of tomato paste. You may need to cook the sauce for longer to allow the tomatoes to break down. 
Stock - Use homemade or reduced sodium stock (or replace with water) if cooking for a baby/toddler.
Cheese - Use your family's favourite melting cheese (eg mozzarella, cheddar) or mix and match a range of cheeses. Mozzarella is probably most commonly used in a dish like this but my children like the sharp taste of a mature cheddar cheese. 
Gnocchi - Use fresh or packaged gnocchi. We prefer to pan fry the gnocchi for this dish but if you prefer you can cook as per pack instructions. 
Sauce - This is a chunky sauce, if this would be off putting for your children you could blend the sauce. 
Nutritional information is a ROUGH guide only, calculated using an online nutrition calculator. Facts based on using mozzarella cheese to top. 
Nutritional facts
Calories: 533kcal | Carbohydrates: 86g | Protein: 16g | Fat: 16g | Saturated Fat: 5g | Cholesterol: 17mg | Sodium: 941mg | Potassium: 1156mg | Fiber: 10g | Sugar: 15g | Vitamin A: 5939IU | Vitamin C: 85mg | Calcium: 204mg | Iron: 10mg