These Burger Bowl Salads are sure to be a hit with the whole family. Crunchy lettuce loaded with tasty ground beef, your favourite burger toppings and a deliciously more-ish burger sauce.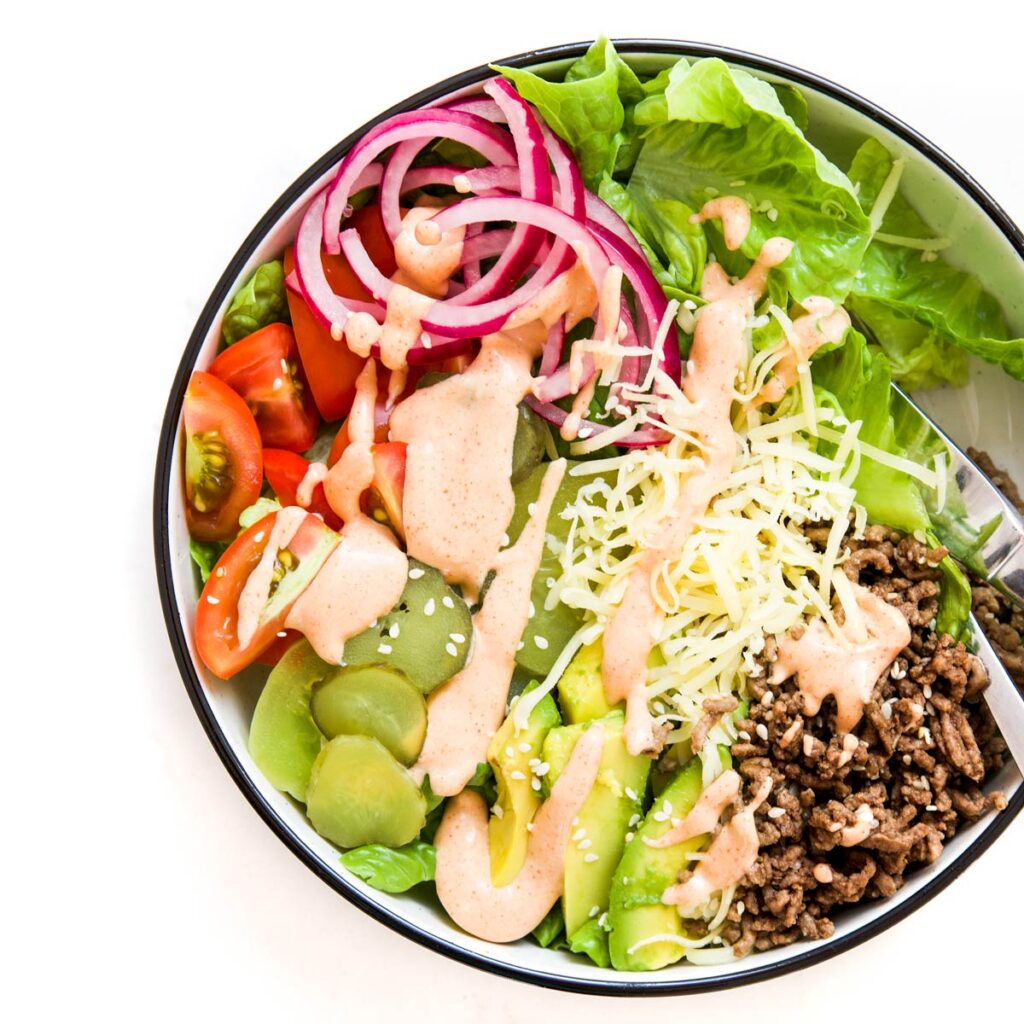 Salads don't have to be boring. Turn a fast-food favourite into a delicious salad that even the kids will get behind. All your favourite burger ingredients are served in a bowl, rather than a bun.
Reasons to Love this Burger Bowl
CUSTOMIZABLE - This recipe can easily be customized to suit your family's taste preferences. Lay out all the ingredients and let your family members assemble their own burger bowl.
NUTRITIOUS - Packed with veggie, protein and healthy fats.
FUN - A great way to make a salad more appealing to kids.
FLAVOURSOME - Savoury beef, fresh tomatoes, salty cheese, tangy pickles and a sweet and creamy sauce.
EASY - Very little cooking and easy prep. Have your meal ready in under 20 mins.
Watch How to Make It (Video)
There are three parts to making a burger bowl, the burger sauce, the "burger" and the salad.
Preparation is the most time-consuming part of compiling burger bowls. You may wish to prep the sauce and salad components in advance to make busy meal times easier, or you may simply wish to prepare everything together, as the beef cooks.
The Burger Sauce
The sauce is what makes this salad taste like a burger. Make double to keep the kids happy!
Most burger sauces are made with mayonnaise as the base. This version is made with a 50:50 split of mayonnaise and plain yogurt, making the dressing a little lighter, tangier and easier to drizzle over the salad. You can, of course, change the ratio to suit your taste or health needs.
To make the sauce simply mix all the ingredients together, taste and adjust if necessary. If you want it a little sweeter, add more mayonnaise or ketchup. If you would prefer more acidity then add a little more vinegar. Want to spice it up? Try adding a touch of hot sauce.
The "Burger"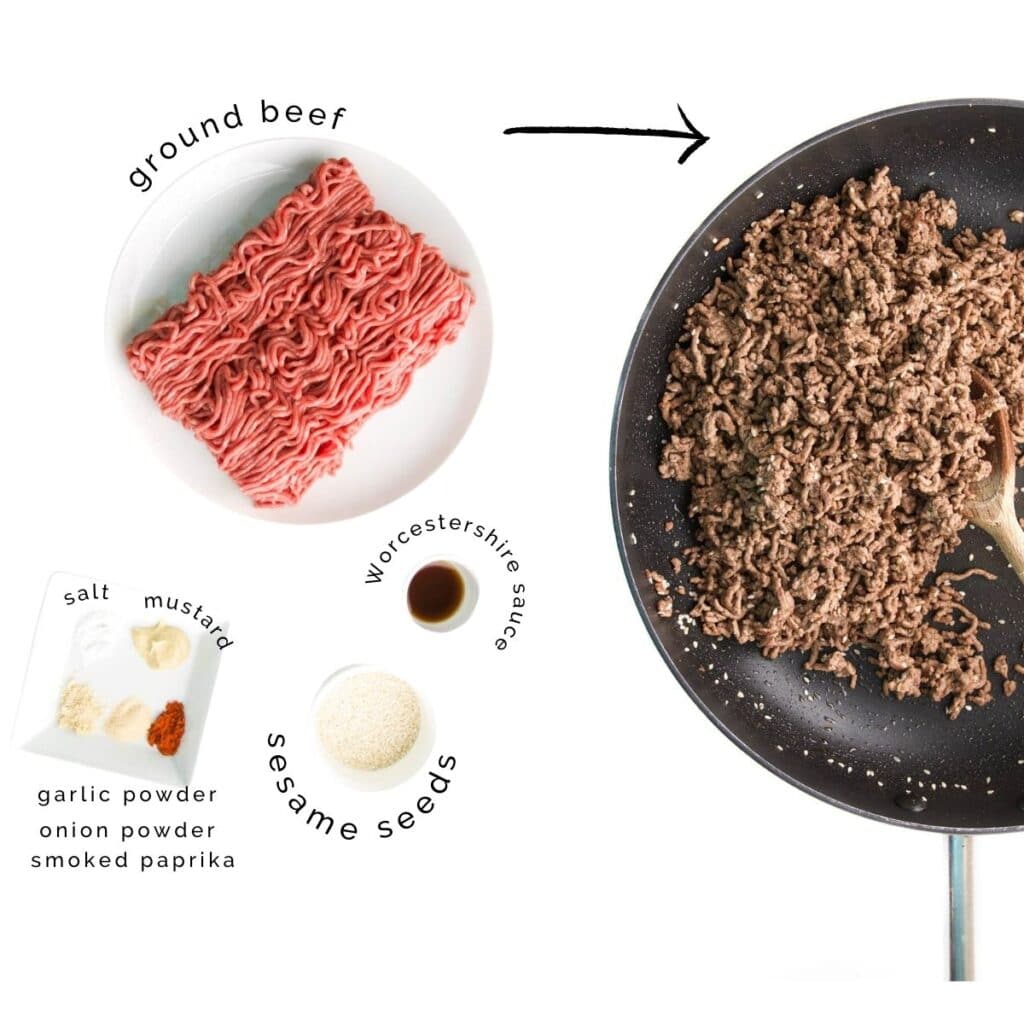 This burger bowl recipe has instructions for cooking savoury ground beef. Using ground beef allows the meat to be spread throughout the salad, meaning you get that burger taste with every bite.
However, ground beef may not be appealing to all, but, fortunately there are many alternatives that may be used instead. You could try replacing the ground beef with:
Depending on the burger or meat choice you may wish to change the dressing and salad ingredients. For example:
The Salad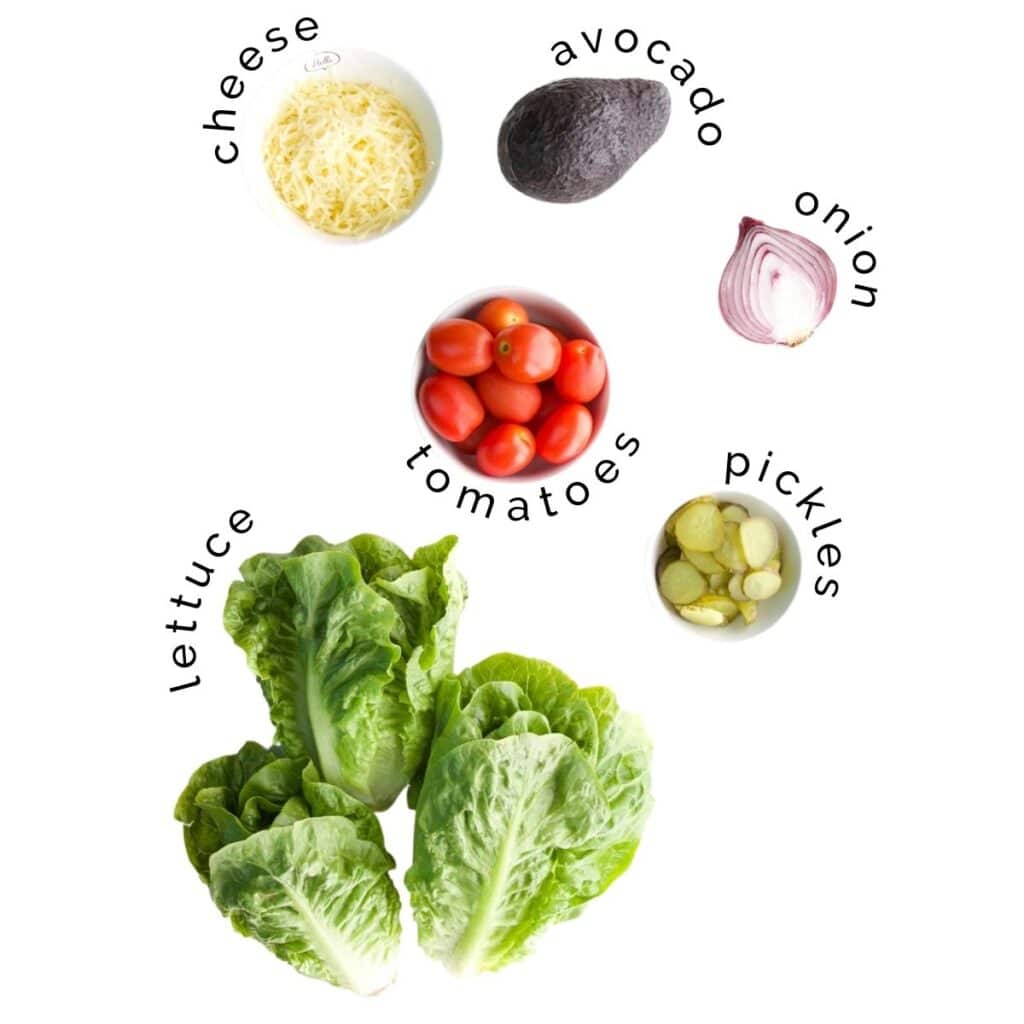 The featured recipe includes classic burger toppings ...
Lettuce - e.g Cos, Baby Gem, Iceberg, Romaine
Cherry / Grape Tomatoes - Halved or quartered (for little ones)
Pickles - Thinly sliced
Onion - Kids not keen on onion? Try thinly slicing and soaking the onions in lemon juice or vinegar for 20 mins before serving. This reduces the strong taste that is often off putting to children.
Cheese - Your favourite cheese, shredded to make it easy to sprinkle and disperse throughout the salad.
Avocado - Cut into slices or chunks.
but just like burgers, the topping ideas are endless. Here are some suggestions...
Beetroot
Grilled Pineapple
Roasted Veggies
Bacon
Fried Mushrooms
Shreeded Carrots
Shredded Cabbage
Fried Egg
And then of course you could go all out and serve the burger bowl with sweet potato wedges or carrot fries
Serving the Salad
A great way to reduce stress at mealtimes is to serve meals "family style". This involves putting the food in the middle of the table and letting each person choose what to put on their own plate. Salad bars are a great example of this, allowing your child the freedom to create his/her own burger bowl.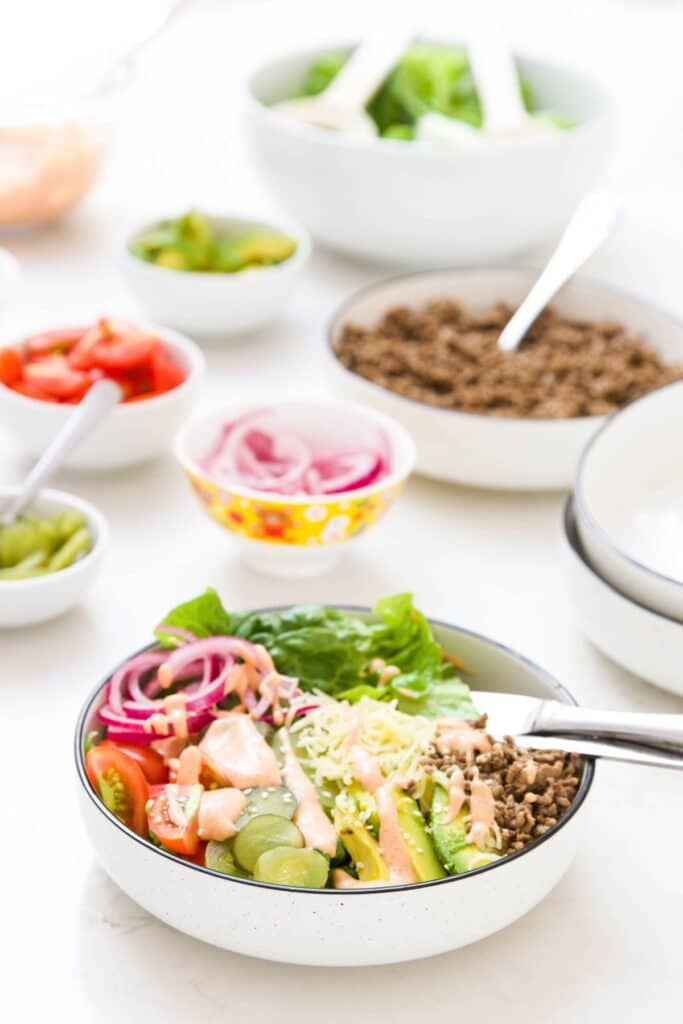 Looking for more healthy kid recipes?Sign up for my free recipe newsletter to get new family friendly recipes in your inbox each week! Find me sharing more kid-friendly inspiration on Pinterest and Instagram.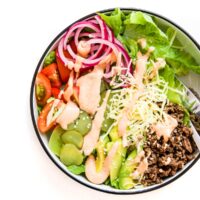 Burger Bowl
Crunchy lettuce loaded with tasty ground beef, your favourite burger toppings and a deliciously more-ish burger sauce.
Prep Time: 10 minutes
Cook Time: 15 minutes
Total Time: 25 minutes
Serves:4
Hover over "serves" value to reveal recipe scaler
Ingredients
Salad component
350g(6 cups) Lettuce, chopped (e.g Cos, Baby Gem, Romain, Iceberg)
225 g (1½ cups) Cherry Tomatoes, halved (or quartered for little children)
1 Avocado, sliced
60g (½ cup packed) Cheese, grated
65g (½ cup) Sliced Pickles
½ Red Onion, thinly sliced See note 2 to make onion more child friendly
Burger Ingredients
500g (1lb) Ground Beef See Note 1 for Substitutions
¼ teaspoon Garlic Powder
¼ teaspoon Onion Powder
½ teaspoon Smoked Paprika
¼ teaspoon Pepper
½ teaspoon Salt
1 teaspoon Dijon Mustard
½ teaspoon Worcestershire sauce
2 teaspoons Sesame seeds
Burger Sauce
60g (¼ cup) Greek yogurt
60g (¼ cup) Mayonaise
2 tablespoon Tomato Ketchup (Sauce)
2 teaspoon Dijon Mustard
½ teaspoon Smoked Paprika
¼ teaspoon Garlic Powder
1 teaspoon Cider Vinegar
Instructions
Salad Prep
Prep all your salad ingredients (wash and chop as directed in ingredients) and place them in individual bowls.
Burger Meat
Heat a skillet over high heat. Add the ground beef and cook, breaking it up as you go, until mostly browned.

Add the garlic powder, onion powder, smoked paprika, salt, pepper. Cook until beef is browned all over. Add the mustard and worcestershire sauce and stir through.

Drain any excess liquid from the beef, if required. Saute the sesame seeds for 30 seconds - 1 min and stir through the beef.
Burger Sauce
While the beef is browning, make the burger sauce. Add all of the ingredients to a small bowl and mix together until combined.
Serving
Lay all the salad ingredients, beef and sauce on the table and allow the family to create their own salad bowls.
Recipe Notes
Ground Beef Alternative: If you or your children are not keen on ground beef then it can be substituted with ground chicken/turkey. Alternatively, cook the burgers and crumble/chop them into bite-sized pieces.  Onion: Try thinly slicing and soaking the onions in lemon juice, vinegar or water for 20 mins before serving. This reduces the strong taste that is often off-putting to children. Burger Sauce: Taste and adjust to suit. (For a sweeter sauce add more mayo/ketchup, for a more acidic sauce add more vinegar. Want it spicier?  Try adding a little hot sauce).  Nutritional information is a ROUGH guide only calculated using an online nutrition calculator. 
Nutritional facts
Calories: 623kcal | Carbohydrates: 15g | Protein: 30g | Fat: 50g | Saturated Fat: 16g | Polyunsaturated Fat: 9g | Monounsaturated Fat: 20g | Trans Fat: 2g | Cholesterol: 112mg | Sodium: 846mg | Potassium: 1053mg | Fiber: 7g | Sugar: 6g | Vitamin A: 8449IU | Vitamin C: 23mg | Calcium: 216mg | Iron: 5mg