Pasta sauces, like many meals that have a sauce base, are a great way to up the vegetable intake of your child's meal. This Hidden Veg Pasta Sauce is loaded with six different vegetables and blended smooth, making it perfect for picky eaters or kids with textural issues.
Although I strongly believe children should be continually exposed to vegetables in their whole form, I also understand the value of "hidden" (or as I like to think of it, "boosted") veggie dishes. If fact, I've written more about my thoughts on this topic on a seperate post - Should We Hide Vegetables in Our Kid's Food.
This Veggie Pasta Sauce is great for boosting your family's veggie intake. It is very versatile and doesn't need to be limited to just pasta dishes. You can make a large batch, store in the freezer, and use it to increase the veggie content of a variety of meals. Try it as a pizza sauce, or substitute it for passata or chopped tomatoes in dishes like this baby bolognese, fruity chicken curry or this mild chili con carne.
Jump to:
Reasons to Love this Sauce
Nutrition: A lot of commercial pasta sauces have added sugar and are high in salt. Although they are convenient and easy for busy weeknights this sauce is a much healthier alternative. For full nutritional gain, we want to eat a wide variety of vegetables. This sauce adds the nutritional goodness of six different vegetables along with chopped tomatoes.
Flavour & Texture: Vegetables actually add a lot of flavour to dishes but some children struggle with their texture. Blending them allows the flavours to be enjoyed without the "bits."
Freezer Friendly: Hidden Veg Pasta Sauce stores really well. You can make a big batch, say once a month, and freeze it in portions. I usually leave a jar in the fridge, to use that week, and then freeze the remaining sauce in zip lock bags.
Customisable: You don't have to stick religiously to the recipe. You can swap the veggies depending what you have available and you can enhance the flavour with your favourite fresh herbs (such as basil).
Stepping Stone to Enjoying Veggies: This veggie pasta sauce can be a stepping stone to children accepting vegetables. Parents can explain what vegetables are in the sauce or, even better, kids can help make it and see that vegetables can be a good thing.
Video Tutorial
Ingredient Information (With Alternative Suggestions)
For the full recipe, with ingredient amounts, scroll to the recipe card at the bottom of the post.
Vegetables: I've added a range of veggies to the pasta sauce but you don't have to be too rigid with the amounts and can play around with the veggies you add. Some other suggestions include parsnip, celeriac, mushrooms, squash or spinach. Do bear in mind that the vegetables you use will change the flavour and colour of your veggie sauce.
Italian Herbs: Added for flavour, You can skip or replace with dried oregano. Alternatively, you can add fresh herbs, such as basil, at the end of cooking.
Crushed Tomatoes: Use crushed, diced or even whole canned tomatoes. Pasatta also works great. Note that the quality of canned tomatoes can vary considerably between brands. Some cheaper brands can taste quite acidic and they will affect the overall taste of your sauce. See FAQs on ways to help rectify an acidic taste the tomatoes may give the sauce.
Stock/Broth: Chicken or vegetable stock/broth works well. It helps thin out the sauce, the stock adds more flavour but you can replace it with water if you are trying to reduce sodium levels.
Step-by-Step Instructions & Cooking Tips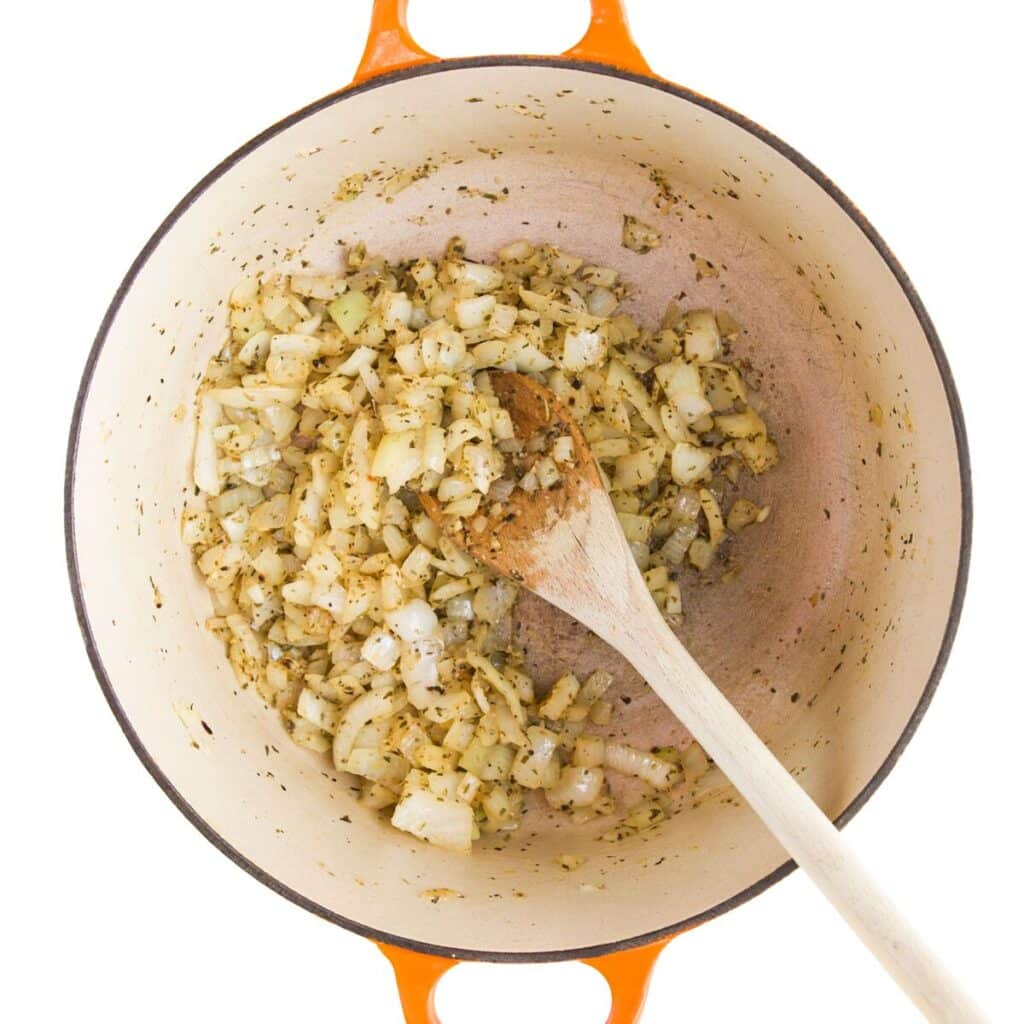 Heat a large saucepan (big enough to hold the large amount of veggies) over a medium heat. Add the oil, onions, garlic and herbs and sauté until the onions are softened.
Add the remaining chopped vegetables and cook on low heat, covered, for around 20 mins. Don't try to rush/skip this step. Taking your time to soften the vegetables really helps add sweetness and depth of flavour to the sauce.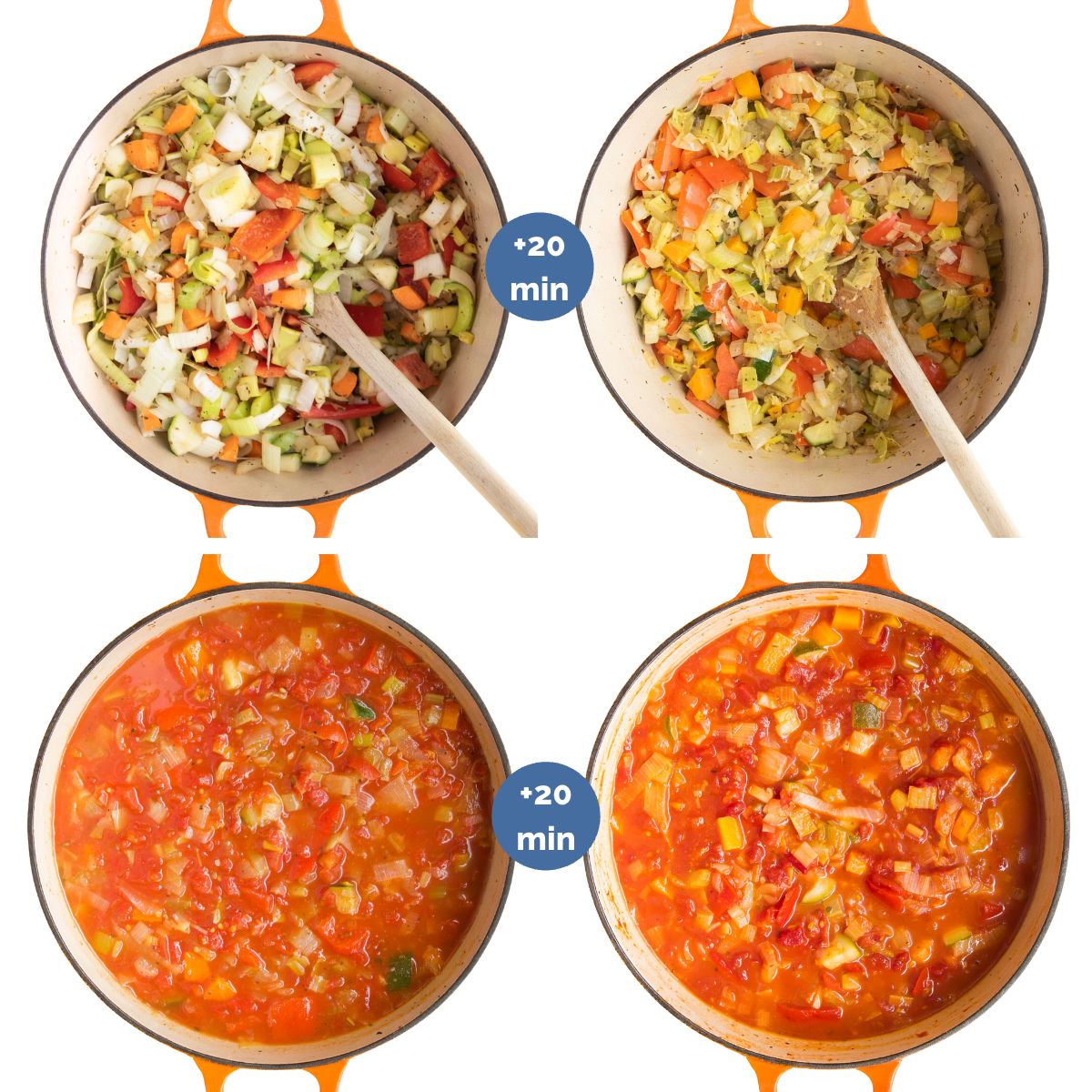 Add crushed tomatoes and stock, bring to a boil and then simmer gently, uncovered, for a further 20 minutes. The sauce should have reduced a little.
Allow your veggie pasta sauce to cool slightly before blending smooth. You can use a hand-held blender or a high-speed blender. I find the blender produces a smoother sauce but I need to do it in two batches (and I have a large blender).
Taste and season will salt and pepper as needed. (Remove baby/toddler portion first).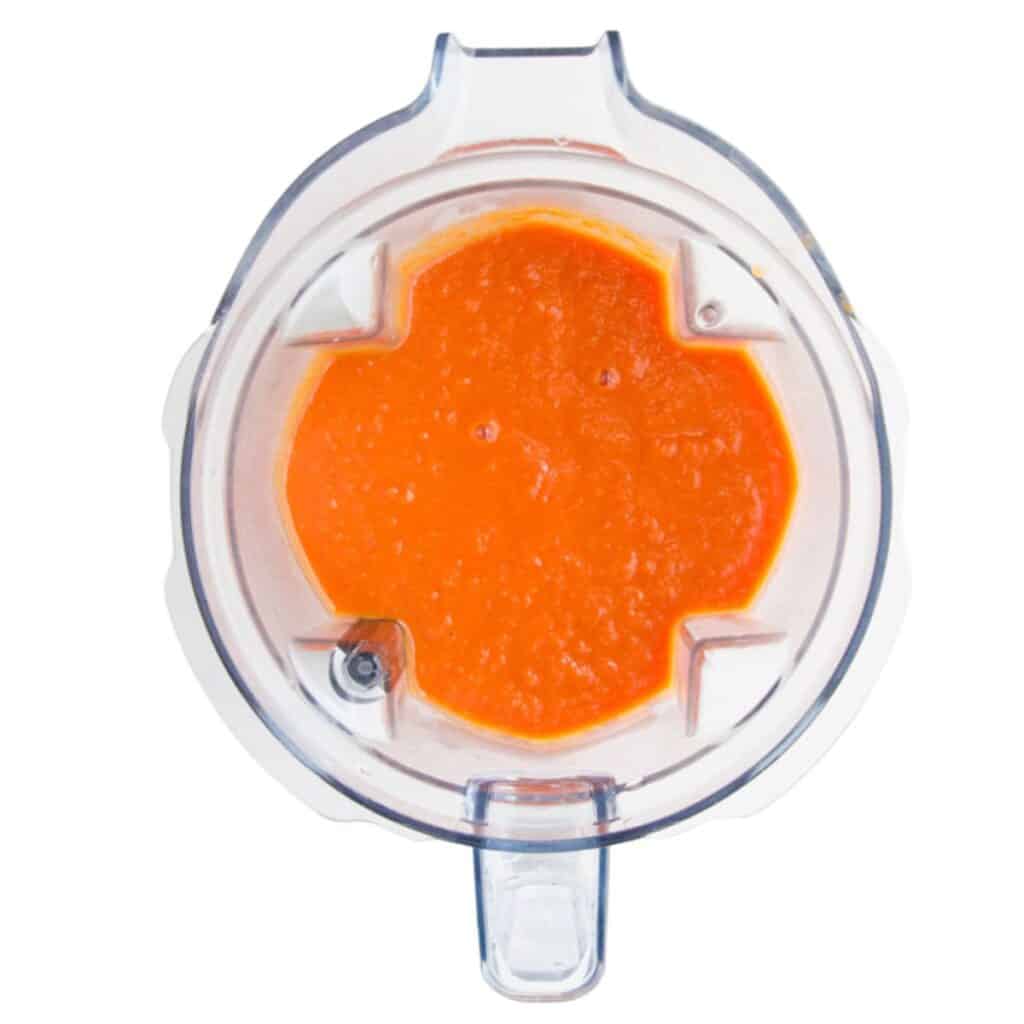 Storage Instructions
Refrigerate: Cool the sauce quickly and add to an airtight container, like a mason jar. Store for up to a week in the refrigerator.
Freeze: Cool the sauce quickly and portion it out into freezable containers/bags. Zip-lock bags work well, as they can be flattened to remove air and don't take up much space. Freeze for up to 3 months.
For babies/toddlers, freeze the sauce in large ice cube tray until solid, then transfer to a zip-lock bag for convenient portioning and thawing.
Recipe FAQs
I prefer a thicker sauce, how do I thicken it?
If you want a thicker sauce then reduce the amount of tomatoes you add. You can use two or three cans instead of four. Additionally, reduce the amount of stock added to between half and one cup.

If you have already made the sauce, allow it to simmer for a longer to let the excess liquid evaporate.
My veggie pasta sauce has an acidic taste, how can I change this?
Some canned tomatoes can be quite acidic. Even if they are sweetened with the cooked vegetables the sauce may still have an acidic taste. Allowing the vegetables to soften for 20 mins, and then letting the sauce simmer for 20 mins, will help with this.

If still acidic, try adding a little sugar (or other sweetener). Stir and taste the sauce then repeat until it helps with the acidity. A little salt may also help to balance out the flavours. (If you are serving a baby remove their portion before adding sugar and salt.)
Is hidden veg pasta sauce suitable for babies?
Yes, this is a great sauce for babies and toddlers. To reduce the sodium levels use a low sodium or homemade chicken stock or vegetable stock. Alternatively, you can replace the stock with water. (I'd start with less water (around 1 cup) and add more if needed.

If you want to add more texture to your baby's sauce then just pulse the sauce and serve it chunky. (Introducing different textures is just as important as introducing different flavours).
Can I half the recipe?
Absolutely! While I do prefer making a larger batch of this sauce to have on hand in the freezer, feel free to scale the recipe down to meet your needs.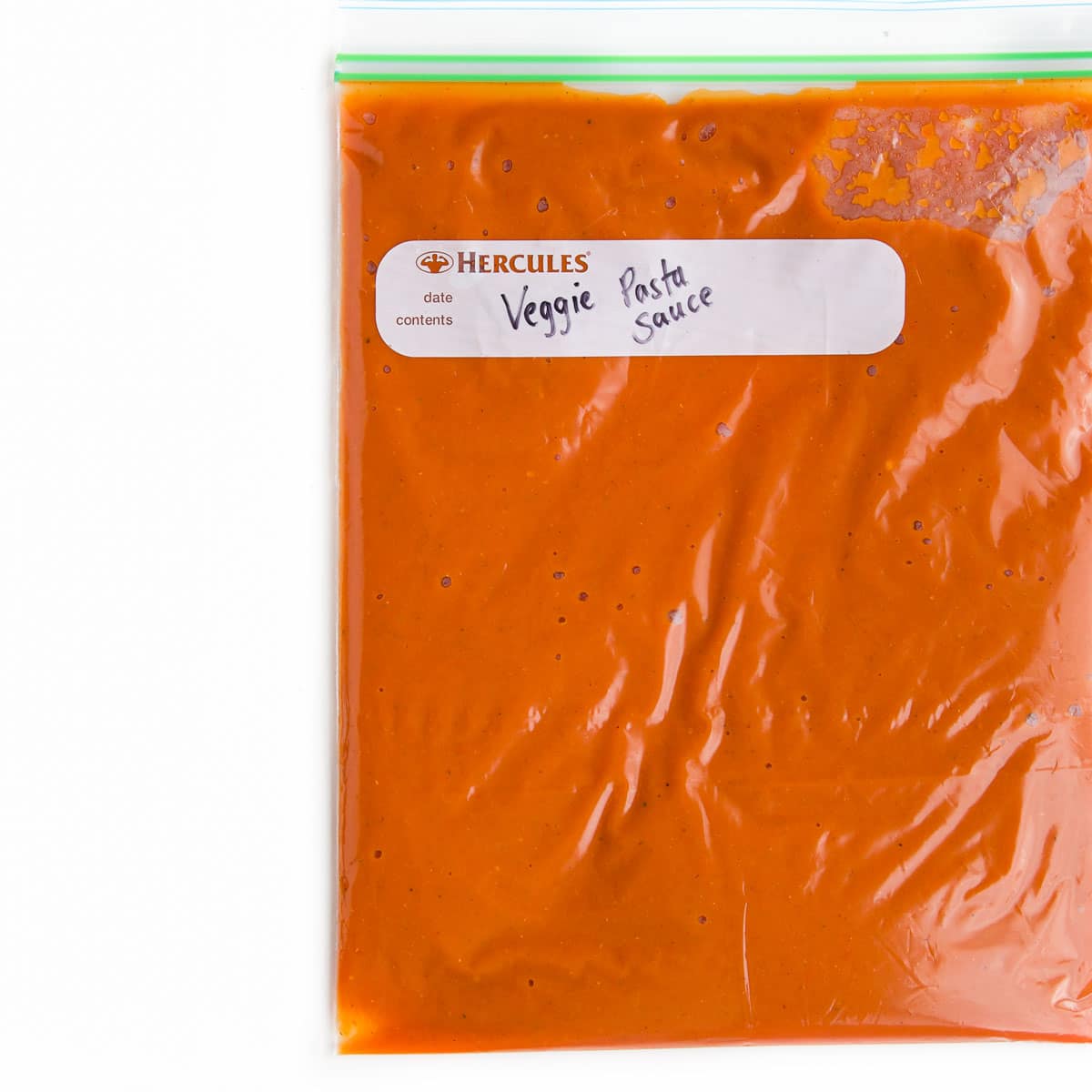 Looking for more healthy kid recipes?Sign up for my free recipe newsletter to get new family friendly recipes in your inbox each week! Find me sharing more kid-friendly inspiration on Pinterest and Instagram.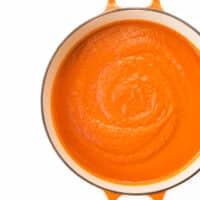 A delicious veggie pasta sauce, crammed full of 6 different vegetables. Perfect for picky eaters or just a great way to add more veg to your family's diet. No added salt or sugar. Great for a pasta sauce or for topping pizzas. It can also be used to replace a can of chopped tomatoes in most recipes.
Prep Time: 20 minutes
Cook Time: 45 minutes
Total Time: 1 hour 5 minutes
Serves:19
Hover over "serves" value to reveal recipe scaler
Ingredients
2 tbsp olive oil
2 onions ,finely chopped
1 tsp minced garlic
2 tsp dried Italian herbs
3 celery stalks ,trimmed and finely chopped
2 medium leeks ,trimmed and finely chopped
2 medium carrots ,peeled and finely chopped
2 medium red bell peppers (capsicum) ,finely chopped
1 medium zucchini (courgette) ,finely chopped
2 28oz cans (4 x 400g cans) crushed tomatoes
1 tbsp tomato paste (tomato puree)
2 cups (500ml) stock/broth (chicken or vegetable) *SEE NOTE 1
Instructions
Heat the oil in a LARGE saucepan, over medium heat. Add the onion, garlic, and mixed herbs and stir for a couple of minutes. 

Add the remaining vegetables (celery, leeks, carrots, capsicum, zucchini) and cook, covered, over medium-low heat for around 20 minutes. Continually check and stir the vegetables, you want them to soften but not burn. 

Add the tomatoes, tomato paste, and stock (SEE NOTE 1). Stir until combined. Bring to a boil, reduce the heat and allow to simmer for a further 20 mins.

Allow to cool slightly and then blend until smooth (SEE NOTE 2). Taste and season accordingly (do not season if making for a baby).

Allow to fully cool before pouring the sauce into containers/zip lock bags for storing. (SEE NOTE 3)
Recipe Notes
Depending on how thick you like your pasta sauce you may wish to reduce the amount of stock used. Start with one cup and add more if needed. Use homemade stock (or water) if serving to a baby / young child to reduce sodium levels.
You can blend using a stick blender or high-speed blender. If using a blender you will have to do this in batches due to the volume of sauce. 
This recipe makes A LOT of sauce. (Around 2.6kg which is roughly the equivalent of 6-7 commercial jars of pasta sauce.) The reason I make so much is so I only have to make it occasionally and can freeze the remaining sauce for quick and easy weeknight meals. If you prefer you could half or even quarter the recipe. 
Nutritional information is an ESTIMATE only, calculated using an online nutrition calculator. Facts should be used as a guide only.  Facts are based on the recipe making 19 portions (each portion being around ⅓ of a standard-sized jar of pasta sauce)
Nutritional facts
Calories: 50kcal | Carbohydrates: 8g | Protein: 1g | Fat: 1g | Sodium: 245mg | Potassium: 295mg | Fiber: 2g | Sugar: 4g | Vitamin A: 1855IU | Vitamin C: 28.7mg | Calcium: 51mg | Iron: 1.8mg