Chicken Florentine – A great family dish made up from tomatoes, spinach, chicken, white sauce and cheese.

Chicken Florentine is Finn's great Aunt Jan's recipe and I have made it a few times since first trying it at her house last year. It is an easy dish to make but does take time and you do end up using a lot of pans and dishes! For this reason I usually make double the amount and freeze.
The first layer is tomato and garlic. Drain the excess juices from two tins of chopped tomatoes and gently fry the tomatoes with some garlic. Pour into your dish / dishes.

The next layer consists of nutrient packed spinach. Defrost one bag of frozen spinach and squeeze as much water out as possible. This is important as you don't want the dish to be too watery. Gently fry with a little butter and spread on top of the tomatoes.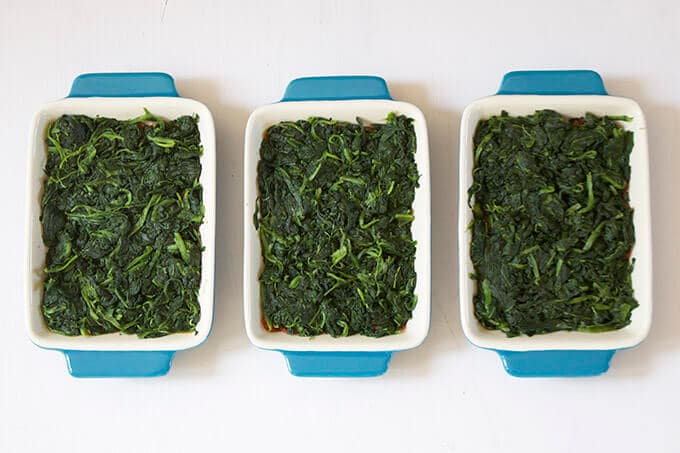 Now flatten chicken mini fillets (I use cling film or a zip lock bag and bash with a rolling pin) and flash fry with a little more garlic. Layer on top of the spinach.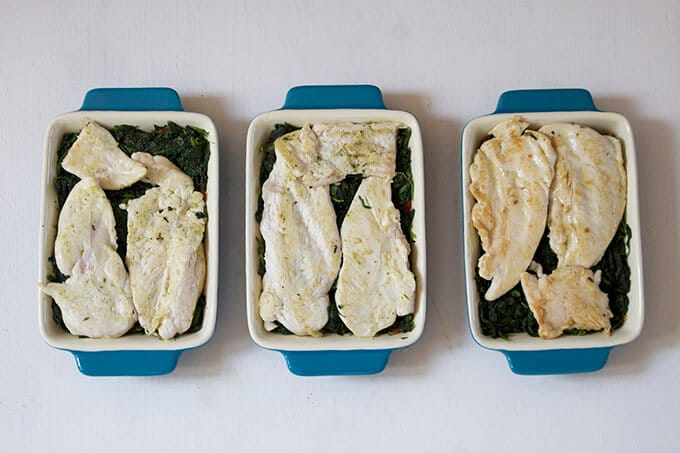 Top with a white sauce, some grated cheese and panko breadcrumbs.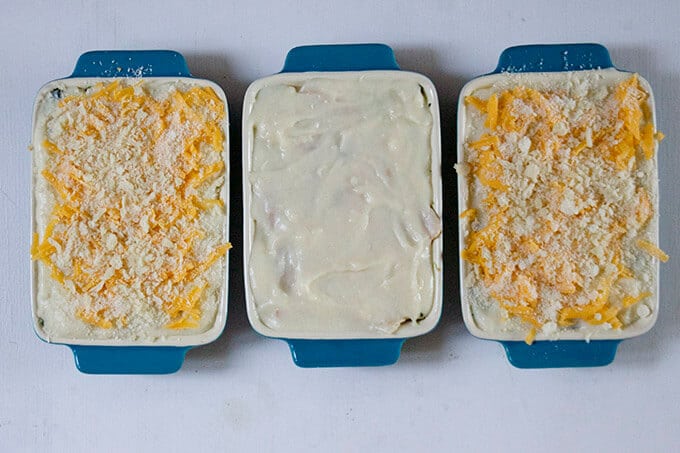 Bake in the oven until browned and crispy on top (around 20 mins)
Looking for more healthy kid recipes?Sign up for my free recipe newsletter to get new family friendly recipes in your inbox each week! Find me sharing more kind-friendly inspiration on Pinterest and Instagram.
Chicken Florentine
Hover over "serves" value to reveal recipe scaler
Ingredients
2 400 g tinned tomatoes (drain excess juices)
4 garlic cloves crushed
800 g frozen spinach (defrosted)
450 g chicken mini fillets
for the sauce
27 g butter
27 g (3 tbsp) flour
1/2 tsp mustard powder (optional)
310 ml (1 1/4 cup ) milk
60 g cheddar cheese
30 g parmesan cheese
20 g panko breadcrumbs
Instructions
Pre heat oven to 200c / 400f / Gas 6

Gently fry the tomatoes with half of the garlic for a couple of minutes. Pour into dish / dishes.

Squeeze as much water out from the defrosted, frozen spinach. Gently fry with a small knob of butter (about 3g) and then spread on top of the tomato layer.

Flatten the mini fillets (place chicken between cling film sheets or in a zip lock back and batter with a rolling pin) and then flash fry in the remaining garlic. Layer on top of the spinach.

Now make the white sauce. Melt the butter in a pan and add the flour and mustard powder then stir to form a paste. Over a gentle heat add half a cup of the milk and continually whisk to prevent any lumps forming. Slowly add another half cup of milk and continue to whisk. Repeat until all the milk is used up. Pour the white sauce on top of the chicken.

Sprinkle the cheese and breadcrumbs on top.

Bake for aprox. 20 mins (until heated through and crispy on top)