Eggy bread, also known as French Toast, is simply bread soaked in eggs and milk then pan-fried. It can be enjoyed both sweet or savoury. Cut into fingers, it makes a great breakfast for babies and toddlers.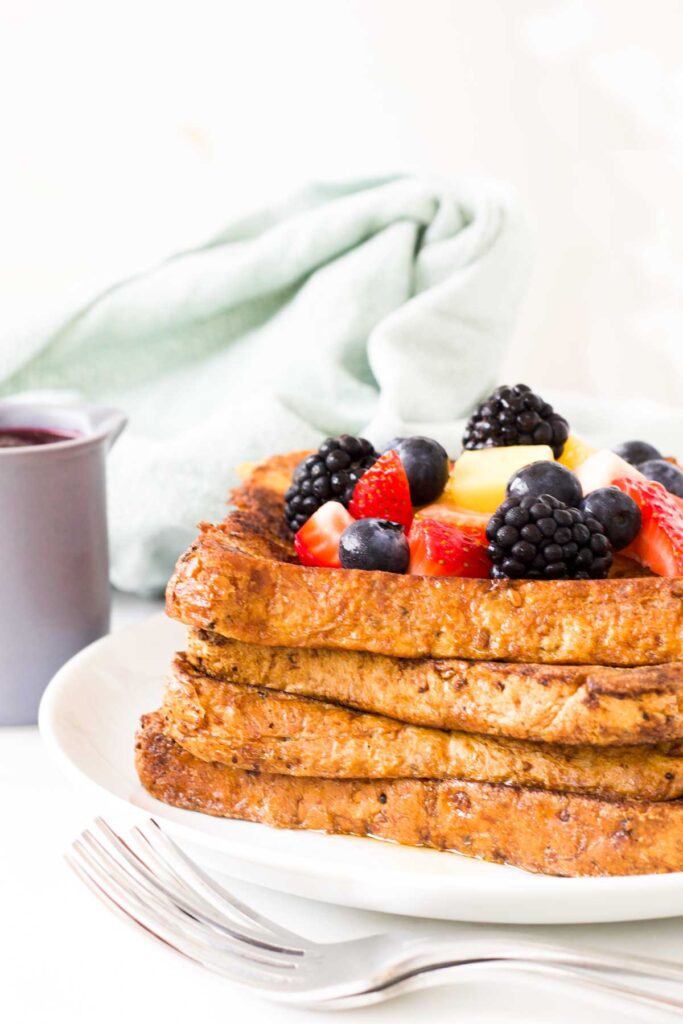 What's to Love About Eggy Bread?
Versatile - Serve it sweet or savoury. Enjoy it for breakfast for lunch or a quick dinner option.
Great for Child Involvement - Involving kids in the kitchen is so beneficial. This is a great recipe for them to help with. (cracking eggs, mixing, dipping etc)
Added Nutrition - Eggy bread can be a good way to add extra protein for pickier eaters.
Why call it Eggy Bread and Not French Toast?
I grew up with the term Eggy Bread (UK) and so this is what I still call it today. You can name it whatever you wish! Sometimes a name can really change how a child feels towards certain food so if your child doesn't initially like it then perhaps it is worth trying both names!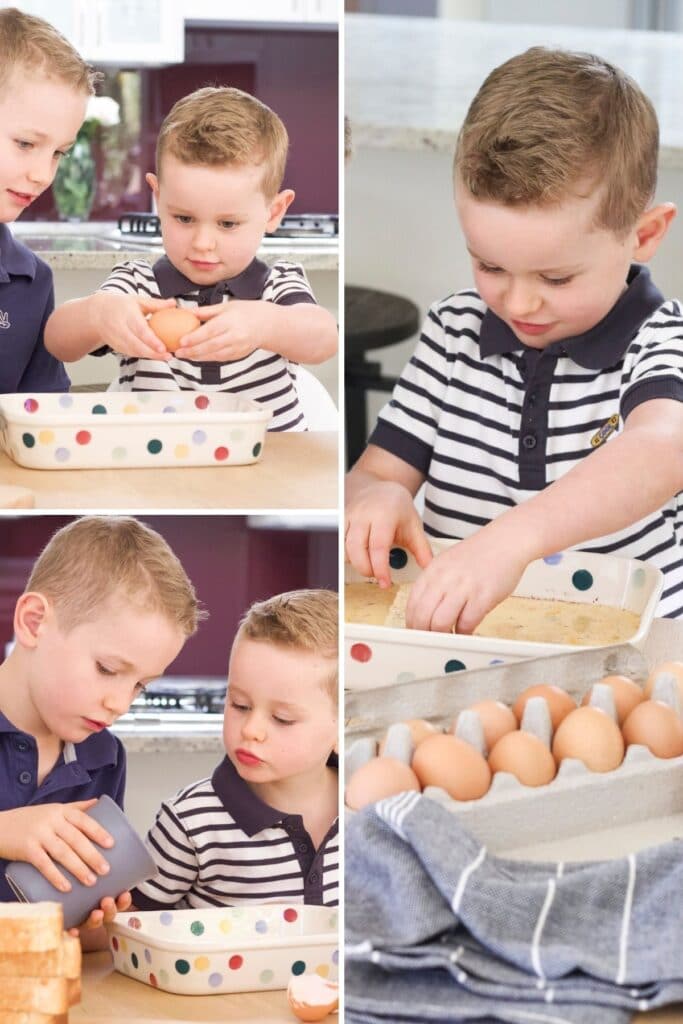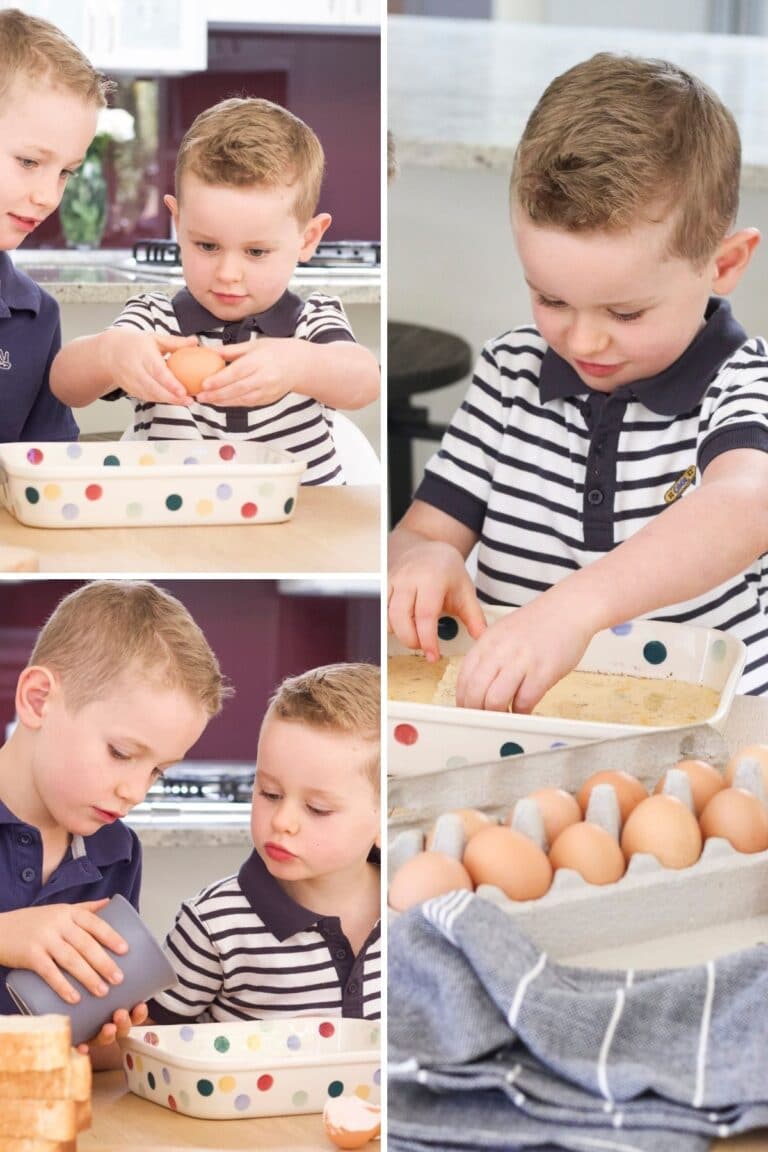 Ingredients Information and Alternatives
BREAD - This is a great recipe for using up stale bread. When feeding a baby / young child then I recommend checking the sodium levels of the bread, as this can vary greatly. Look for the lowest levels of salt per 100g or per slice. Also, it is best not to offer babies bread which contains large seeds, especially when they are new to weaning. Hard seeds in foods may pose a choking risk. 
EGGS
MILK - I've used cows milk for this recipe but you can use any milk to suit dietary requirements.
CINNAMON - Not required, it just adds a little flavour. You could also try vanilla or smoked paprika for a savoury option.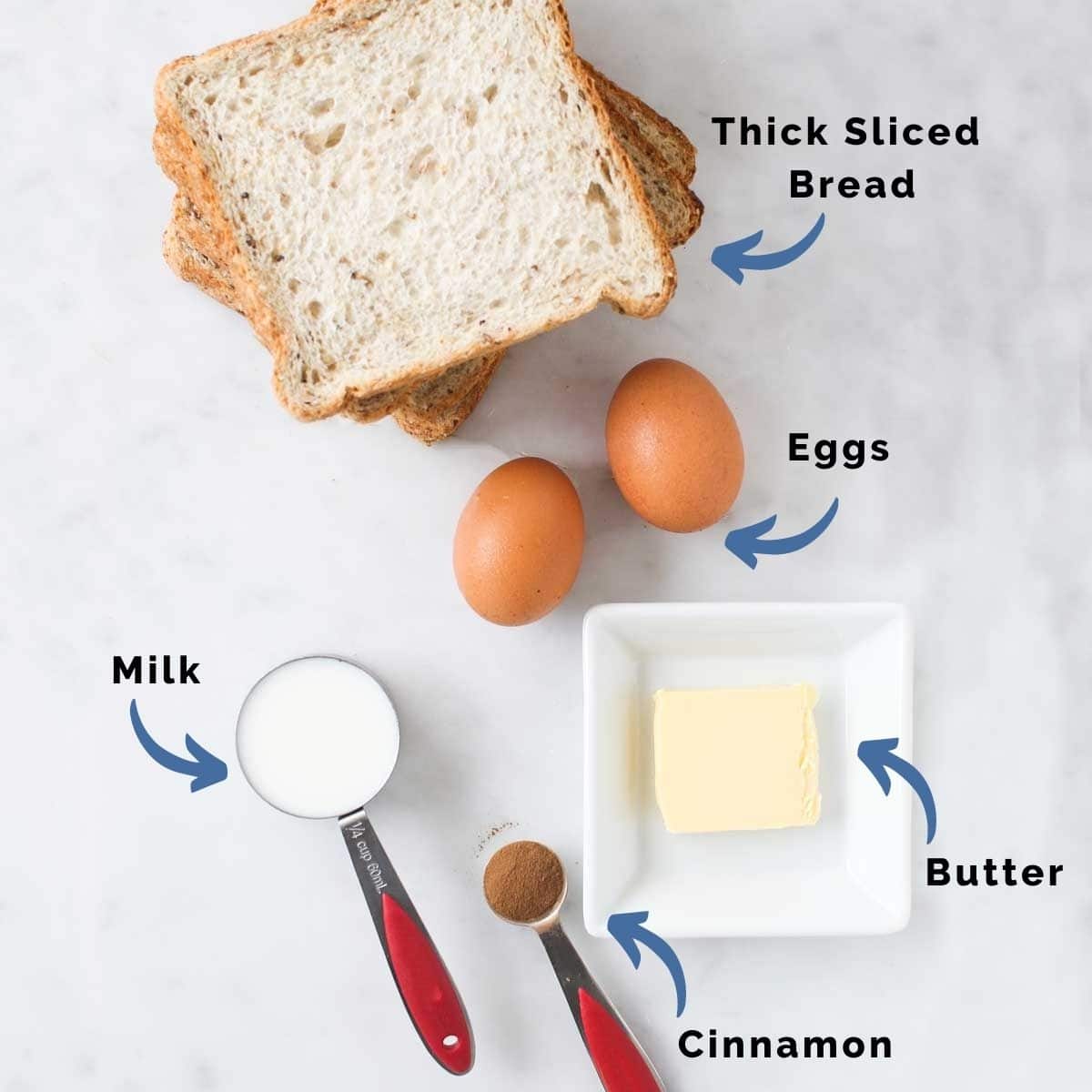 Cooking Tips and Tricks
Egg to Milk Ratio. Don't go overboard with the amount of milk you use. If there's too much, the egg in the mixture won't cook, resulting in soggy, bread.
Properly Mix -Make sure to whisk the mixture until the milk, eggs, and spices (if using) are well combined.
Use slightly stale bread - Fresh bread tends to soak up the mixture too quickly, causing the eggy bread to be too soft.
Eggy Bread Sticks
A fantastic way to serve eggy bread to babies and children (or even adults) is to serve it as sticks.
Perfect for eating with fingers (and for little hands to handle)
Great for dipping (which we know kids love to do!)
The key to making eggy bread sticks, that are stiff enough to pick up without flopping, is to use thick slices of stale bread.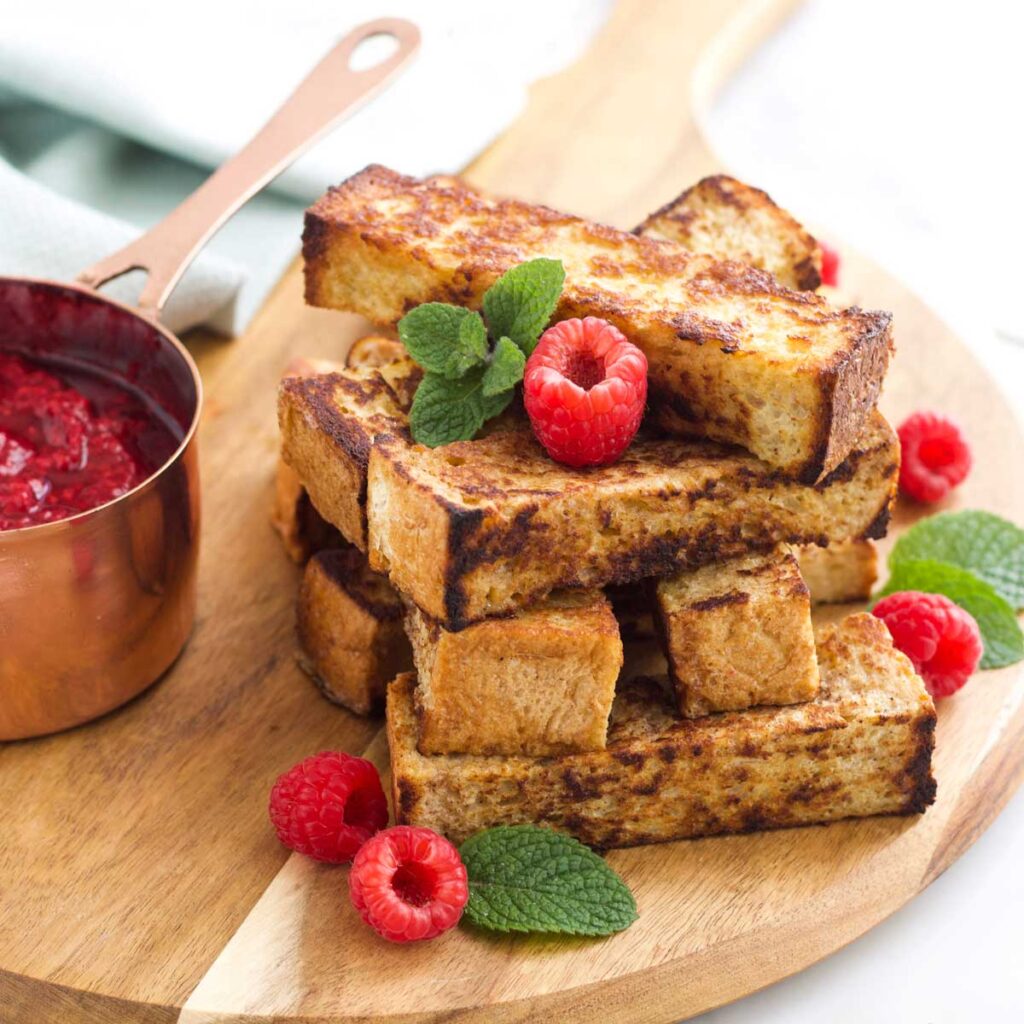 Toppings / Dip/ Flavour Ideas
Chopped fresh fruit
Yoghurt
Spices, e.g cinnamon, vanilla (added into the egg/milk mixture)
Mashed banana (mix with the egg/milk mixture)
Cheese (add some grated cheddar or parmesan to egg/milk mixture)
Storage / Reheating Instructions
I would always recommend making eggy bread fresh, however, I have had leftovers and both boys happily ate it the following day. You can either serve cold or reheat on the stovetop. The bread will heat up quickly, only taking a minute or so to heat up on each side.
Frequently Asked Questions
Can babies eat eggy bread / french toast?
Yes, from 6 months babies can eat cooked eggs, bread and foods cooked with milk. However, your baby should be physically ready and have previously been introduced to finger foods. This recipe contains gluten, dairy and egg which are all potential allergens. Each of these foods should be offered separately, leaving 2-3 days in between to monitor for allergies, before trying this recipe.
Can you eat eggy bread when pregnant?
Yes, the egg is cooked.
Is eggy bread healthy?
This really depends on the bread and toppings you decide to use. Like a lot of foods, you can make this really indulgent (e.g brioche bread topped with lots of syrup) or make a healthier option by choosing a healthier bread and fresh fruit / natural yoghurt for topping.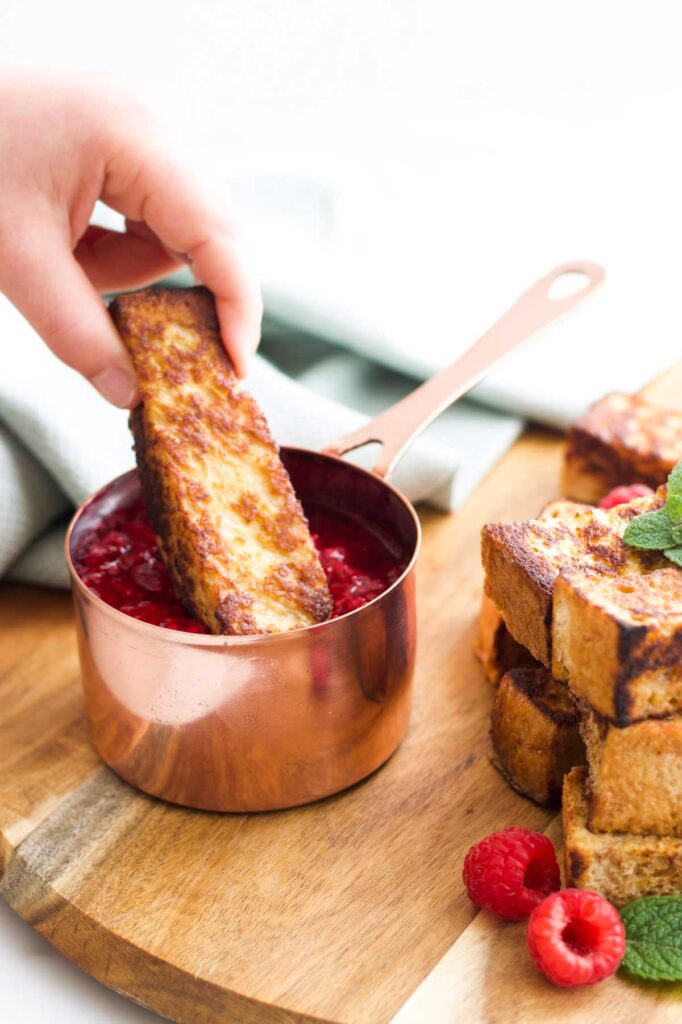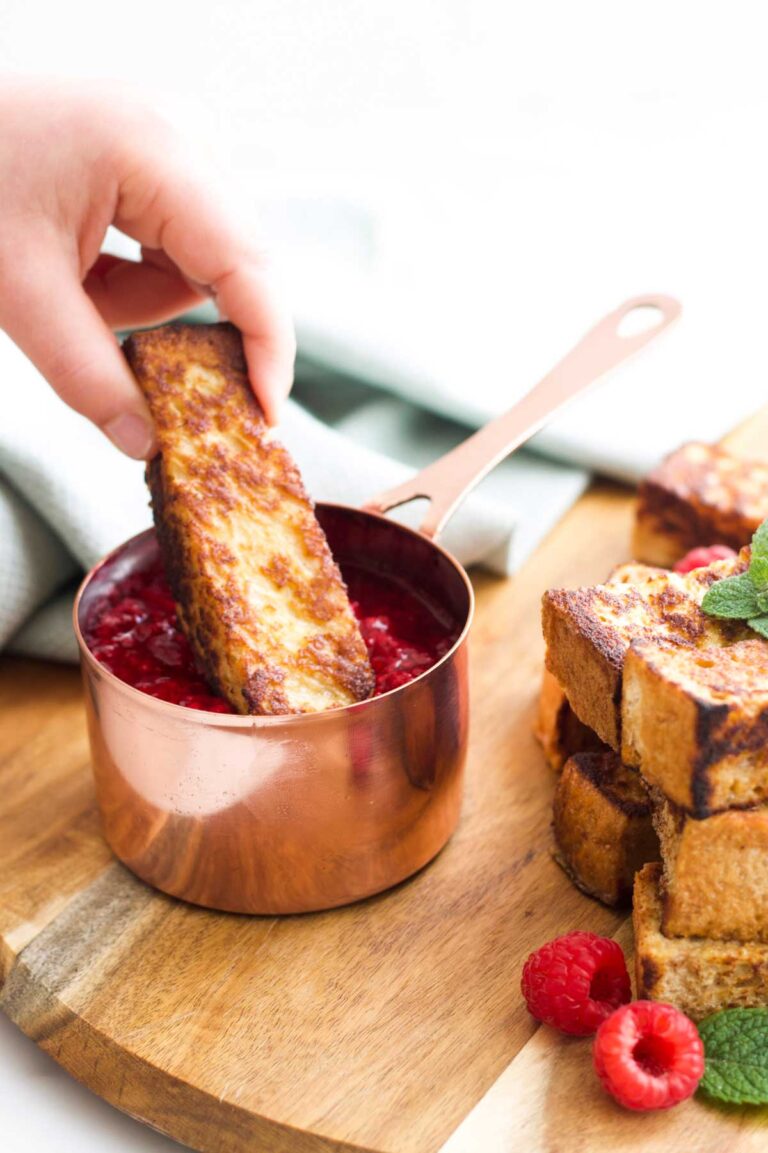 You may also like...
Looking for more healthy kid recipes?Sign up for my free recipe newsletter to get new family friendly recipes in your inbox each week! Find me sharing more kid-friendly inspiration on Pinterest and Instagram.
Eggy Bread (French Toast)
Eggy bread, also known as French Toast, is simply bread soaked in eggs and milk then pan-fried. It can be enjoyed both sweet or savoury. Cut into fingers, it makes a great breakfast for babies and toddlers.
Prep Time: 5 minutes
Cook Time: 10 minutes
Total Time: 15 minutes
Serves:4
Hover over "serves" value to reveal recipe scaler
Ingredients
4 Thick Slices of Bread Preferably stale
2 Eggs
60 ml (¼ cup) Milk
1 teaspoon Cinnamon
2 tablespoon Butter
Instructions
Remove the crust of two sides of each slice of bread, then cut each slice into 3 equal thick sticks (with the crusts at the top and bottom of each stick) (See video)

Whisk together egg, milk and cinnamon in a bowl large enough to roll the bread sticks in.

Melt half the butter in a large frying pan over medium high heat

Roll the sticks in the egg mixture being careful not to over soak them.

Shake off any excess mixture and add sticks to the pan (will need to do it in 2 batches), turn to cook each side until golden brown

Melt remaining butter and cook the remaining eggy bread sticks.
Recipe Notes
If you wish to make whole slices of eggy bread, rather than sticks, then...
Skip step 1
Instead of rolling the breadsticks in step 4, dunk the slice of bread quickly into the egg mixture, coating both sides. 
Cook each slice for around 2 - 3 minutes on each side, until the surface is golden.
Eggy Bread is best made using stale bread. Fresh bread soaks up too much egg mixture, making it soggy on the inside.
Nutritional information is a ROUGH guide only, calculated using an online nutrition calculator. Does not include any toppings, bread choice will also alter facts. 
Nutritional facts
Calories: 159kcal | Carbohydrates: 14g | Protein: 6g | Fat: 9g | Saturated Fat: 5g | Cholesterol: 99mg | Sodium: 211mg | Potassium: 79mg | Fiber: 1g | Sugar: 2g | Vitamin A: 321IU | Calcium: 101mg | Iron: 1mg