These mini blender muffins are perfect for little hands. Great for babies and toddlers or to pack into lunch boxes.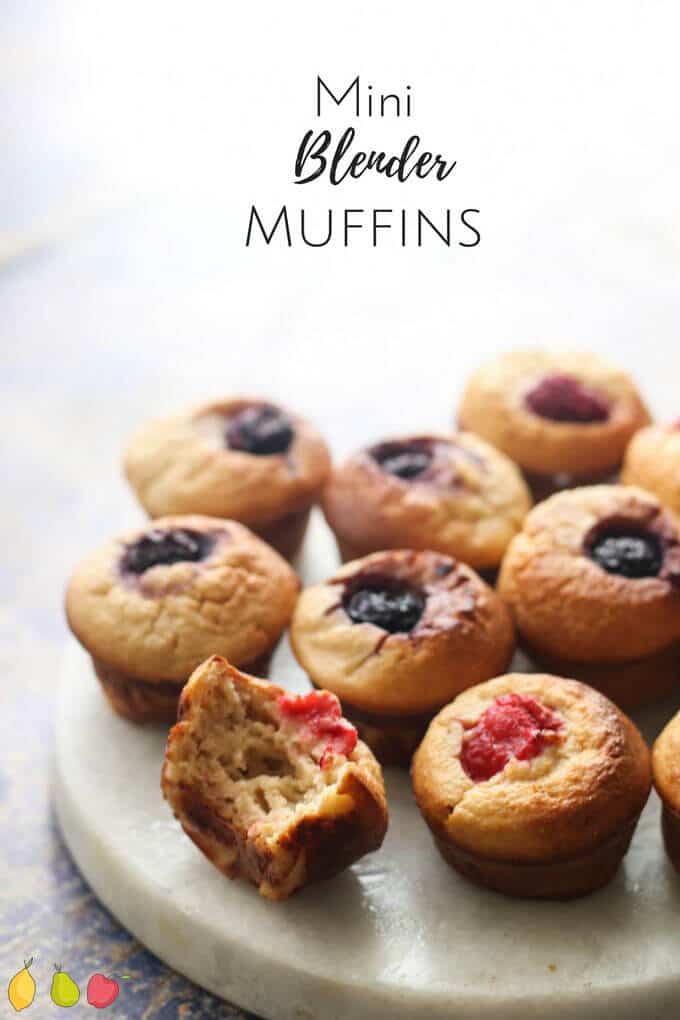 One of the most popular recipes on Healthy Little Foodies is my Fruity Oat Breakfast Bites. They are easy to make, perfect as a handheld breakfast and great to pop into lunch boxes. Mini Blender Muffins are a similar idea but have blended oats to give a smoother, more muffin-like texture.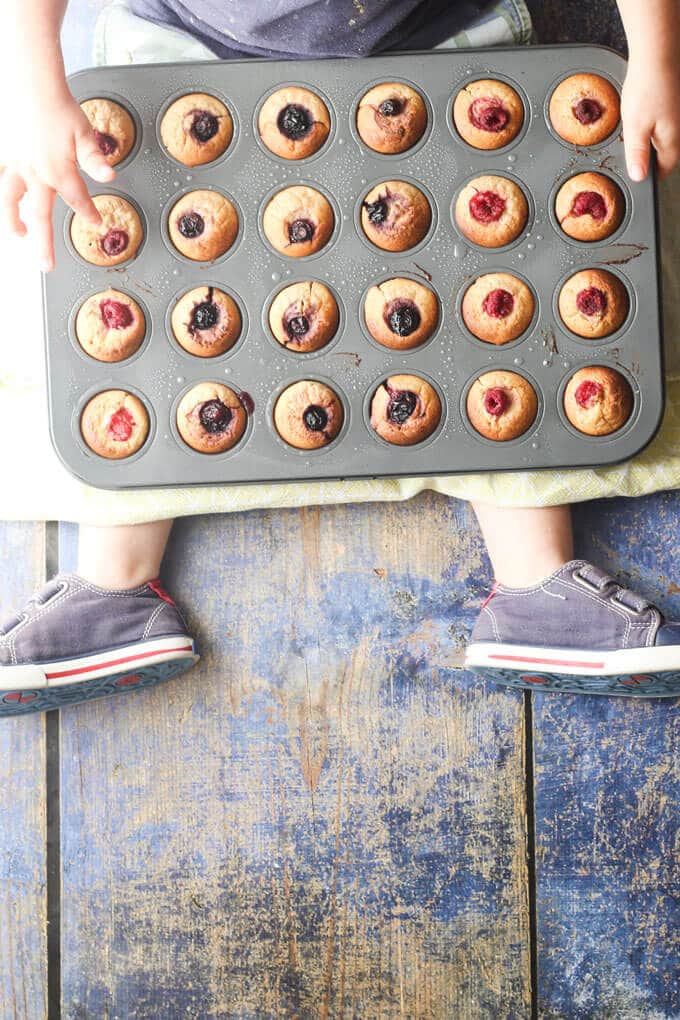 Muffins like these are perfect for getting kids involved in the kitchen. It is an easy recipe but has plenty for young kids to do. My youngest, Rory (2), loved peeling and breaking the banana, measuring the ingredients, tipping them into the blender, cracking the egg, switching on the blender and, of course, sampling the dates.
Above is a picture of him getting a little impatient as I try to photograph the muffins. He was eagerly pointing to each muffin in turn and saying "Rory's, Mummy's, Rory's, Mummy's, Rory's....)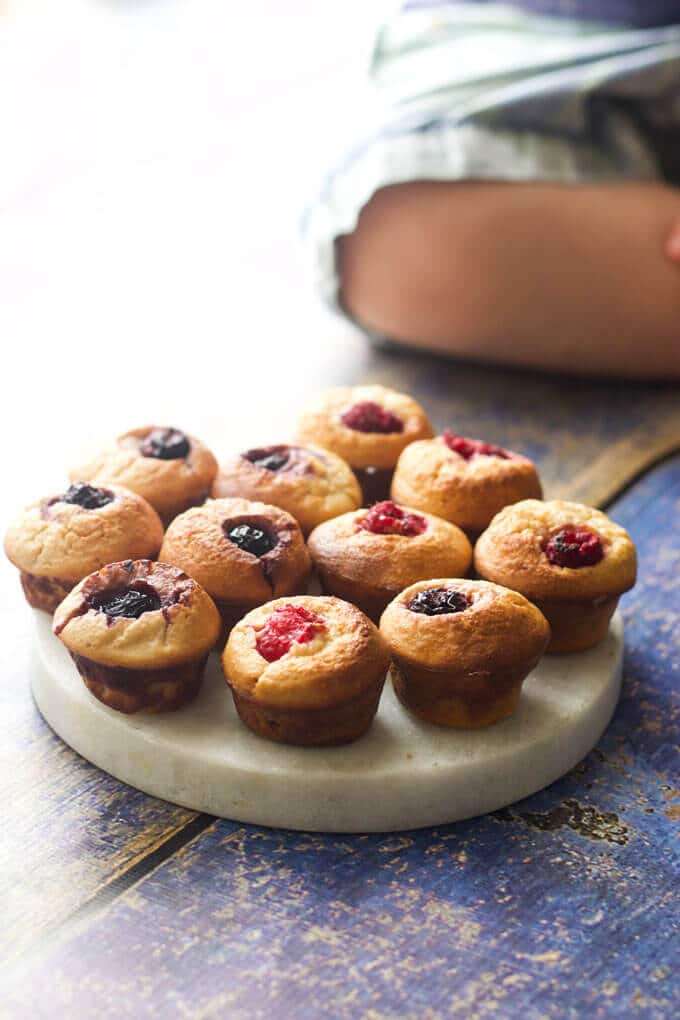 Please note, this recipe only fills half a mini muffin tray. This is because it was all my blender will hold. I usually make two batches to fill a tray. If you have a large blender you may want to double the recipe.
Looking for more healthy kid recipes?Sign up for my free recipe newsletter to get new family friendly recipes in your inbox each week! Find me sharing more kid-friendly inspiration on Pinterest and Instagram.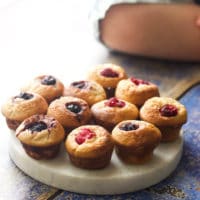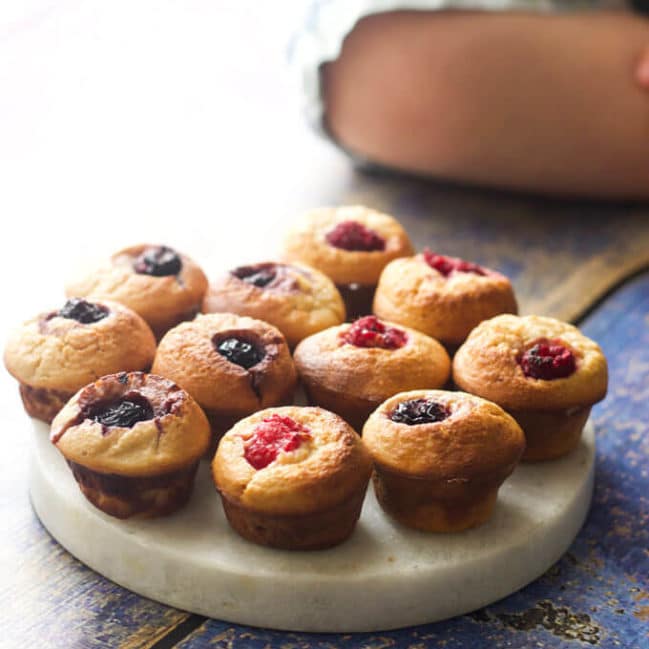 Mini Blender Muffins
Mini blender muffins perfect for baby-led weaning, toddlers or to pop into lunch boxes.
Prep Time: 10 minutes
Cook Time: 15 minutes
Total Time: 25 minutes
Serves:12 mini muffins
Hover over "serves" value to reveal recipe scaler
Ingredients
1 banana
80g (1 cup) oats
125g (½ cup) natural yoghurt
1 egg
1 teaspoon baking powder
20g (approx 3) dates
12 raspberries / blueberries to top (optional)
Instructions
Pre heat oven to 180c / 350 f and lightly grease a mini muffin tray (this mixture fills 12 of a 24 mini muffin tray)

Add all the ingredients to a blender (in the same order as the ingredient list) and blend until smooth.

Fill each muffin tray insert, to the top, with the mixture.

Top with a raspberry / blueberry or fruit of choice.

Bake for 15 mins. Remove from oven and allow to cool before removing from the muffin tray
Recipe Notes
These ingredients only make 12 mini muffins. My mini muffin tray will hold 24 but my blender is only big enough to hold the ingredients stated. If you have a large blender you may wish to double the recipe or you could just make two batches to fill a 24 tray.  Nutritional information is a ROUGH guide only, calculated using an online nutrition calculator. 
Nutritional facts
Calories: 52kcal | Carbohydrates: 9g | Protein: 2g | Fat: 1g | Saturated Fat: 1g | Cholesterol: 15mg | Sodium: 11mg | Potassium: 137mg | Fiber: 1g | Sugar: 3g | Vitamin A: 35IU | Vitamin C: 1.4mg | Calcium: 36mg | Iron: 0.4mg