Eggs and Soldiers - Soft boiled eggs (dippy eggs) with buttered toast fingers.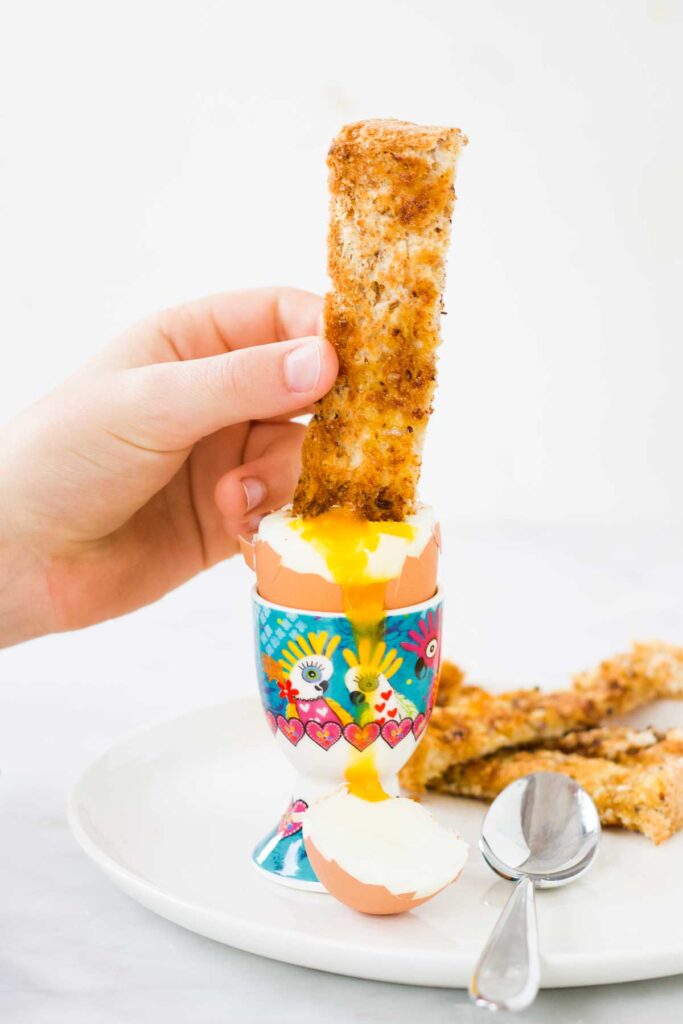 Eggs and soldiers is a name given to soft-boiled eggs, served in an egg cup, with strips of buttered toast for dunking in the yolk. It is a much-loved breakfast for kids and adults alike.
What's to Love about Eggs and Soldiers
FUN - The name, the egg cup, getting to cut the top off the egg and of course, dipping.
NUTRITIONAL - Eggs are an excellent source of iron and are a nutritious source of protein, fat, Vitamins A, D, E, B12 and choline. Served with a mix of toast and vegetable soldiers it is a very balanced breakfast.
VERSATILE - Perfect for breakfast but equally good for lunch or a quick weeknight dinner.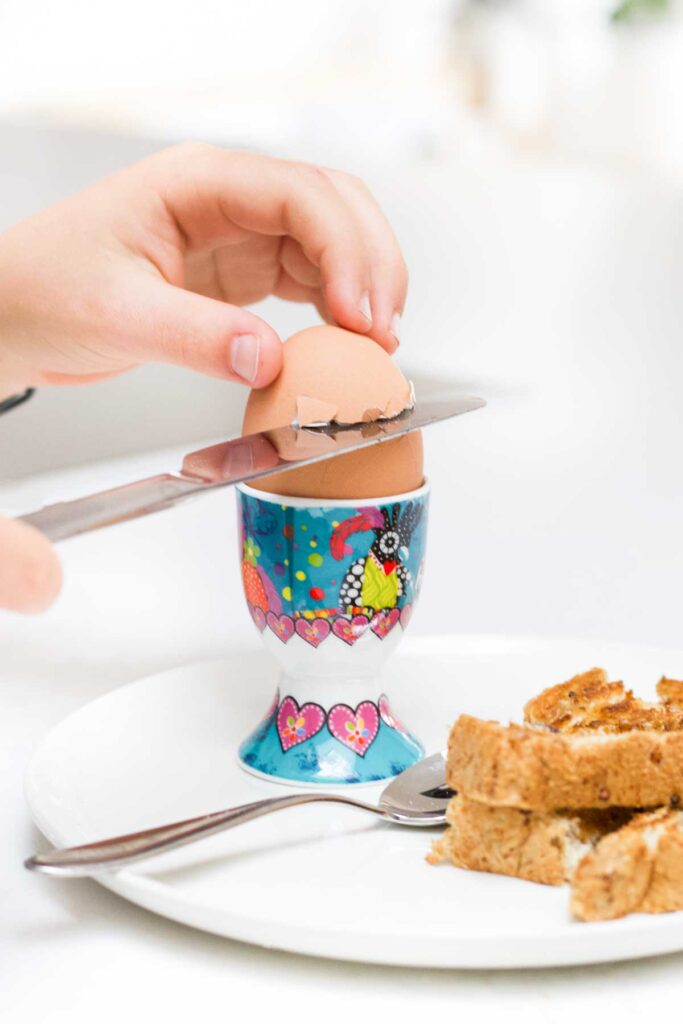 Are Soft Boiled Eggs Safe for Children?
It is possible for eggs to become contaminated by the food poisoning bacteria Salmonella. Anyone can be affected by Salmonella, but certain people are at greater risk of severe illness including pregnant
women and young children (under 5 years).
Salmonella is killed instantly at 74oC so eggs become safe by cooking them properly but raw and undercooked eggs can be a risk. Guidelines differ from country to country. For this reason, you are best to follow the advice from where you live.
The NHS (UK) state that eggs are safe for young children, even if only lightly cooked, as long as the eggs are hens' eggs and they have a red lion stamped on them, or you see a red lion with the words "British Lion Quality" on the box.
Australian Eggs mention that eggs should be cooked until the white is set and the yolk begins to thicken. Soft-boiled eggs are fine as long as the yolk isn't completely runny.
The USDA recommend that eggs be cooked until yolks are firm and that soft-cooked eggs with runny yolks are not safe for children to consume.
How to Make Perfect Soft Boiled Eggs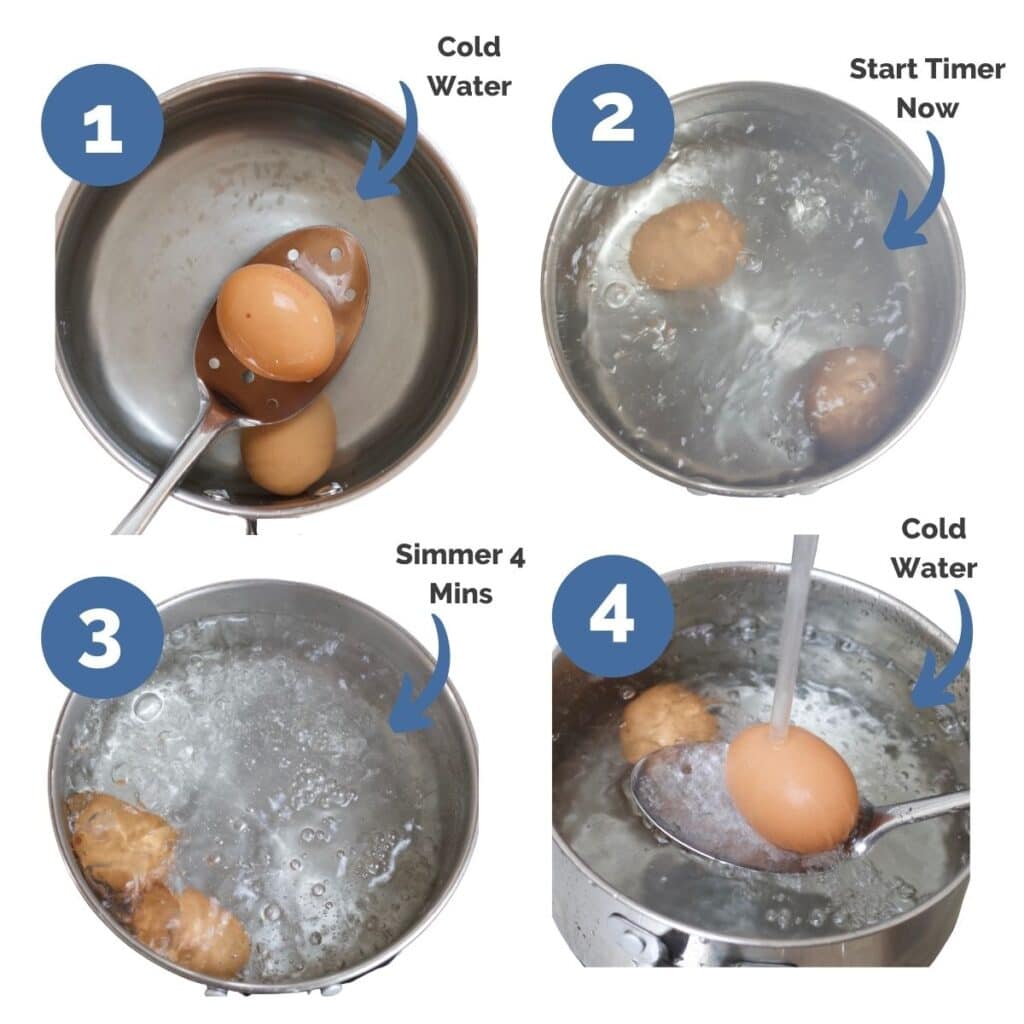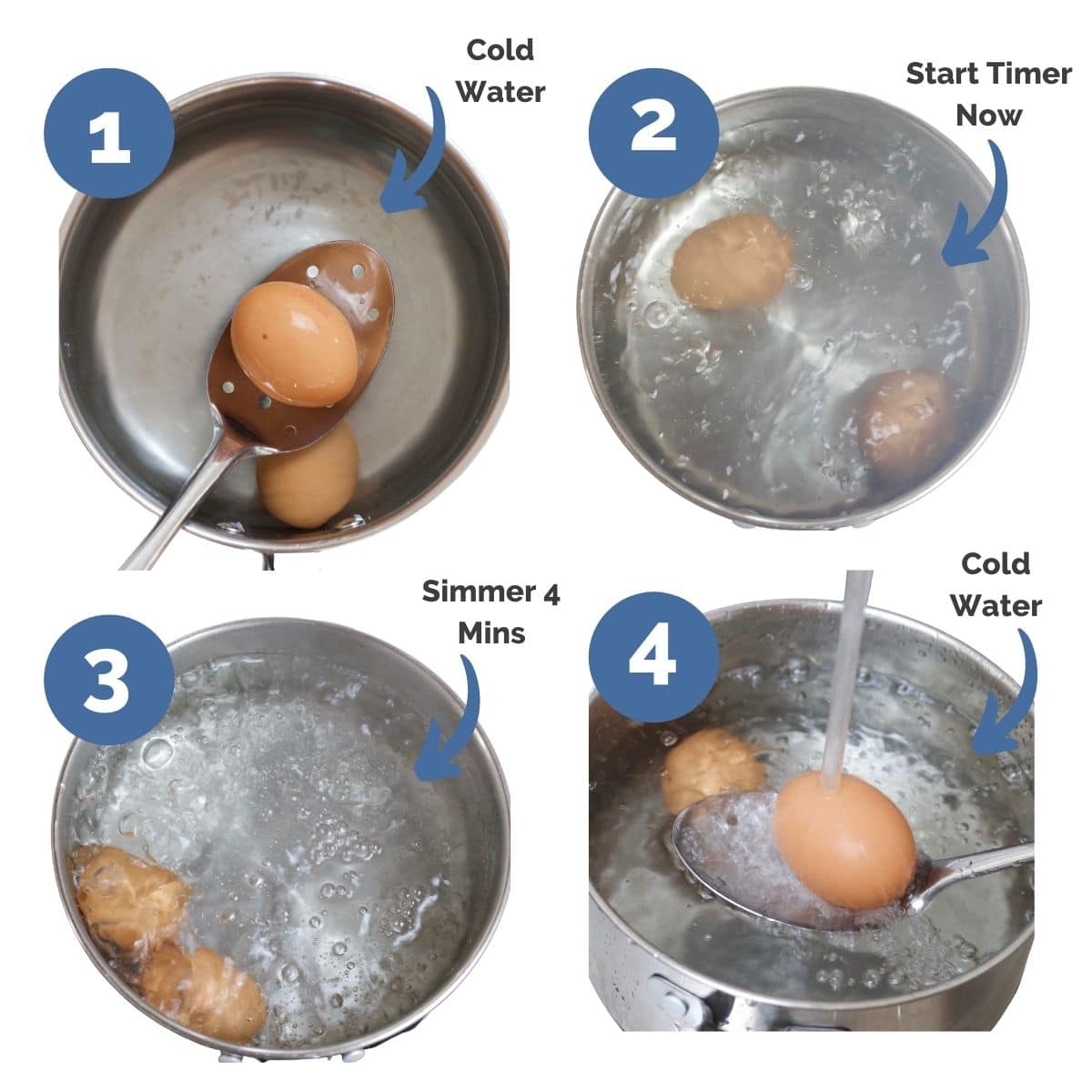 A boiled egg is so simple, yet so easy to get wrong. It's a science, with many variables that can change the end result. (Egg size, no of eggs in the pan, pan size, type of cooktop, altitude...etc).
For eggs and soldiers, you want to cook the egg just long enough to give firm whites but soft yolks. I find this takes four minutes of simmering but this time may differ slightly depending on the variables above. Here is how I make perfect dippy eggs every time...
PLACE EGGS IN COLD WATER: Add your eggs before you start boiling. Avoid overcrowding the pan, you want to make sure the eggs fit in the saucepan in a single layer.
BRING TO A BOIL: Do not start the timer until the water is at a full boil. A timer is crucial to get consistent eggs every time. Don't just glance at the clock
SIMMER: After the water comes to a boil, reduce to a light simmer and simmer for 4 mins.
RUN UNDER COLD WATER: To stop the cooking process. Add to egg cup and serve straight away.
If you are making eggs all the time or can't get the timings quite right then I recommend using an egg cooker (it does all the hard work for you.) This is probably the most used appliance in my house.
Alternative "Soldiers"
Buttered toast fingers are traditional "soldiers" but mixing it up can add variety (and some extra veggie goodness). Why not try...
Asparagus Spears
Bell Pepper (Capsicum) Strips
Carrot Batons
Sugar Snap Peas
Roasted Sweet Potato Strips
Broccolini
Mashed avocado on toast fingers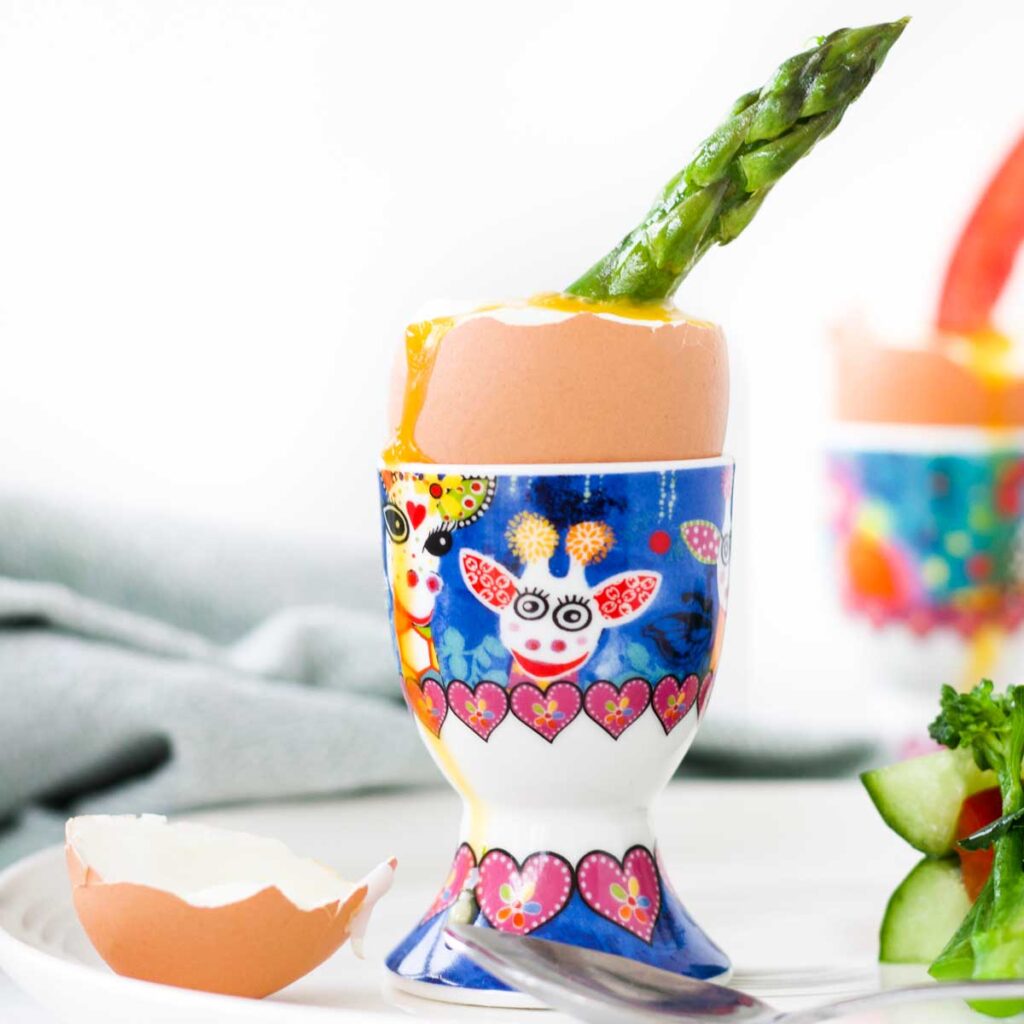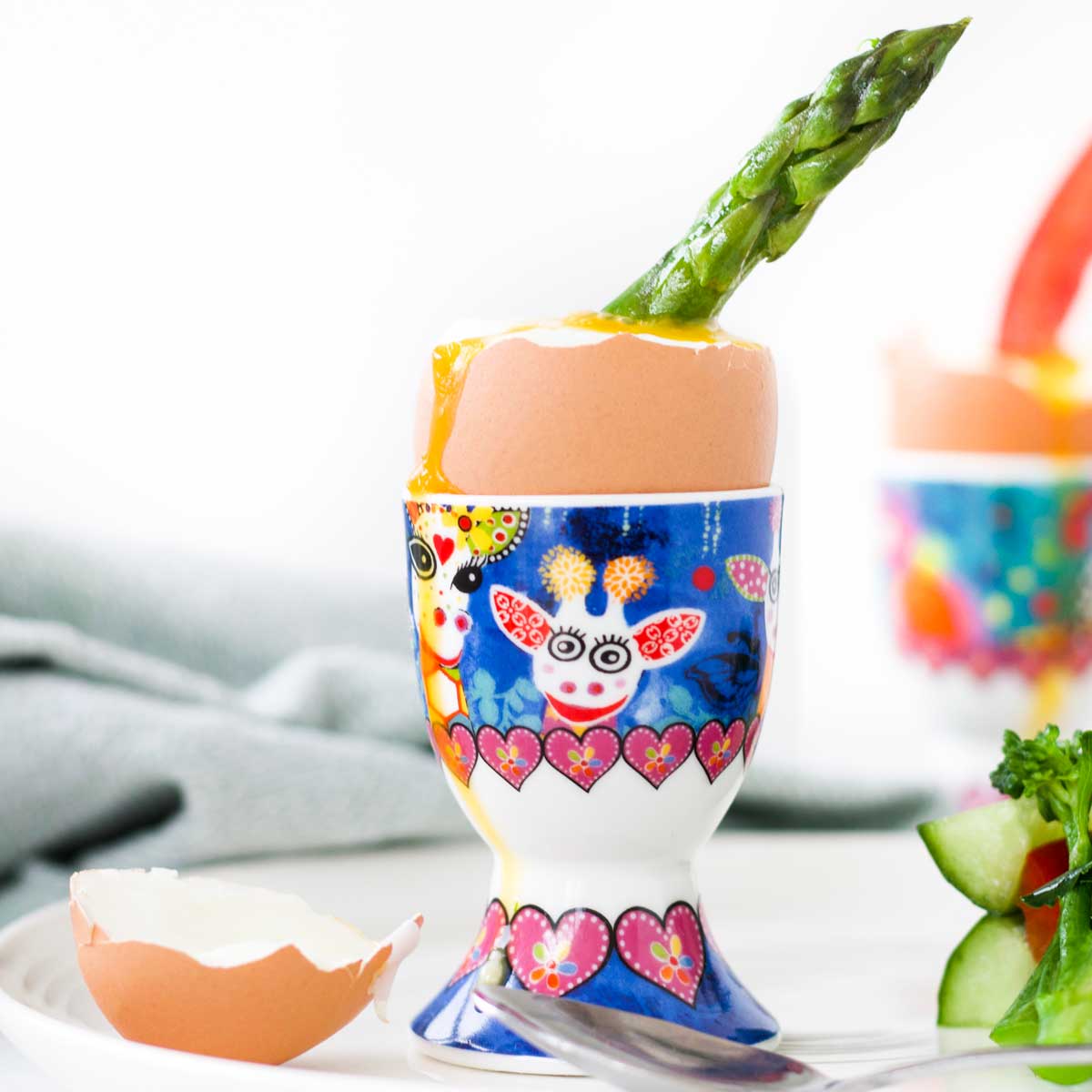 Frequently Asked Questions
What if you don't have egg cups?
1) A shot glass can work in place of an egg cup.
2) Fill a ramekin with a few tablespoons of rice and nestle the egg inside.
Can you use any bread to make soldiers?
Yes, any bread will work. Just toast and cut into fingers.
Do you need to add anything to the water when you boil eggs?
No.
You May Also Like...
Looking for more healthy kid recipes?Sign up for my free recipe newsletter to get new family friendly recipes in your inbox each week! Find me sharing more kid-friendly inspiration on Pinterest and Instagram.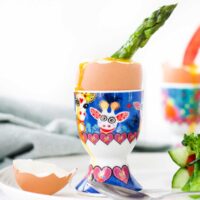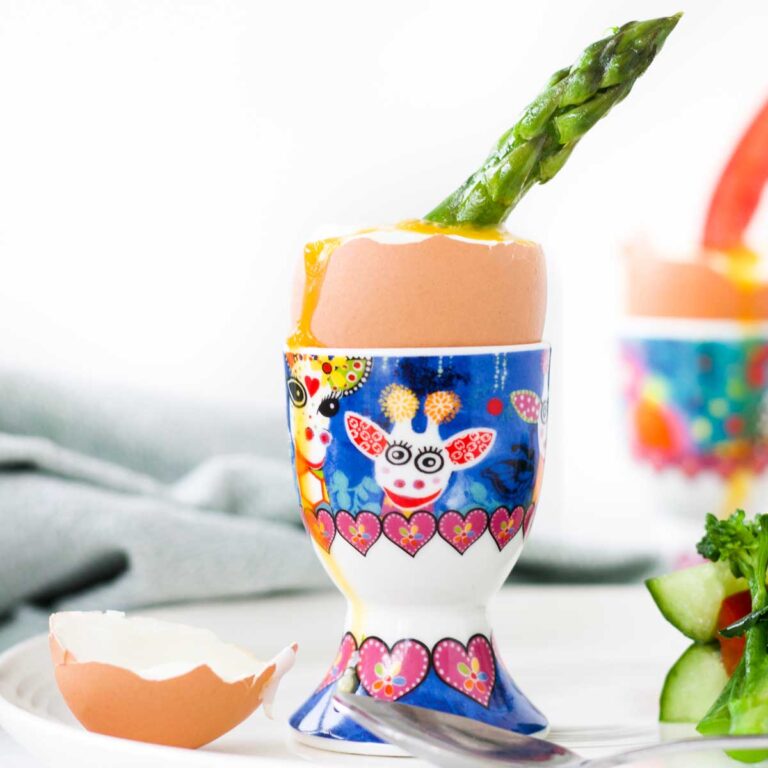 Eggs and Soldiers
Soft boiled eggs with buttered toast fingers (or vegetable alternatives).
Prep Time: 4 minutes
Cook Time: 6 minutes
Total Time: 10 minutes
Serves:1
Hover over "serves" value to reveal recipe scaler
Ingredients
2 Eggs
1 Slice Bread
8g (2 tsp) Butter
Instructions
Place eggs in a saucepan and cover with cold water.

Place the pan over medium/high heat and when the water reaches a boil, start the timer so you can precisely time the cooking process.

Reduce to a gentle simmer and cook the eggs in the saucepan for 4 mins, this will produce an egg where the white is fully set and the yolk is thick and runny. (Cook for longer if you prefer a firmer yolk 5-8 mins (8 mins being hard boiled)

As the eggs are cooking, toast the bread, butter and cut into strips.

Use a large slotted spoon to remove the eggs from the water and run under cool water to stop them from cooking.

Set the egg into an egg cup. To remove the top, use the edge of a knife to gently tap all the way around the top of the egg. Pull the top off
Recipe Notes
Do not start the timer until the water has come to a proper boil.
If cooking more than two eggs, make sure your eggs fit in the saucepan in a single layer
Want to up your child's veggie content? Why not try serving carrot sticks, asparagus spears, sugar snap peas, cucumber fingers or roasted sweet potato fingers as "soldiers".
Egg size, pan size, no of eggs, cooker type and altitude may affect the cooking times, you may find you need to cook for slightly longer / shorter time than suggested.
Don't have an egg cup? Why not try a shot glass or nestling your egg in a ramekin filled with rice.
NOTE: Salmonella is killed instantly at 74oC so eggs become safe by cooking them properly but soft eggs can be a risk. Guidelines differ from country to country. For this reason, you are best to follow the advice from where you live (see above post for more information on UK, AUS & USA)
Make It Dairy Free: Skip the butter or use a dairy-free spread
Make It Gluten-Free: Use gluten-free bread or one of the soldier alternatives. 
Nutritional information is a ROUGH guide only, calculated using an online nutrition calculator. 
Nutritional facts
Calories: 259kcal | Carbohydrates: 14g | Protein: 14g | Fat: 16g | Saturated Fat: 7g | Cholesterol: 345mg | Sodium: 327mg | Potassium: 172mg | Fiber: 1g | Sugar: 2g | Vitamin A: 675IU | Calcium: 88mg | Iron: 3mg
Sources
NHS, Foods to avoid giving babies and young children, Accessed 16 Nov 2020 <<https://www.nhs.uk/conditions/pregnancy-and-baby/foods-to-avoid-giving-babies-and-young-children/>>
Australian Eggs, Eggs for Babies and Children, Accessed 16 Nov 2020, <<https://www.australianeggs.org.au/nutrition/babies-and-children/>>