Use up your overripe bananas to make this healthy banana bread. Sweetened only with fruit it makes a great snack for babies and kids.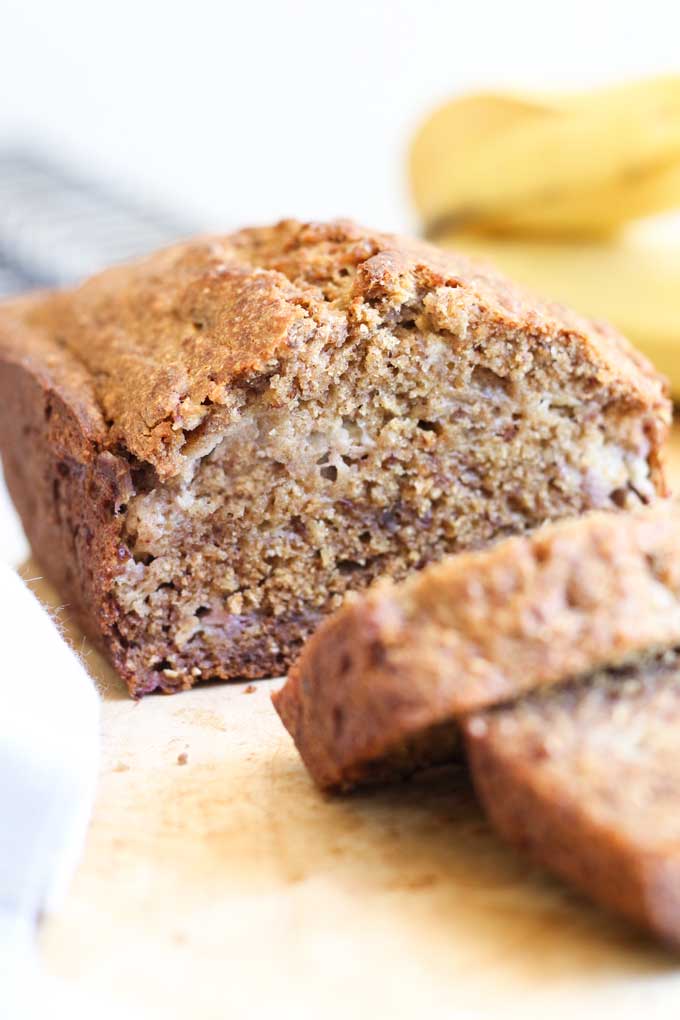 Banana bread is the perfect way to use up overripe bananas but many versions resemble a dessert recipe rather than a healthy snack. They taste delicious but are definitely not something we want to continually fill out little one's tummies up with.
Even healthy recipes are packed full of honey or maple syrup meaning they still have a high sugar content and in my mind are still regarded as a dessert recipe.
This version is only sweetened with fruit, there are a few dates to help with the sweetness, so I still consider this an occasional treat, but it is noticeably less sweet than most banana bread recipes, even the healthy ones.
Fail-Proof Healthy Banana Bread
The great thing about banana bread is how easy it is to make. It is one of those recipes that doesn't require any fancy ingredients and generally most households have all the ingredient to hand (and are actually looking for a way to use up brown bananas).
Although an easy recipe to follow, there are still a few pitfalls that you'll want to avoid. Below you will find my top tips to ensure you have perfect banana bread every time.
Bananas - You want to make sure you use really ripe bananas, the riper the better. Brown bananas will mash better and will provide more sweetness and flavour to the bread. Also, be mindful of how much banana you use. This recipe calls for 2 large bananas and I have detailed the weight too. Don't be tempted to add an extra banana or your bread will become overly moist and won't cook through properly. Don't overly mash either, you want to still see some lumps to add texture to the bread.
Dry to Wet Ingredient Ratio - I always recommend weighing ingredients rather than measuring with cups. There is just too much variance with cup sizes and how you fill the cup. However, if you don't have scales then just be careful you don't overpack the cups with flour.
Mixing - It is always tempting to mix and mix until you have a lovely smooth consistency but in doing this you develop more gluten which can result in a dense, rubbery loaf. Stir the mixture until just moistened and if the kids are helping then set them a 10-second stirring limit.
Check to See if it Ready - After the cooking time, while the bread is still in the oven, insert a skewer into the centre. If the stick comes out clean, or with a few crumbles on it, the bread is done.
Cooling - Remove the bread from the pan fairly soon, around 10 mins after it comes out of the oven. The longer you leave your bread in the pan, the soggier the bottom of the bread will become. Transfer to a cooling rack and do not cover/store until completely cooled.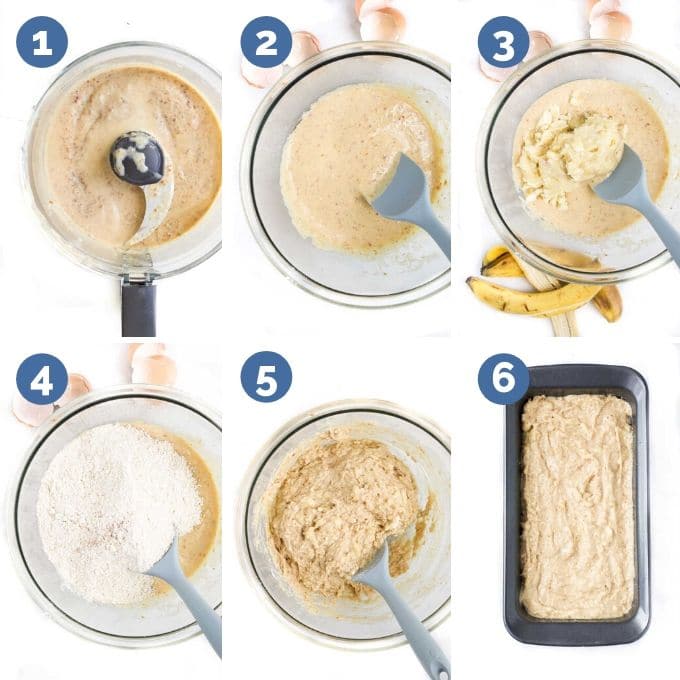 Get Creative with Add-Ins
Bored with plain banana bread? Why not try some add-ins, some suggestions include:
Raisins/Sultanas are great for adding extra sweetness. Soak your raisins in boiling water for a couple of mins to rehydrate them. Drain and stir in just before adding the mixture to the pan. ¼ - ½ cup will work well.
Chopped Nuts add great texture and flavour. Walnuts are particularly nice in banana bread. Finely chop around ½ cup of walnuts. Mix through the batter just before adding to the pan.
Chocolate Chips will add sweetness and chocolate is great with banana. Add ¼ cup (or more!) to the batter just before adding to the pan.
Sliced Banana can be a lovely decoration on top of the banana bread. Slice a banana in half, lengthways, and add to the top of the mixture before cooking.
Other fruits can add flavour and texture to banana bread. A handful of raspberries or blueberries are good to stir through (just before transferring to the pan) or check out this recipe for Strawberry and Mango Banana Bread
Spices are great for adding flavour, this recipe already has cinnamon and vanilla but you may want to combine or switch them out with other spices such as clove, nutmeg or cardamom.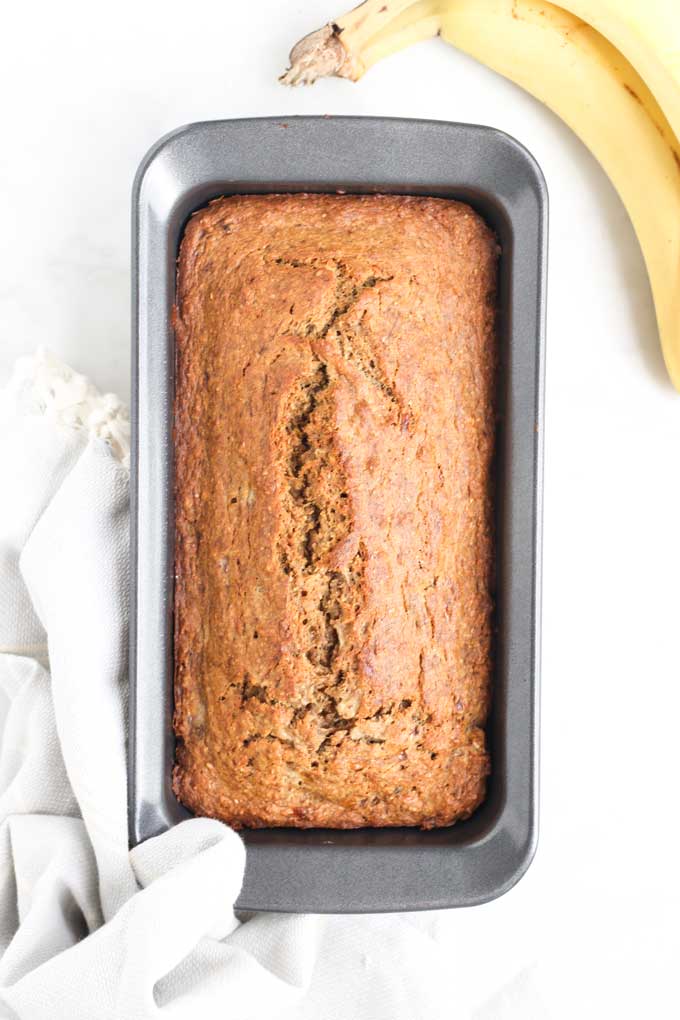 Let your children decide what additions they wish to add. Let them get creative!
Storage Instructions
Allow the bread to fully cool before slicing and storing.
Room Temp: Cover and store at room temperature for 1-2 days.
Refrigerate: Store in an airtight container for up to 5 days.
Freeze: Cut the bread into slices and carefully wrap each slice in clingfilm. Freeze the wrapped slices in airtight containers for up to 3 months. Slices should thaw in 1-2 hours at room temperature.
More Banana Sweetened Recipes
Looking for more healthy kid recipes?Sign up for my free recipe newsletter to get new family friendly recipes in your inbox each week! Find me sharing more kid-friendly inspiration on Pinterest and Instagram.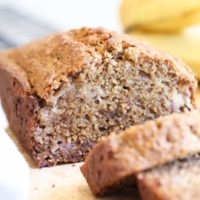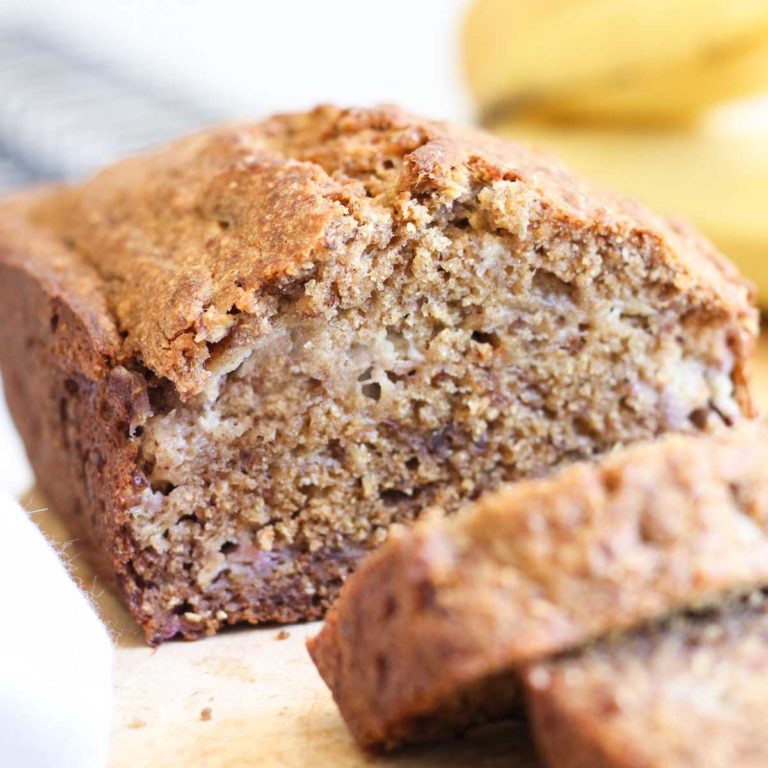 Healthy Banana Bread
Sweetened only with fruit and made with wholemeal flour, this is a healthy snack rather than a sugary dessert recipe. Perfect for young children.
Prep Time: 10 minutes
Cook Time: 1 hour
Total Time: 1 hour 10 minutes
Serves:10 Slices
Hover over "serves" value to reveal recipe scaler
Equipment
Loaf Pan (Mine was 21.5cm (8.5inch))
Ingredients
4 Medjool Dates, pitted
125ml (½ cup) Milk
80ml (⅓ cup) Coconut Oil
60g (¼ cup) Natural Greek Yoghurt
2 Eggs
1 teaspoon Vanilla Extract
250g (1 cup) (around 2 large/3 medium small) Ripe Bananas, mashed
215g (1¾ cup) White Wholemeal (wholewheat) Flour
1 teaspoon Cinnamon
1 teaspoon Baking Soda
Instructions
Preheat oven to 160ºC (320ºF) and grease a loaf pan.

Add the Medjool dates to a food processor and blend until it forms a paste. Add the milk and continue to blend until mixed.

In a large mixing bowl add the date mixture, oil, yoghurt, eggs and vanilla. Whisk until combined. Add the mashed banana and stir.

In a seperate bowl, mix together the flour, baking soda and cinnamon.

Add the dry ingredients to the wet and stir until just combined. Be careful not to overmix, some lumps are good.

Pour the batter into the prepared loaf pan and bake for 55 - 60 mins. Check the loaf is ready by inserting a skewer into the centre. If the stick comes out clean, or with a few crumbles on it, the bread is done.

Allow to cool in the pan for around 10 mins and then transfer to a wire rack to cool for a further 20 mins + before slicing.
Recipe Notes
Babies: If making for a baby, I would personally skip/reduce the dates - babies don't need the added sweetness.  Dates: I used fresh Medjool dates which blended easily. If your dates are dried then you should soak in boiling water for 10 mins before draining and blending. You can add more or less dates depending on how sweet you want your bread to be. No dates? You can just skip them (if you are not worried about sweetness) or replace the date and milk mixture with ½ cup of maple syrup.  Flour: I used a white wholemeal flour.  I can not guarantee what the results will be like with less processed wholemeal flour as I haven't tested. You can replace with plain (all purpose) flour or do a mixture of wholemeal and all purpose.  Coconut Oil: You can replace with a different oil or melted butter.  Additions: See above post for addition ideas. Get creative!  Nutritional Information is a ROUGH guide only, calculated using an online nutrition calculator. 
Nutritional facts
Calories: 210kcal | Carbohydrates: 29g | Protein: 5g | Fat: 9g | Saturated Fat: 7g | Cholesterol: 34mg | Sodium: 130mg | Potassium: 271mg | Fiber: 4g | Sugar: 10g | Vitamin A: 98IU | Vitamin C: 2mg | Calcium: 42mg | Iron: 1mg
This recipe was originally posted on September 14, 2014. It has been updated with new photos, baking tips and recipe information. The original recipe has also been adapted, taking into consideration reader feedback. If you are a returning visiting looking for the original recipe, you can email me for a copy.