This Vegetable Frittata is quick and easy to make, is packed with flavour and is perfect for enjoying any time of the day.
Of course, the easy clean-up isn't the only thing going for this dish. Apart from it obviously tasting delicious, this frittata is also very versatile, it:
Is perfect for breakfast right through to dinner.
Can be cut up into bite-sized finger food pieces, great for babies and toddlers or for packing in the lunchbox.
Can be enjoyed hot or cold
Can easily be adapted to suit taste
Is perfect for using up those end-of-week veggies.
How to Make a Vegetable Frittata
Making the perfect vegetable frittata is simple and if you follow these tips, I'm sure the end result will be a delicious, fluffy frittata the whole family will enjoy.
Type of pan
Making a vegetable frittata involves two cooking methods, the stove and the oven. You, therefore, need a pan that is oven proof. Seasoned cast-iron pans are ideal. You can also use stainless steel but may need a little more oil to stop the egg mixture from sticking to the bottom of the pan.
Size of Pan
I used a 10inch / 25cm cm pan and the timings are based on a pan this size. The frittata is quite thin and so needs little cooking time. If you add more eggs or use a smaller pan you will have to adjust the cooking times.
Vegetables
Cooking your vegetable before adding the eggs is important for both the flavour and texture of the frittata. It also ensures that your vegetables are fully cooked.
It is important to cook the vegetables to stop excess water in your egg mixture. You can change the vegetables to suit your family's taste but just be mindful of the vegetable's water content and cooking time. Ensure you cook them long enough before adding the egg.
Cooking
It is very easy to overcook a frittata which will result in an undesirable dry and spongy texture. To ensure this doesn't happen, keep an eye on your frittata and be mindful that different stove tops and ovens can affect the cooking time.
Although the frittata does have some cooking time on the stove, it is relatively short. If you keep it on the stove for too long, or at too high a temperature, the bottom will become overcooked and may burn. Cook on the stove top just until the edges have set.
The cook time in the oven is just as important to monitor. Ideally, you should take the frittata out of the oven when the middle still has a slight jiggle to it; the inside will continue to cook for a few minutes after you take it out of the oven.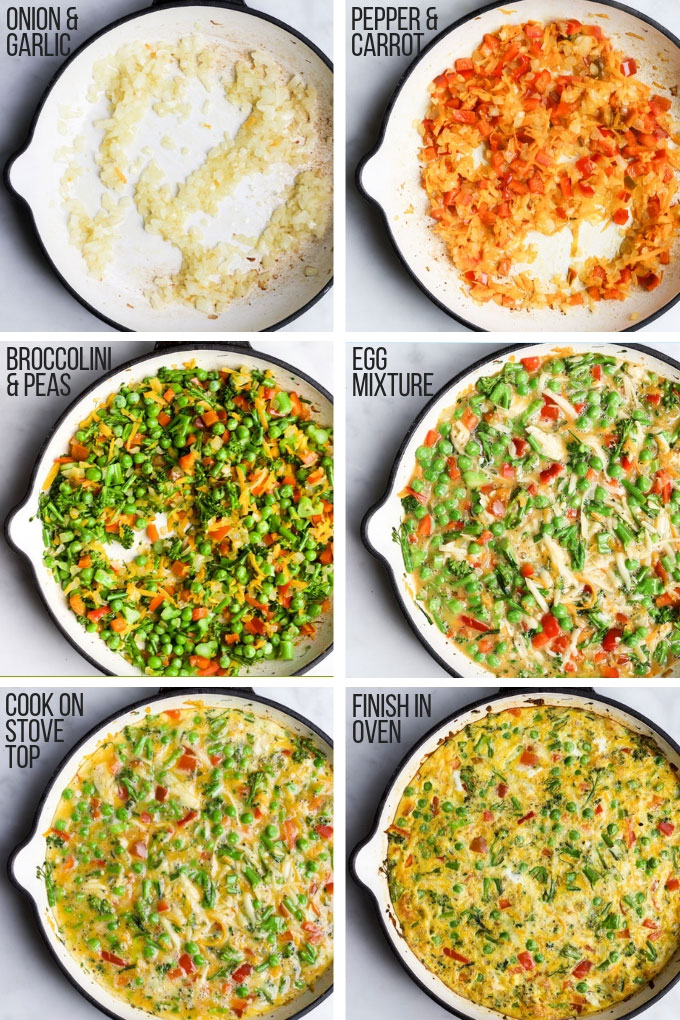 How to Make Vegetable Frittata in the Oven
If you do not have an ovenproof pan then you can make a vegetable frittata in an ovenproof dish.
Cook the vegetables on the stove top and then add to the egg mixture. Pour into a, well greased, 9inch square baking dish and bake in the oven for around 20 mins. Keep an eye on it, you want the middle to have a slight jiggle to it, or to be just set. Allow to rest for 5 mins and the inside will continue to cook.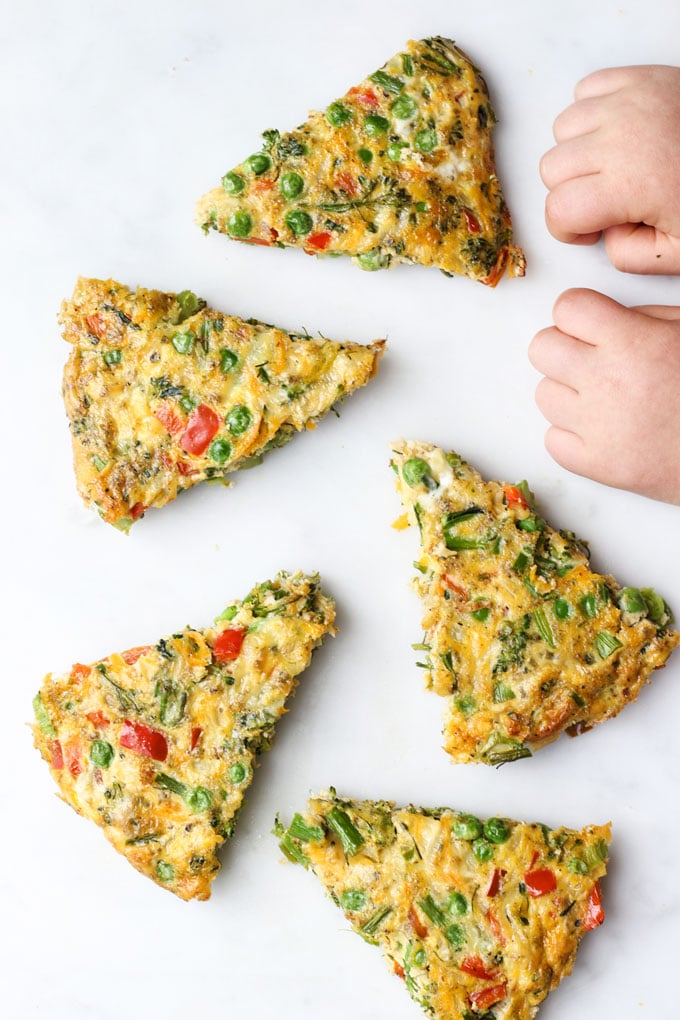 Storage Instructions
Refrigerating: Store the frittata in an airtight container for up to three days. Serve chilled, bring to room temperature or gently reheat.
Freezing: This frittata does not freeze well, the texture becomes rubbery and overly moist.
You may also like
Have you tried this recipe? I love receiving your feedback. Please rate and leave a comment below or tag me on Instagram.
Looking for more healthy kid recipes?Sign up for my free recipe newsletter to get new family friendly recipes in your inbox each week! Find me sharing more kid-friendly inspiration on Pinterest and Instagram.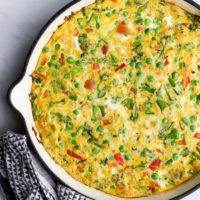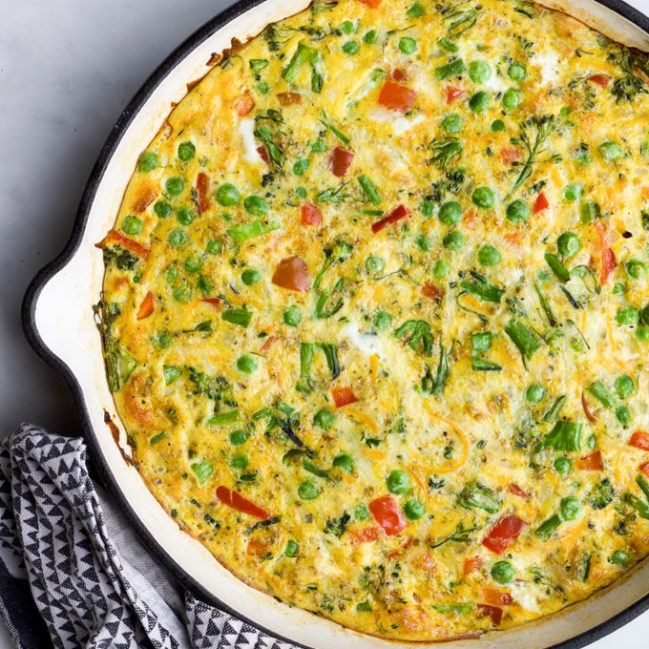 Vegetable Frittata
A delicious meal suitable for breakfast through to dinner.
Prep Time: 5 minutes
5 minutes
Cook Time: 20 minutes
Total Time: 20 minutes
Serves:6
Hover over "serves" value to reveal recipe scaler
Ingredients
1 tablespoon Olive Oil
1 Onion, finely chopped
1 teaspoon Garlic, minced
1 Red Bell Pepper (Capsicum), finely chopped
1 Carrot, grated
190g (1 bunch of 8 stems) Broccolini * Can replace with broccoli
150g (1 cup) Peas
6 Eggs
2 tbsp Whole Milk * Can replace with cream if you prefer
35g (½ cup) Cheddar Cheese
1 teaspoon Dried Oregano
½ teaspoon Pepper
Salt (to taste) *Do not add salt if serving to baby.
Instructions
Preheat oven to 220c / 425f

In a mixing bowl, whisk together the egg, milk, cheese, herbs and seasoning.

Heat oil in a 10" cast iron pan, add the onion and garlic and cook for approx 5 mins. Add the bell pepper (capsicum) and carrot and cook for a further minute. Add the broccolini and cook for a further min. Stir in the peas.

Give your egg mixture a final whisk and pour the mixture over the vegetables. Stir briefly to distribute the mixture evenly across the pan.

Cook on the stove top for approx 1-2 minutes. Just until the edge of the frittata has turned lighter in colour.

Transfer to the oven and bake for approx 8-10 mins, ideally, you should take the frittata out of the oven when the middle still has a SLIGHT jiggle to it or when it is just set and no more.

Cool in the pan for 5 mins and then slice and serve.
Recipe Notes
If cooking for a baby make sure to cook the vegetables until very soft and cut to age-appropriate size.  Nutritional Information is a rough guide only, calculated using an online nutrition calculator. 
Nutritional facts
Calories: 162kcal | Carbohydrates: 10g | Protein: 10g | Fat: 8g | Saturated Fat: 3g | Cholesterol: 170mg | Sodium: 120mg | Potassium: 229mg | Fiber: 2g | Sugar: 4g | Vitamin A: 3365IU | Vitamin C: 66.5mg | Calcium: 111mg | Iron: 1.7mg