Mashed potato and tuna are mixed together with spring onion, lime juice and coriander (cilantro) to make these delicious tuna fish cakes. They are then coated in breadcrumbs and lightly fried or baked.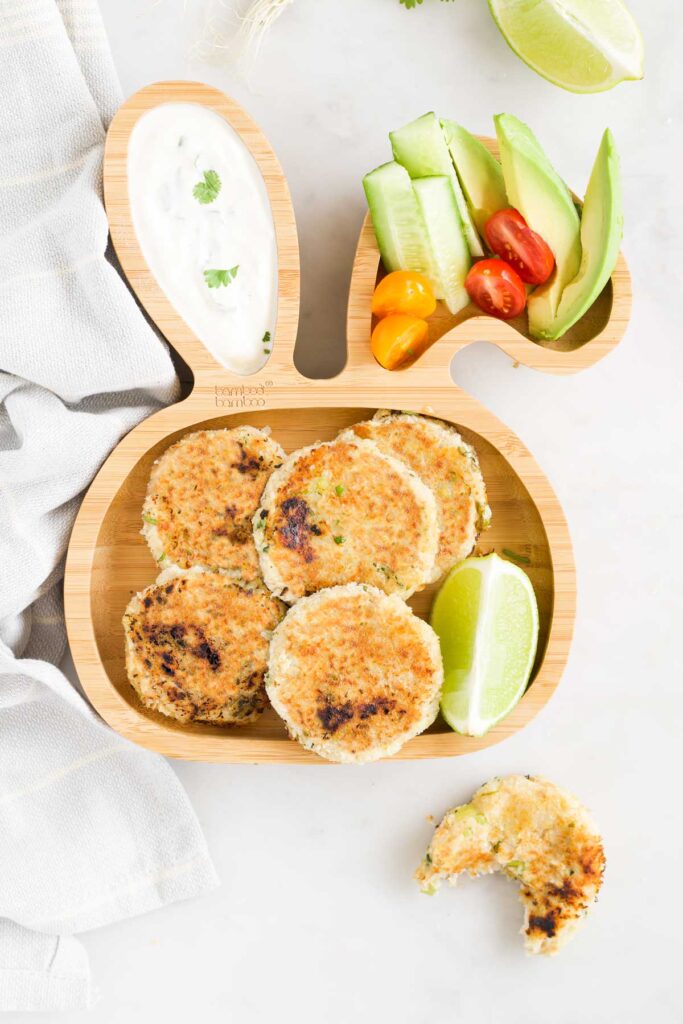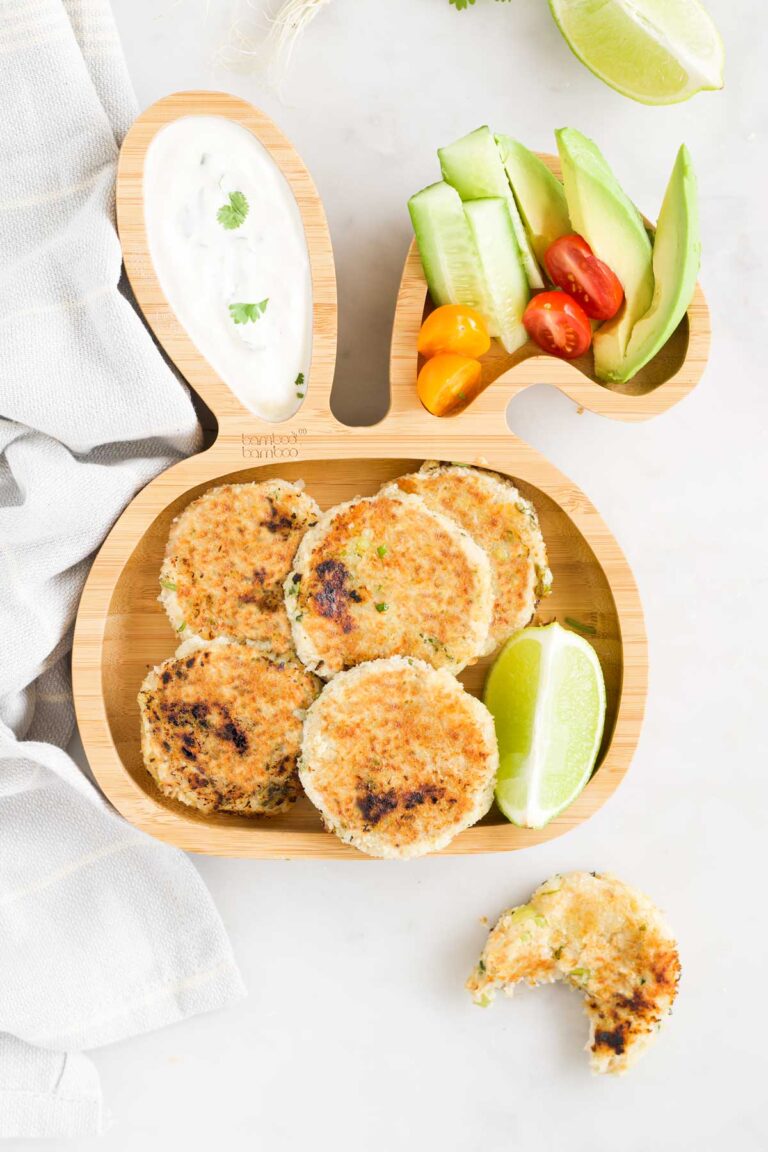 Why Tuna Fish Cakes are Great for Families...
PANTRY / FRIDGE STAPLES - Perfect for when you haven't had a chance to get the store and are running low in food stores. Budget-friendly too.
KID-FRIENDLY - Great for babies, toddlers and big kids. A fantastic recipe for getting them helping in the kitchen. (mixing, forming, coating)
MAKE AHEAD - Family life is busy (especially at 5 pm when young children are extra demanding and older kids are returning from sports etc) Form the patties ahead of time (the evening before, or in the morning) so all you need to do is pop them in the oven/fry in the evening.
FREEZER FRIENDLY - Make an extra batch and freeze for extra busy evenings.
What You Need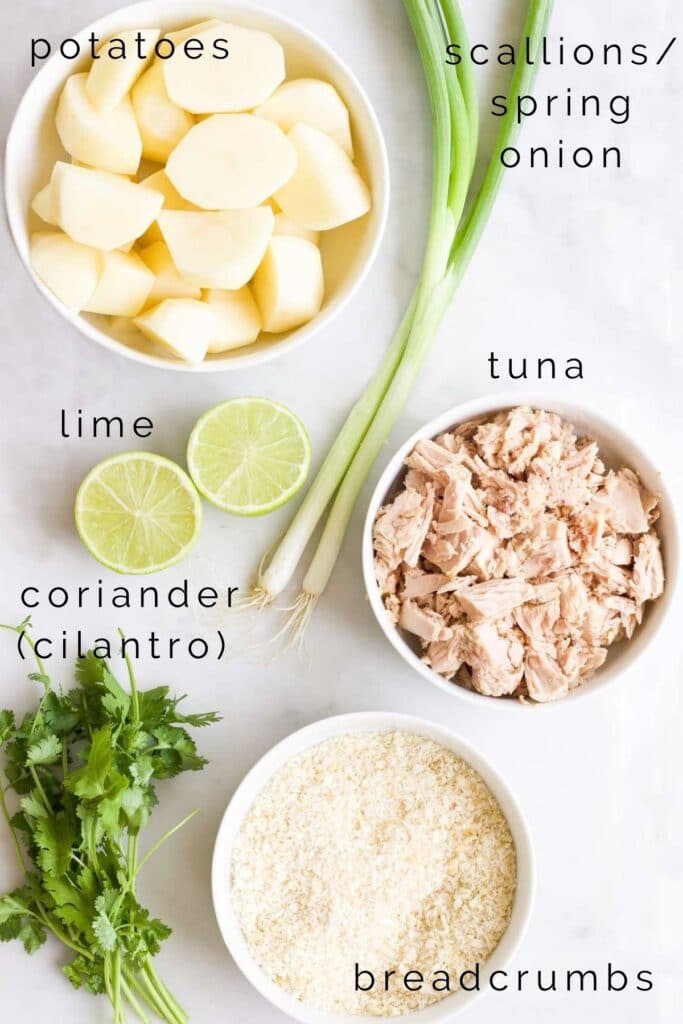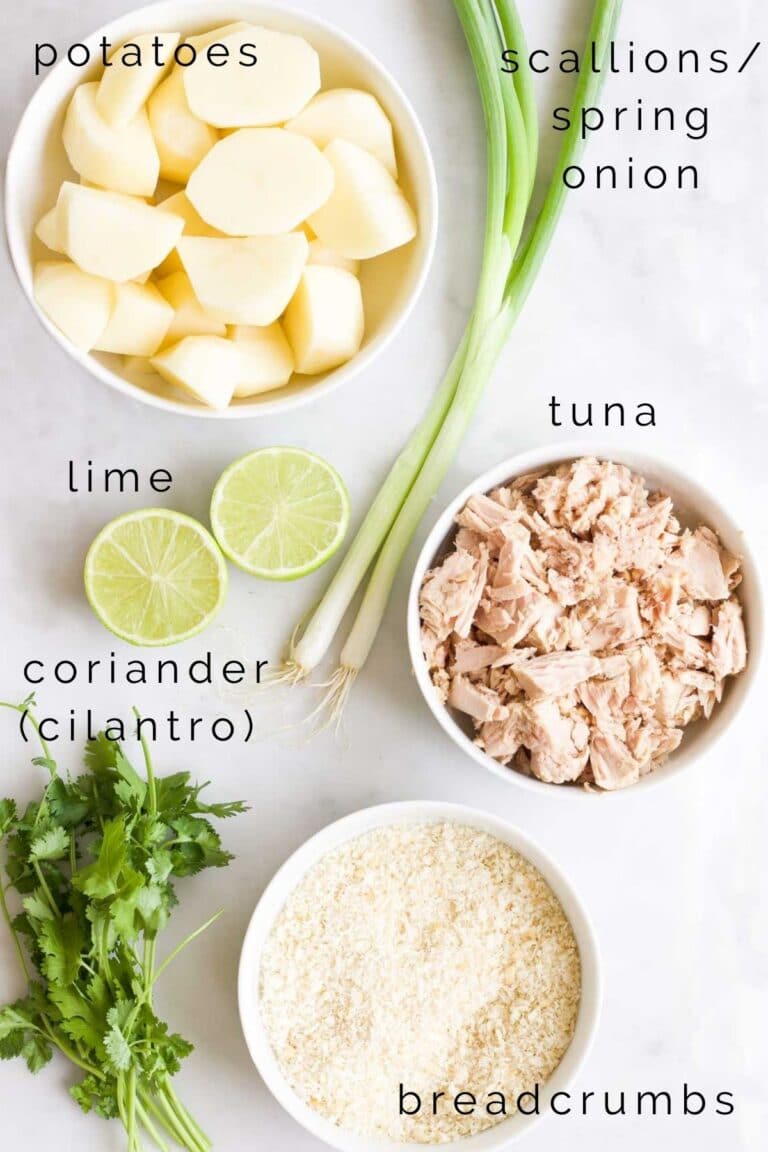 CANNED TUNA - I use canned tuna in spring water but if you prefer you could substitute the tuna for another cooked fish such as salmon.
MASHED POTATO - The mashed potato not only bulks out the cakes and helps bind together everything. Floury/starchy potatoes are best for this recipe. Varieties include (but are not limited to): Russet, Idaho, Yukon Gold, Maris Piper, King Edward, Desiree and Dutch cream potatoes. Avoid waxy potatoes.
SCALLIONS / SPRING/GREEN ONION - Adds flavour and texture. Leek would work too.
LIME JUICE & CORRIANDER - Adding herbs and spices to baby food is great for introducing your baby to a range of different flavours. However, if you have a fussy eater, you can easily adapt this recipe. Try leaving out the herbs and onion altogether or switch up the flavours. For example, substituting the lime juice and coriander with lemon juice and parsley.
BREAD CRUMBS - Coating in breadcrumbs provides a contrast in texture - a crispy outside and smooth inside.
Process Steps with Cooking Tips and Tricks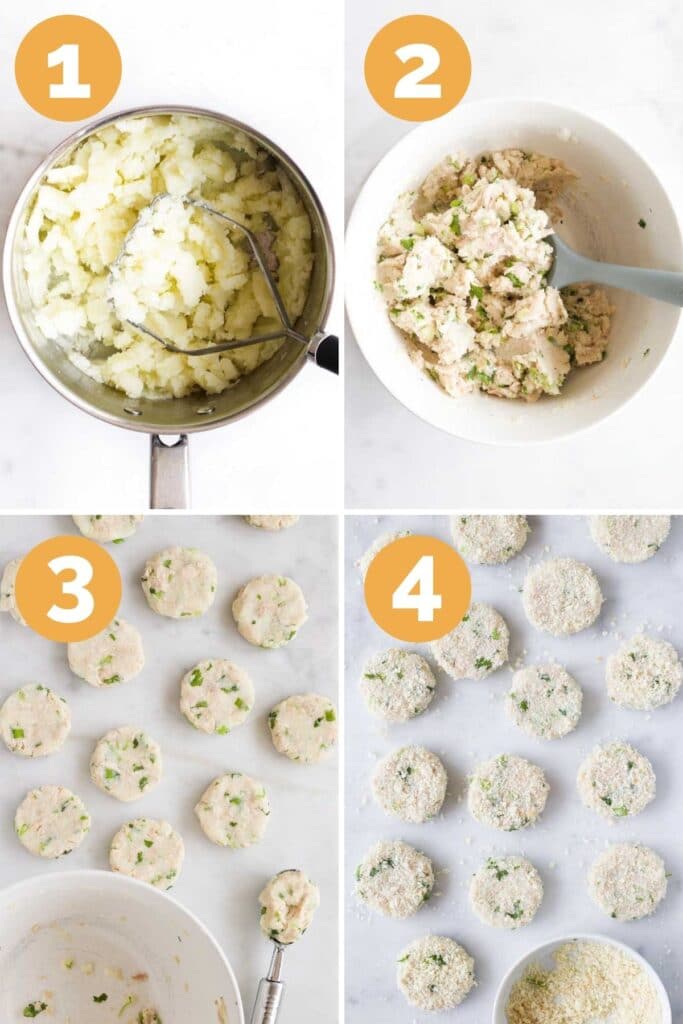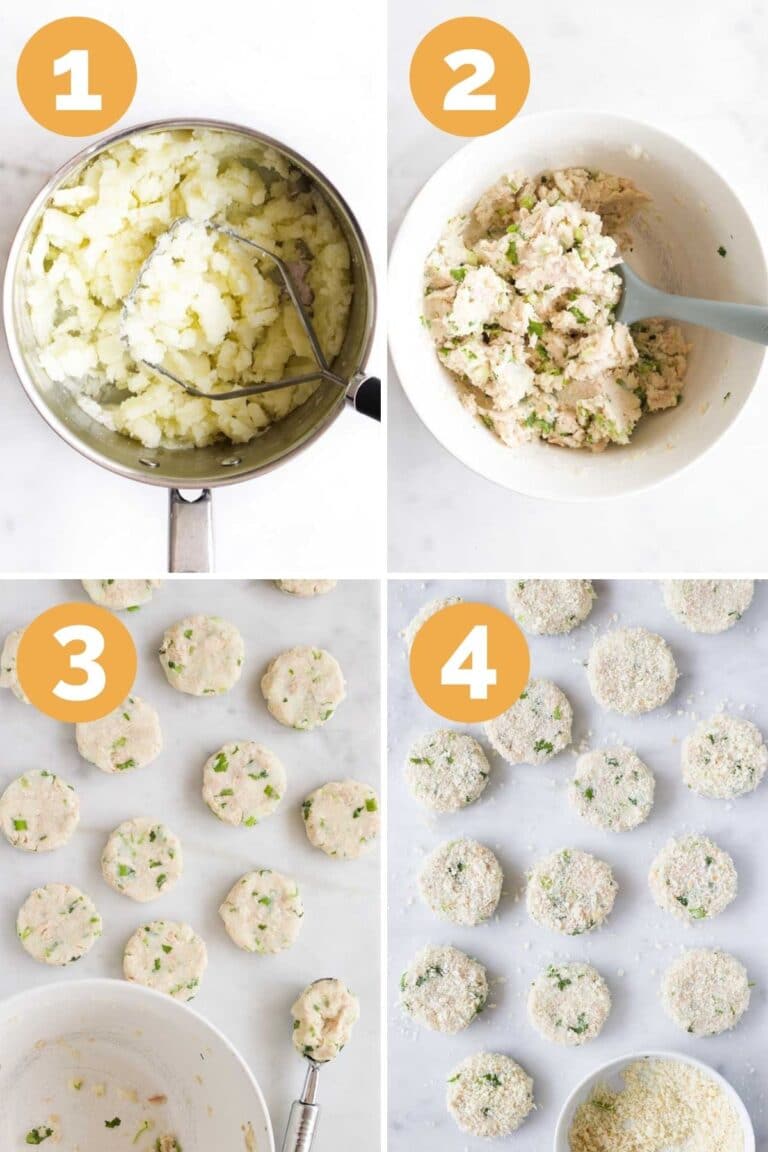 COOK & MASH POTATO - Cook potatoes until tender (be careful not to overcook as this can cause excess moisture). Drain the potatoes, return them to the pan, shake briefly and allow them to steam dry for around 30 seconds, this helps to release some of the moisture from the potatoes. It is important to do this as if the potatoes are too wet the cakes will be too soft and difficult to handle. Allow potatoes to cool completely if you have time.
MIX ALL INGREDIENTS TOGETHER - Mix until fully combined, breaking down any larger chunks of tuna.
FORM TUNA PATTIES - The size of the cakes you form is up to you. I used an ice-cream scoop and made 17 cakes. Larger cakes will be more difficult to handle.
COAT IN BREADCRUMBS - Gently push and roll the cakes into the breadcrumbs to coat. If you prefer a crispier coating then dip in flour then egg before coating in the breadcrumbs.
COOK - Either bake (easier) or fry (for more colour and crispier coating)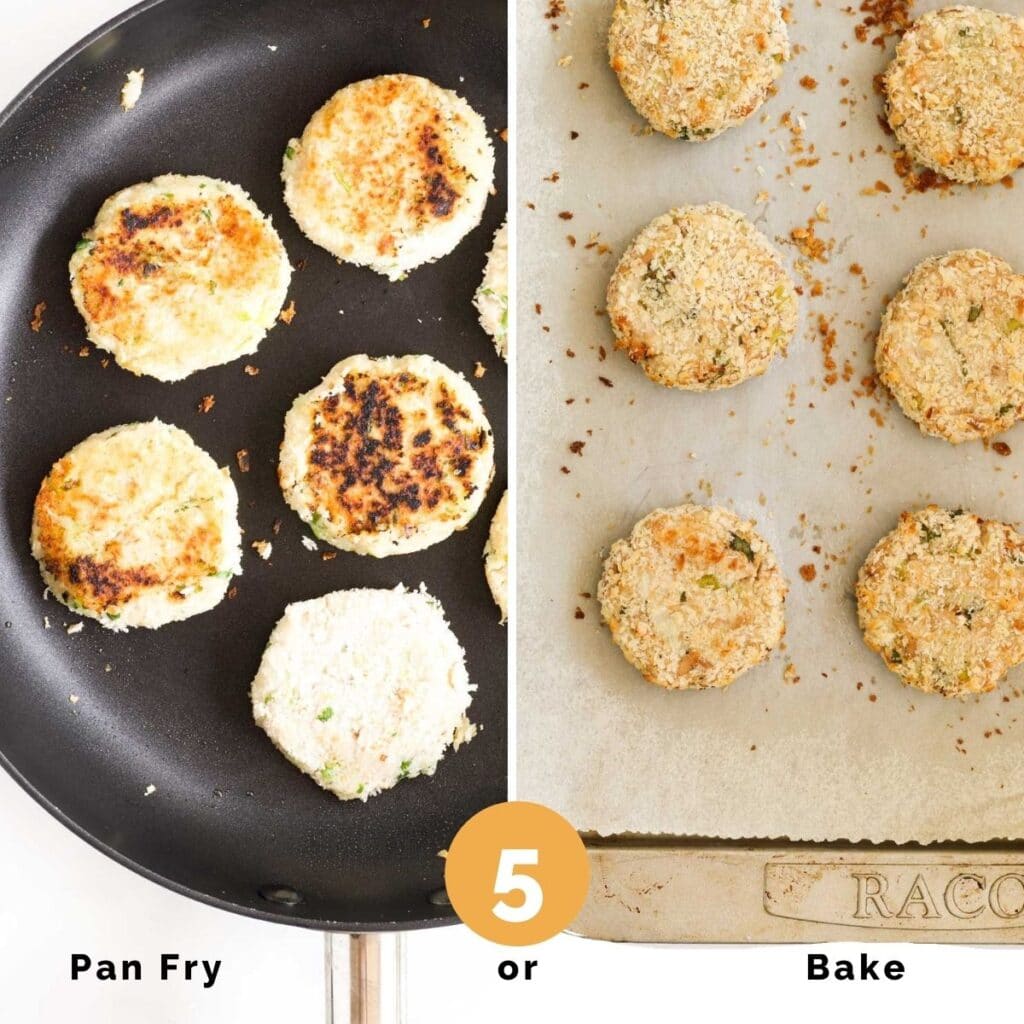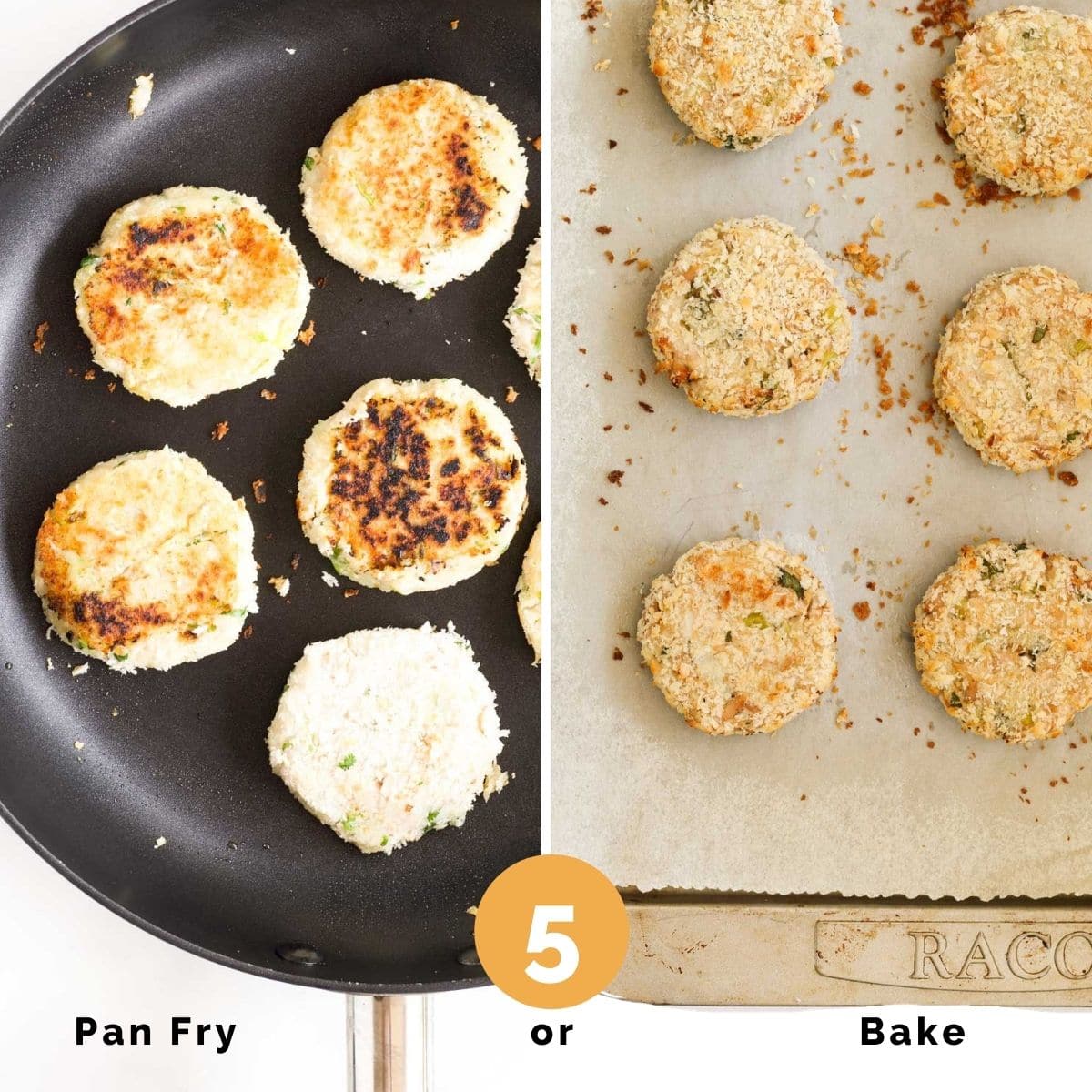 Storage Instructions
REFRIGERATE - Form the fish cakes and refrigerate in an airtight container for up to 24 hours. If you have already cooked the patties then allow to cool, refrigerate and bake to reheat.
FREEZE - Place fish cakes (uncooked) on a baking sheet and freeze until solid. Transfer to a freezable container/ziplock bag for up to 1 months. Bake from frozen (add an extra 10 mins) or allow to thaw in the refrigerator overnight. Bake or pan-fry as per recipe.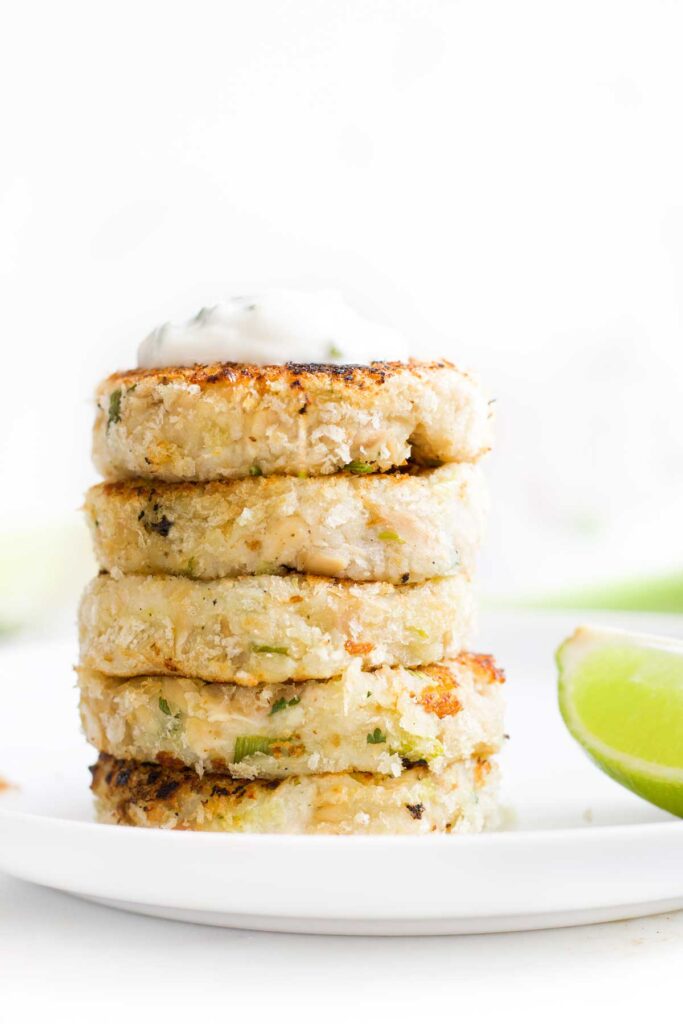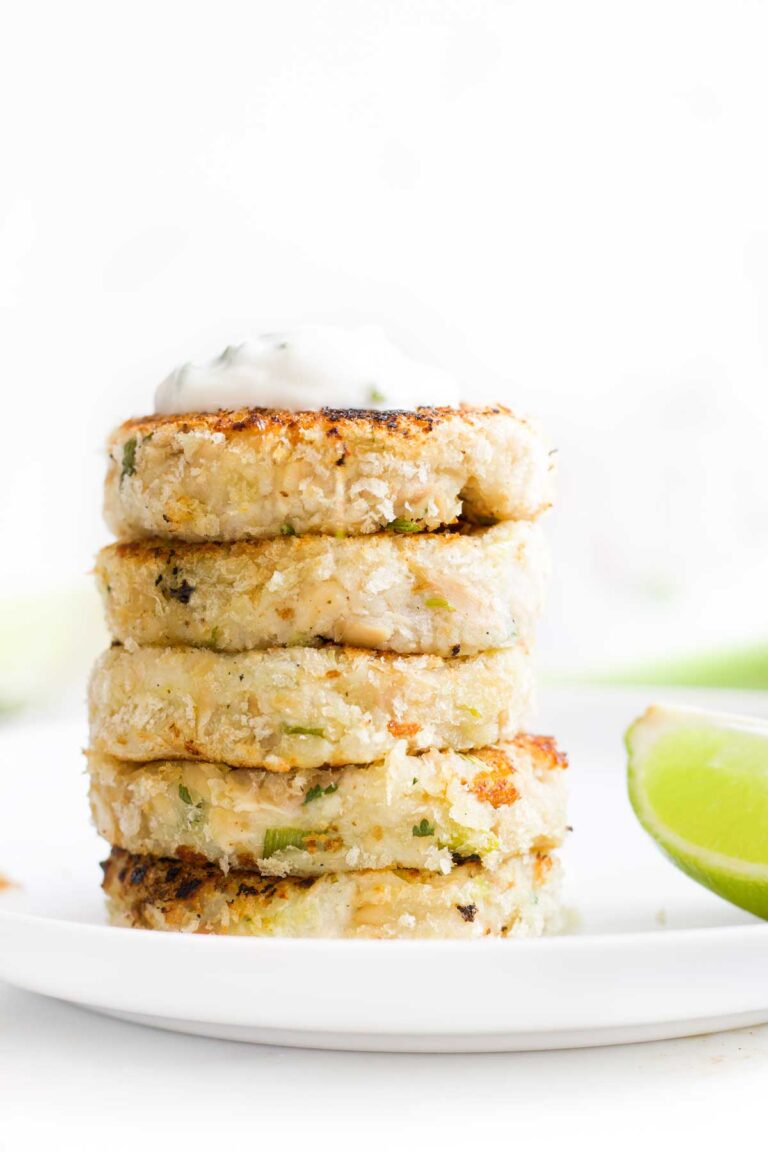 Frequently Asked Questions
My tuna patties are too soft, how do I prevent this?
Make sure not to overcook the potatoes as this can cause them to absorb too much water. Before mashing, return the potatoes to the pan, shake briefly and allow them to steam dry. If you have time, refrigerate and allow your mash to cool completely before mixing and forming the patties.

If you have already formed your cakes but find them too soft to handle, pop them in the freezer for around 10 mins to harden. This will make it easier to coat and fry. Baking will be easier if still too soft.
My Tuna Fish Cakes Full Apart When I coat /cook them, how do I prevent this?
This could be because your mixture is too wet or too textured.

You need to make sure your potatoes are completely dry and ideally cold before mixing with the other ingredients. Also, make sure to fully drain the tuna so you are not adding extra liquid to the mixture.

If you have large chunks of tuna make sure to break them down when mixing. In addition, make sure to chop the onion small.

It's important that the oil is hot enough when the patties enter the pan. If it's too low, they will soak up the oil and become soggy.

If still falling apart them try baking over frying.
Can you make fish cakes ahead of time?
Yes. You can form and refrigerate a day before cooking. See storage instructions, above, for further information.
Are these suitable for babies/ toddlers?
Yes. These are perfect for both babies (6mth+) and toddlers.
What should I serve with these?
I usually serve these with salad, roasted vegetables or raw vegetables and dips.
Can you freeze these fish cakes?
Yes. You can freeze before cooking and after cooking. See above section on storage instructions.
You May Also Like
Have you tries this recipe? I love receiving your feedback, please rate and leave a comment below or tag me on Instagram @healthylittlefoodies
Looking for more healthy kid recipes?Sign up for my free recipe newsletter to get new family friendly recipes in your inbox each week! Find me sharing more kid-friendly inspiration on Pinterest and Instagram.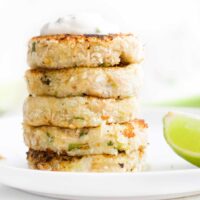 Tuna Fish Cakes
Mashed potato and tuna are mixed together with spring onion, lime juice and coriander (cilantro) to make these delicious tuna fish cakes. They are then coated in breadcrumbs and lightly fried or baked.
Prep Time: 10 minutes
Cook Time: 40 minutes
Total Time: 50 minutes
Serves:17 Small Cakes
Hover over "serves" value to reveal recipe scaler
Ingredients
500g (1lb) Starchy Potatoes (Peeled and cut into rough chunks of approx.3-5 cm cubed.)
2 x 185g (6.5oz) Cans of Tuna in Spring Water (Drained well)
2 Spring/Green Onion (Finely diced)
1 Lime (Juice of)
2 tbsp Fresh Coriander (Cilantro) (Finely chopped)
Salt and Pepper (To taste, do not add if making for a baby)
30g (½ Cup) Bread Crumbs (See notes)
1 tbsp (or as needed) Oil (for frying)
Instructions
Add the potatoes to a large pan and cover with water. Bring to the boil, cover and simmer until tender (approx. 10-15 mins)

Drain the potatoes, return them to the pan, shake briefly and allow them to steam dry for around 30 seconds. Mash until smooth and allow to cool.

Add the tuna, spring onion, lime juice, coriander (cilantro) and stir until combined, breaking up any larger pieces of tuna. Taste the mixture and season accordingly (do not salt if making for baby)

Mould into equal rounds. I used an ice-cream scoop and made 17. You can make them bigger if preferred.

Press/ roll in the breadcrumbs until coated. (See notes if you wish to achieve a thicker, crispier coating)

COOKING OPTION 1: Add the oil to frying pan over medium-high heat. Once hot, carefully place patties in the pan (do not overcrowd you will need to cook in batches). Fry for 3-4mins (or until golden) then flip and fry until golden on the other side.

COOKING OPTION 2: Place on a lined baking sheet and spray with oil. Bake at 200C/400F for 20-25mins or until golden and crispy. Turn halfway through the cooking time and spray the other side of the fish cakes before returning to the oven. (Timings may vary depending on the size of patties).
Recipe Notes
POTATO: Equivalent to 2 & ¼  cups cooked mashed potato. Allow potatoes to cool completely, in the refrigerator, if you have time.
BREADCRUMBS: Panko works great but you can use any breadcrumbs. If you prefer a thicker, crispier coating then coat the patties in flour, then beaten egg, then breadcrumbs. 
BAKE VS FRYING: Pan-frying is great when you only need to make a few cakes as the cooking time is shorter than when you bake. However, baking is great for a couple of reasons
You just have to pop them in the oven, set the timer and forget about them. Baking is definitely less labour intensive than frying. Perfect when you have young kids running about at your legs.
You need less oil.
However, baking does result in a less golden fish cake than frying. (If want to achieve a more golden look to your baked fish cakes you can pre-bake your breadcrumbs. Place breadcrumbs on a baking tray, spray with oil and bake on the top shelf for around 10 mins (or until golden) before coating. 
Nutritional information is a ROUGH guide only, calculated using an online nutrition calculator. 
Nutritional facts
Calories: 72kcal | Carbohydrates: 9g | Protein: 5g | Fat: 2g | Saturated Fat: 1g | Cholesterol: 5mg | Sodium: 86mg | Potassium: 172mg | Fiber: 1g | Sugar: 1g | Vitamin A: 25IU | Vitamin C: 4.4mg | Calcium: 24mg | Iron: 1.6mg
*First published Aug 2015. The post has been updated to include process steps and photos and more cooking tips and information.