I have recently been asked to do a post on the different toast toppings I use. The request was from someone who felt like she was serving the same thing time and time again. Toast is a convenient breastfast or lunch option as it is quick, easy and can be enjoyed in a variety of ways. What you decide to put on the toast, however, makes a huge difference nutritionally and keeping it varied helps your child to become used to a range of different flavours and textures.
I have included ten toast toppings that Finn enjoys often but that are also easy to spread and stay on the bread, making them perfect for little hands when doing baby led weaning or starting with finger foods.
Of course these spreads work equally as well topped on rice cakes, others breads, sticks of pepper, celery or loaded onto chunks of cucumber.
Avocado Toast Topping
I've mentioned many times before how much I love avocado and as a toast topping it is no exception. Baby Rory (6 months) really struggles to eat avocado on its own as it is so slippery (even with the skin on.) I find toast a great medium for him to be able to eat the goodness of this fruit.   Mash straight onto the toast and enjoy it on its own or topped with sliced tomatoes and some grated cheese.
Cottage Cheese Toast Topping
Cottage cheese is a great high protein spread to use as a toast topping.  No prep work just simply spread and eat.  It has a mild flavour and works well mixed with a variety of foods. Try adding crushed pineapple, fruit puree, grated apples for a sweet spread or mix with tuna or egg for a savoury taste.  Some brands can contain a lot of salt so check and compare the salt levels before buying and serving to your baby.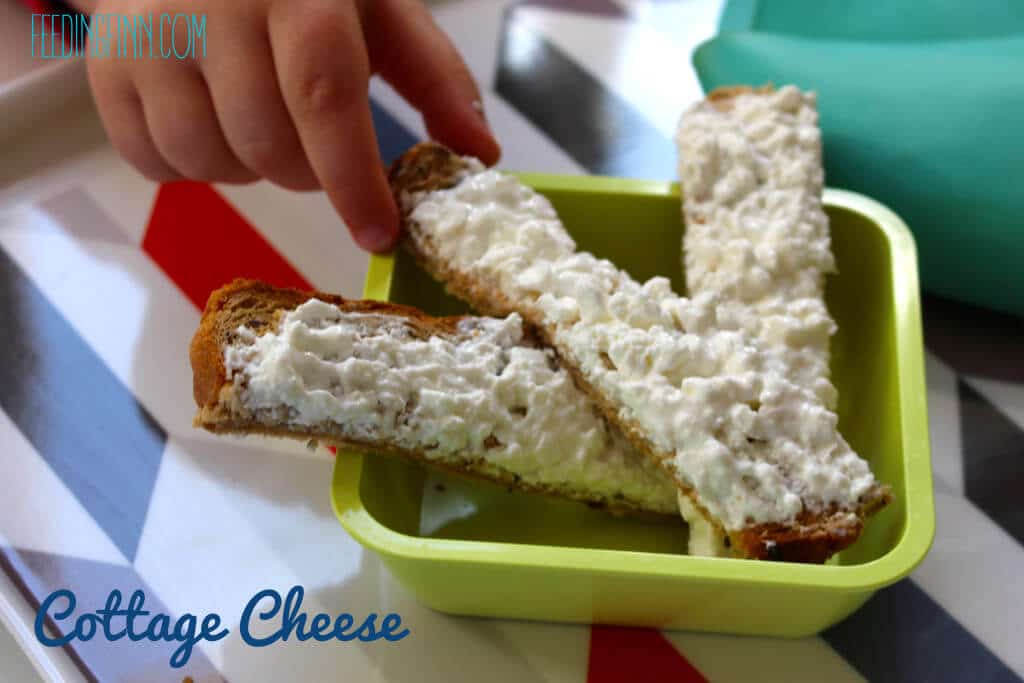 Nut butter and Banana Toast Topping
This toast topping is a great sweet treat and can be enjoyed any time of the day.   I usually use peanut butter but it is equally as nice with other nut butters.  Finn always hated mashed banana as a baby so I used to thinly slice the bananas for him.  Rory seems to prefer it mashed together.  I mix 1 tbsp of nut butter with half a banana and spread before topping with a sprinkle of cinnamon.  Just watch the nut butter that you buy as many contain added sugar and salts.  I make sure that I buy one that is 100% nuts.
Hummus Toast Topping
Hummus is a great toast topping, let your kids enjoy it as it is or try adding some grated carrot or roasted vegetables for added goodness.  A lot of store bought products have quite a bit of added salt so why not make your own using this no added salt recipe.
Egg and Cream Cheese Toast Topping
Mash a hard boiled egg with some cream cheese to your desired consistency and spread.  Simple, but kids seem to love this toast topping (well mine certainly do.)
Cream Cheese and Raspberries Toast Topping
Defrost and mash some frozen raspberries and then mix with some cream cheese to make this sweet toast topping. Although nothing like jam, Finn calls this spread "special jam" and requests it a lot.  With a fraction of the sugar content it is definitely the healthier option.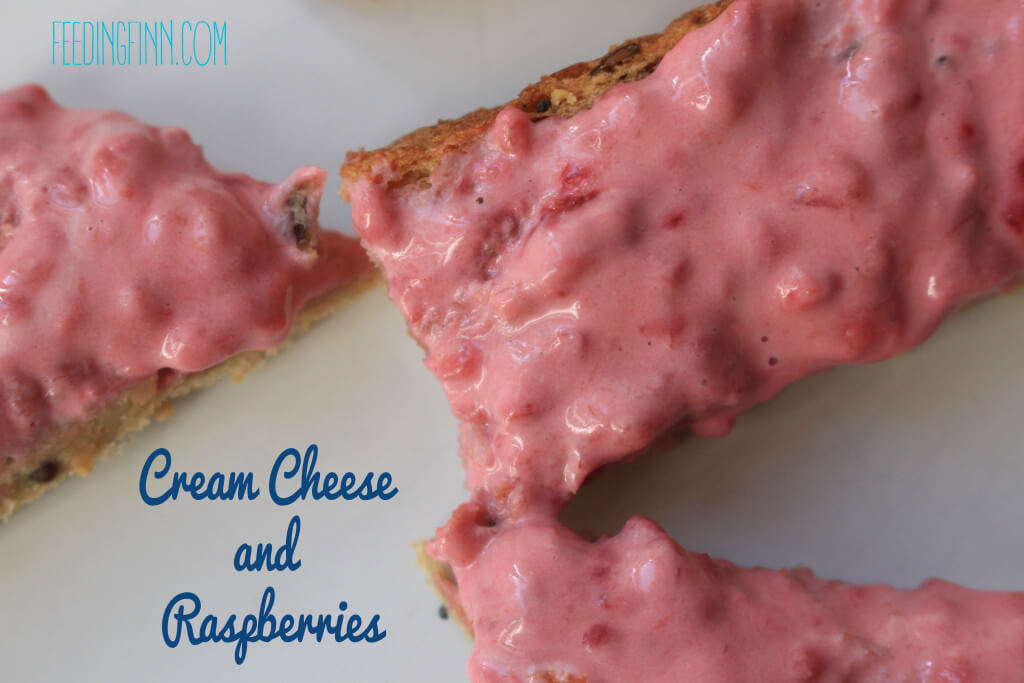 Avocado, Mango and Coconut Toast Topping
Avocado had to feature twice and this one is a goody.  I love to eat this mixture straight from the bowl (and so does Finn.)  Mash half an avocado with half a ripe mango and spread onto the toast, sprinkle with some unsweetened coconut. Yum.
Pea Mash Toast Topping
I love this pea mash recipe from bon appitie but I just omit the salt.   Peas are a great source of  vitamins and minerals and are also rich in protein and fibre.  They have a lovely sweet flavour that kids seem to love and the colour is fab.
Tuna Spread Toast Topping
This tuna spread works great as a toast topping or packed into a sandwich with crunchy lettuce and cucumber.  It is made with greek yogurt for an added protein boost.  Get the recipe here.
Cannellini Bean Paste Toast Topping
This is such a simple spread to make and is perfect when you haven't been to the store for a while.  Just mash a tin of beans, add some oil and lemon juice and spread.  Recipe click here.