These Baby-led Weaning Pancakes are a nourishing option designed to support your little one's food exploration. With just two ingredients - sweet potato and egg - these pancakes are not only delicious but are dairy, gluten and nut free, making them ideal for those with food allergies.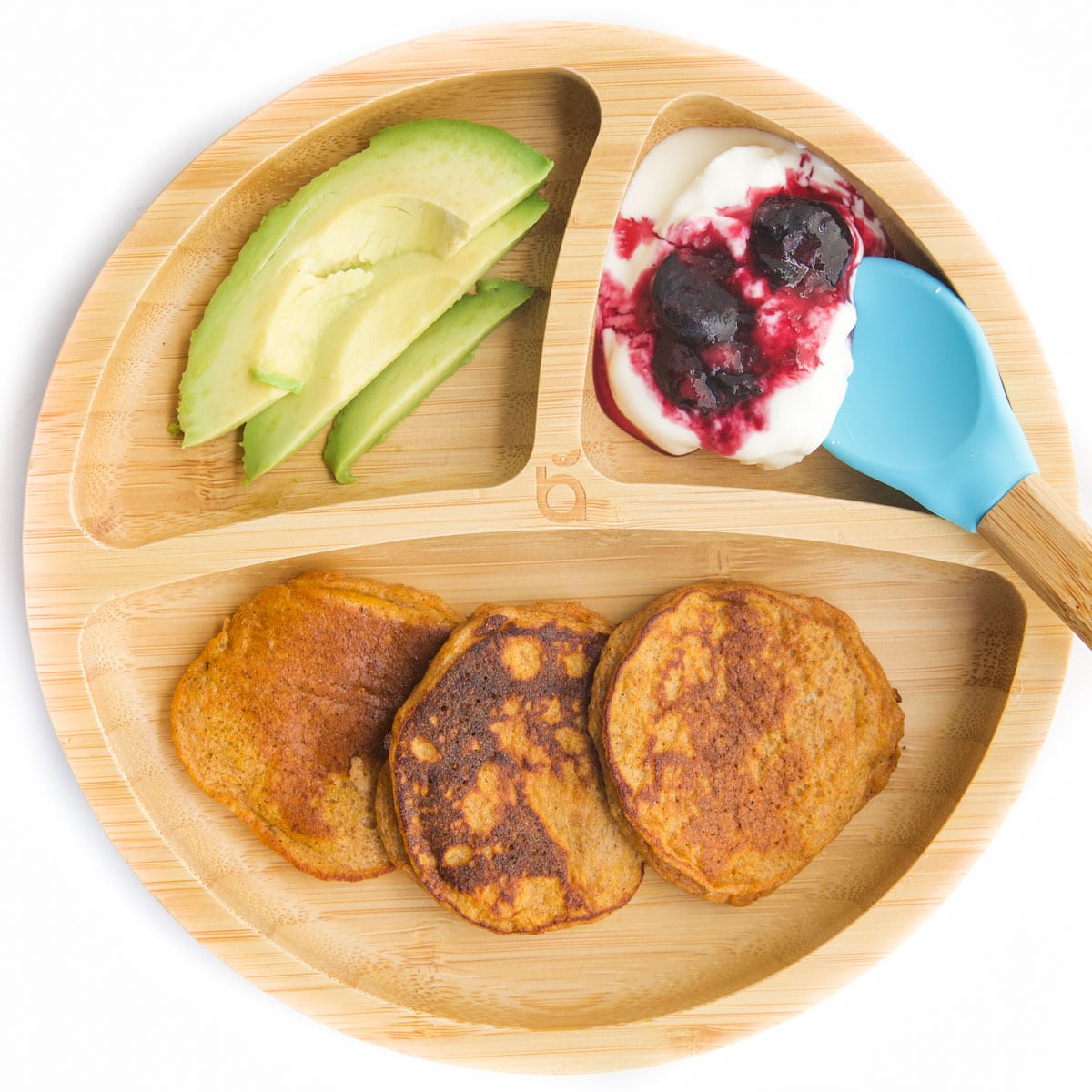 These baby pancakes are a twist on the two-ingredient banana egg pancakes. Made with just sweet potato and egg, they are simple to prepare and a nutritious option for new eaters. If your little one enjoys the classic banana version, try swapping in sweet potato for a flavourful twist your baby is sure to love.
Jump to:
Reasons to Love these Pancakes
Nourishing Ingredients: Made with just sweet potato and egg, these pancakes are a nutritious snack or breakfast for your little one. Sweet potatoes are packed with vitamins and fibre, while eggs provide protein and essential nutrients.
Allergy-friendly: These pancakes are free from common allergens such as dairy, gluten and nuts, making them safe and a suitable option for babies or kids with those food allergies or sensitivities.
Easy to Handle: With their soft texture and manageable size, these pancakes are perfect for baby-led weaning. Your little one can easily grasp them with their tiny hands, promoting self-feeding and fine motor skills.
Easy to Prepare: With only two ingredients you can quickly whip up these pancakes without hassle, especially if you have leftover sweet potato puree or mash.
Video Tutorial
Ingredient Information
For the full recipe, with ingredient amounts, scroll to the recipe card at the bottom of the post.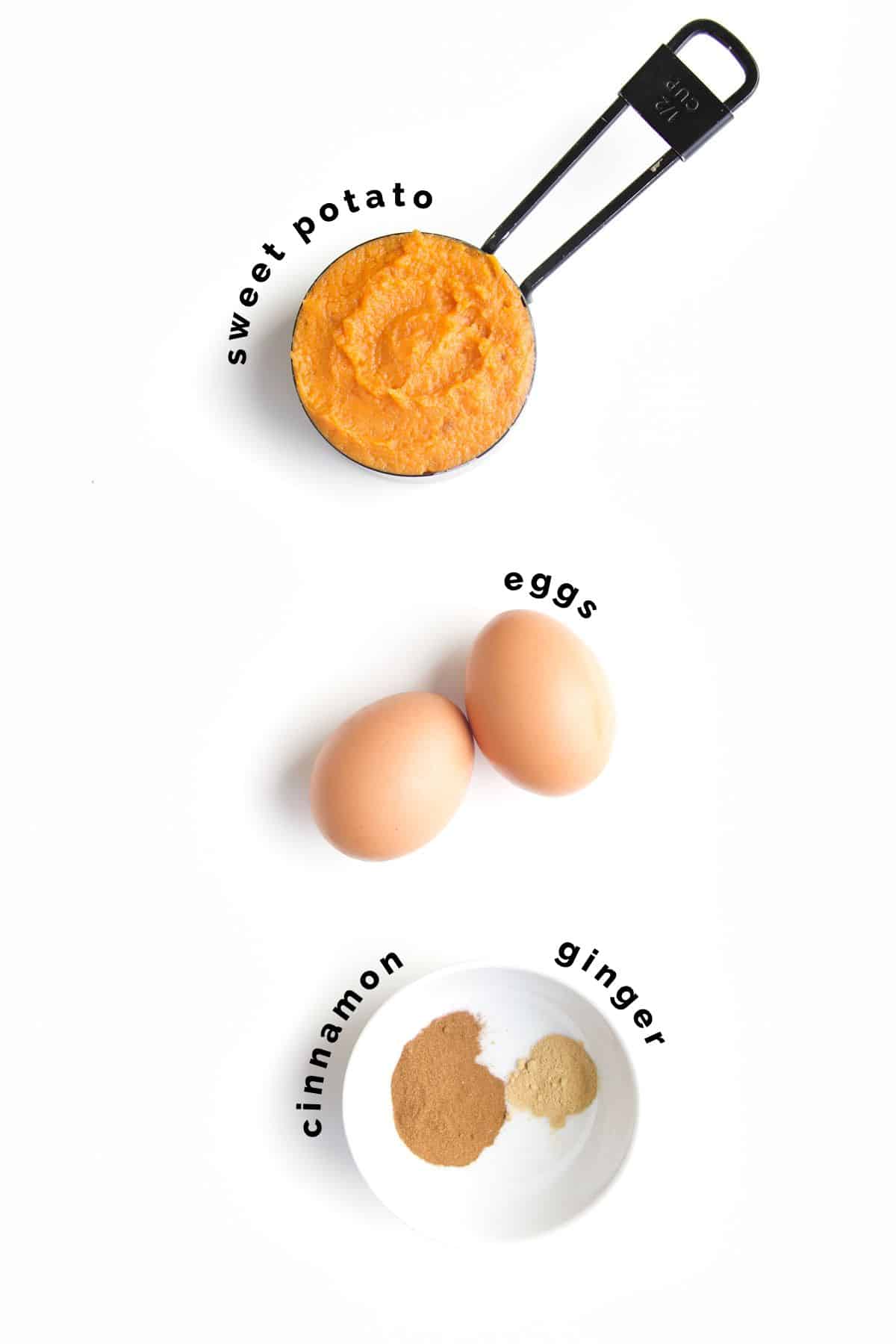 Eggs - The binding agent helping the pancakes hold together. They provide a good source of protein, important for your baby's growth and development. Read more about introducing eggs to babies.
Sweet Potato Puree - Adds natural sweetness and a velvety texture to the pancakes. Packed with essential vitamins, minerals and dietary fiber, promoting a boost of nutrients for your little ones.
Optional Spices -Cinnamon and ginger really elevate the taste and introduce exciting flavours to your baby's palate. Read more about The Benefits of Adding Spices and Herbs to Baby Food.
Step By Step Instructions (and Cooking Tips)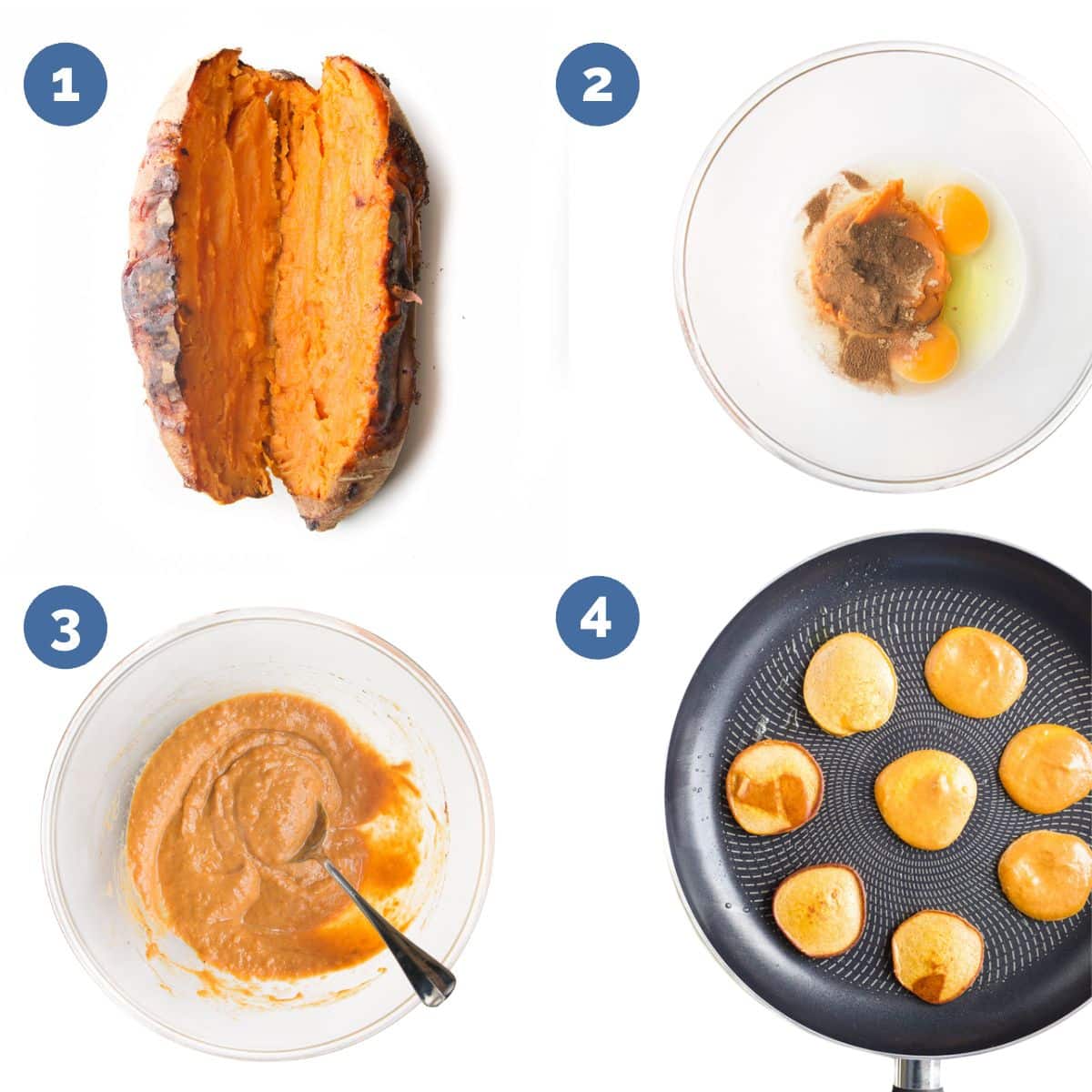 Cook Sweet Potato: If you don't have sweet potato puree on hand, you'll need to prepare some. You can choose to microwave or roast the potato. For optimal results, roasted sweet potato is recommended as it adds a delicious flavour.
Ensure the potato is thoroughly cooked for easy mashing. To achieve smooth pancakes, pureeing the sweet potato is ideal. If you don't have a blender or food processor, mashed sweet potato will work, although the pancakes may have some small lumps.
Add All Ingredients to a mixing bowl
Mix until well combined.
Fry Pancakes: As these pancakes contain no flour, they are harder to handle than regular pancakes. However, there are a few tricks you can follow to make sure you cook the perfect pancake every time.
Make your pancakes small. I usually make them 1 tablespoon in size. This is not only a great size for babies but it also makes the flipping easier. I recommend sticking to 1-2 tablespoon in size.
Turn the heat down to medium/low (depending on the stove top). This ensures that the batter cooks all the way through without burning.
Have patience! Wait until the pancakes are fully cooked on one side before flipping. This will take around 2-3 mins.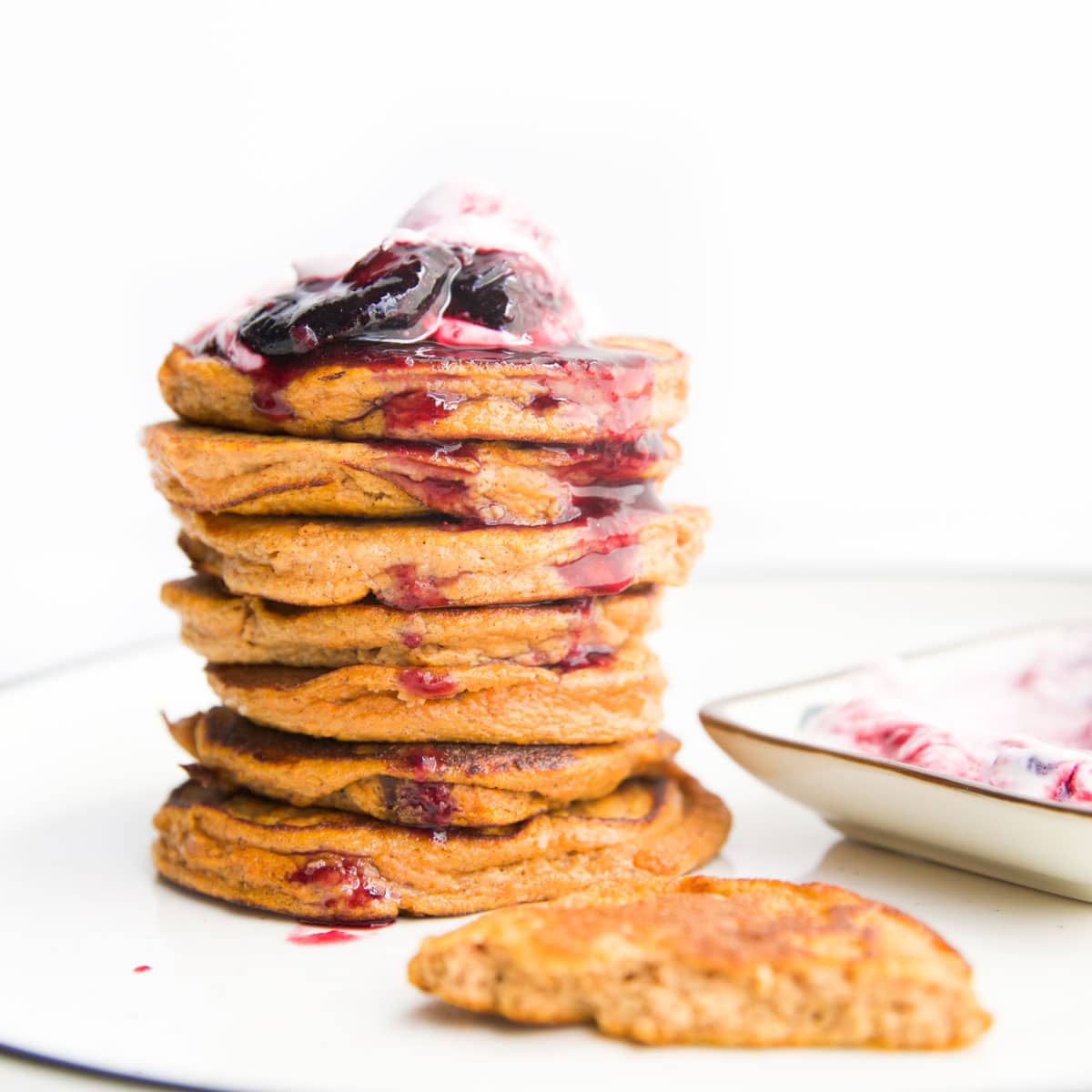 Recipe FAQs
What age can I serve these pancakes to my baby?
You can introduce these pancakes to your baby when they are ready to start solids, 6 months plus. However, it's important to note that eggs are a common food allergen. Before serving these pancakes, ensure that you have already introduced egg to your baby's diet by starting with small quantities of well cooked egg. This allows you to monitor for any potential allergies or reactions before incorporating the pancakes into their meals.
What do these pancakes taste like?
If you are expecting these sweet potato pancakes to taste like regular pancakes then you may be disappointed. Although they look like regular pancakes the texture and taste are different.

Different doesn't mean bad, however! The texture is soft and smooth (especially if you puree the potato) which babies and kids seem to love.The taste, without seasoning, can be a little bland which may be preferred by some kids, or be a good base for a number of delicious toppings.

I personally prefer to add flavour to the recipe with some spices. I add cinnamon and ginger but nutmeg would also be nice. Vanilla also works well. 
How should I store leftovers?
These pancakes taste best freshly cooked but if you do have leftovers then allow the pancakes to cool and store in either the refrigerator or freezer. 

Refrigerator - Place leftovers pancakes in an airtight container and refrigerate for up to 2 days.

Freezer - Freeze on a baking tray and then transfer to a freezable container/freezer safe bag for 1-2 months.
Other Healthy Pancake Recipes for Babies...
Looking for more healthy kid recipes?Sign up for my free recipe newsletter to get new family friendly recipes in your inbox each week! Find me sharing more kid-friendly inspiration on Pinterest and Instagram.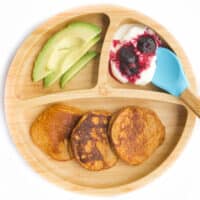 Baby-Led Weaning Pancakes
Made from only two ingredients, these sweet potato pancakes are a fantastic finger food and perfect for baby-led weaning.
Prep Time: 5 minutes
Cook Time: 12 minutes
Total Time: 17 minutes
Serves:13 tbsp pancakes
Hover over "serves" value to reveal recipe scaler
Ingredients
125g (½ cup) Sweet Potato Puree / Mashed Sweet Potato *SEE NOTE 1
2 eggs
¾ teaspoon ground cinnamon (optional)
¼ teaspoon ground ginger (optional)
1 teaspoon coconut oil (for frying)
Instructions
Mix the eggs and sweet potato together until fully combined. Add the cinnamon and ginger and stir through.

Heat the oil in a frying pan over medium heat.

Spoon one tablespoon of the mixture into the pan (these work best as small pancakes) and repeat to fill the pan.

Turn the heat to medium/low and allow to cook for around 2 -3 mins

Flip and heat until cooked through (approx 2-3 mins)Repeat until mixture is used up.
Recipe Notes
Roasted sweet potatoes work best for this recipe. Add to a blender / food processor to make into a puree (full sweet potato puree instructions here). If you do not have a blender make sure to mash the potato really well to ensure no large lumps in your batter. 
Spices are optional but don't be afraid to add spices to the food you serve your baby. Alter to suit taste. 
You can replace coconut oil with oil of choice or butter. 
Nutritional information is a rough guide only, calculated using an online nutrition calculator.
Nutritional facts
Calories: 21kcal | Carbohydrates: 2g | Protein: 1g | Fat: 1g | Saturated Fat: 0g | Cholesterol: 25mg | Sodium: 13mg | Potassium: 55mg | Fiber: 0g | Sugar: 0g | Vitamin A: 1885IU | Vitamin C: 1.9mg | Calcium: 9mg | Iron: 0.2mg