These Sweet Potato Brownies are moist, sweet and delicious. A great recipe to make with your kids. 
Sweet potato may seem like a strange ingredient to make brownies with, but trust me it works really well. When paired with dates and honey, the sweet potato is pretty much undetectable and even the fussiest of eaters won't be put off by the goodness hiding inside!
TIPS AND TRICKS FOR MAKING GREAT SWEET POTATO BROWNIES
Sweet Potato - You can roast, steam or boil your sweet potato but I find that roasting works best. It brings out the natural sweetness and stops the mash from becoming too wet. Follow my tips for making great sweet potato puree.
Dates - I used fresh Medjool dates. They were soft and plump making them easy to blend. If your dates are dry you will need to soften them by letting them sit in boiling water for around 10 mins. It is important that they are soft so that they blend into the mixture well.
Honey - Honey is used for extra sweetness and can actually be skipped or replaced with another sweetener like maple syrup. Depending on how sweet your dates are, you may not need to add the honey. *Honey can, very occasionally, contain a spore of a bacterium called clostridium botulinum. This can cause a rare form of food poisoning and is not suitable for babies under 1.
Crushed Walnuts - The walnuts add great texture and flavour to the brownies and are probably my favourite part. When serving young children make sure to properly crush the walnuts. If you want to make this nut free you could replace with some chocolate chips so that there is still some texture to the brownie.
Brownie Thickness - I have made these brownies small, perfect for kids. They are thin and cut into small pieces. I used a 20cm x 20cm (8"x8") pan and cut into 25 small squares. If you prefer a thicker brownie you could double the mixture or use a smaller pan. This will change the cooking time. Just keep checking, your knife will come out clean when done.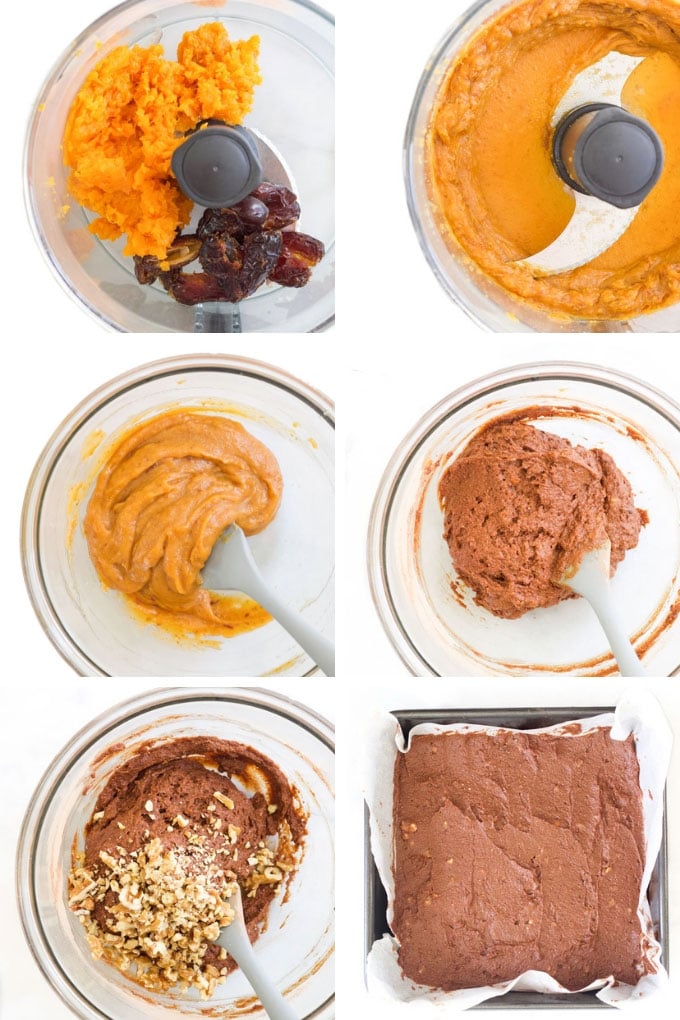 COOKING WITH KIDS
I like to get my kids involved with all aspects of cooking but, like most children, they just love it when we make something sweet. This is a great recipe to make with kids and is fantastic for showing children how versatile the sweet potato is.
Blending the potato with the dates: Young kids love to press the buttons on the food processor and watch the food be chopped and blended together. Let them try the mixture at this stage, my 4 yr old couldn't get enough of it!
Cracking Eggs: Another task that kids love to do!
Mixing: Ask your children to describe how the mixture feels and what it looks and smells like at the various stages.
Weighing: This recipe has small amounts of ingredient, perfect for young children to count in by the tablespoon full.
ARE SWEET POTATO BROWNIES HEALTHY?
Although this dessert is made from sweet potatoes, like all treats and desserts, it should be enjoyed in moderation. It is still high in sugar (from the dates and honey) and it is important to be mindful of that. The World Health Organization (WHO) recommends we all limit intake of added and free sugars to 6 teaspoons (25g) per day for health benefits. (1)
STORING SWEET POTATO BROWNIES
Refrigerate - Store for up to three days in an airtight container.
Freeze: Freeze on a baking tray until solid and then transfer to a freezable airtight container. Freeze for up to 3 months.
You may also like
Looking for more healthy kid recipes?Sign up for my free recipe newsletter to get new family friendly recipes in your inbox each week! Find me sharing more kid-friendly inspiration on Pinterest and Instagram.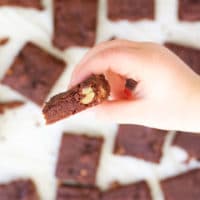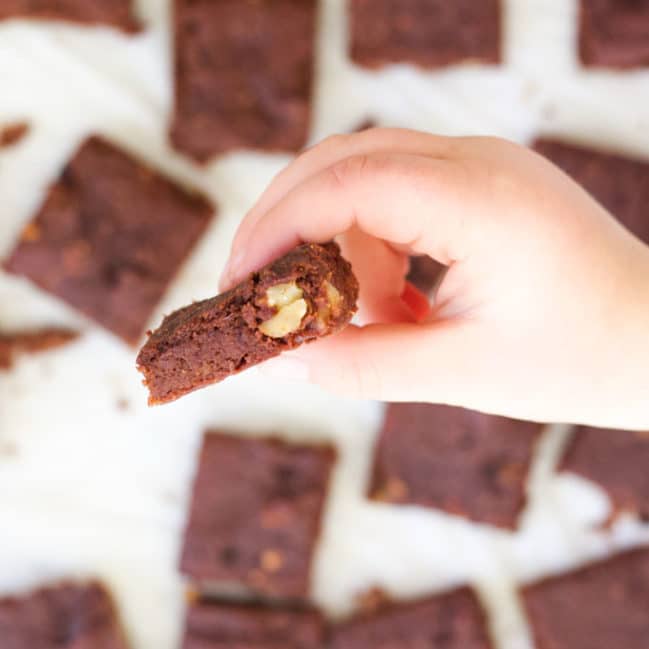 Sweet Potato Brownies
Gluten and dairy free brownies sweetened with sweet potato, dates and honey. A delicious recipe, perfect for getting kids in the kitchen.
Prep Time: 15 minutes
Cook Time: 25 minutes
Total Time: 40 minutes
Serves:25 small squares
Hover over "serves" value to reveal recipe scaler
Ingredients
250g (1 ¼ cups) Sweet Potato Puree (or mashed sweet potato) *See note 1
7 Medjool Dates, pitted *See note 2
2 Eggs
2 tablespoon Honey *See note 3
4 tablespoon Cacao Powder
2 tablespoon Coconut Flour
1 teaspoon Baking Powder
42g (⅓ cup) Crushed Walnuts *See note 4
Instructions
Preheat oven to 180C / 355F and line a baking tin with baking paper. *SEE NOTE 5

Add the sweet potato puree (or mash) to a food processor along with the pitted dates. Blend until the dates have broken down and mixed with the sweet potato. (See process picture in post for visual)

Add the sweet potato mixture to a large mixing bowl and add the eggs and honey. Stir until combined.

In a small bowl, combine the cacao, coconut flour and baking powder and mix together. Add this dry mixture to the sweet potato mixture and stir until just combined.

Add the walnuts and give one final stir.

Pour the mixture into the lined baking tin and bake for around 20 - 25 minutes or until you can pierce the brownie with a knife and it comes out clean.

Allow to cool for 10 minutes before removing from the tin.

Once cool cut into squares. (I cut into 25 small squares)
Recipe Notes
I find baking the sweet potato gives the best result. A potato that weighs around 500g will yield enough mashed potato. Learn how to make sweet potato puree here. 
It is important that your dates are soft and plump. If your dates are dry you will need to soak in boiling water, until soft, before blending.
Honey is not suitable for under 1s. It is there for added sweetness only and can be missed out. 
Crushed walnuts add a lovely texture and taste. If you are looking to make this nut free you should replace with something that will add texture. Maybe coconut flakes or choc chips. 
My tray was 20cm x 20cm (8"x8"), this produced quite thin brownies and I cut them into small squares. If you prefer thicker brownies then you can use a smaller tin / double the recipe but the cooking time may be longer. 
Nutritional information is a rough guide only, calculated using an online nutrition calculator. 
Nutritional facts
Calories: 53kcal | Carbohydrates: 9g | Protein: 1g | Fat: 1g | Saturated Fat: 0g | Cholesterol: 13mg | Sodium: 10mg | Potassium: 139mg | Fiber: 1g | Sugar: 6g | Vitamin A: 1950IU | Vitamin C: 2mg | Calcium: 21mg | Iron: 0.4mg
References
World Health Organization 2015, Guideline: Sugars intake for adults and children, viewed 16 May 2019, <http://apps.who.int/iris/bitstream/10665/149782/1/9789241549028_eng.pdf?ua=1>