Crispy on the outside and soft in the inside, these kid-friendly Salmon Croquettes are great as part of a main meal or lunch.
The most popular recipes on my blog are all finger foods.
I'm guessing it is because kids are often drawn to this way of eating. They are easy to eat and fun to dip.
Or perhaps parents like the fact they are a good way to introduce new foods, or foods that aren't always accepted in other ways (salmon in this case).
We certainly don't eat finger foods all the time but when I do serve them, my kids love it. These croquettes are no exception.
Making Salmon Croquettes
I always harp on about the benefits of getting the kids in the kitchen. Not just to help them become better eaters, but also to help with their math, language and fine motor skills. This recipe is fantastic for kids and they can help with
Measuring/weighing ingredients
Mixing
Cracking Eggs (always a favourite)
Forming croquettes
Coating
I know that sometimes it is easier to just do it yourself and the thought of getting the kids to "help" sounds like more work than it is worth. However, the more kids help, the more helpful they will become in the long run (fingers crossed!)
Recipe Notes and Tips
I like my croquettes to be quite textured and to still have chunks of salmon intact. Therefore, I am careful not to overmix the ingredients.
Chill the croquettes before breading, this will firm them up, make them easier to coat and they will cook better.
This recipe is very easy to customise, it can be made with tuna, chicken or a range of vegetables. You can also change the herbs or add more spices to suit taste.
You can use any breadcrumbs. I like the extra crunch that panko gives.
Canned or Fresh Salmon?
Both canned and fresh salmon is an excellent source of protein and various other nutrients. Both work equally well in these salmon croquettes.
Although I love using fresh salmon fillets for many meals (Lemon & Parmesan Salmon, Sundried Tomato Salmon), for this recipe I normally use canned salmon. The reasons being is that it is
Cheaper
More convenient (already cooked / long shelf life)
However canned salmon often has a higher sodium content.
Always check the sodium content of various brands and choose one with a lower sodium content.
Take particular care if you are cooking for a baby, babies should only have a maximum of 0.4g of sodium a day until they are 12 months.
Baked or Fried?
Normally croquettes are coated in breadcrumbs and deep-fried. I never deep fry anything, however, I often pan-fry.
Pan frying is great when you only need to make a few croquettes as the cooking time is shorter than when you bake. However, I usually choose to bake them for a couple of reasons
I like that you just have to pop them in the oven, set the timer and forget about them. Baking is definitely less labour intensive than frying. Perfect when you have young kids running about at your legs.
They are healthier
The biggest downside to baking, for me, is how the croquettes are aesthetically. I find when I bake croquettes they look very pale and not as appealing as the fried version.
To combat this I pre-bake my breadcrumbs, before coating the croquettes, to make them beautiful and golden. You can see the results in the below picture. Alternatively, you could use wholemeal breadcrumbs but I love the crunch that panko breadcrumbs give.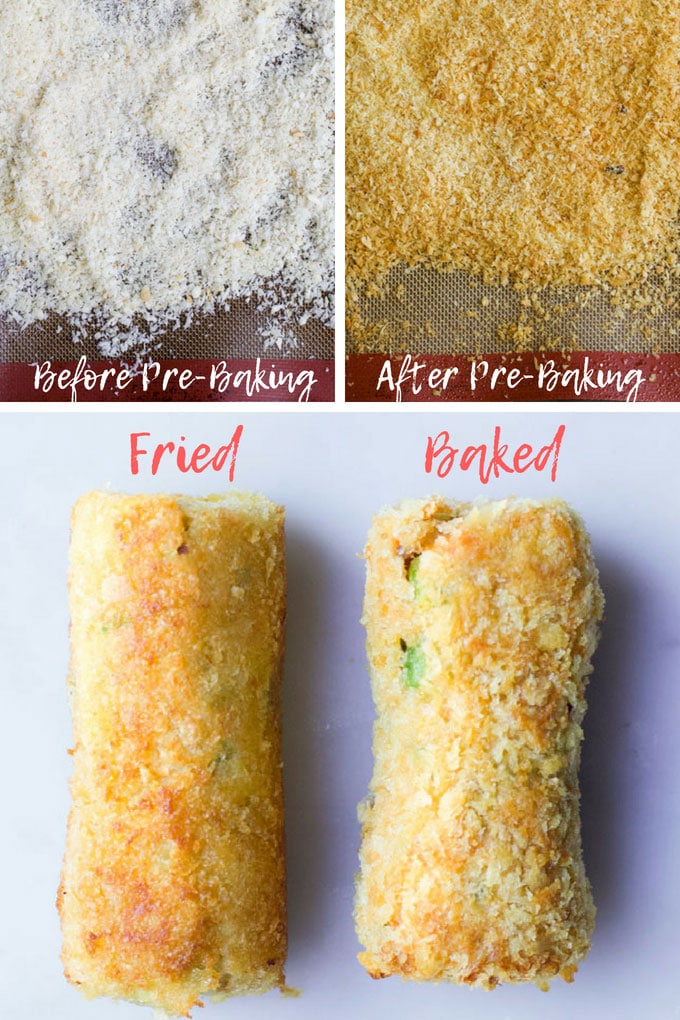 What to Serve Salmon Croquettes With
I like to ensure that vegetables make up a large proportion of my kids' meals so I serve these with a couple of healthy dips, some vegetables or a salad.
Vegetable Ideas - Delicious served with any vegetable, some of our favourites include...
Freezing Instructions
To freeze, place the uncooked salmon croquettes on a baking tray in the freezer just until firm, about 2 hours. Transfer to a freezer bag or container. For best results wrap each croquette in plastic wrap before placing them in a freezable bag/container.
Defrost in the refrigerator overnight or cook from frozen (just add approx another 15 mins to the cooking time)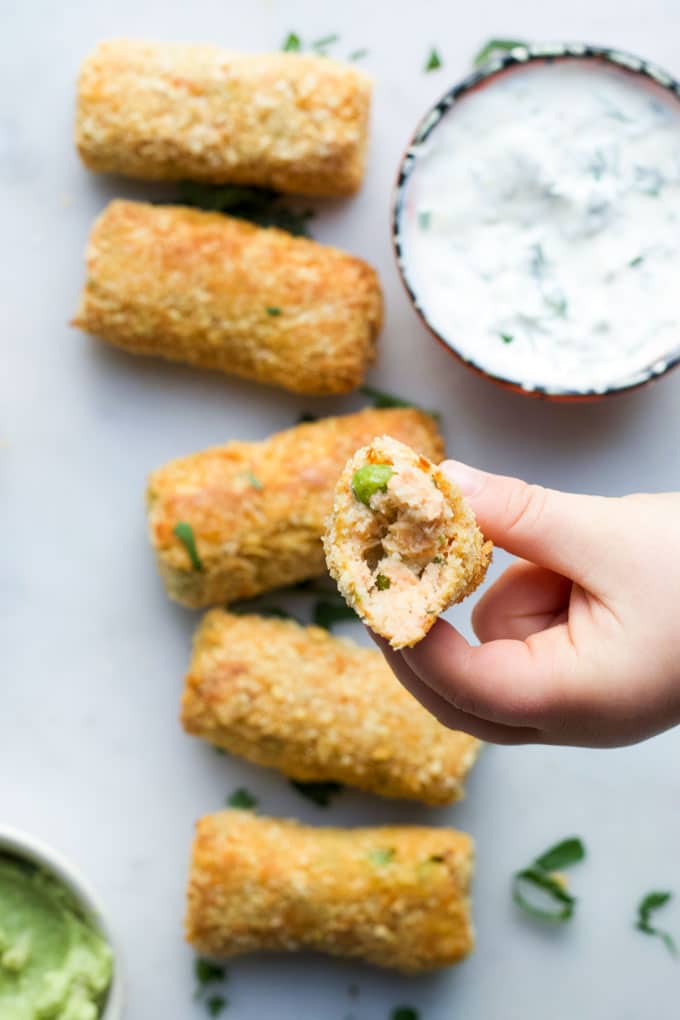 Love this recipe? You might also like.....
Have you tried this recipe? I'd love to know what you and your kids think. Please rate and leave a comment below or tag me on Facebook or Instagram.
Looking for more healthy kid recipes?Sign up for my free recipe newsletter to get new family friendly recipes in your inbox each week! Find me sharing more kid-friendly inspiration on Pinterest and Instagram.
Salmon Croquettes
Crispy on the outside and soft in the inside, these kid-friendly Salmon Croquettes are great as part of a main meal or lunch.
Prep Time: 30 minutes
Chilling Time: 15 minutes
Cook Time: 20 minutes
Total Time: 50 minutes
Serves:19 croquettes
Hover over "serves" value to reveal recipe scaler
Ingredients
400g (2 cups) Mashed Potato *SEE NOTE 1
250g (8.8oz) Cooked Salmon *SEE NOTE 2
2 Spring Onion (Green onion / scallion), finely chopped
2 tsp Fresh Lemon Juice
1 tbsp Chopped Fresh Parsley
1 tbsp Chopped Chives
65g (½ cup) Peas
1 teaspoon Wholegrain Mustard
2 Eggs
60g (1 cup) Panko Breadcrumbs *SEE NOTE 3
Instructions
In a large mixing bowl add the potato, salmon, spring onion, lemon juice, parsley, chives, peas, mustard and 1 egg (beaten). Mix until combined but try not to overmix, leaving some texture.

Take a heaped tablespoon of the mixture and form into croquettes. I made 19. Place on a baking tray and chill for at least 15 mins. *SEE NOTE 4

If baking, preheat the oven to 180C / 360F.

Beat the remaining egg and place in a shallow dish. Place the breadcrumbs in a separate shallow dish.

Dip the croquette in the egg and then coat in the breadcrumbs and return to the baking tray. Repeat for all croquettes.

Spray or lightly drizzle with oil. Place in the oven for 20 min, until cooked through and golden.

Alternatively, heat a non-stick frying pan over a medium / high heat. Add 2 tablespoon of oil and gently place the croquettes in the frying pan. Fry for around 4-5 min on each side.
Recipe Notes
I do not add anything to my mashed potato when making croquettes. However if you have leftover mash, made with butter and milk etc, then you can still use it.
I used canned salmon in this recipe but cooked fresh salmon works well too. Remove all bones and skin.
I like to use panko breadcrumbs as I love the crispy results it gives, you can use any breadcrumb though.  OPTIONAL (if baking and you want to achieve a more golden look to your croquettes) Place breadcrumbs on a baking tray, spray with oil and bake on the top shelf for around 10 mins (until golden)
Chilling allows the mixture to firm up and makes it easier to coat and cooks better.
Nutritional information in a rough GUIDE only, calculated using an online calculator. Facts will vary depending on the different brands used etc.
Nutritional facts
Calories: 115kcal | Carbohydrates: 20g | Protein: 6g | Fat: 1g | Saturated Fat: 0g | Cholesterol: 28mg | Sodium: 105mg | Potassium: 299mg | Fiber: 1g | Sugar: 1g | Vitamin A: 95IU | Vitamin C: 19.2mg | Calcium: 53mg | Iron: 0.7mg