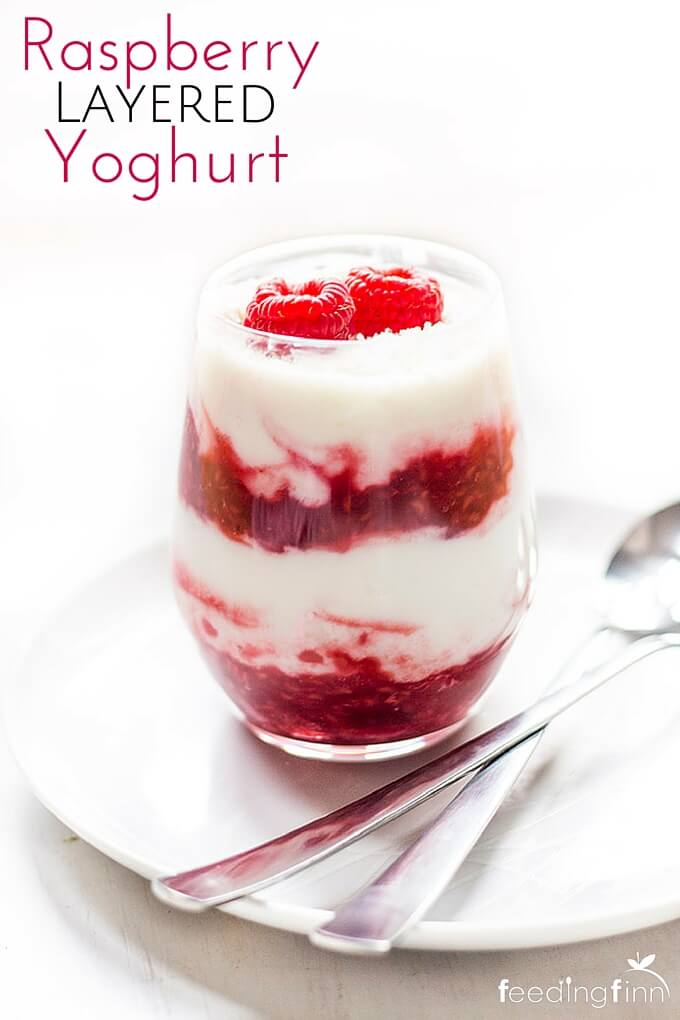 Finn has really enjoyed making his Christmas themed snacks this month. Today he asked to make a "Christmas Yoghurt." I initially thought to flavour yoghurt with Christmas spices but I wasn't quite sure that would work well and how much Finn would actually like it. So instead, I thought I would try and make the yoghurt visually festive and went with red and white candy stripes. As I have said many times before, I never buy the yoghurts targeted to children as most of them have so much added sugar. Instead I opt for natural greek yogurt and flavour with fruit.
I used frozen raspberries to make this "Raspberry Layered Yogurt." Once defrosted I find them easy to crush and great to stir in to yoghurts. I started with a layer of crushed raspberries then added a layer of natural greek yoghurt, added some more raspberries and a final layer of yoghurt. To finish I topped it with a sprinkle of unsweetened coconut (for snow) and a couple of juicy fresh raspberries.
Looking for more healthy kid recipes?Sign up for my free recipe newsletter to get new family friendly recipes in your inbox each week! Find me sharing more kind-friendly inspiration on Pinterest and Instagram.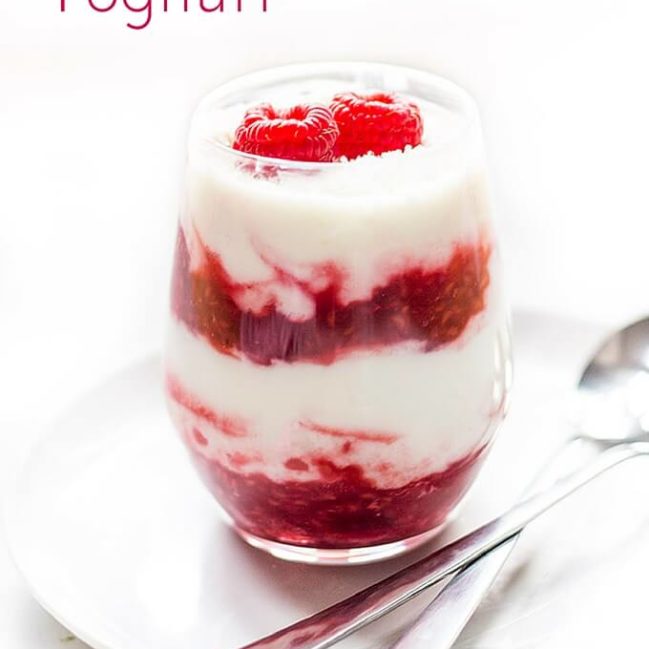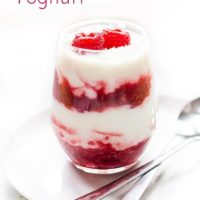 Raspberry Layered Yogurt
Prep Time: 5 minutes
Total Time: 5 minutes
Hover over "serves" value to reveal recipe scaler
Ingredients
1 cup (100g) frozen raspberries
1 cup natural greek yoghurt
Instructions
Microwave raspberries for 30 seconds (or until defrosted) and then crush with spoon.

Add half of the mixture to a small glass

Add half the yoghurt on top of the raspberries

Add the remaining raspberries

Finish with the remaining yoghurt.
Recipe Notes
*** Amounts will vary with glass size