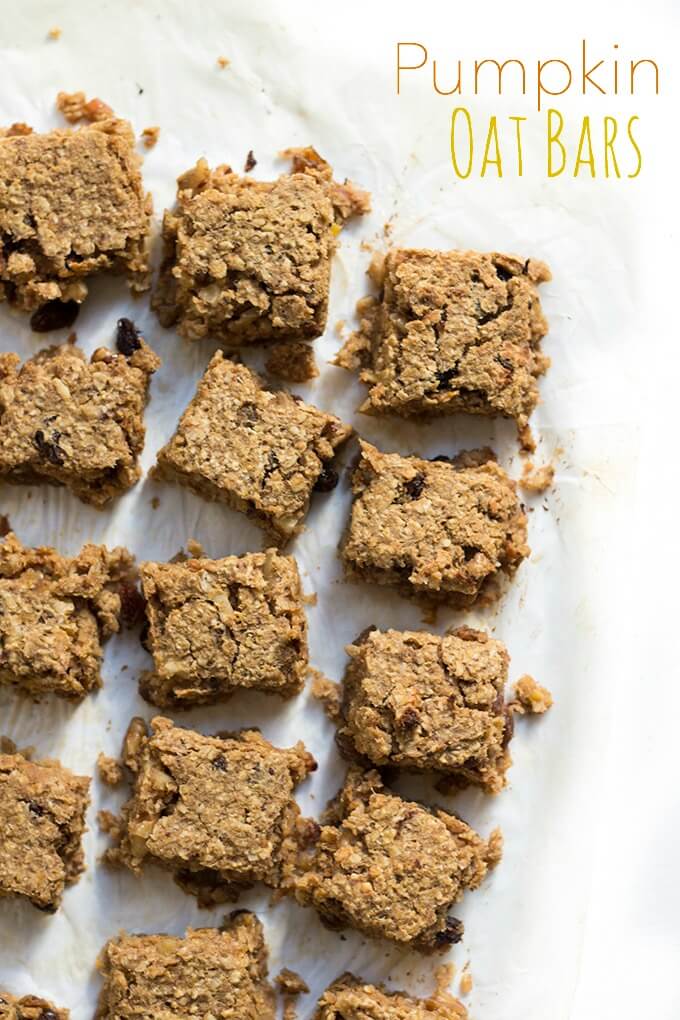 Pumpkin is not something I have cooked with or eaten much of in the past. However as Halloween has gained in popularity here in Scotland, so have pumpkins. Back in the 80s (when I was a kid) our jack o' lanterns were made from neeps (turnips/swedes) My Dad would take considerable time and effort carving out a masterpiece. I'm glad we have moved onto the Pumpkins now though as they are so much easier to work with!
I think the first time I tried Pumpkin was six years ago when I was living in Arkansas, USA. I had a delicious pumpkin pie. Although I was unsure on the first bite, after a couple more tastes I was hooked. I loved the warm winter spice taste and the creamy texture.
Last week I roasted a large pumpkin and used it up in different ways. I served chunks of it as a side, made a pumpkin quinoa "risotto" and these pumpkin oat bars. The oat bars were definitely the favourite with the boys!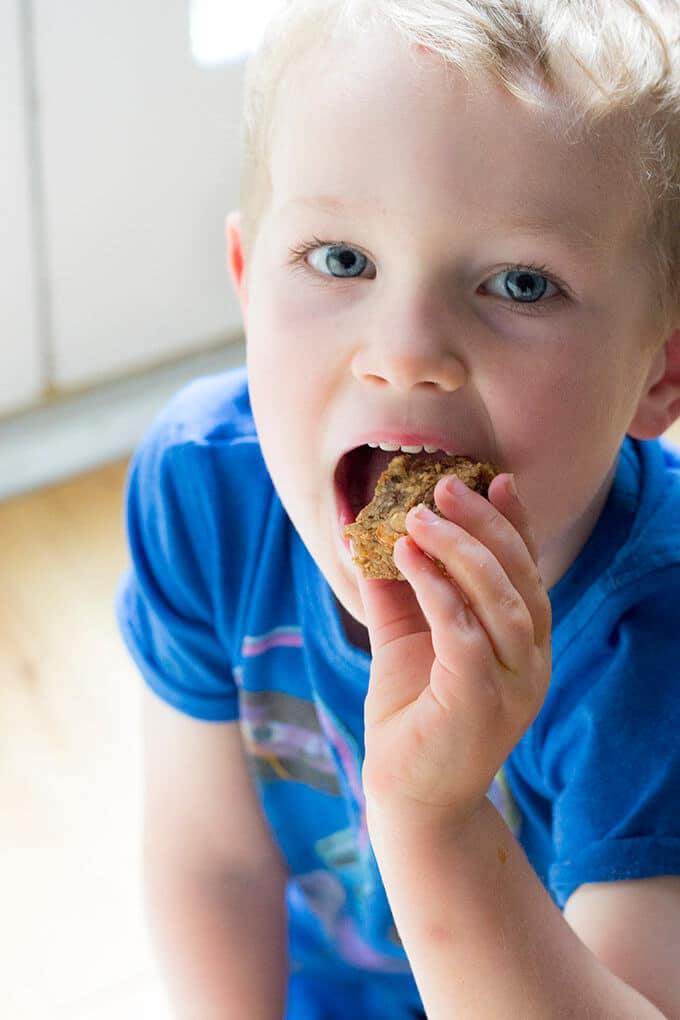 I pureed some roasted pumpkin with some dates for sweetness and to provide some stickiness for binding. I then added some natural peanut butter, again to help bind and for a protein hit. I mixed the puree into some oats, crushed walnuts and raisins. The nuts and raisins were for texture and flavour. You can easily adapt the recipe – why not try a mixture of nuts and dried fruit.
Looking for more healthy kid recipes?Sign up for my free recipe newsletter to get new family friendly recipes in your inbox each week! Find me sharing more kind-friendly inspiration on Pinterest and Instagram.
Pumpkin Oat Bars
Oat bars made with pumpkin puree, dates, peanut butter and nuts. No refined sugar.
Prep Time: 5 minutes
Cook Time: 25 minutes
Total Time: 30 minutes
Hover over "serves" value to reveal recipe scaler
Ingredients
250 g cooked pumpkin
100 g dates
2 tsp cinnamon
1 tsp ginger
130 g (1/2 cup) natural peanut butter
180 g (11/2 cups) rolled oats
110 g (1 cup) chopped walnuts
67 g (1/2 cup) raisins
Instructions
Pre-heat oven to 180c / 350f / gas 4 and line a 21cm x 21cm (8.5inch x 8.5inch) baking tin

In a blender / food processor blitz the pumpkin and dates together to form a puree. Add the peanut butter and spices and mix until combined

Add the oats, nuts and raisins into a large mixing bowl then add the puree and combine

Pour the mixture into the baking dish and flatten

Bake for 20-25 mins