Pasta and Chickpeas with four different veggies / fruit. Leave the sauce chunky or hide the veggies by pureeing.
Finn would live on pasta if given the choice. He constantly asks for it and I'm always trying to think of healthy sauces to pair with it. Tonight we had pasta and chickpeas. The sauce was made with chickpeas (a high fibre food source rich in vitamins and minerals), carrots, peppers and tomatoes. Combined, it made a delicious yet healthy sauce to accompany any type of pasta.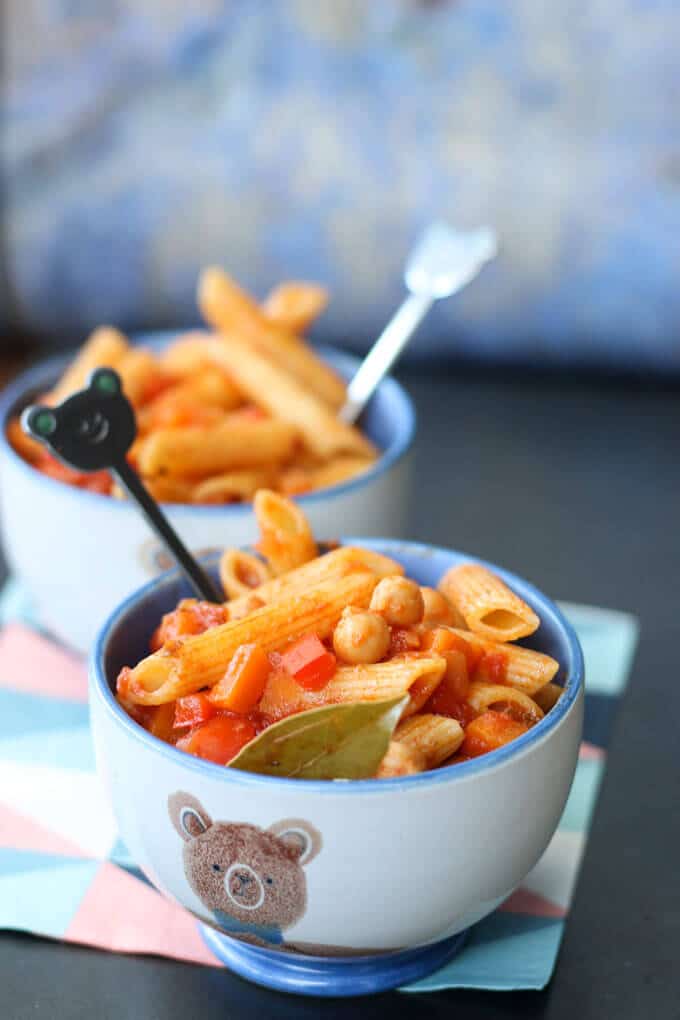 I cut the vegetables into small chunks as Finn is happy to eat it that way. If you have a fussy eater, who doesn't like to see the veggies then you may wish to grate the carrots / onion or puree to a smooth sauce before adding the chickpeas.
If you have a pasta lover too then why not try my tuna pasta recipe or this avocado spinach spaghetti.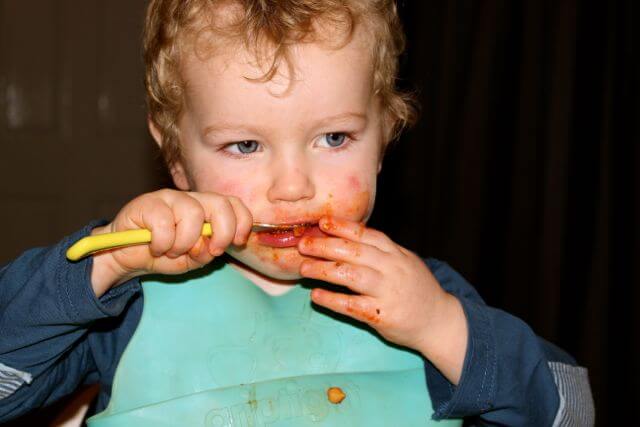 Looking for more healthy kid recipes?Sign up for my free recipe newsletter to get new family friendly recipes in your inbox each week! Find me sharing more kind-friendly inspiration on Pinterest and Instagram.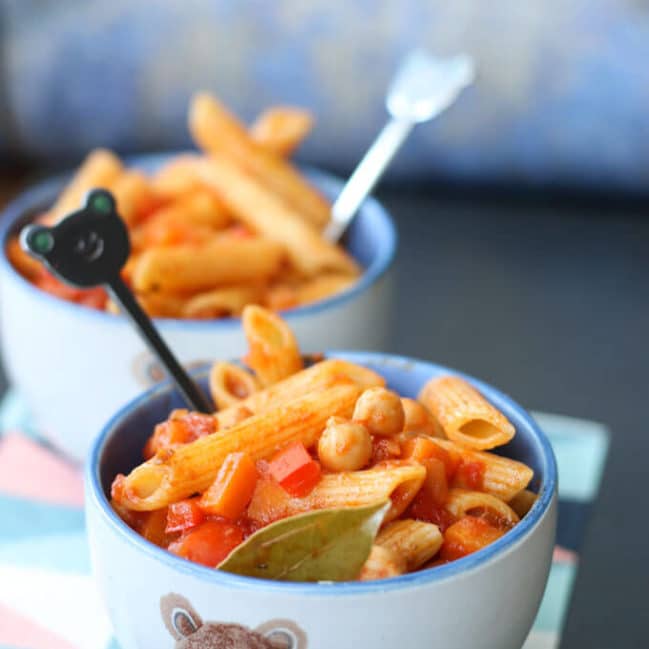 Pasta and Chickpeas
Pasta served with a healthy chickpea and vegetable sauce.
Prep Time: 10 minutes
Cook Time: 20 minutes
Total Time: 30 minutes
Serves:4 people
Hover over "serves" value to reveal recipe scaler
Ingredients
1 red onion - finely chopped
2 carrots - chopped
1 red pepper - chopped
2 garlic cloves - crushed
400 g tin chopped tomatoes
400 g tin chickpeas (drained)
250ml (1 cup) vegetable stock
1 tsp tomato puree
2 tsp olive oil
1 tsp dried oregano
1 tsp dried rosemary
1 bay leaf
250g (dry weight) Pasta of choice
Instructions
Heat the oil in a saucepan and add the onion, carrots and garlic.

Fry on a medium heat until the onion starts to become translucent.

Add the pepper and herbs and fry for another minute.

Add the tomatoes, puree, vegetable stock and chickpeas and allow to simmer until the carrots soften. *

Meanwhile cook pasta (of your choice) according to pack instructions.

Combine the pasta and sauce and serve with a sprinkling of parmesan cheese and some chilli flakes (optional)
Recipe Notes
*If you want a smooth sauce, with the veggies hidden, then simmer without the chickpeas then blend and add the chickpeas.