This Mexican chicken tortilla pizza is full of flavour and you can't just stop at one or two slices. I love how quick it is to make and how, like most pizzas, you can adapt it to the include the flavours and toppings that suit you and your family. I used wholemeal tortillas and smothered it it pizza sauce before adding a mix of chicken, onion, peppers, spinach, spices and lastly some grated cheddar cheese.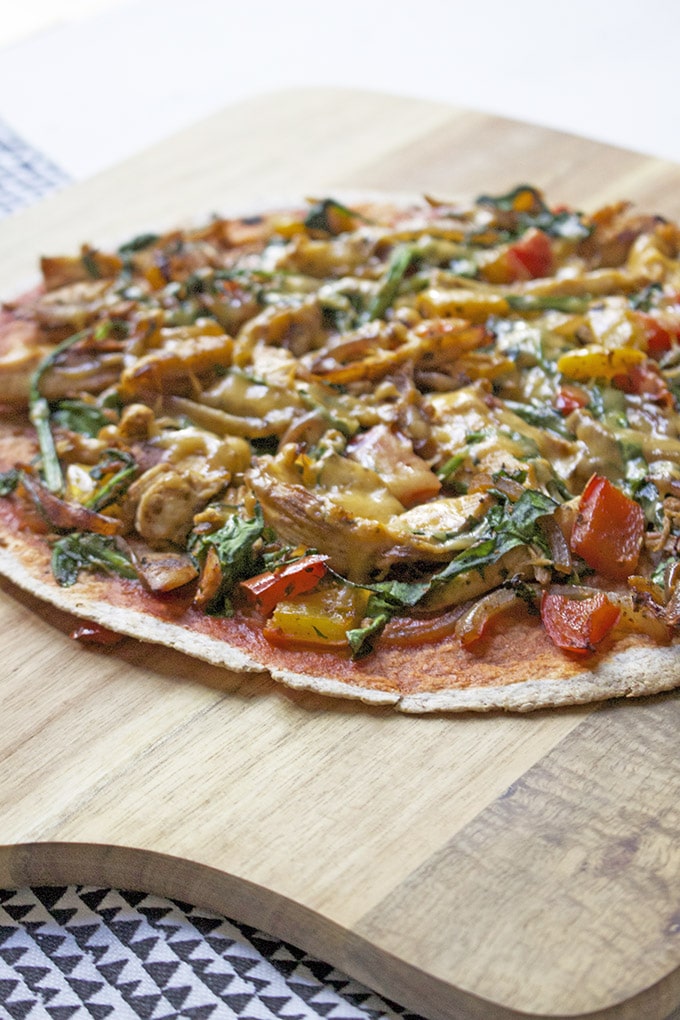 This was a huge success with my husband who said it was the best pizza he had ever had and Finn loved it too, devouring several slices in seconds. I made two large pizzas and with the third tortilla wrap I cut small rounds to make mini pizzas. The only fault was that I didn't make enough.
Looking for more healthy kid recipes?Sign up for my free recipe newsletter to get new family friendly recipes in your inbox each week! Find me sharing more kind-friendly inspiration on Pinterest and Instagram.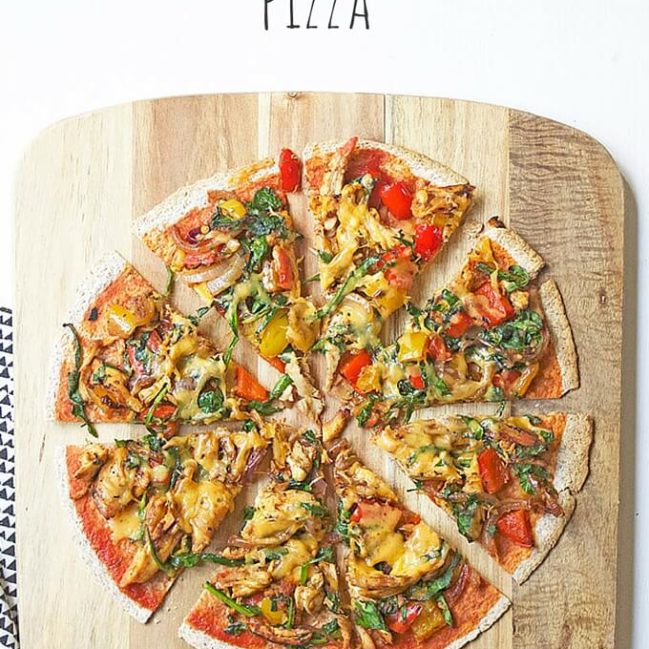 Mexican Chicken Tortilla Pizza
Prep Time: 5 minutes
Cook Time: 15 minutes
Total Time: 20 minutes
Hover over "serves" value to reveal recipe scaler
Ingredients
1 tbsp oil
1 red pepper (cut into small chunks)
1 yellow pepper (cut into small chunks)
1 onion (sliced)
1 cooked chicken breast (shredded)
2 garlic cloves
1 tsp cumin
1 tsp oregano
1 tsp smoked paprika
2 cups spinach (cut into ribbons)
3 large wholemeal tortilla wraps
1/2 cup of pizza sauce / passata
1 1/2 cups (100g) grated cheddar
Instructions
Pre heat oven to 200c / 400f / Gas 6

Heat oil in frying pan over a medium heat.

Add onion and cook for 2-3 mins. Add peppers, garlic and spices and cook for a further 2 mins. Add the shredded chicken and spinach and stir through.

Top each tortilla with pizza sauce (or passata), a third of the chicken mixture and finally a third of the cheese.

Place in oven for approx 10 mins until the cheese is melted.