Lentil, salmon and passionfruit salad – Lentils and salmon marinated in a delicious sweet and tangy dressing.
Lentils, those healthy little things that soak up flavour are just asking to become a well dressed salad. We have long since enjoyed a robust spicy lentil salad in our family but I have always felt that its flavours are rather strong for young palates.
At long last I have got round to developing one for my children. It's great! I can put it together in the morning, minus the salmon, leave the lentils to soak up the flavours from the dressing all day and then quickly cook the salmon at dinner time in the microwave. It only takes two minutes. What's more any left overs are perfect for the packed lunch box.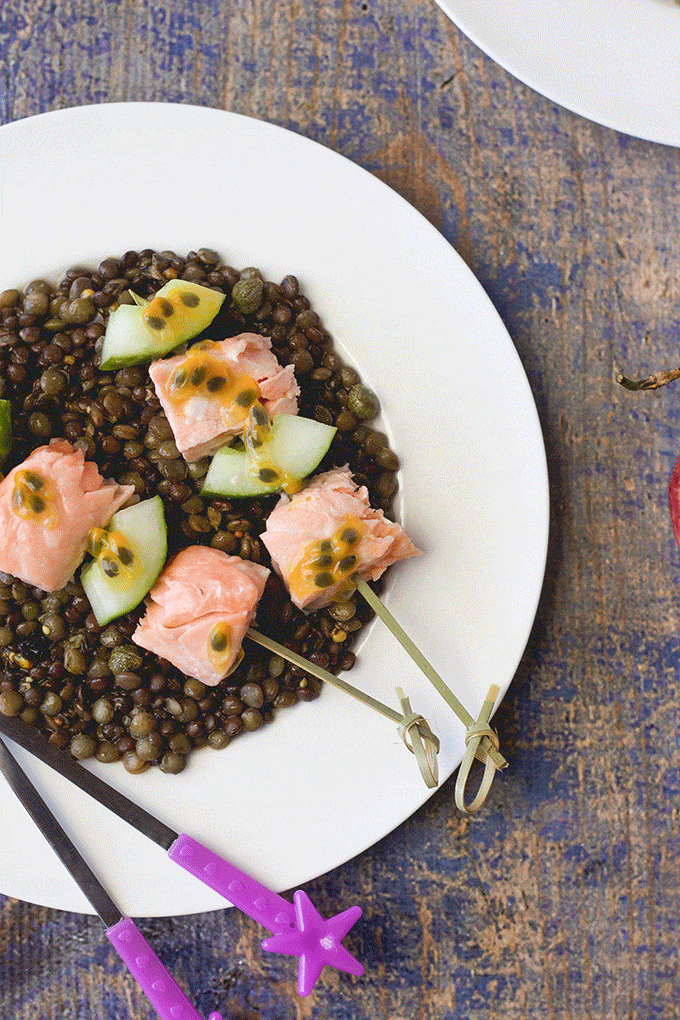 I'm a huge fan of red or brown lentils and happily use them in soups, stews, pies, croquettes, lasagne and even pancakes. However, I try to use either Puy or Beluga or a mixture of both in salads. The reason for this is simply that they hold their shape better than the former. If you don't have any Puy or Beluga handy use what you have and catch them before they break down into pulp. Pulp is not very nice in a salad.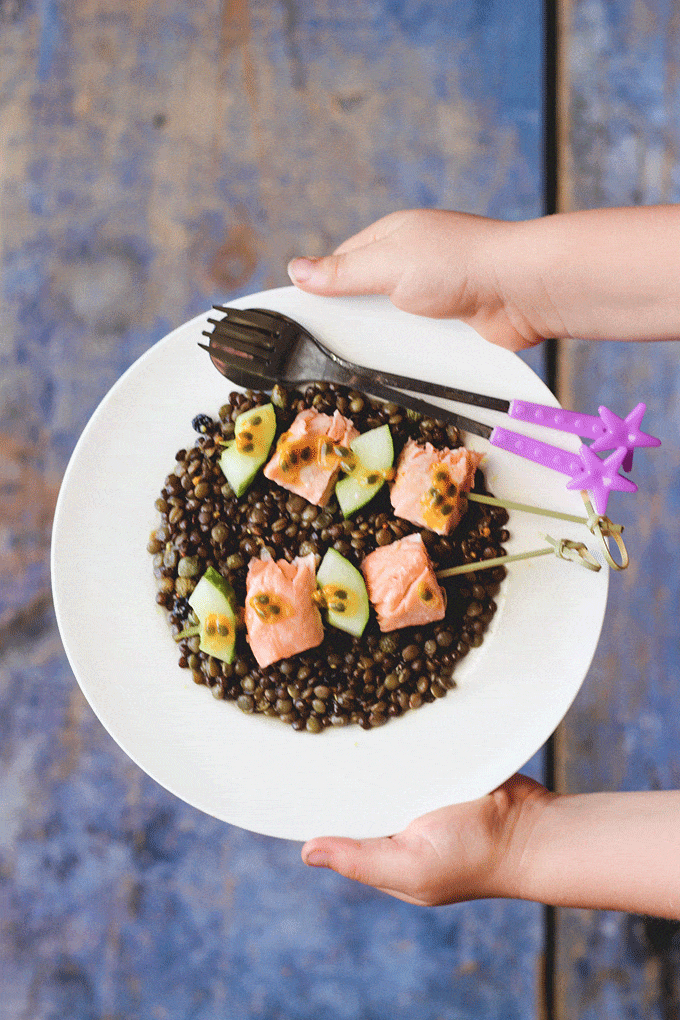 I was amused by my youngest, Rory, when I first presented him with this salad. He definitely was not keen to try this "black" food! However once I managed to get a forkful into his mouth he could not get enough!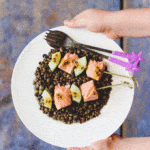 Lentil, Salmon and Passionfruit Salad
Ingredients
97

g

(1/2 cup) Beluga lentils

97

g

(1/2 cup) Puy lentils

40

ml

(2 tbsp + 2tsp) Olive oil

30

ml

(2 tbsp) Apple cider vinegar

1/2

tbsp

wholegrain mustard

1/4

tsp

turmeric

1/4

tsp

cumin

1/4

tsp

ground coriander

1/8

tsp

ground cinnamon

1/8

tsp

smoked paprika

1

pomegranate

15

g

(1/8 cup) dried fruit (I used currants)

1

tbsp

capers

2

small salmon fillets

1/4

Cucumber
Instructions
Rinse lentils well & drain. Place in a pan and cover with 3 to 4 inches of water. Bring to the boil and then reduce to a simmer. Cook for approx 10 - 15 mins. You want the lentils to be al dente.

Drain and rinse lentils with cold water.

Add the oil, vinegar, mustard, turmeric, cumin, coriander, cinnamon, smoked paprika and the seeds & juice of the pomegranate in a bowl. Mix together to make the dressing.

Add the lentils to a mixing bowl and pour in the dressing. Mix together and then stir in the dried fruit and capers.

Place each salmon fillets on an individual microwavable dish. Cover and cook in the microwave for 1 min per fillet.

Cut the cucumber into rounds then into quarters.

Flake the salmon through the lentil and add the cucumber. Stir to combine. Alteratively skewer chunks of salmon and cucumber into sticks and serve as kebabs along side the lentils (as pictured)