This month Finn and Rory became big cousins to two gorgeous babies. An adorable baby boy, Monty, and a beautiful baby girl, Ellie. We have yet to meet Monty (he lives in Hong Kong) but we rushed through to give Ellie cuddles straight away. Having two boys, I was very excited to go out and buy a beautiful girl outfit! When we were shopping Finn found a big pink box and said that we needed to buy it for Ellie. I filled it will a few essentials including these healthy treats for a new mum.
Nutrition After Birth…
After giving birth my iron levels were very low and so I tried to eat foods rich in iron. My mum cooked me a lot of meals with red meat, leafy greens, beans and fish. I also snacked on chocolate, sweets, cake, biscuits, dried apricots, nuts and nakd bars. The nakd bars were perfect for helping with my sweet cravings and iron levels. They are packed full of dried fruit and nuts and some varieties also contain oats, which I've heard can increase milk supply.
Nakd Banana Bread Balls
I decided to make my own version of the nakd banana bread bar and then form it into bite size balls. I blitzed dates, banana, oats, walnuts and raisins in a food processor until combined. I then formed into balls. Done!
Apricot and Coconut Balls
I have made these balls several times before, they are so delicious and also really quick to make. Blitz apricots together with ground almonds, coconut and coconut oil. Form into balls. Done!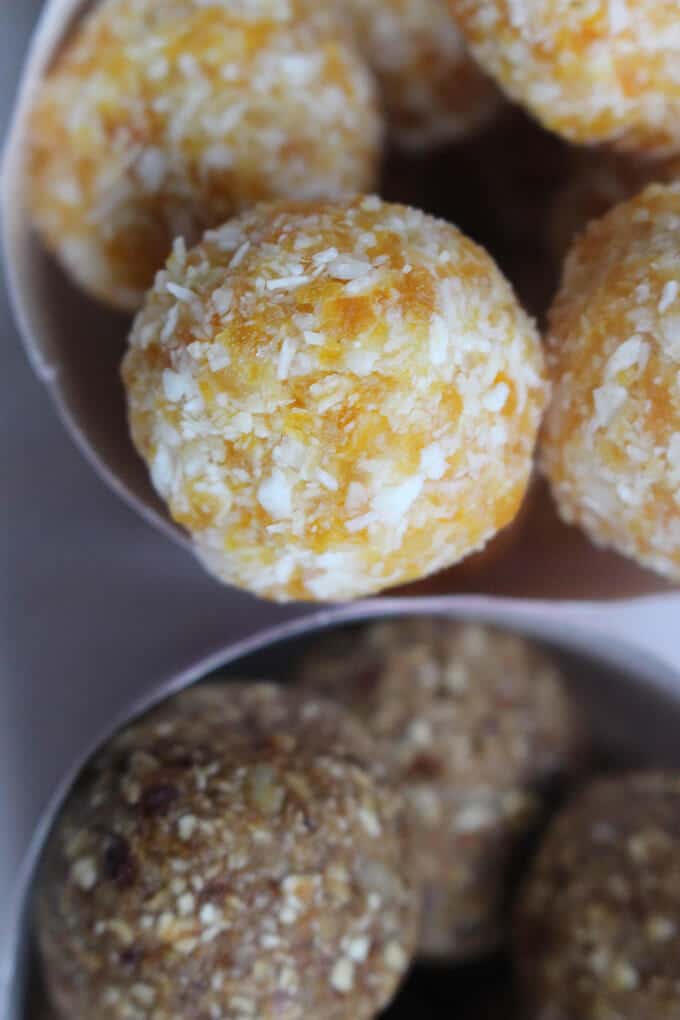 The next time you go and visit a new mum why don't you make some of these to bring her! Of course, these aren't just for new mums. They make a delicious sweet treat and I'm sure you and your kids will love them. Just remember that they are a treat though, although the sugars are natural these balls have a high sugar content. I try to think of dried fruit as a natural sugar cube and, although better than refined sugar, they should still be consumed in moderation.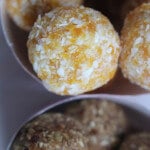 Apricot and Coconut Balls
Ingredients
100

g

dried apricots

50

g

desiccated coconut

25

g

ground almonds

2

tablespoons

of coconut oil

(melted and cooled)
Instructions
Add all ingredients to a food processor and blitz until fully combined.

Form into balls.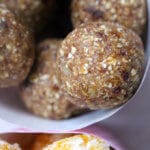 Banana bread flavoured balls
Ingredients
80

g

pitted dates

I med banana

(around 68g peeled)

50

g

oats

22

g

walnuts

14

g

raisins
Instructions
Blitz all the ingredients together in a food processor until combined.

Roll into balls.

Enjoy.