After graduating University I took a gap year and worked in Canada. It was an amazing experience and I met fantastic friends there. Despite being in Canada I ended up living with girls from Scotland, England and N Ireland. We soon became close friends and still meet up, regularly, fourteen years later. I'm just home from a fantastic weekend with the girls and this recipe was inspired by them!
As well as being housekeepers, for a hotel on Banff Avenue, a few of us worked in The Old Spaghetti Factory, Banff. When you buy an entree there the price includes bread and soup/salad before your meal and then spumoni ice-cream at the end. I had never heard of spumoni before working there, but I certainly served a ton of it by the time I left!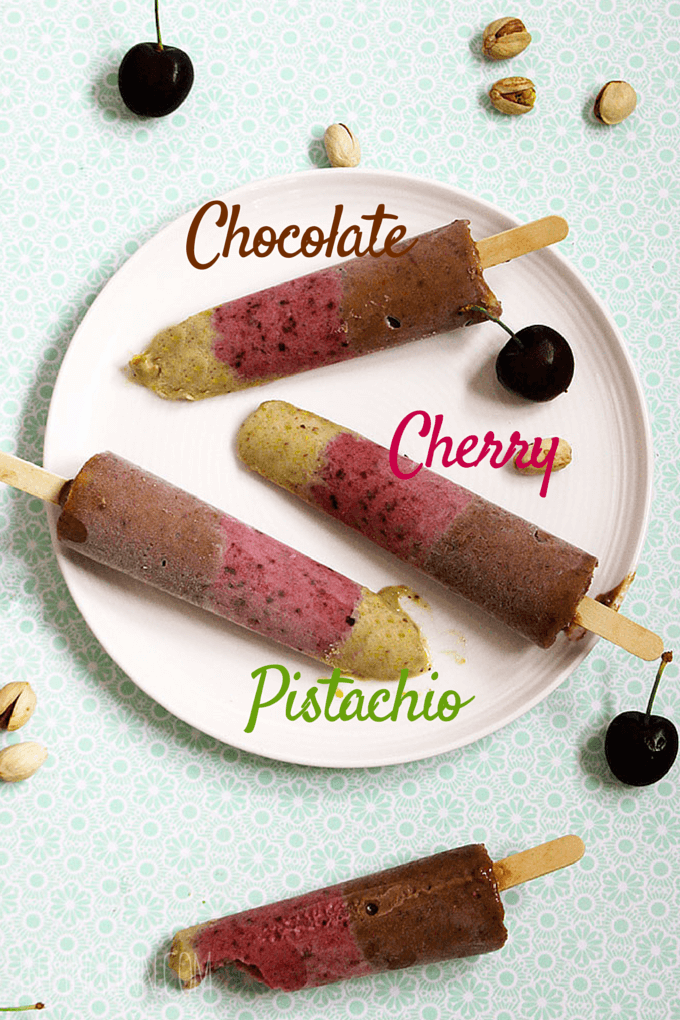 Spumoni is a layered mixture of ice-cream, a bit like Neapolitan ice-cream, and usually consists of pistachio, cherry and chocolate or vanilla ice cream. I wanted to make a healthy version of this to share with Finn (and the girls!) I filled ikea lolly moulds with the three ice-cream flavours and then stuck a lolly stick in the bottom. This recipe should work well in any ice-cream mould or if you would prefer to serve slices of this dessert then try using this method from Eats Amazing.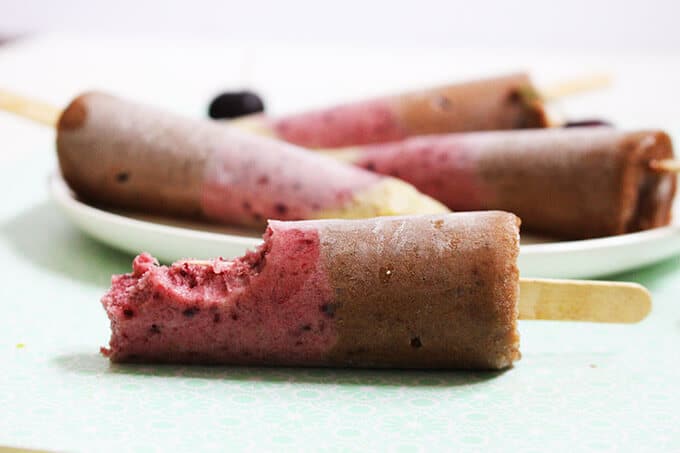 Looking for more healthy kid recipes?Sign up for my free recipe newsletter to get new family friendly recipes in your inbox each week! Find me sharing more kind-friendly inspiration on Pinterest and Instagram.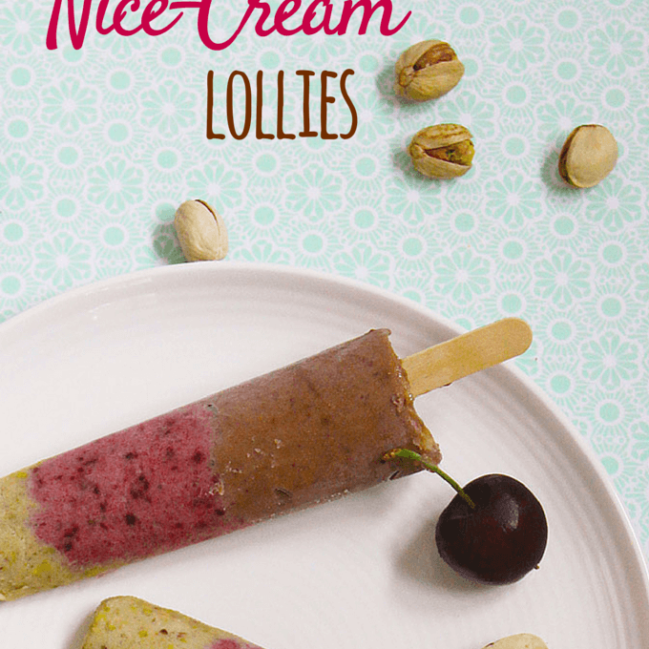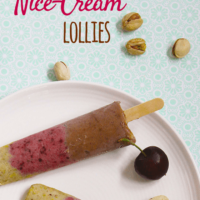 Healthy Spumoni Nice Cream
A healthy version of spumoni ice-cream served as an ice-lolly.
Prep Time: 15 minutes
Total Time: 15 minutes
Serves:5
Hover over "serves" value to reveal recipe scaler
Ingredients
4 frozen bananas (cut into chunks)
40 pistachios (shelled)
70 g (approx.7) cherries (pitted)
1 tsp cocoa powder
Instructions
Add the pistachios to a blender and blitz until crumbed. Add a third of the frozen bananas and mix until combined and smooth.

Fill the ice cream moulds a third of the way up ( I filled 5 ikea push lolly moulds) but this will obviously vary depending on the size of mould and size of bananas.)

Add the cherries to the blender and blend, add a third of the bananas and mix until combine and smooth.

Fill another third of the ice cream moulds with the cherry ice-cream.

Add the remaining bananas and cocoa, mix until combined and smooth. Fill the ice-cream moulds.

Freeze until solid. (I froze mine over night)
Recipe Notes
Return the ice-cream moulds to the freezer as you make each ice cream layer. (To keep the ice cream frozen)