These Baked Oatmeal Cups are a fantastic hand-held breakfast (or snack) for all ages. They are perfect for baby-led weaning and freeze well for a quick "on-the-go" breakfast option.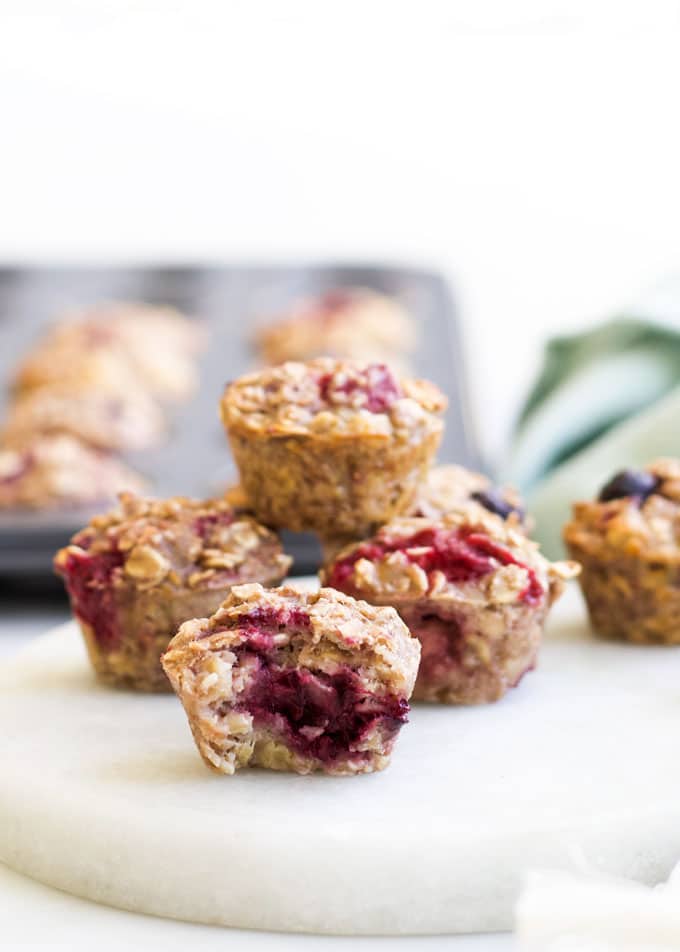 When my youngest was a baby/toddler he just wasn't interested in eating porridge/oatmeal. Instead, he used to use it as hair gel or catapult it across the kitchen! However, when I gave him oats in the form of porridge fingers or oatmeal cookies, he was more than happy.
This is a prime example of how texture and appearance can play a big part in a child's acceptance of food. He eagerly munched away on oats in finger food format but when I plated the exact same ingredients up in a bowl, he refused to eat them. This is when I first started making Baked Oatmeal Cups and they were an instant hit.
WHY I LOVE BAKED OATMEAL CUPS
Little Mess - No oatmeal to clean up from chairs, tables, floor etc!
Great for Busy Mornings - You can make a big batch and store in the freezer for a super quick breakfast option.
Hand Held - Fantastic for baby-led weaning
Great for lunchboxes - The perfect size for popping into lunchboxes or snack box.
Easy to Modify - The flavour combinations are endless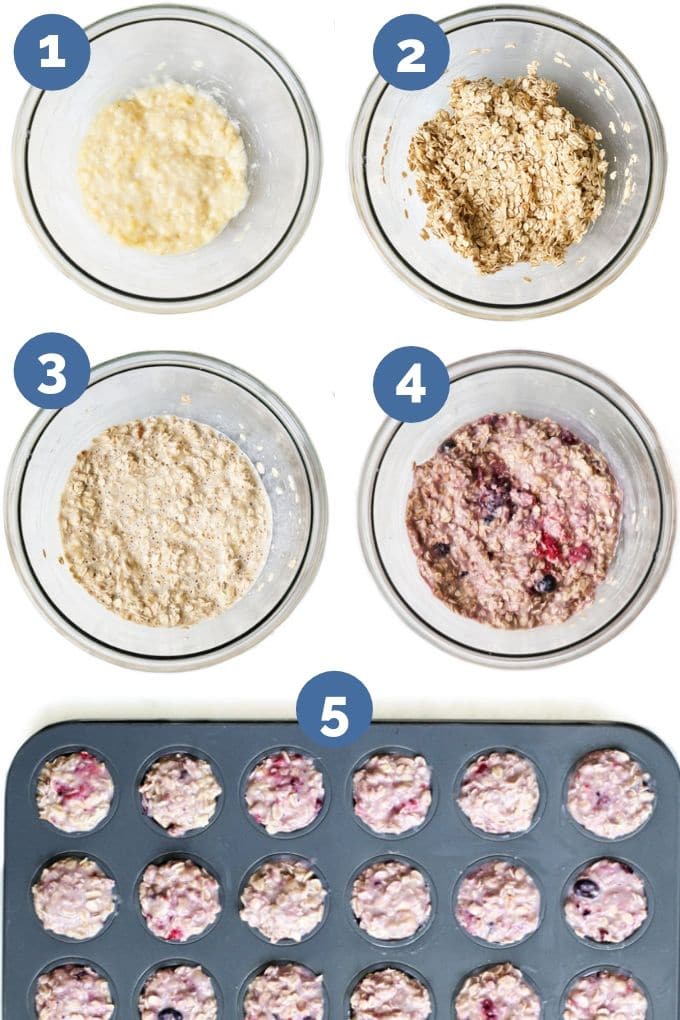 HOW TO MAKE BAKED OATMEAL CUPS
One of the best things about this recipe is how easy they are to make. This is a fantastic recipe for getting your kids involved in the kitchen (see my kids making them in the video below.)
Mash Banana
Mix in Rolled Oats
Add milk, egg and vanilla.
Stir in mixed berries
Fill a mini muffin tray with the mixture and bake
ALLERGY OPTIONS
Dairy Free -use plant-based milk, almond milk works well
Egg Free - Replace the egg with 1 tablespoon of flaxseed. Mix with 3 tablespoon of the milk and whisk until gelatinous.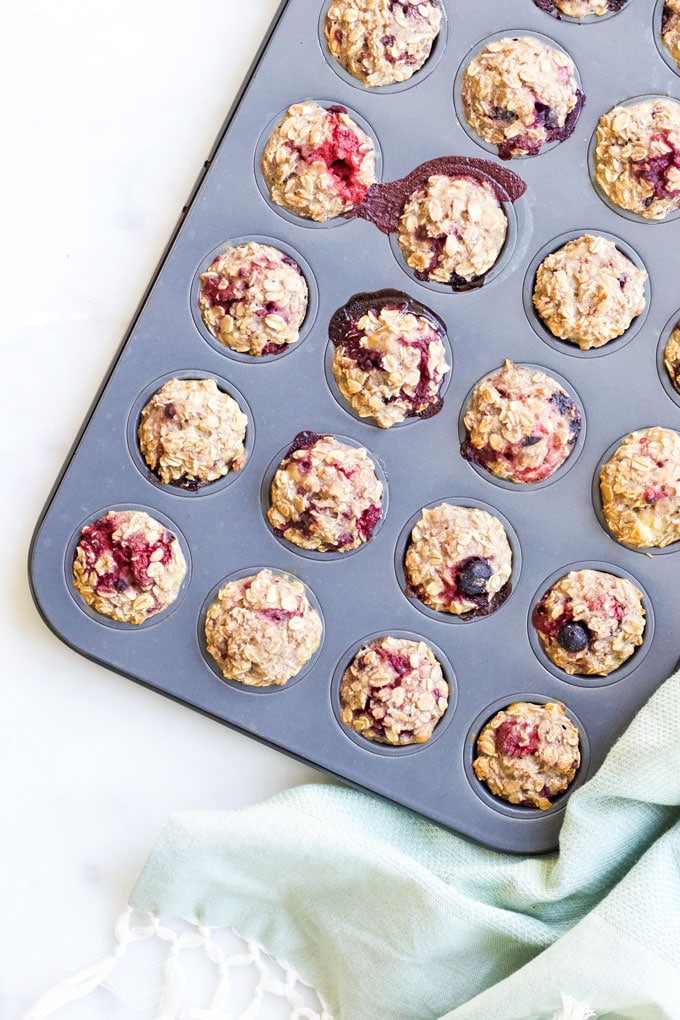 OATMEAL CUPS - FLAVOUR OPTIONS
Although this is a mixed berry oatmeal cup recipe the recipe is easy to adapt and the flavour options are endless. Why not try -
Apple & Cinnamon - Replace mixed berries with finely chopped apple pieces, cinnamon and raisins (pre-soak raisins to stop burning).
Carrot Cake - Replace mixed berries with grated carrot, grated apple, cinnamon, ginger, raisins (pre-soak raisins to stop burning).
Coconut and Mango - Use coconut milk and replace the berries with chunks of mango
Bakewell Tart - Use almond milk, and replace mixed berries with cherries and almond flakes
These are just a few suggestions, the combinations are endless really. If you make your own version then I'd love to hear about it! Leave a comment below!
MINI OATMEAL CUPS VS REGULAR OATMEAL CUPS
I have always made these in mini muffin trays. The mini size is perfect for babies or for adding into the lunch box. This recipe fills a 24 mini muffin tray but if you do not own one you can just use a regular muffin tray. The cooking time is longer but they work just as well.
STORING INSTRUCTIONS
Store in a covered, air-tight, container and refrigerate for up to 4 days or freeze for up to 3 months. I personally store any that I will not use the next day in the freezer.
REHEATING INSTRUCTIONS
Oatmeal cups can be enjoyed both cold or hot. If you wish to reheat, the microwave is your fasted and quickest option.
Microwave until warm throughout, about 30-60 seconds (depending on microwave).
Thaw frozen cups by transferring them from the freezer to the fridge the night before. Alternatively, cook the oatmeal cups directly from frozen.
You may also like
Have you tried this recipe? I love receiving your feedback, please rate and leave a comment below or tag me on Instagram @healthylittlefoodies
Looking for more healthy kid recipes?Sign up for my free recipe newsletter to get new family friendly recipes in your inbox each week! Find me sharing more kid-friendly inspiration on Pinterest and Instagram.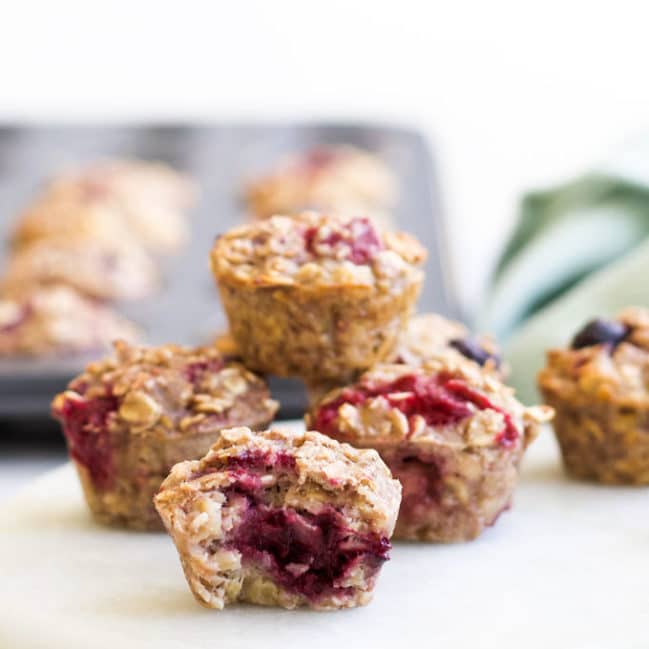 Baked Oatmeal Cups
Oats baked with fruit to make little hand held breakfast bites or a healthy kids' snacks. Great for blw (baby-led weaning).
Prep Time: 5 minutes
Cook Time: 18 minutes
Total Time: 23 minutes
Serves:24 Mini Muffins
Hover over "serves" value to reveal recipe scaler
Ingredients
2 Ripe bananas, mashed
200g (2 cups) Rolled oats
1 egg (beaten)
180ml (¾ cup) Milk (of choice)
1 teaspoon Vanilla extract (optional)
150g (1 ¼ cup) Frozen Mixed Berries
1 teaspoon Coconut oil (or butter) for greasing.
Instructions
Pre heat oven to 180c / 350F / Gas 4

In a large mixing bowl add the mashed bananas and oats, stir until combined

Add the milk, egg & vanilla and stir until fully combined.

Add the berries and stir until evenly distributed through the mixture. I like to break up some of the bigger berries through the mixture.

Grease muffin tray using the oil (or use a silicon tray) and divide the mixture between the 24 cup sections (mini tray)

Bake until cooked through (a cocktail stick should come out clean) approx. 18 mins if using a mini muffin tray or approx. 25 min if using a standard tray.
Recipe Notes
DAIRY FREE - This recipe works well with both dairy and plant-based milk.
EGG - You can replace the egg with a flax egg. Mix 1 tablespoon of flaxseeds with 3 tablespoon of the milk until it forms a gel. 
FLAVOUR - Fed up with mixed berries? Replace them with other fruits or flavour options. See above post for suggestions. 
Store in an airtight container and refrigerate for up to 4 days or freeze for up to 3 months
Nutritional information is a ROUGH guide only, calculated using an online nutrition calculator. 
Nutritional facts
Calories: 53kcal | Carbohydrates: 9g | Protein: 2g | Fat: 1g | Saturated Fat: 1g | Cholesterol: 8mg | Sodium: 7mg | Potassium: 81mg | Fiber: 1g | Sugar: 2g | Vitamin A: 30IU | Vitamin C: 1mg | Calcium: 15mg | Iron: 0.4mg
* Originally posted Feb 2016, updated June 2019 to include new photos and recipe information.