We are a generation that lack spare time and we feel the pressure to complete tasks quickly. Whether we are coming in late from work or busy taxiing our kids around, to various after-school activities, the time left to prepare a healthy weekday meal is limited. I have been working with Australian Beef to help highlight the versatility and ease of using beef in healthy and quick mid-week meals. Today I am sharing two easy beef recipes that I often make, on busy weeknights, and are guaranteed to be eaten by my kids.
Disclosure: I have been compensated for my time spent on this post from Australian Beef, but as always my thoughts and opinions are honest and are my own.
Easy Beef Recipes – Sausage and Lentil Bake
I'm sure if I let my kids have their way then they would eat sausages every day! If I add sausages to a meal then they are delighted and this dish is no different. Packed with lentils, beans, and tomatoes, it is a hearty meal perfect to serve alongside your favourite greens.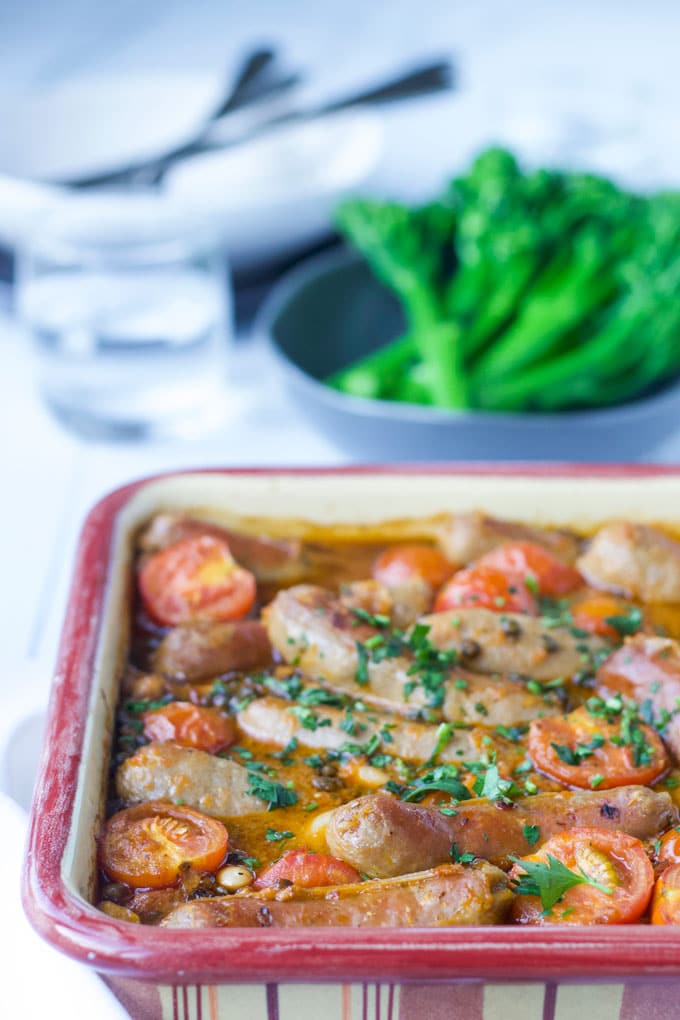 What I love about this dish is that you can prep it all in the morning and have it in the baking dish ready to just pop in the oven when you get home. It takes around 30 mins in the oven but you could reduce this time by chopping up the sausages into bite-size pieces.
Sausage and Lentil Bake
An easy, hearty and delicious meal, perfect for busy weeknights.
Ingredients
12

Australian Beef Chipolata Sausages

200

g

Puy / Blue Lentils

1

tbsp

Oil

190

g

Red Pesto

500

g

Cherry Tomatoes

1

tsp

Dried Mixed Herbs

1

400g Can

Cannellini Beans
Instructions
Preheat oven to 190C / 375F

Heat Oil in a large frying pan. Add rinsed lentil and stir to coat with oil.

Add 500ml of boiling water and simmer for 15 mins (the lentils will still be al dente)

Drain any water from the lentils and return to the pan. Add the pesto (reserving 1 tbsp), dried herbs and the entire can of beans, including their water. Stir and tip the mixture into a large baking dish.

Scatter the cherry tomatoes among the lentils mixture and add the sausages. Finally, mix 100ml of boiling water with the reserved pesto and add to the baking dish.

Bake for 25-30 mins (until the sausages are cooked through) SEE NOTE 1
Recipe Notes
To reduce the cooking time then chop the sausages into bite-size pieces.
Easy Beef Recipes – Steak with Kale and Chickpeas
Healthy fast food doesn't get easier than this. Made with only five ingredients and ready in fifteen minutes it is a super quick, midweek meal that we love.
I've used jarred roasted capsicum peppers in this recipe, I find them great for adding flavour fast. Always check the ingredient list though as some varieties can contain added sugar and other less desirable ingredients. Alternatively, if you have the time, you can roast your own.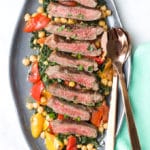 Steak with Kale and Chickpeas
Delicious striploin steak served on a bed of kale, chickpeas and roasted capsicum. Ready to enjoy in 15 mins.
Ingredients
2

300g

Striploin / Sirloin Steaks

1

400g can

Chickpeas

2

tsp

Wholegrain Mustard

300g

Kale Leaves, removed from stem

2 x

260g jars

Roasted Capsicum (drained and chopped into bite size pieces)

*SEE NOTE 1
Instructions
Place a heavy-based, wide frying pan on to heat. Rub the steaks with a little oil, salt, and pepper. Once the pan is very hot, add the steaks and allow to cook for 2 mins on each side. Remove the steaks from the pan and allow to rest on a plate.

Tip the chickpeas, with their water, into the same pan. Add the mustard and stir through. Add the kale and the capsicum and bring to the boil.

Return the steaks, and their juices, to the pan and make sure the meat makes contact with the bottom of the pan. Reduce the heat to low, cover with a lid and cook for 5-6 mins.

Remove the steak and carve across the grain. Add the chickpea and kale mixture to a platter and top with the steak. Serve immediately.
Recipe Notes
 1) I used jarred roasted capsicum to make the meal super quick and easy. If you prefer, you can roast your own capsicum. 
If you are looking for quick midweek meal inspiration then make sure you head to the Australian Beef Website where they share a range of delicious meal ideas. Some of my favourites include:
Korma Meatballs with Pappadams