Lentil Bake is perfect as part of a main meal but also as part of a packed lunch. Great for kids of all ages and fantastic for baby-led weaning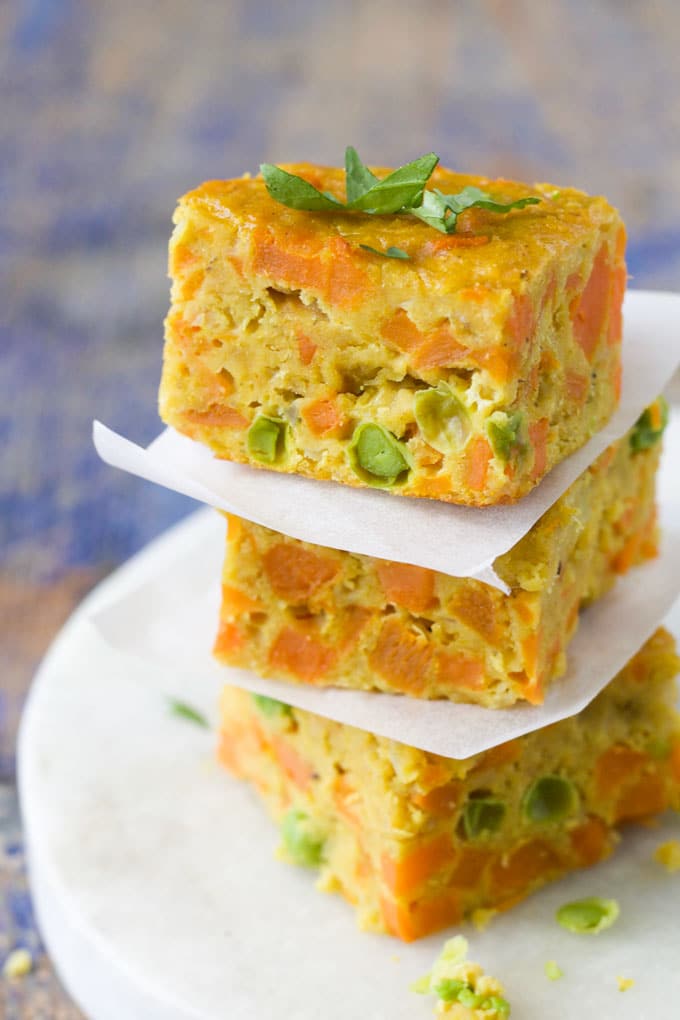 Lentils and sweet potato rarely featured in my diet before having kids. Now they seem to be a weekly staple and I'm always experimenting with new ways to serve them. Both Finn and Rory love them, I know that if I make something with either of these ingredients that it will generally be a hit with them. This Curried Lentil Bake is no exception.
Some of my most viewed recipes involve sweet potato and/or lentils so I'm guessing they are a popular food choice for other parents too. My sweet potato, lentil and carrot croquettes and lentil lasagne are particularly popular.
This dish is made up of lentils, vegetables, sweet potato and eggs, making it very nutritious, very tasty and easy for babies to eat.
How to Store Lentil Bake
Lentil bake is easy to make but does take a little bit of time to prepare. I often make it at the weekend for lunch and then freeze the leftovers in individual portions. Freeze on a baking tray until frozen and then transfer to a ziplock bag or freezer container. Alternatively, you can refrigerate the leftovers for 3 to 4 days.
Although I prefer it straight out of the oven it still tastes good cold and the boys are more than happy to eat it. If you are looking for non-sandwich ideas for lunch-boxes then this dish is perfect.

Recipe FAQs
Can I use a different variety of lentil to make a lentil bake?
Lentils come in a range of sizes and colours. In this recipe, I chose to use red split lentils. When they are cooked they go mushy and the texture is perfect for a bake. The smooth texture is also baby and kid-friendly. As other lentil varieties hold their shape more when cooked, I do not recommend using a different lentil type in this recipe.
Are lentils good for babies?
Lentils may be small but they are a great source of fibre, protein and minerals all of which babies need for proper development. Lentils do have a reputation for causing gas and it is often recommended not to introduce lentils until 8 months of age. Red lentils are lower in fibre and are therefore believed not to cause gas as easily.
Start by giving your baby a
small amount
 of lentils, if there is no symptoms of digestion upset then try offering a little more.
Other Lentil Recipes...
Looking for more healthy kid recipes?Sign up for my free recipe newsletter to get new family friendly recipes in your inbox each week! Find me sharing more kid-friendly inspiration on Pinterest and Instagram.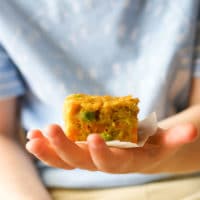 Curried Lentil Bake
Lentils cooked with vegetables, egg and sweet potato to make a perfect baby and kid friendly bake. Cut into bite size pieces and pack any left overs into a lunch box.
Prep Time: 10 minutes
Cook Time: 1 hour
Total Time: 1 hour 10 minutes
Serves:20 pieces
Hover over "serves" value to reveal recipe scaler
Ingredients
1 tablespoon oil
1 onion (finely chopped)
½ teaspoon finely chopped garlic
1 celery stalk (finely chopped)
2 medium carrots (finely chopped)
1 tablespoon mild curry powder*
1 cup (175g) red split lentils
2 ⅓ cups (580ml) vegetable stock*
1 medium (1 ½ cups) / (235g) sweet potato (cut into approx. 1 cm cubes)
½ cup (70g) frozen peas
3 eggs (lightly beaten)
Instructions
Heat oil in pan over a medium heat. Add the onion, garlic, celery and carrots then reduce the heat to low and cook for approx. 10 mins (until softened.)

Add the curry powder and cook for a further minute

Add the lentils & stock, bring to the boil, then reduce the heat to low and allow to simmer until cooked, soft and stock absorbed (approx. 20 mins)

Meanwhile, heat a little oil in a pan and fry the sweet potato cubes, on a low heat, for approx. 10min. (add a little water if needed)

Pre heat oven to 180C/350F/Gas4

Once lentils are cooked, allow to cool slightly and then add the potato, egg and peas. Stir until combined.

Place the mixture in a greased, ovenproof dish (mine was 10" x 7.5")

Bake in the oven for 30-40 mins or until set and golden (mine took 35 mins) but timings will vary with ovens.

Slice into squares. I cut into 20 pieces.
Recipe Notes
* If your children do not like curry flavour then miss this out. You could always add some freshly cut herbs before baking in the oven.
**If serving to a baby or young children use homemade stock or very low salt stock. Nutritional information is an ESTIMATE only and is calculated using an online calculator. The facts are based on 1 of 20 squares. Facts will vary depending on the brands of ingredients used and size of vegetables. 
Nutritional facts
Serving: 1piece of 20 | Calories: 68kcal | Carbohydrates: 10.1g | Protein: 3.6g | Fat: 1.7g | Cholesterol: 27.9mg | Sodium: 90.9mg | Sugar: 1.5g
NOTE: This recipe was first published on Jan 25th, 2016. It has been updated with new photos and now provides more information, answering some commonly asked questions.