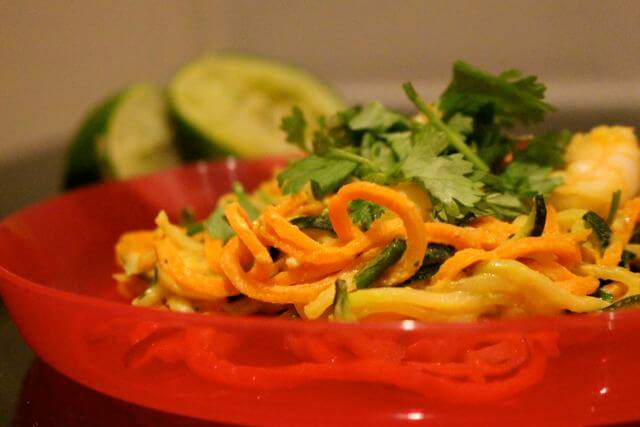 After I graduated from University I took a year out to work and travel in Canada. For part of that year I lived in Banff, Alberta. It was an amazing place and I had a fantastic time living with great friends in a cute little house on the main street of Banff. It was beautiful from the outside but the inside was a little less desirable! Cooking was the last thing we wanted to do and we basically lived on noodles and peanut butter. Quick, cheap and not very nutritional! So when we left, to return home, we weren't shocked that our clothes were all a bit tighter and we were all several pounds heavier than when we first arrived!
I recently met up with the girls I lived with then and we were all reminiscing about our time in Canada. Our diet of noodles came up and it made me want to reproduce that meal but make it just that little bit healthier and more appetising!
I used a spiralizer to make carrot and courgette noodles and Finn was a great helper. I just love this little machine and it's a great way to add veg to your kids meals. Finn loves spaghetti and noodles but equally loves this veggie alternative.
In Canada we basically added a couple of heaped tablespoons of peanut butter and stirred it through our noodles. I decided to make a satay sauce and added a bit of stock and lime juice to Finns and then a kick of chilli to ours. I added some juicy tiger prawns (shrimp) and topped with coriander (cilantro).
Looking for more healthy kid recipes?Sign up for my free recipe newsletter to get new family friendly recipes in your inbox each week! Find me sharing more kind-friendly inspiration on Pinterest and Instagram.
Carrot and Courgette Satay Noodles
Crunchy noodles served with a satay sauce and tiger prawns. Yum yum.
Serves:2
Hover over "serves" value to reveal recipe scaler
Ingredients
3 carrots
2 courgettes
1 tbsp oil
1 garlic clove - crushed
1 tbsp minced ginger
12 tigers prawns (shrimp) (Optional)
1/4 cup peanut butter
juice of 1 lime
5 tbsp stock (or water)
1 tbsp low salt soy sauce
1 tbsp siracha sauce (optional) I never added this to Finn's but I love it hot.
Chopped coriander (cilantro) to serve
Instructions
Using a spiralizer spiral the carrots and courgettes. (if you do not have a spiralizer you could use a peeler, grater or mandoline.)

In a bowl mix together the peanut butter, soy sauce, lime juice (siracha if using) and stock (or water). Add more stock (or water) if you wish to thin the sauce further.

Heat the oil and sauté the prawns, garlic and ginger for a couple of minutes.

Add the carrots and courgettes and stir until you reach your desired texture.

Add the satay sauce and stir through.

Serve with chopped coriander and a further squeeze of lime.