These Blueberry Energy Balls pack a punch. Loaded with nuts and sweetened with dates they are a delicious snack for the whole family.
I was craving something sweet today so raided the cupboards and fridge and whipped up some of these Blueberry Energy Balls. I used to make these a lot when I was breastfeeding as I was constantly hungry. They were a perfect snack that satisfied my sweet tooth and curved my hunger. I only needed a couple and they kept further cravings at bay for a few hours. These Blueberry Energy Balls are packed with nuts, which will keep you satisfied, and the dates and blueberries make them deliciously sweet.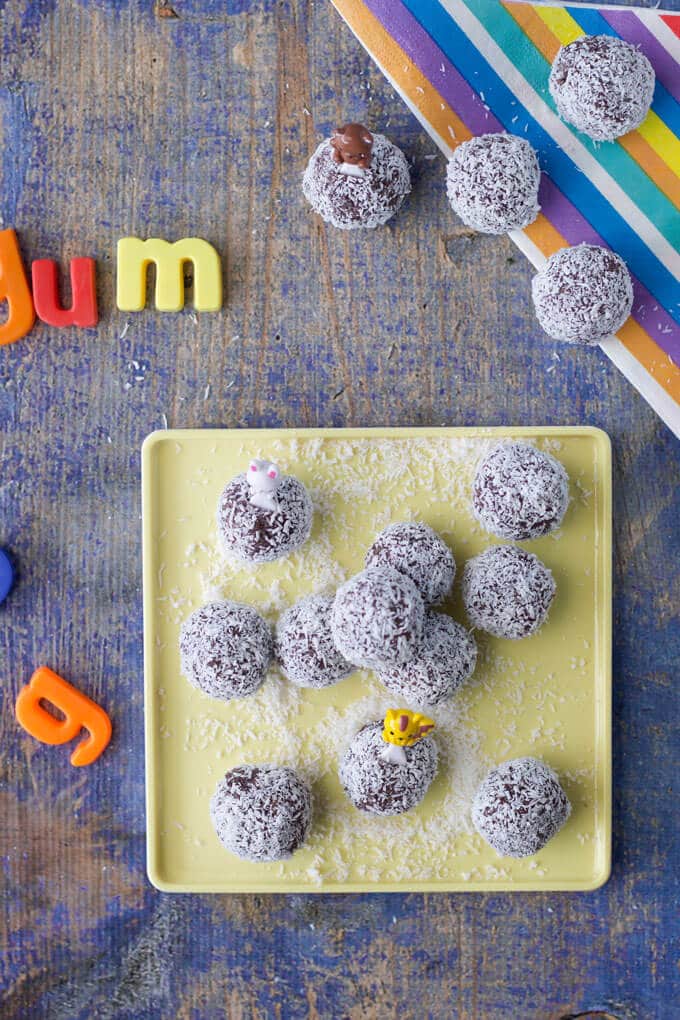 Finn, like usual, was straight over to help me make them. I put all the ingredients (blueberries, dates, walnuts, almonds and natural peanut butter) into the processor and blitzed until it formed a smooth paste. Once combined I rolled the mixture into 15 balls and then coated them in unsweetened desiccated coconut. During this time Finn licked the mixing bowl clean!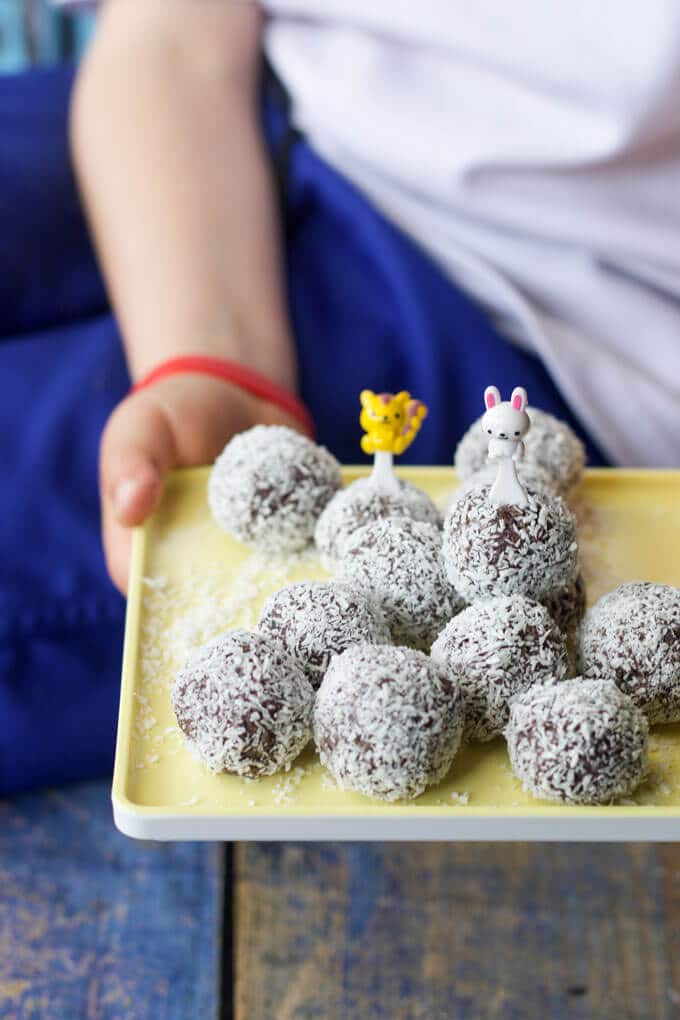 These balls can easily be adapted by changing the nuts to your preference. I tend to use the same ratio using whatever nuts I have available in the house. If you like these then you should also check out my Nut Balls or if you are looking for something less sweet then my Blueberry Breakfast Balls will be perfect.
Looking for more healthy kid recipes?Sign up for my free recipe newsletter to get new family friendly recipes in your inbox each week! Find me sharing more kind-friendly inspiration on Pinterest and Instagram.
Blueberry Energy Balls
Loaded with nuts and sweetened with dates these Blueberry Energy Balls are a delicious snack for the whole family.
Prep Time: 10 minutes
Total Time: 10 minutes
Serves:15
Hover over "serves" value to reveal recipe scaler
Ingredients
100 g (6) pitted dates
60 g walnut pieces
40 g flaked almonds
80 g blueberries
2 tbsp natural peanut butter
50 g unsweetened desiccated coconut (plus extra for coating)
Instructions
Put all the ingredients (apart from the coconut) into the food processor and blend to a paste consistency

Add the coconut and continue to mix. If the mixture is too wet and hard to form then add a little more coconut until desired texture.

Roll into small balls (I made 15) and coat in the more coconut

Place in fridge to harden