These easy and healthy Baby Muffins are mini in size, soft in texture and naturally sweetened with banana and cinnamon. The perfect first muffin for babies.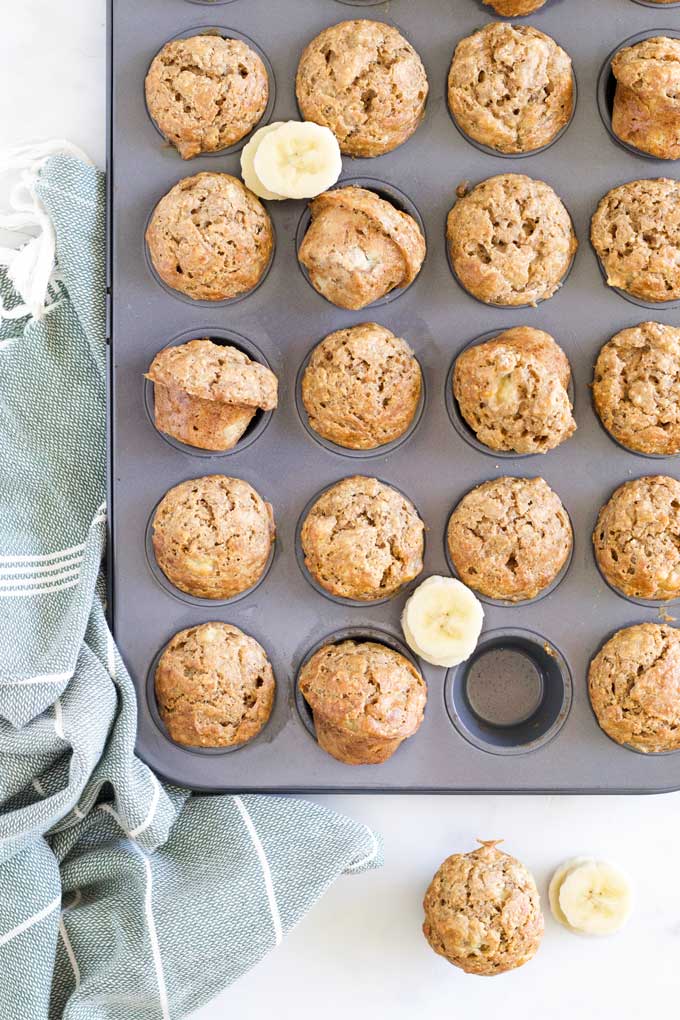 Why these Muffins are Great for Babies
Fruit Sweetened - It is recommended that children under two should not consume any added sugar. Most muffin recipes are packed with sugar, maple syrup or honey. These are sweetened with banana and cinnamon - perfect for little ones.
Texture - A very soft, spongy texture easy for babies to eat.
Mini in Size - Making them perfect for little hands.
Freezable - Who doesn't love a puree/finger food freezer stash, ready for their babies at any time?
When Can Babies Eat Muffins
This will really depend on you and your baby. Once your baby has progressed onto finger foods then they should be able to manage these muffins.
Personally, I recommend focussing on offering your baby lots of iron-rich food and cooked vegetables before moving on to muffins.
Although these muffins are healthier than most recipes I would still consider this an occasional food and not something you allow your baby to fill up on every day.
Banana Baby Muffins Ingredients
This is what you need to make banana baby muffins...

Cooking Steps and Tips with Photos
Mix together the lemon juice and milk - this is to add more acidity to the recipe for the baking soda to work. If you prefer, you can replace with buttermilk.
Mix together wet ingredients - mix until combined.
Add mashed banana and gently stir.
Mix together the dry ingredients - It is important to distribute the baking soda and cinnamon evenly throughout the flour before adding to the wet ingredients. Sifting the dry ingredients helps with this.
Combine wet and dry ingredients - do not be tempted to over mix, the mixture will be thick and lumpy (see picture)
Transfer to Muffin Tray - work quickly and fill each muffin cup, to the top, with the muffin mixture.
Bake - in a pre-cooked oven (160C/320F ) for 13-15 mins.
Not Just For Babies!
Of course, just because our kids are older doesn't mean we stop looking for healthier versions of recipes. These muffins are perfect for children of all ages and adults too.
They travel well and are great for popping into a lunch box or taking out and about for day trips.
If your children are used to sweeter foods then you may need to slightly adapt the recipe to appeal to their taste buds. You can add a little extra sweetness by adding some
Dates - Blend a couple of dates with the milk (see this banana bread recipe for more detail) or finely chop the dates and stir through.
Sultanas/raisins - Soak approx ½ cup sultanas in boiling water for a couple of mins. Drain and stir through just before transferring the mixture to the muffin tray.
Honey/maple syrup - Replace a little of the milk with some honey or maple syrup
Chocolate chips - A few chocolate chips can really increase the kid appeal!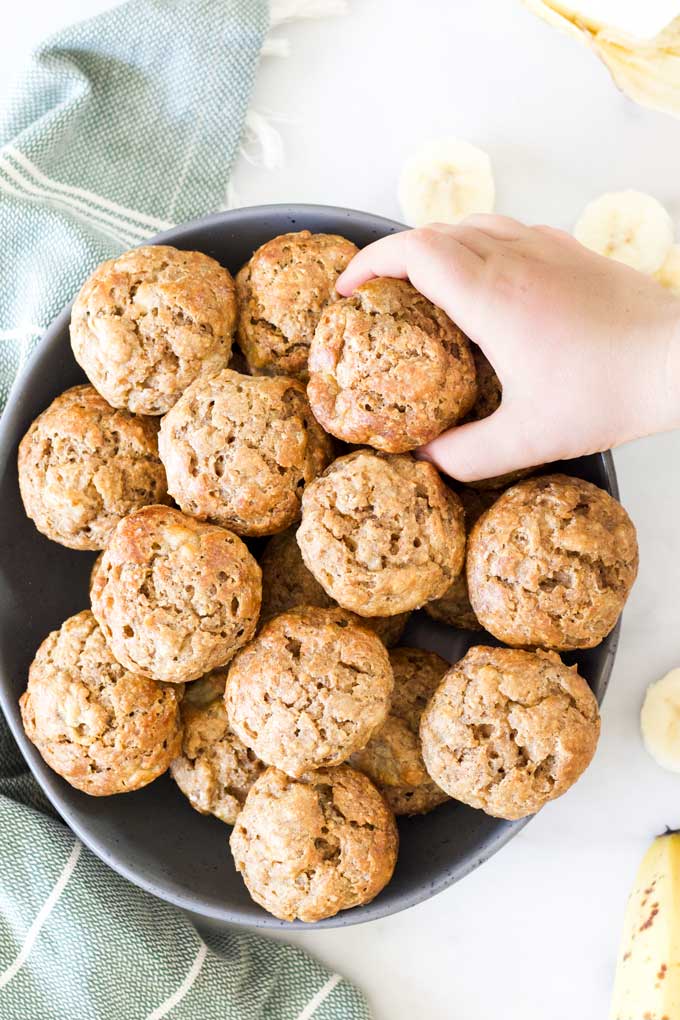 Storage Instructions
Cool on a wire rack. Allow to cool in the muffin tray for a couple of mins and then transfer to a wire rack to cool completely. Before you store your muffins you want to make sure they are completely cooled. Packing them away when they are still warm will result in compensation and soggy muffins.
Storing at room temperature – Store in an airtight container for 1 day.
Refrigerating – Store in an airtight container and refrigerate for up to 3 days. I personally do not recommend this method of storing as it can change the texture of the muffin, making them a little dry for babies.
Freezing – Freeze in an airtight container for 2-3 months. Allow to thaw on the counter or defrost in the microwave.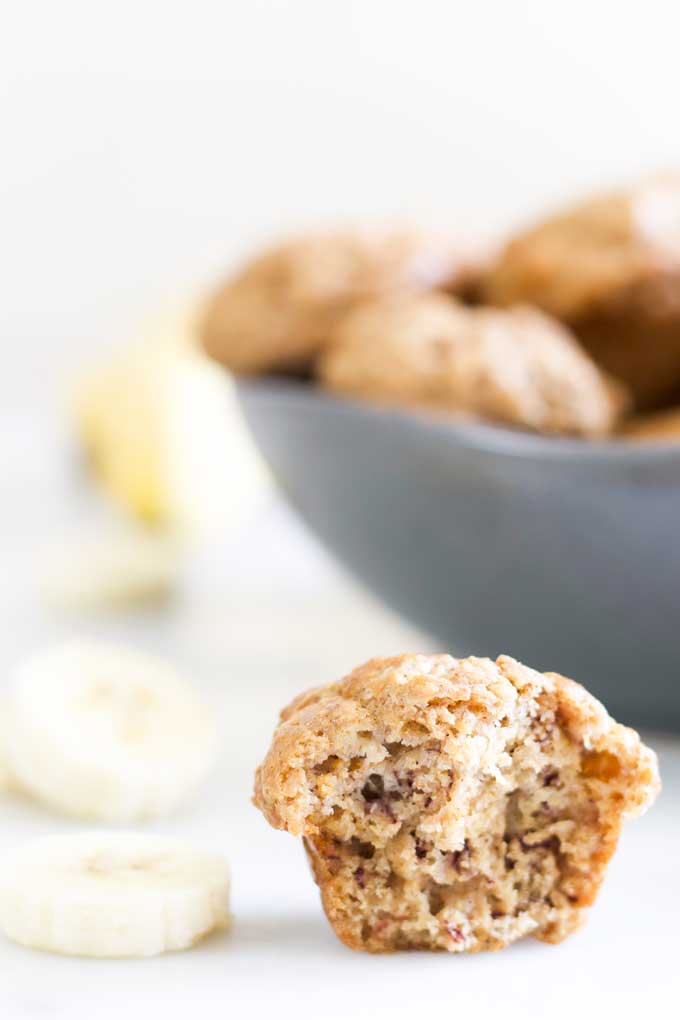 Other Baby Muffin Recipes
Your baby may also enjoy
Looking for more healthy kid recipes?Sign up for my free recipe newsletter to get new family friendly recipes in your inbox each week! Find me sharing more kid-friendly inspiration on Pinterest and Instagram.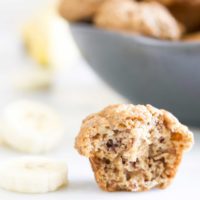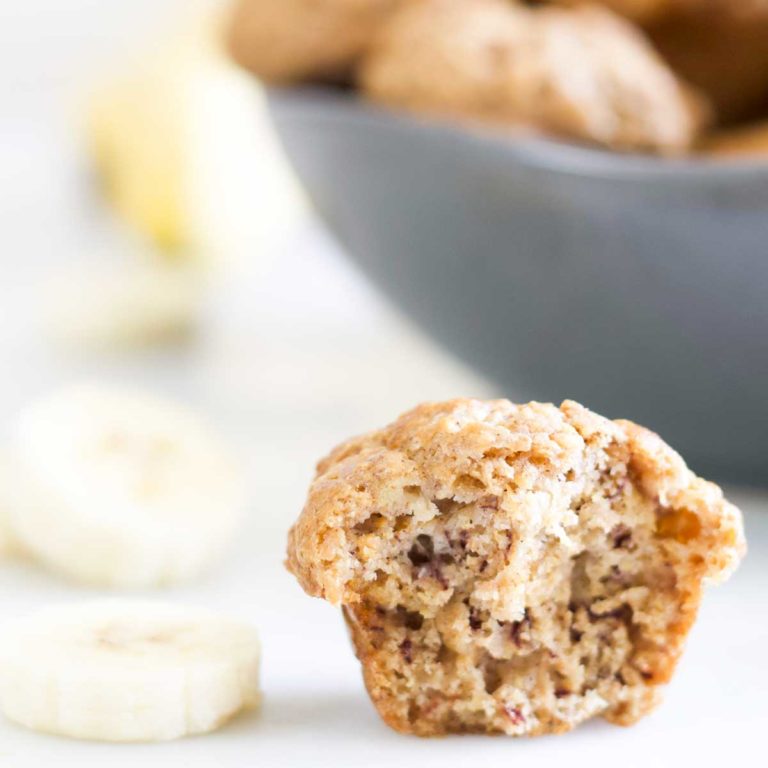 Banana Baby Muffins
These easy and healthy Banana Muffins are the perfect first muffin for babies. Mini in size, soft in texture and naturally sweetened with banana and cinnamon. 
Prep Time: 10 minutes
Cook Time: 15 minutes
Total Time: 25 minutes
Serves:24
Hover over "serves" value to reveal recipe scaler
Ingredients
1 ½ teaspoon Fresh Lemon Juice
125ml (½ cup) Milk
80ml (⅓ cup) Coconut Oil
60g (¼ cup) Natural Yoghurt
2 Eggs
1 teaspoon Vanilla
250g (1 cup) (around 2-3 ripe bananas) Ripe Banana, mashed
215g (1¾ cup) Plain Wholemeal Flour
1 teaspoon Cinnamon
¾ teaspoon Baking Soda
Instructions
Preheat oven to 160ºC (320ºF) and grease a 24 cup mini muffin tray with coconut oil or butter.

Add the lemon juice to the milk and allow to sit for 5 mins.

In a large mixing bowl, mix the milk & lemon mixture with the coconut oil, yoghurt, vanilla and eggs. Mix together with a whisk.

Add the mashed banana and mix through.

In a seperate mixing bowl, add the flour cinnamon and baking soda and gently stir to mix through.

Add the dry flour mix to the wet ingredients and fold in gently until just combined.

Divide the batter evenly between the 24 muffin cups. Bake muffins for approx 13-15 minutes, or until the muffins are golden on top and a toothpick inserted into a muffin comes out clean.
Recipe Notes
BAKING - Every oven is different, so while you should still follow the bake time in this recipe, use a skewer to test your muffins after 12 mins. Your skewer will come out clean if they are ready. DAIRY FREE - This recipe has been trialled replacing the milk and yoghurt with canned coconut milk, it produced great results.  EGG FREE - This recipe has been trialled with a flax egg but it did NOT produce good results. The muffin was too wet. No other egg replacements have been trialled.  DON'T HAVE A MINI MUFFIN TRAY? - You can make this recipe in a regular 12 cup muffin tray. Bake for  22 to 25 minutes, or until a toothpick inserted into a muffin comes out clean. MIX IT UP - You can try adding a few blueberries or raspberries to the mixture before baking. I often just add one on top of each mini muffin.  If you are making for older kids then you may wish to add extra sweetness. See above post for suggestions Nutritional Information is a rough guide ONLY calculated using an online nutrition calculator. 
Nutritional facts
Calories: 79kcal | Carbohydrates: 9g | Protein: 2g | Fat: 4g | Saturated Fat: 3g | Cholesterol: 14mg | Sodium: 48mg | Potassium: 86mg | Fiber: 1g | Sugar: 2g | Vitamin A: 37IU | Vitamin C: 1mg | Calcium: 15mg | Iron: 1mg