You can't beat the irresistible allure of a warm, sweet, and gooey baked banana – a simple dessert, snack, or even breakfast. Loved by babies, kids, and adults alike.
If you happen to have an abundance of ripe bananas, we've got a variety of banana recipes for you, ranging from fruit-sweetened banana bread, banana egg muffins, and baby banana muffins to banana oatmeal cookies and banana chia pudding.
Yet, one of the easiest and most delightful ways to make use of them is through this simple baked banana recipe.
Baking bananas brings out the natural sweetness of the fruit and turns them golden with a soft, gooey texture. They taste amazing all on their own or you can dress them up with a range of toppings and accompaniments.
Jump to:
Reasons to Love this Recipe
Effortless: This is a simple recipe with simple ingredients and the best part is that the oven does all the work for you.
Versatile: Make it uniquely yours by experimenting with various toppings. (suggestions listed below)
Nutritious Indulgence: The perfect dessert to satisfy sweet cravings with added health benefits.
Waste Not, Want Not: Transform bananas destined for the bin into a delightful dessert.
Ingredient Information (and Alternative/Additional Suggestions)
The full list of ingredients and amounts can be found on the printable recipe card at the bottom of the post. This section gives information on each ingredient and suggests alternatives if required.
Bananas: Opt for bananas with lots of brown spots for better results. Their softness, heightened sweetness, and superior flavour surpass what's achievable with yellow or green bananas, ensuring a much more delectable treat.
Cinnamon: Add a pinch of cinnamon or more, depending on taste. You could try subbing for a pinch of cardamon or a drizzle of vanilla extract.
Honey (Optional): Honey introduces a sweet caramelised effect for a more indulgent dessert. You can substitute it with maple syrup or a squeeze of lime juice and a sprinkle of brown sugar. However, the extra sweetness really isn't necessary, especially if you're cutting back on sugar or serving to young children. The natural sweetness of the banana is often sufficient. Note: Omit honey if preparing for a baby, as it is not suitable for infants.
Step-by-Step Instructions (with Images)
This section features step-by-step photos for visual reference. The complete recipe can be found by scrolling to the recipe card at the bottom of the post.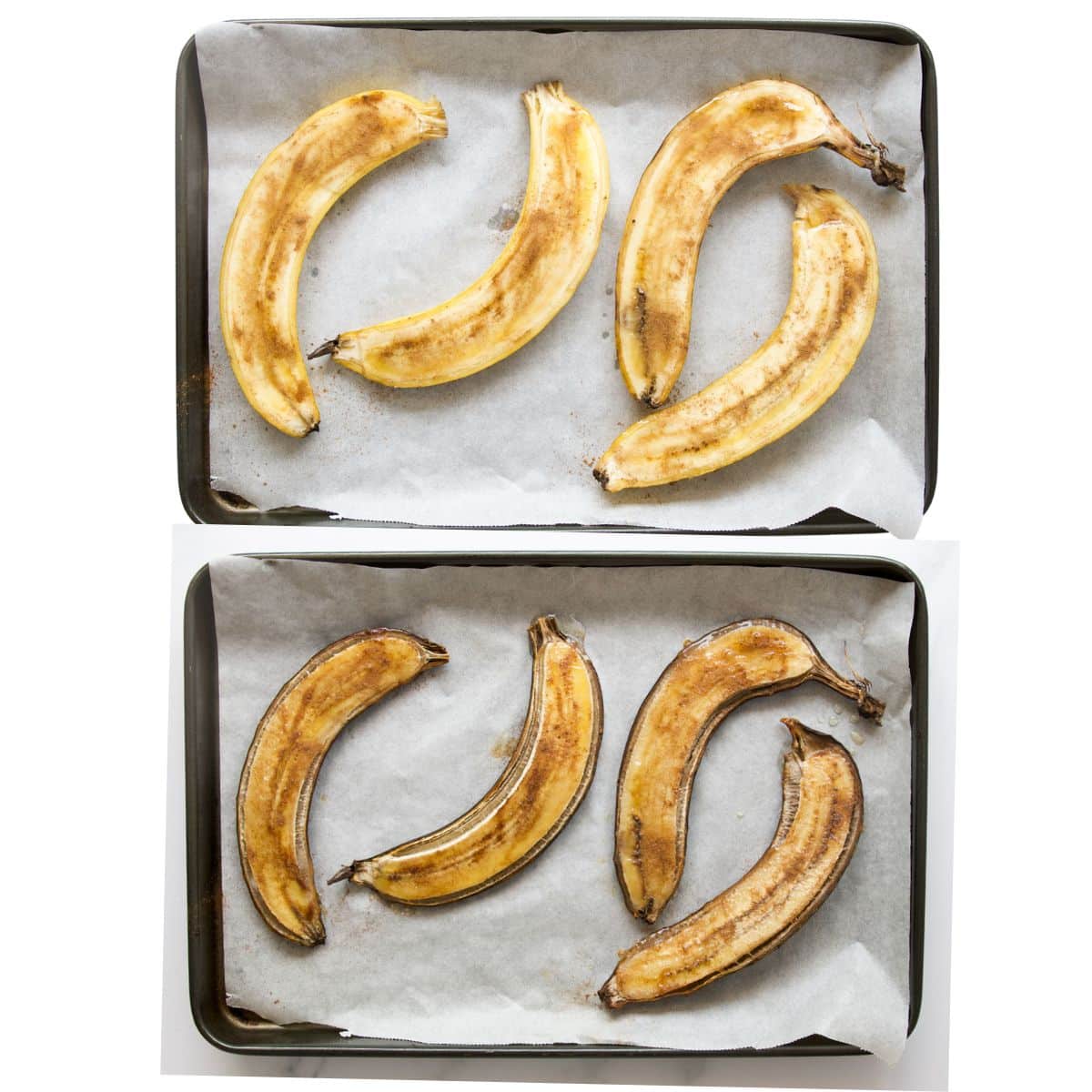 Prepare the bananas: Cut the bananas in half, lengthways, leaving the skin on or off - it's entirely optional and depends on your serving preference.
I think it looks a little bit prettier with their skin on and my kids love scooping out the soft flesh from the skin. If you prefer you can also bake them in quarters or bite-size pieces. Place on a baking sheet lined with parchment paper.
Sweeten and Spice: Drizzle honey over the bananas (if using) and rub it in to cover the surface. Sprinkle with cinnamon.
Bake until soft and golden brown on top, approximately 15 mins. The baking time will vary based on the banana's size, ripeness and desired softness.
Serve: Enjoy them as they are or customise them with your favourite toppings.
Serving / Topping Suggestions
Toppings are a great way to add texture and flavour. Consider incorporating healthy fats and protein with options like nuts, nut butter, or yogurt, or indulge your sweet tooth with choices like chocolate or ice cream.
Drizzle of peanut butter or almond butter
Toasted coconut or desiccated coconut
Yogurt
Crushed nuts
Chocolate chips
A little maple syrup or honey
A squeeze of orange juice, lime, or lemon juice for a citrus twist
Ice cream
Fresh fruit
A little whipped cream
Recipe FAQs
Are baked bananas suitable for babies?
As easy as it is to just peel and mash a banana to give a baby, baking it can take your banana puree to the next level.
Mash or puree the baked banana and serve it alone, or mixed with other fruit / oatmeal, for an irresistible baby puree.
If you are doing baby-led weaning then the baked banana will probably be too soft for your baby to pick up and take to his/her mouth. This may result in frustration and a lot of mess.  Instead, your baby may prefer to pick up loaded spoons of the banana.
Can I make this in the air-fryer?
Yes, you can and using the air fryer is a great idea if you are only making one banana. Line the air fryer basket with parchment paper. Arrange the banana halves, cut side up, in the air fryer basket. Cook at 200c/400f for around 10 mins or until browned and soft. 
More Banana Recipes to Try
Looking for more healthy kid recipes?Sign up for my free recipe newsletter to get new family friendly recipes in your inbox each week! Find me sharing more kid-friendly inspiration on Pinterest and Instagram.
Baked Banana
A delicious and healthy dessert for all ages.
Prep Time: 5 minutes
Cook Time: 15 minutes
Total Time: 20 minutes
Serves:4
Hover over "serves" value to reveal recipe scaler
Ingredients
2 Bananas
2 teaspoons Honey Optional, do not add if making for a baby.
¼ teaspoon Cinnamon
Instructions
Preheat oven to 200℃ / 400℉ and line a baking tray with parchment paper.

Slice the bananas in half, lengthways, with the skin still on (see note 1).

Place the bananas on the prepared baking tray and drizzle the honey evenly over the bananas. Sprinkle the cinnamon on top. 

Bake for 10 - 15 mins. (SEE NOTE 2)
Recipe Notes
1) Leaving the skin on is optional. Feel free to peel it if you prefer.  2) The length of time will vary depending on how ripe your bananas are and how soft you like the end result.  Nutritional information is an ESTIMATE only, calculated using an online calculator.  Results will vary depending on the size of your banana. The results do not include any additional toppings. 
Nutritional facts
Calories: 63kcal | Carbohydrates: 16g | Protein: 1g | Fat: 0.2g | Saturated Fat: 0.1g | Polyunsaturated Fat: 0.04g | Monounsaturated Fat: 0.02g | Sodium: 1mg | Potassium: 214mg | Fiber: 2g | Sugar: 10g | Vitamin A: 38IU | Vitamin C: 5mg | Calcium: 4mg | Iron: 0.2mg