Apple Puree takes little effort to make and can be used in a variety of ways. It is delicious warm, spiced with cinnamon, ginger or star anise, or chilled with some natural yoghurt.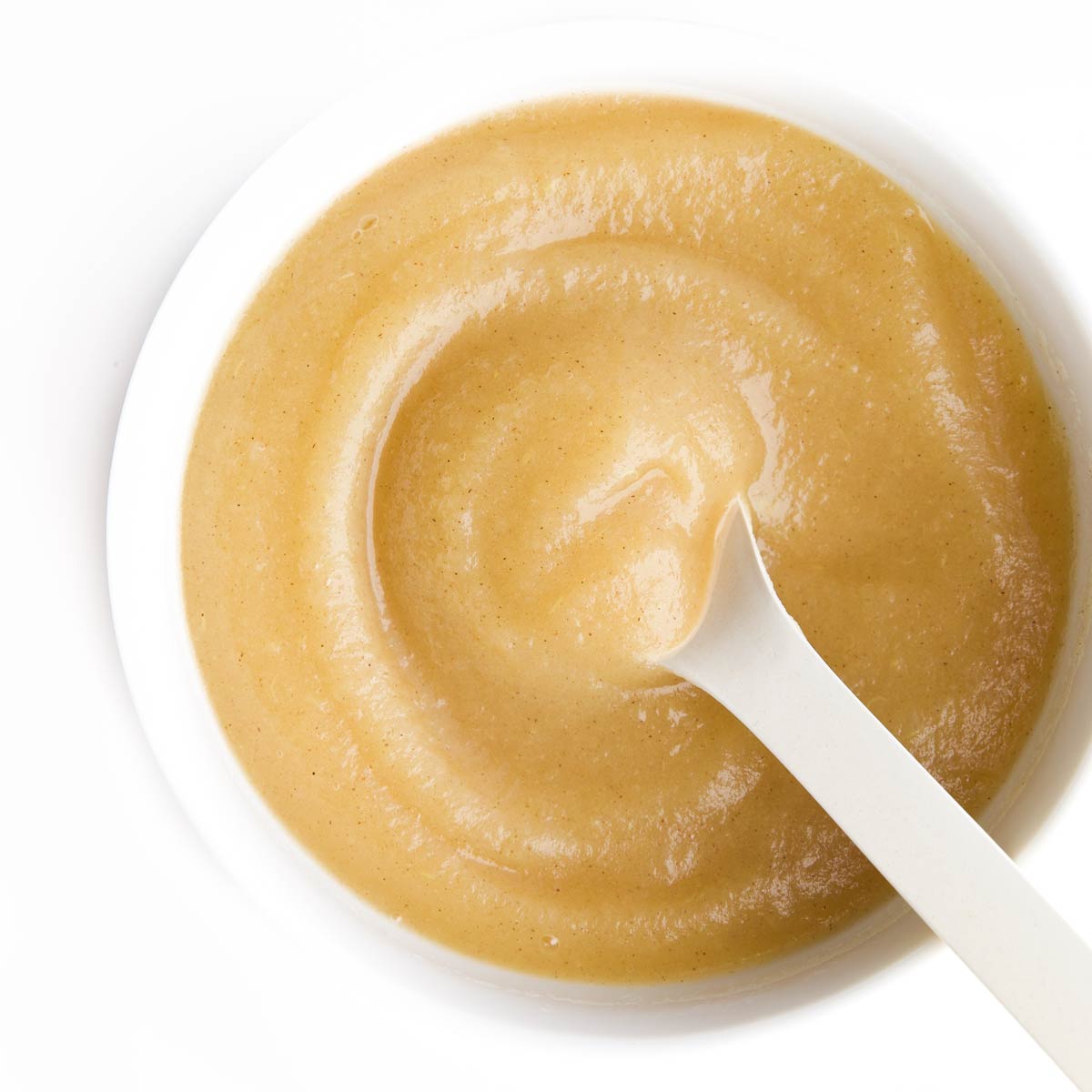 Apple puree (sauce) is my absolute favourite recipe to make in large batches so that it's always on hand. My kids enjoy it hot with their breakfast oatmeal or on ice cream for dessert. They also like eating it cold by the spoonful or swirled into yogurt as a tasty snack.
Reasons to Love this Puree
Versatile: Apple puree can be used in a variety of dishes, including desserts, smoothies, baking and sauces for meat dishes.
Easy to Make: Making apple puree is incredibly easy and requires only apples, a touch of water and optional spices to flavour it.
Nutritious: Homemade apple sauce is a great source of fibre, vitamins and minerals.
Freezer Friendly: Make in batches soo you always have some to hand.
Cost-effective: Apples are readily available and relatively inexpensive, making it an affordable option for those on a budget.
Video Tutorial
Ingredient Information
For the full recipe, with ingredient amounts, scroll to the recipe card at the bottom of the post.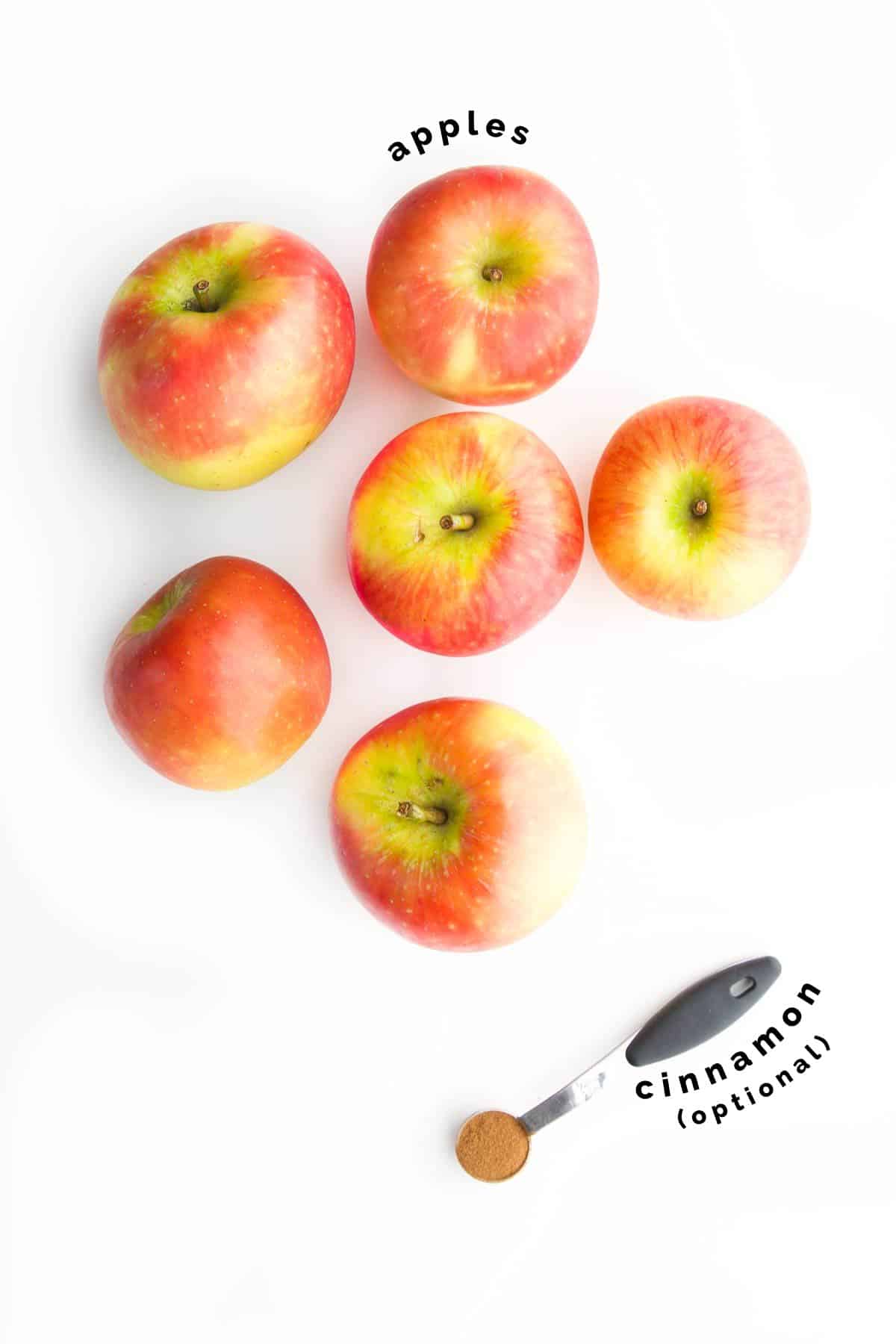 Apples - Each apple variety has a different colour, texture, and taste and reacts differently to heat. The best apples for puree are those that are sweet with flesh that breaks down easily. However, I generally believe that it is down to personal preference and/or what you are looking to pair your apple sauce with.

Our favourite apples are Kanzi and Pink Lady and as we have these in our house most often, this is what I generally make apple puree with. Other great options include McIntosh, Cortland, Fuji, Golden Delicious, Jazz, Royal Gala and Jonathan.

Cinnamon - This is optional, you can miss it out or replace it with a different spice. Depending on how you wish to use your puree, ginger, nutmeg, star anise and vanilla all work well.

Sweeteners - A lot of apple sauce/apple puree recipes call for the addition of sugar or another sweetener, such as maple syrup or honey. Personally, I do not think there is any need for sugar in apple puree, especially if you use delicious sweet apples. I have not added any to this recipe and strongly recommend you do not add if making for a baby or toddler.
Step by Step Instructions
You can make apple puree by baking, slow cooking, pressure cooking, steaming or simmering the apples on the stove. My preferred method is cooking on the stovetop.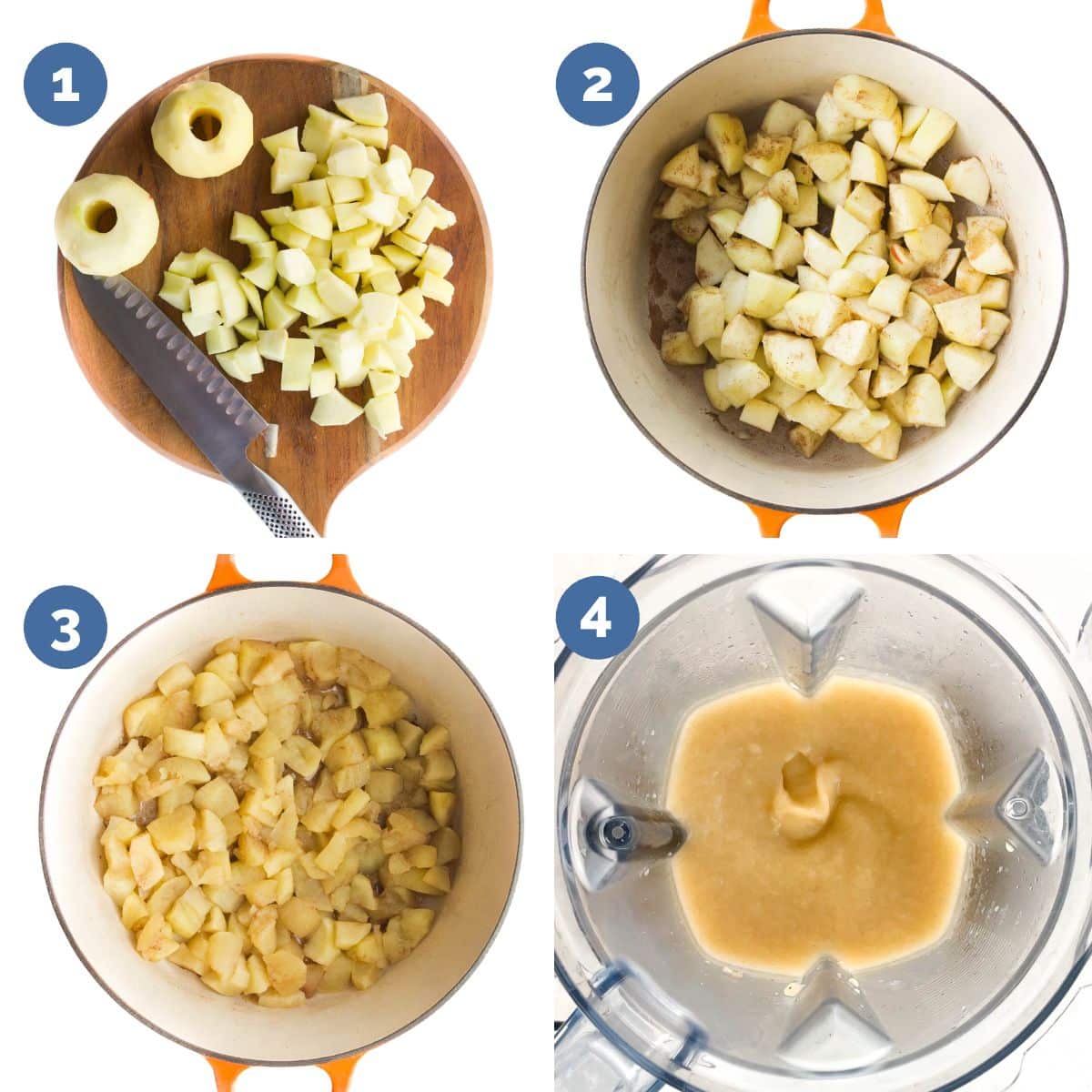 Peel and core the apples. Peel, core, and chop the apples into large chunks.
Transfer the apples to a large pan. Add a little water (just enough to help them steam) and cinnamon (optional or sub for other spices.)
Cover and Simmer. Simmer the apples for approximately 15 minutes. The apples should be very soft and starting to break up.
Puree. Puree in a food processor, blender or by using a stick blender. Alternatively, if you would prefer a chunkier sauce then you can mash with a fork or potato masher.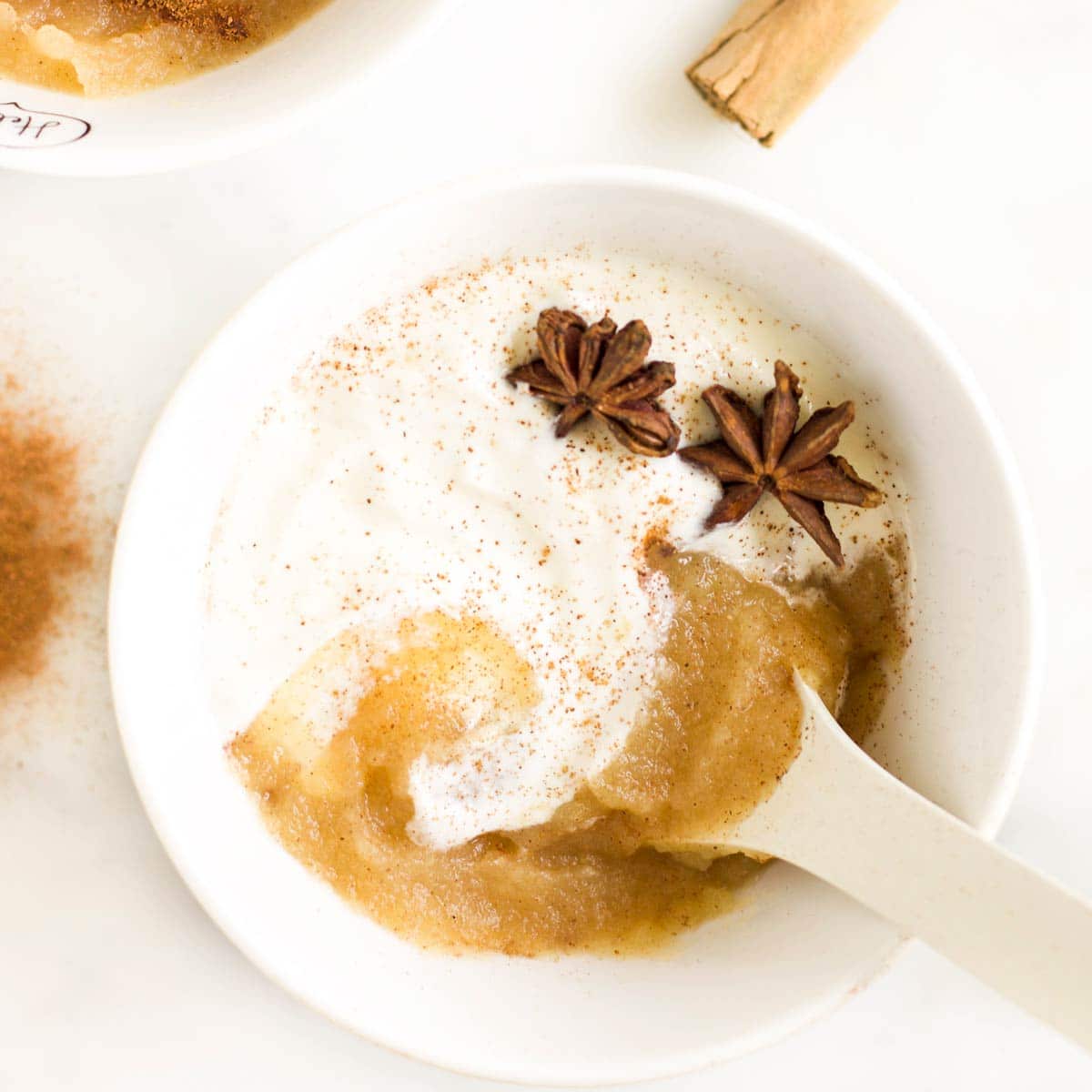 Serving Suggestions
Apple puree isn't just for babies! Here are some other suggestions for what to use it in.
Baking
Apple puree can be used as a replacement for fat or eggs in baking. It can also be used to naturally sweeten baked goods.
I've used it in these Carrot and Apple Muffins and Porridge Fingers
Swirl into porridge
A couple of spoonfuls of puree will take your porridge to the next level of deliciousness.
Swirl into Yoghurt
Use it to naturally sweeten some plain yoghurt like in this apple yogurt recipe.
Spread it on Toast Along with Nut Butter
If you haven't tried this then I seriously recommend it.
A Sauce
For pancakes, waffles or ice-cream.
Enjoy with Savoury Dishes
Apple pairs perfectly with pork to create a flavour duo that's hard to argue with. My kids love when I pair fruit with savoury dishes!
Add to Smoothies 
Add some to smoothies or (for the adults only) cocktails.
Recipe FAQs
What is Apple Puree?
Apple puree is cooked apples that are pureed until even textured and smooth.
What is the Difference Between Apple Puree and Apple Sauce?
Apple puree is essentially applesauce. They are prepared in the same way but the finishing touches can differ. The puree is always smooth but applesauce can be a variety of textures from chunky to smooth.
How Do You Store Apple Puree?
Refrigerator
Place in an airtight container and store overnight. If you wish to store it for longer you can add some lemon juice when cooking the apples.
Freezer
Freezing is my preferred method of storage as you can freeze it in small amounts and take it out as needed.
Pour the puree into ice-cube trays and freeze until solid. (Flexible ice cube trays work best as it is easier to pop out the frozen cubes.)
Once they're fully frozen, quickly pop them all out and place the frozen cubes into a freezer bag or container and return to the freezer.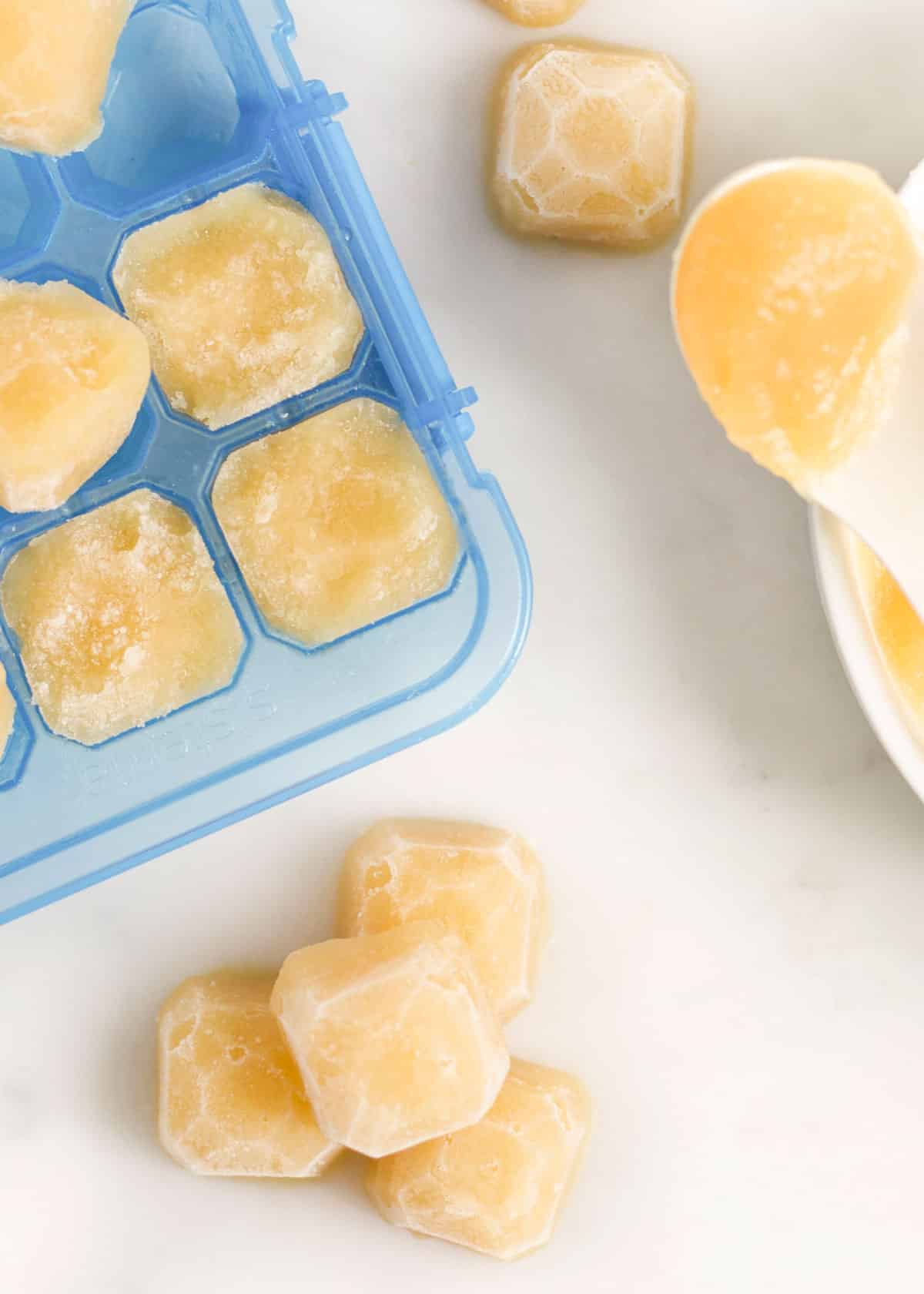 More Puree Recipes
Looking for more healthy kid recipes?Sign up for my free recipe newsletter to get new family friendly recipes in your inbox each week! Find me sharing more kid-friendly inspiration on Pinterest and Instagram.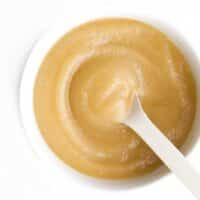 Apple Puree / Sauce
Apple Puree takes little effort to make and can be used in a variety of ways.
Prep Time: 15 minutes
Cook Time: 15 minutes
Total Time: 30 minutes
Serves:6
Hover over "serves" value to reveal recipe scaler
Ingredients
6 Medium Apples , cored, peeled and cut into chunks.
60ml (¼ cup) Water
¼ teaspoon Ground Cinnamon
Instructions
Place all the ingredient into a heavy-based saucepan.

Cover and cook over a low heat until tender (15-20 mins)

Puree using a hand blender, blender or food processor.
Recipe Notes
My favourite apple in Kanzi or Pink Lady so this is what I use most often. Other great options include : McIntosh, Cortland,  Fuji, Golden Delicious, Jazz, Royal Gala, Jonathan
Cinnamon is optional. Leave out or replace with a different spice such as ginger, nutmeg, star anise, vanilla
If you prefer a thicker consistency you can mash instead of puree using a fork or potato masher. 
Nutritional information is a ROUGH guide only, calculated using an online calculator. The facts are based on using Pink Lady apples. 
Nutritional facts
Calories: 95kcal | Carbohydrates: 25g | Protein: 0g | Fat: 0g | Saturated Fat: 0g | Cholesterol: 0mg | Sodium: 2mg | Potassium: 194mg | Fiber: 4g | Sugar: 18g | Vitamin A: 100IU | Vitamin C: 8.3mg | Calcium: 13mg | Iron: 0.2mg