Apple Ice cream sandwiches – a fun and healthy treat made entirely from fruit.
These apple ice cream sandwiches are a hybrid of two treats that I often serve the boys. These being –
I'm not sure what made me decide to combine these two treats but I'm glad I did as they were an instant hit and a lot of fun to watch the boys eat!
I'm always playing around with food. When Finn or Rory (mainly Rory) don't like a certain food, I try to serve it in different ways. For example – if they don't like a certain vegetable steamed, I'll then try that vegetable roasted, flavoured with different herbs and spices or served in dishes they love. Usually, I find a way to get them to eat something.
I also love to serve their favourite foods in different ways. I do this mainly to keep it fun and interesting for them. Banana ice cream is one of these foods that are perfect for serving differently. It can be flavoured in so many ways and you can serve it a variety of ways too e.g ice lollies, slices, as is and now as an apple ice cream sandwich!
I chose to make cherry flavoured ice cream to use in this snack. I love the colour contrast against the apples and I think the flavour combo works well too. However, this will work well with a ton of different ice cream flavours. Just add your favourite flavour to the frozen banana. I'm thinking raspberry would be fab and peanut butter would be great too. The next time I make them I'm going to try a mixed berry with some ginger, clove and cinnamon.
You want to be well prepared when making this as obviously ice cream melts fast and apple slices brown. I find slicing and coring the apple first and storing them in some lemon water, as you prepare the ice cream, works best. Once assembled I pop each one back in the freezer until ready to serve. This is best served straight away before the apple gets too hard in the freezer.
You May Also Like
Have you tried this recipe? I love receiving your feedback, please rate and leave a comment below or tag me on Instagram @healthylittlefoodies
Looking for more healthy kid recipes?Sign up for my free recipe newsletter to get new family friendly recipes in your inbox each week! Find me sharing more kind-friendly inspiration on Pinterest and Instagram.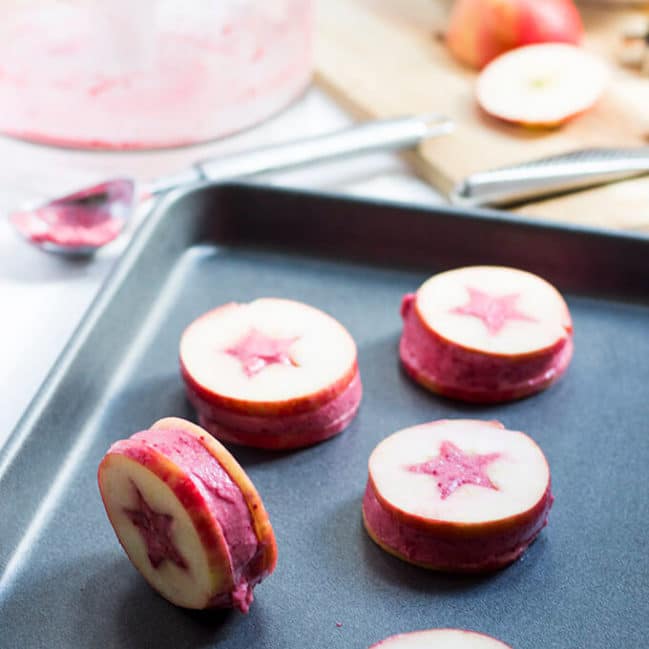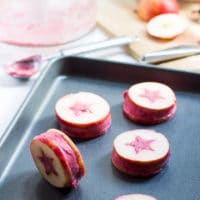 Apple Ice Cream Sandwiches
Apple ice cream sandwiches - a healthy, 100% fruit snack made from only three ingredients.
Prep Time: 10 minutes
Total Time: 10 minutes
Serves:6
Hover over "serves" value to reveal recipe scaler
Ingredients
half a lemon
2 apples
3 frozen bananas (275g)
1 cup frozen cherries (140g)
Instructions
Squeeze the juice of the lemon into a bowl of cold water.

Thinly slice the apples and core (I used a star cookie cutter) and then add to the lemon/water solution (This will stop the apples browning as you prepare the ice-cream)

Add the bananas to a food processor and blitz until they start to break up. Add the cherries and continue to blitz until you get an ice cream consistency.

Add a scoop of ice cream onto an apple slice and top with a second apple slice. Store in the freezer as you assemble the rest.

Serve straight away.
Recipe Notes
Nutritional Information is a ROUGH guide only, calculated using an online nutrition calculator. 
Nutrition Facts
Apple Ice Cream Sandwiches
Amount Per Serving
Calories 99 Calories from Fat 9
% Daily Value*
Fat 1g2%
Saturated Fat 1g5%
Sodium 1mg0%
Potassium 327mg9%
Carbohydrates 26g9%
Fiber 3g12%
Sugar 16g18%
Protein 1g2%
Vitamin A 85IU2%
Vitamin C 9.6mg12%
Calcium 10mg1%
Iron 0.3mg2%
* Percent Daily Values are based on a 2000 calorie diet.